Venezuela se ubica entre los 7 mejores en el mundial de ajedrez [ESP | ENG]

---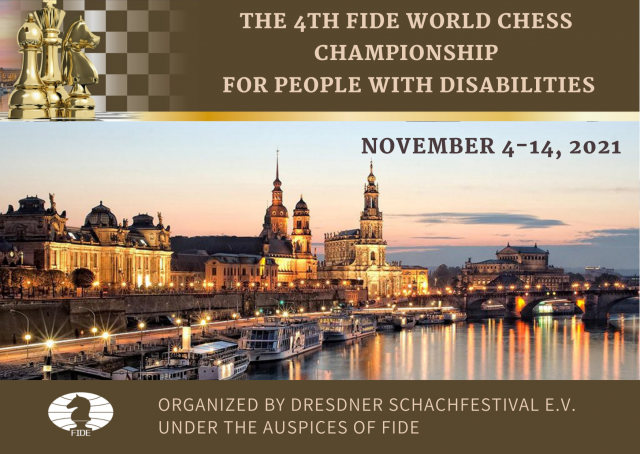 Poster oficial del evento - source

Como les comentaba en un artículo de la semana pasada, El Campeonato Mundial de Ajedrez para personas con discapacidad se disputó del 4 al 14 de Noviembre, un magno evento que reunió a jugadores de todos los continentes sumando nada más y nada menos que un total de 255 participantes. En el anterior post les hablé de la naturaleza de este evento y como ha ido evolucionando en los últimos años; en esta entrada quiero hablarles del desarrollo del campeonato destacando la labor del equipo venezolano en tan importante justa ajedrecista.
As I mentioned in a article last week, the World Chess Championship for people with disabilities was held from November 4 to 14, a great event that brought together players from all continents totaling nothing more and nothing less than a total of 255 participants. In the previous post I talked about the nature of this event and how it has evolved in recent years; in this post I want to talk about the development of the championship highlighting the work of the Venezuelan team in such an important chess competition.
Este campeonato fue organizado por "DRESDNER SCHACHFESTIVAL E.V, Alemania", como comentaba en la anterior publicación, el tema de la pandemia ha limitado en gran medida la realización de eventos presenciales pero para el ajedrez estos no supone mayor inconveniente pues gracias a la implementación de torneos virtuales se pueden llevar a cabo juegos entre atletas de todo el mundo, en este caso la organización de Alemania estuvo encargada de proveer toda la documentación y regulación de este mundial; es de destacar la increíble atención y excelente servicio que brindaron los organizadores, al ser este un evento tan masivo no resulta fácil su administración pero como ya les digo me siento bastante satisfecho por la cobertura que se tuvo con todos los atletas.
This championship was organized by the "DRESDNER SCHACHFESTIVAL E. V, Germany", as I commented in the previous publication, the issue of the pandemic has greatly limited the realization of on-site events but for chess these are not a major problem because thanks to the implementation of virtual tournaments can be carried out games between athletes from around the world, in this case the organization of Germany was responsible for providing all documentation and regulation of this world championship; it is noteworthy the incredible attention and excellent service provided by the organizers, as this is such a massive event is not easy to manage but as I say I am quite satisfied with the coverage that was had with all athletes.
El equipo de Venezuela
Una de los aspectos claves a destacar es el tema de la conectividad, por supuesto, al ser este un campeonato online las condiciones de acceso a internet deben ser lo suficientemente buenas para desempeñar un gran resultado; este digamos que ha sido un factor característico en el equipo o más bien debería decirse que es una "limitación" en el sentido de que no basta con jugar bien ajedrez, se necesita una buena conexión pues en este mundial nuestros oponentes muy probablemente no presentarían estos fallos. Aquí se ve entonces una pequeña desventaja al iniciar el campeonato, al igual que el año pasado, el equipo pese a esta desfavorable situación decidió seguir adelante para representar al país pese las circunstancias descritas.
The Venezuela team

One of the key aspects to highlight is the issue of connectivity, of course being this an online championship the internet access conditions must be good enough to perform a good result; this has been a characteristic factor in the team or rather it should be said that it is a "limitation" in the sense that it is not enough to play good chess, you need a good connection because in this world championship our opponents most likely would not present these failures. Here we see then a small disadvantage at the beginning of the championship, like last year, the team despite this unfavorable situation decided to go ahead to represent the country despite the circumstances described.
En cuanto a las directrices técnicas del evento, se jugó un torneo individual pero con mucha relevancia grupal pues al finalizar, el rendimiento de los 4 mejores jugadores de cada país se sumarian para definir el campeón todo evento.
As for the technical guidelines of the event, an individual tournament was played but with much group relevance because at the end, the performance of the 4 best players from each country would be added to define the champion of the whole event.
Nuestro equipo estuvo formado 8 integrantes (jugadores): Harlen Otero del Zulia, Edgar Rivas de Carabobo, Victor Abiad de Falcón, Juan Polanco de Falcón, Fabian Castaneda de Bolivar , Duham Acosta de Distrito Capital, Alexis Gomez de Lara y Yorman Rojas de Portuguesa, este ultimo por motivos de salud tuvo que retirarse del torneo recién iniciado. En la dirección técnica del equipo estuvieron El Arbitro Internacional (AI) Geber Diaz y el Maestro Fide (MF) Arturo Torres. En total 7 combatientes criollos representaron los colores del pabellón en la fiesta del ajedrez mundial, un número bastante modesto en comparación con otros pauses como India, Polonia quienes asistieron con una cifra numerosa de más de 15 jugadores respectivamente.
Our team was formed by 8 members (players): Harlen Otero from Zulia, Edgar Rivas from Carabobo, Victor Abiad from Falcon, Juan Polanco from Falcon, Fabian Castaneda from Bolivar, Duham Acosta from Distrito Capital, Alexis Gomez from Lara and Yorman Rojas from Portuguesa, the latter for health reasons had to withdraw from the tournament just started, in the technical direction of the team were the International Arbitrator (AI) Geber Diaz and Fide Master (MF) Arturo Torres. A total of 7 Creole fighters represented the colors of the pavilion in the world chess festival, a rather modest number in comparison with other countries such as India, Poland who attended with an outrageous number of more than 15 players respectively.
A pocos días de iniciar el evento nuestro compañero Edgar Rivas pudo conseguir el apoyo del Hotel Hesperia en donde jugó con las condiciones optimas, el tema eléctrico y la conexión a internet no fueron una preocupación para el, sin embargo, el resto del equipo jugó desde sus respectivos hogares. El día antes de la 1era ronda tuvimos una reúnen con el equipo como de costumbre para hablar de las estrategias a emplear durante el torneo, muchos ánimos y palabras alentadoras fueron promovidas, la selección estaba lista para la contienda que se avecinaba.
A few days before the start of the event our teammate Edgar Rivas was able to get the support of the Hotel Hesperia where he played with optimal conditions, the electrical issue and internet connection were not a concern for him, the rest of the team played from their respective homes. The day before the 1st round we had a meeting with the team as usual to talk about the strategies to be used during the tournament, lots of encouragement and encouraging words were promoted, the team was ready for the upcoming contest.
El torneo comenzó el día 5 de Noviembre a las 12:00 UTC (8am Venezuela), este horario seria el habitual para todas las rondas. En la primera partida debíamos estar con bastante antelación conectados a la llamada de zoom para darnos de alta en la plataforma y seguir todas las instrucciones del arbitro en cuestión. Como les mencionaba, la cobertura de la organización fue extremadamente buena, al momento de entrar en tórnelo varias salas de videoconferencia estaban habilitadas y clasificadas por idioma, nosotros por supuesto entramos en la de español y en la cual pudimos compartir un poco con los jugadores de habla hispana. Yo ya había jugado algunos torneos de esta naturaleza pero habían muchos jugadores que estaban algo perdidos por todo lo que se tenía que configurar, es decir, competir la pantalla de la computadora mientras juegas y en simultaneo tener la cámara encendida, de esta manera los árbitros podían monitorear la actividad de los jugadores, esto con la finalidad de evitar el fraude o trampas, de este tema hablaré más adelante en el post.
The tournament started on November 5th at 12:00 UTC (8am Venezuela), this would be the usual time for all the rounds. In the first game we had to be well in advance connected to the zoom call to register in the platform and follow all the instructions of the referee in question. As I mentioned, the coverage of the organization was extremely good, at the time of entering the tournament several videoconference rooms were enabled and classified by language, we of course entered the Spanish one and in which we could share a little with the Spanish-speaking players. I had already played some tournaments of this nature but there were many players who were somewhat lost by all that had to be configured, ie, compete the computer screen while playing and simultaneously have the camera on, thus the referees could monitor the activity of the players, this in order to prevent fraud or cheating, this topic will talk later in the post.
Luego de haber recibido la orientación del personal técnico se dio inicio a la ronda muy puntualmente, nuestro equipo inicio con buen pie, lamentablemente el compañero Alexis presentó severas fallas con su conexión cediendo así las primeras unidades, como ya saben, jugar con la videollamada consume bastantes datos y si la conexión no es estable muy probablemente el servidor te sacara de sesión, este fue un caso bastante recurrente a lo largo del torneo.
After having received the orientation of the technical staff we started the round very punctually, our team started off on the right foot, unfortunately our teammate Alexis presented severe failures with his connection thus yielding the first units, as you know, playing with the video call consumes enough data and if the connection is not stable most likely the server will take you out of session, this was a fairly recurrent case throughout the tournament.
Los primeros tropiezos
En este post no pretendo hacer una revisión exhaustiva de las partidas jugadas, ya dedicaré una sección para eso, sin embargo quiero traer a colación el siguiente diagrama:
The first stumbles

In this post I do not intend to make an exhaustive review of the games played, I will dedicate a section for that, however I want to bring up the following diagram: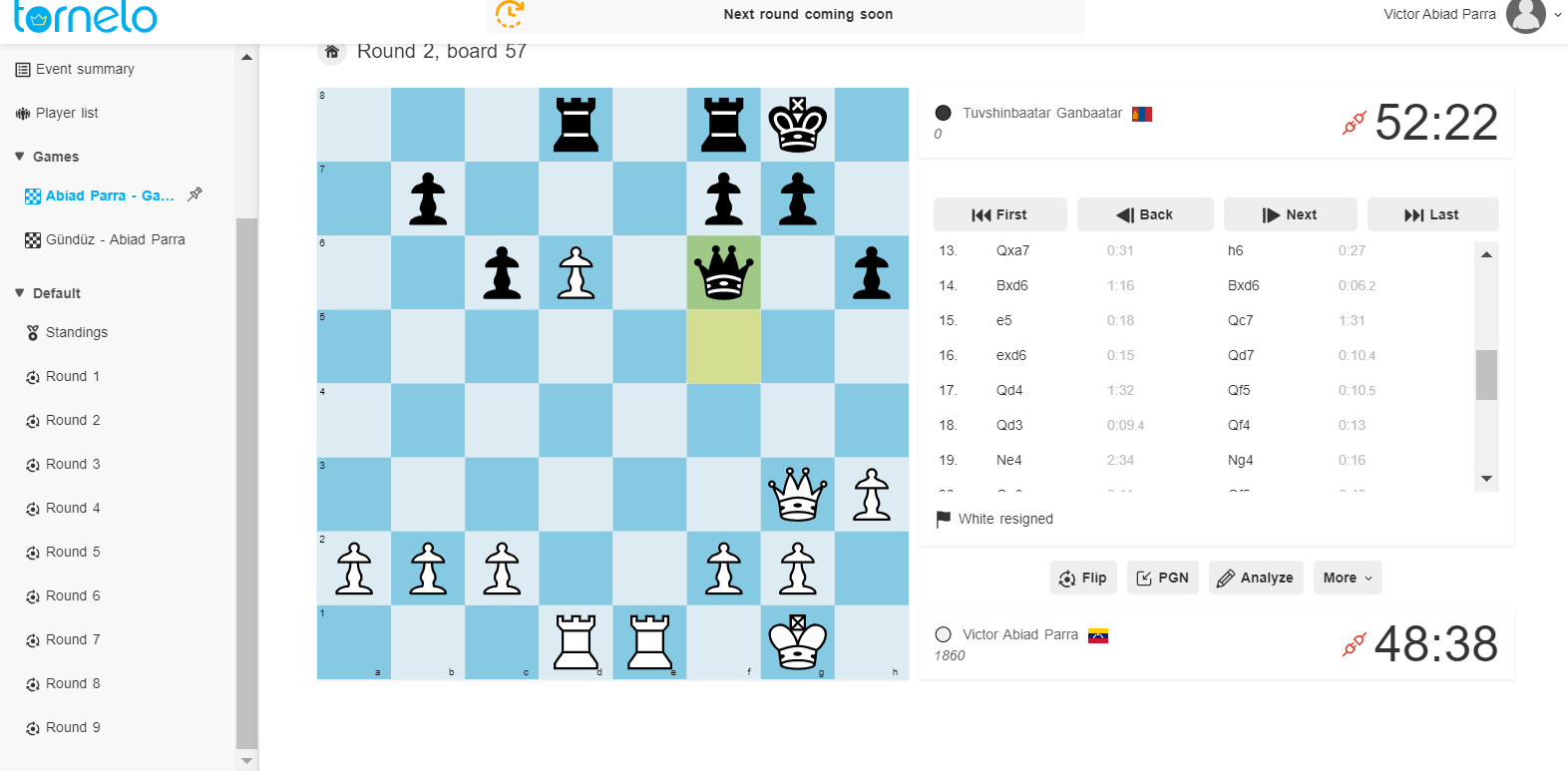 A pocos minutos de haber iniciado la 2da ronda, me hice con una posición muy superior ante mi rival, incluso mi reloj sobrepasó el punto de partida de los 45 minutos por el tema de incremento por jugada, en el diagrama se observa que las blancas poseen dos peones líquidos de más sin ningún tipo de contrajuego de las negras, en otras palabras, la victoria estaba cerca, pero quizás por pecar de confianza mi juicio de la partida se nubló cometiendo un garrafal error en las siguientes jugadas, sin duda esta derrota costó muy caro al equipo en cuanto a la clasificación final. En simultaneo, Polanco al igual que yo se hizo con una excelente posición, pero...
A few minutes after the start of the 2nd round, I took a far superior position to my opponent, even my clock exceeded the starting point of 45 minutes by the issue of increase per move, in the diagram shows that White has two more liquid pawns without any counterplay from Black, in other words, the victory was close, but perhaps by sin of confidence my judgment of the game was clouded committing a blunder in the following moves, no doubt this defeat cost the team dearly in terms of the final standings. At the same time, Polanco, as well as me, got an excellent position, but...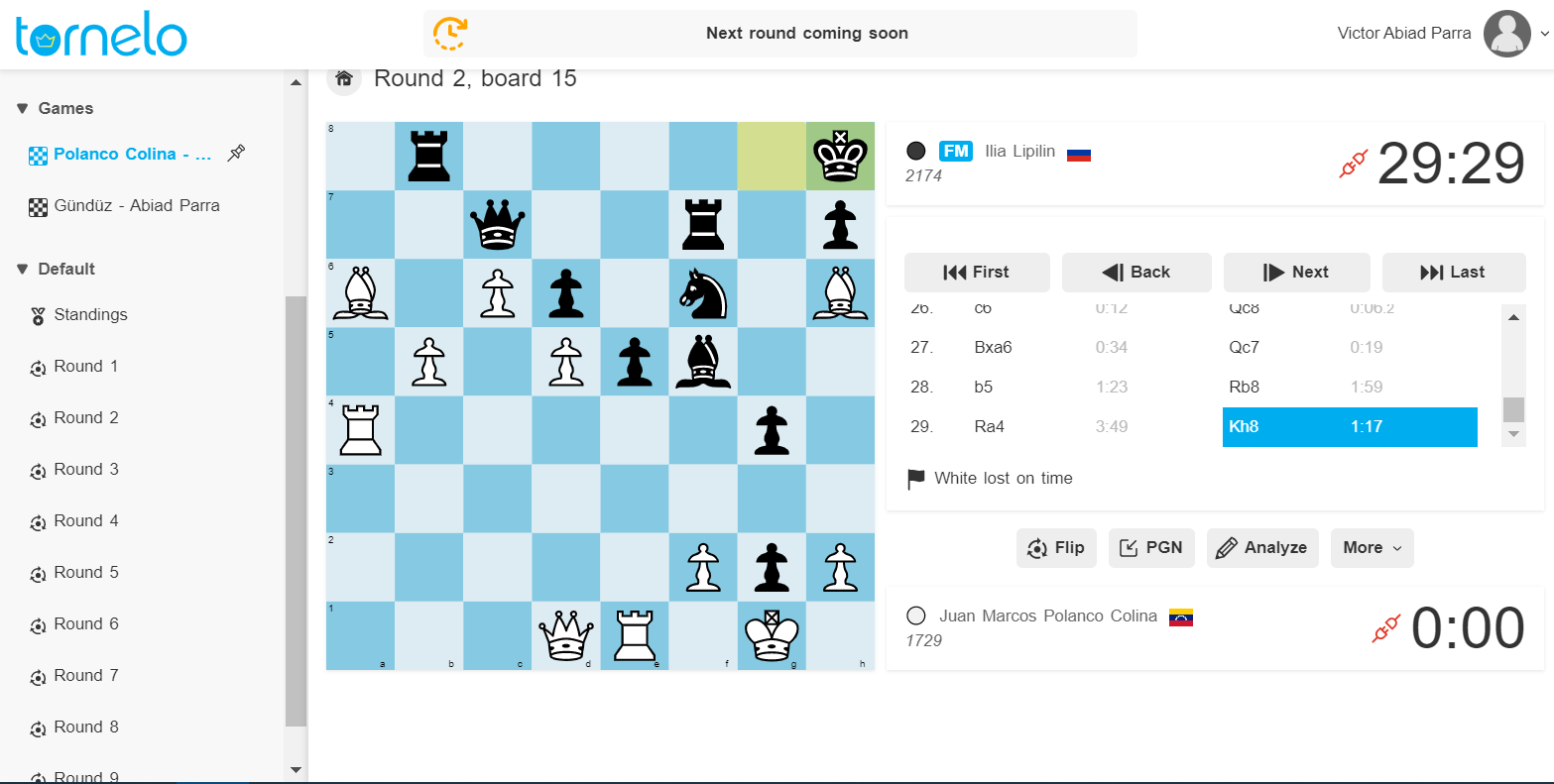 El servicio eléctrico le jugó una mala pasada al Falconiano, en esta etapa de la partida Polanco contaba con grandes chances de victoria pues su masa de peones en el ala dama marchaba con gran energía además de que el monarca de las negras se encontraba en dudosa situación, sin duda esta partida fue clave y peor aún la derrota por desconexión alteró en gran medida el performance del combinado criollo.
The electric service played a dirty trick on the Falconian, at this stage of the game Polanco had great chances of victory because his mass of pawns on the queen wing was marching with great energy and the black monarch was in a doubtful situation, no doubt this game was key and even worse, the defeat by disconnection greatly altered the performance of the combined Creole.
Pasados ya estos malos ratos y luego de conversar con el capitán Arturo, pudimos evidenciar algunas fallas en nuestro juego, específicamente la mala administración del tiempo nos estaba costando vitales puntos, estábamos jugando muy rápido algo que no es tan bueno en estas modalidades, hay que destacar que estos últimos años han sido más de ajedrez blitz, no es de extrañarnos que todos estemos acostumbrados a este ritmo, pero el mundial se estaba jugando a un ritmo lento por lo tanto debíamos adaptarnos. En efecto así fue, empezamos a jugar más calmadamente y nuestros resultados mejoraron muchísimo.
After these bad moments and after talking with captain Arturo, we could see some flaws in our game, specifically the poor time management was costing us vital points, we were playing very fast something that is not so good in these modalities, it should be noted that these last years have been more of blitz chess, it is not surprising that we are all used to this pace, but the world championship was being played at a slow pace so we had to adapt. Indeed we did, we started to play more calmly and our results improved a lot.
Las desventajas del ajedrez online
En la 4ta ronda el equipo iba bastante bien, con una puntuación de 10 unidades aproximadamente estábamos bien ubicados en el escalafón mundial, Harlen Otero quien hasta ese momento estaba invicto logró consolidar un admirable score e incluso pudo hacer tablas con un Gran Maestro de Polonia pasando el Ecuador del Campeonato, no obstante debido a las condiciones de juego el no sumaria puntos al equipo por tener un ELO superior a 2100, sin embargo su actuación individual fue fenomenal.
The disadvantages of online chess

In the 4th round the team was going quite well, with a score of 10 units approximately we were well placed in the world ranking, Harlen Otero who until that moment was undefeated managed to consolidate an admirable score and even managed to make a draw with a Grandmaster from Poland passing the Ecuador of the Championship, however due to the playing conditions he would not add points to the team for having an ELO higher than 2100, however his individual performance was phenomenal.
Nuevamente me tocaba enfrentar a un jugador de gran experiencia y con un alto nivel técnico, en la partida me hice con una buena ventaja posicional, específicamente en el medio juego tuve una gran ventaja espacial, pero al cabo de una secuencia inesperada mi oponente obtuvo un contra juego táctico extremadamente violento, en efecto terminé perdiendo esa partida.
Once again I had to face a very experienced player with a high technical level.. In the game I had a good positional advantage, specifically in the middle game I had a great spatial advantage, but after an unexpected sequence my opponent obtained an extremely violent tactical counter game, in effect I ended up losing that game.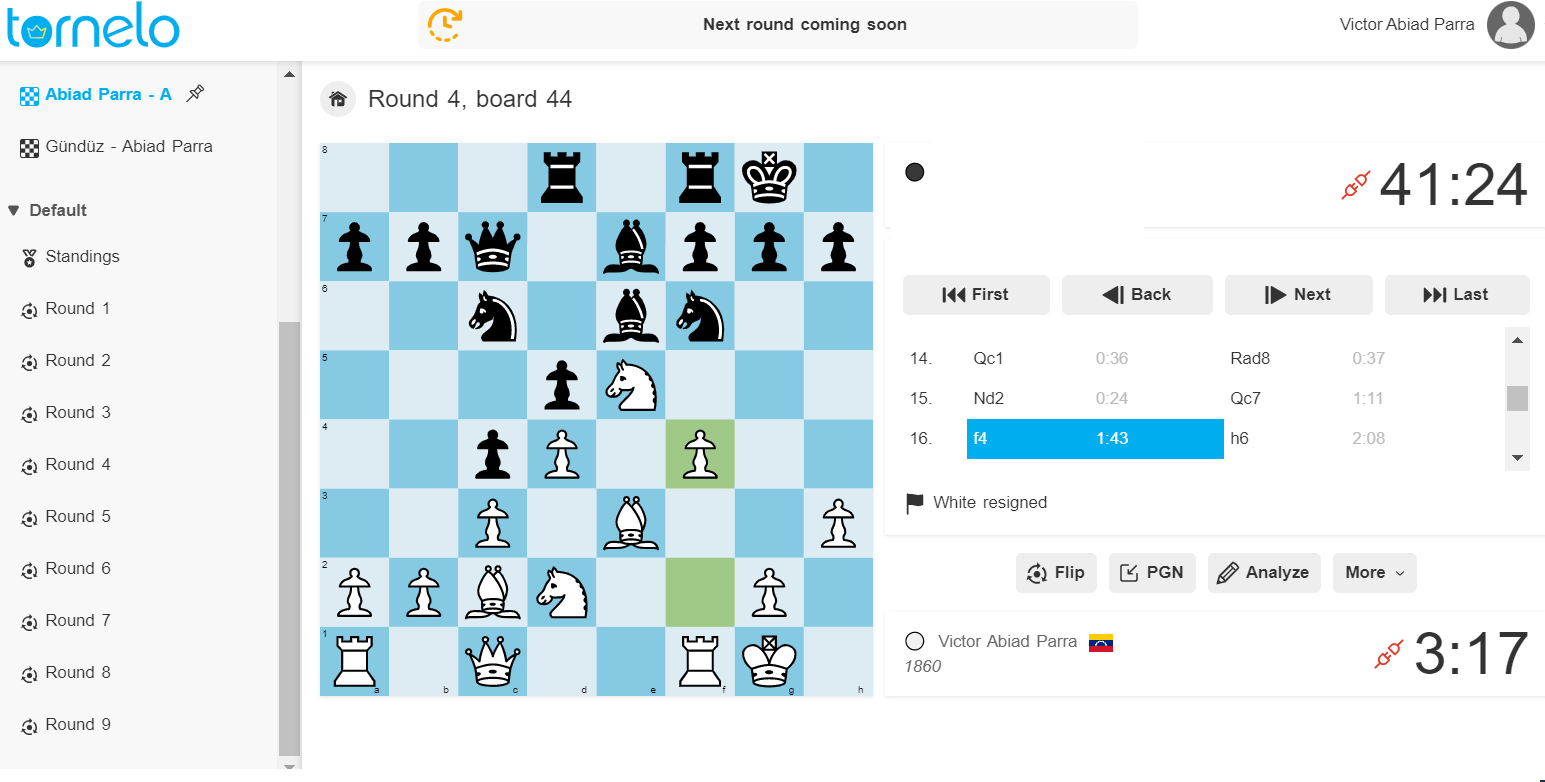 Yo al terminar esta partida estaba bastante desconcertado, tenia un buen juego y de repente perdí el control, es algo que suele pasar en el ajedrez pero esta vez se sentía distinto pues el contrajuego del rival fue implacable, yo hice algunos comentarios a mis compañeros de equipo y me dieron palabras de aliento, pero mi suspicacia se mantenía. En el diagrama pueden apreciar que borré el nombre del jugador de negras, en breve les digo por qué.
At the end of this game I was quite disconcerted, I had a good game and suddenly I lost control, it is something that usually happens in chess but this time it felt different because the opponent's counterplay was relentless, I made some comments to my teammates and they gave me words of encouragement, but my suspicion remained. In the diagram you can see that I erased the name of the black player, shortly I will tell you why.
Traté de olvidarme como pude de esa derrota y seguí adelante, al día siguiente en la quinta ronda gané por default ya que mi oponente no se presentó y acumulé mi 3er punto. Un amigo de Panamá me comentó luego que el rival que me tocaba enfrentar en esta 5ta ronda falleció, yo quedé en shock al escucharlo, no me imaginaba que su ausencia sería por ese motivo; rápidamente esa noticia circuló por las redes de comunicación del evento.
I tried to forget about that defeat as best I could and went on, the next day in the fifth round I won by default since my opponent did not show up and I accumulated my 3rd point. A friend from Panama told me later that the opponent I had to face in this 5th round died, I was shocked to hear it, I did not imagine that his absence would be for that reason; quickly the news circulated through the communication networks of the event.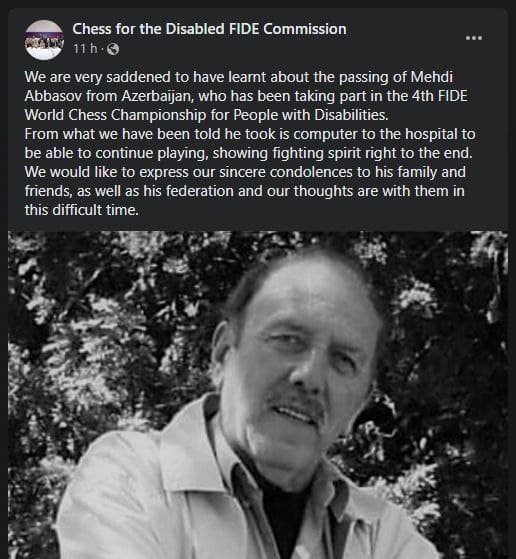 source
La organización del evento dio sus palabras de apoyo a la familia del jugador de Azerbaiyán promoviendo el lema de la FIDE "Gens Una Sumus" somos una familia, fue bastante emotivo y la verdad que es primera vez que experimento esta situación en un torneo de ajedrez.
The organization of the event gave their words of support to the family of the player from Azerbaijan promoting the FIDE motto "Gens Una Sumus" we are a family, it was quite emotional and the truth is that it is the first time I experience this situation in a chess tournament.
Siguiendo con la competencia, en la 5ta ronda volví a ganar y mi marcador ya sumaba 4 aciertos y solo 2 derrotas, venía la quita ronda y recibimos una increíble sorpresa. Resulta que en el emparejamiento de la ronda 7 mi score marcaba 5 puntos, pero esto no podía ser, inmediatamente revisamos los registros de la plataforma y en la ronda 4 mi partida estaba adjudicada, es decir me dieron el punto a pesar de que perdí. Esto nos dejó un poco desconcertados no sabíamos que estaba pasando; contactamos a la organización y efectivamente mi partida estaba adjudicada, todo estaba bien.
Continuing with the competition, in the 5th round I won again and my score was already 4 hits and only 2 losses, the fifth round was coming and we received an incredible surprise. It turns out that in the pairing of round 7 my score was 5 points, but this could not be, we immediately checked the records of the platform and in round 4 my game was awarded, i.e. I was given the point even though I lost. This left us a little puzzled, we did not know what was happening; we contacted the organization and indeed my game was awarded, everything was fine.
El jugador que enfrenté en ese momento (ronda 4), el cual no voy a mencionar ni su nombre ni país de procedencia se encontraba realizando practicas fraudulentas, o en palabras más sencillas, estaba utilizando la asistencia de un programa a de ajedrez lo cual está terminantemente prohibido. Gracias a la excelente labor del equipo anti-trampa este y otros casos fueron detectados relativamente rápido, el problema es que el daño ya estaba hecho y la manipulación de los pareos ante esta situación se torna muy complicado pues los resultados de una u otra forma ya están muy adulterados, es lamentable ver este tipo de practicas en torneos tan importantes, ciertamente el ajedrez por internet tiene este problema, no se puede asegurar en un 100% que el atleta acate el fairplay pese a todas las medidas que se implementen.
The player I faced at that time (round 4), which I will not mention his name or country of origin was doing fraudulent practices, or in simpler words, was using the assistance of a chess program which is strictly prohibited. Thanks to the excellent work of the anti-cheating team this and other cases were detected relatively quickly, the problem is that the damage was already done and the manipulation of the pairings in this situation becomes very complicated because the results in one way or another are already very adulterated, it is unfortunate to see this kind of practices in such important tournaments, certainly internet chess has this problem, you can not ensure 100% that the athlete abides by the fairplay despite all the measures that are implemented.
Claramente yo no era el único afectado, varios casos como el mío fueron atendidos. El campeonato continuaba y en la 7ma ronda ya con un punto extra (5 de 6 posibles) subí a las primeras mesas, me tocaba enfrentar a un jugador de Italia al cual pude hacer frente bastante bien y lograr una posición de equilibrio, pero el tema de la conectividad no me favoreció.
In fact I was not the only one affected, several cases like mine were attended. The championship continued and in the 7th round and with an extra point (5 of 6 possible) I went up to the first tables, I had to face a player from Italy which I could cope quite well and achieve a balanced position, but the issue of electricity did not favor me.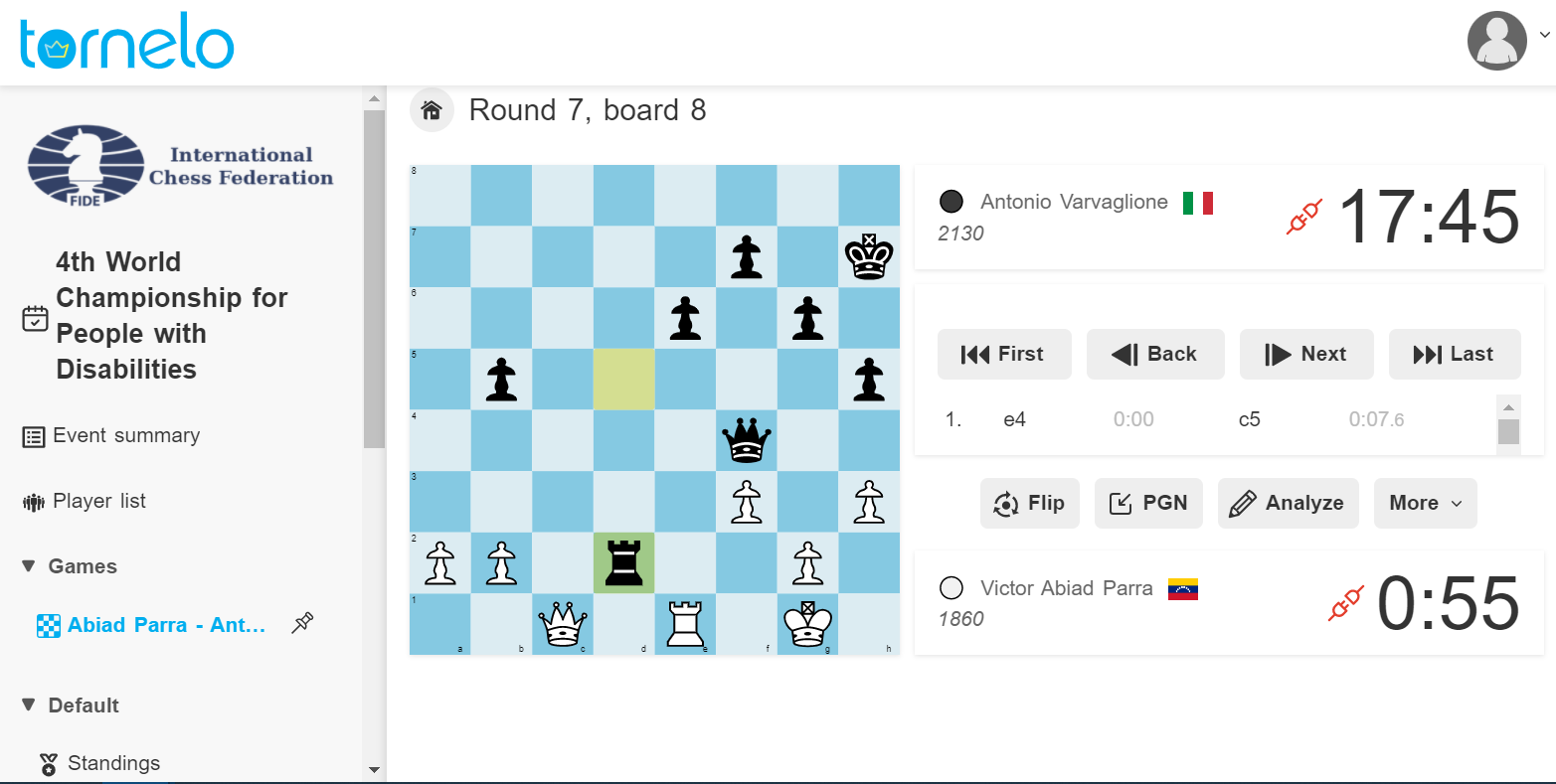 En el diagrama se aprecia que las negras están más activas, sin embargo las blancas cuentan con suficientes recursos para salvar el medio punto, pero en ese instante perdí conectividad a internet, inmediatamente conecté los datos pero de igual forma la red no era estable y al cabo de unas jugadas mi partida concluyo con resultado positivo para mi rival. No obstante mis compañeros estaban haciendo una excelente actuación en sus respectivas partidas, el ultimo tercio del mundial fue clave para posicionarnos en el cuadro de resultados finales.
In the diagram it can be seen that black is more active, however white has enough resources to save the half point, but at that moment I lost internet connectivity, I immediately connected the data but the network was not stable and after a few moves my game ended with a positive result for my opponent. However, my teammates were doing an excellent performance in their respective games, the last third of the world cup was key to position us in the final results table.
La culminación del toreno
Llegada la novena ronda nuestro equipo acumulaba 20 unidades, una cifra bastante competitiva y que nos brindaba la opción de hacernos con los primeros lugares del evento, por supuesto en esta ultima fase muchos equipos estaban dando su mejor ajedrez para así lograr una excelente clasificación. Finalizada la competencia nuestro equipo acumuló 24.5. Tuvimos que esperar hasta el día miércoles 17 (4 días después de finalizar) pues el equipo anti trampa se encontraba en ardua jornada verificando las partidas.
In the ninth round our team accumulated 20 units, a very competitive figure and that gave us the option to take the first places of the event, of course in this last phase many teams were giving their best chess to achieve an excellent classification. At the end of the competition our team accumulated 24.5. We had to wait until Wednesday 17th (4 days after the end) because the anti-cheating team was hard at work verifying the games.
Es de destacar esa labor, nos es facil llevar el control de todas las partidas en especial la de detección de trampas, el equipo encargado estuvo muy bien entrenado en este sentido y muchos casos fraudulentos fueron detectados a tiempo, sin embargo, la presencia de jugadores mal intencionados causo muchos desequilibrios en las posiciones finales, muchas partidas fueron adjudicadas y los scores estuvieron algo fuera de lo común, en el video explico más en detalle esta situación.
The team in charge was very well trained in this regard and many fraudulent cases were detected in time, however, the presence of ill-intentioned players caused many imbalances in the final positions, many games were awarded and the scores were somewhat out of the ordinary, in the video I explain more in detail this situation.
A continuación los resultados finales:
The final results: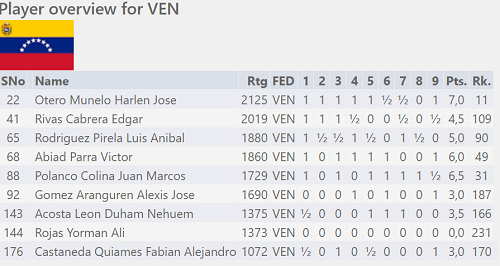 Actuación individual de jugadores de Venezuela source
Como equipo Venezuela se ubicó en el 7mo lugar:
Venezuela was ranked int 7th position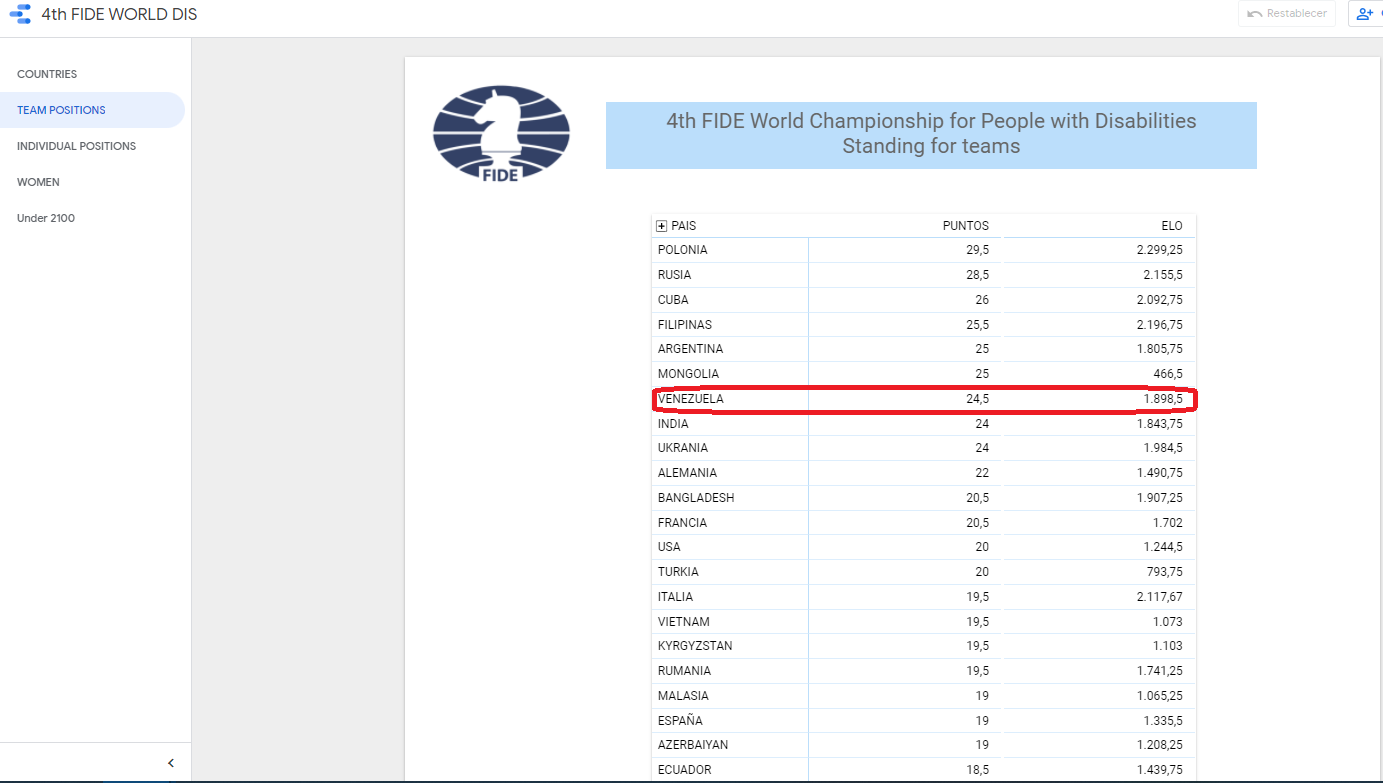 source
En el video se analiza la tabla de clasificación final y los matices relacionados al torneo en general.
I review int the video analyzes the final ranking table and the nuances related to the tournament in general.
Una muy buena actuación por parte del equipo de Venezuela, pese a todas las adversidades se pudo conseguir una muy representativa actuación que sin duda ratifica la fuerza de juego del equipo en estos eventos mundiales de ajedrez.

A very good performance by the Venezuelan team, despite all the adversities, they were able to achieve a very representative performance that undoubtedly ratifies the strength of the team's play in these world chess events.
Hasta acá el reporte, un poco extenso pero la verdad que no resulta sencillo expresar en un post todas los pormenores de una competencia tan importante como la de un Mundial. Un saludo a toda la comunidad de @fulldeportes y espero sea de su agrado esta información que muy gustosamente comparto, nos seguimos leyendo en una próxima oportunidad.
.
So far the report, a little long but the truth is that it is not easy to express in a post all the details of a competition as important as the World Cup. Greetings to the entire community of @fulldeportes and I hope you like this information that I gladly share, we will continue reading in a next opportunity.
World Chess Championship for People with Disabilities: Registration continues
El vídeo usa música licenciada como CC BY 3.0 por Infraction - No Copyright Music
The video uses music licensed as CC BY 3.0 by Infraction - No Copyright Music.

---
▶️ 3Speak
---
---