Diamond or Champion rewards chests?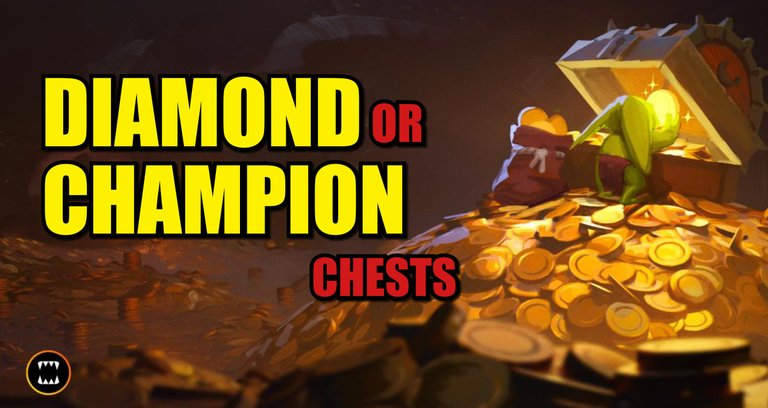 Hi fellow Battle Mages!
If you are playing Splinterlands then you would probably like to maximize your rewards, same as I would. That of course depends on the league you are playing in and on the SPS that you have staked. But at the same time, it depends on how many chests you can acquire.
Champion League is not a joke. It is really hard and there are many players with high collection power in there. It is harder to acquire chests because you need more Reward Shares. Of course, you earn more Reward Shares but as I said it is harder to win, especially if you don't have all the cards, and therefore you earn fewer chests than you would in the Diamond League. At least that is the case with me. Now Champion chests are worth more than Diamond chests and even if you earn fewer chests you could extract greater value with fewer Champion chests.
So with that in mind let's dive into the math from my previous seasons and let's try to decide which chests are better.
---
According to splex.gg, last season I earned 56 Champion chests and 85 Diamond chests. No, I don't know if that are good numbers or not, so if you know please let me know. I feel it is ok considering my deck is made of Chaos Legion, Reward, and occasional Rift Watcher cards. I don't have a single Untamed or Dice card and we all know that those are OP. I don't even rent those because of the price.
---
Rewards table
| Reward | Diamond | DM per Chest | Champion | CH per Chest |
| --- | --- | --- | --- | --- |
| SPS | 397.01 | 4.67 | 133.087 | 2.37 |
| Merits | 1547 | 18.2 | 12032 | 214.86 |
| Packs | 2 | 0.02 | 2 | 0.0357 |
| Common | 131 | 1.54 | 103 | 1.84 |
| GF Common | 0 | 0 | 5 | 0.089 |
| Rare | 19 | 0.22 | 4 | 0.071 |
| GF Rare | 0 | 0 | 0 | 0 |
| Epic | 6 | 0.07 | 2 | .0357 |
| GF Epic | 0 | 0 | 0 | 0 |
| Legendary | 5 | 0.05 | 0 | 0 |
| GF Legendary | 0 | 0 | 0 | 0 |
| Gold Potions | 100 | 1.17 | 237 | 4.23 |
| Legendary Potios | 142 | 1.67 | 111 | 1.98 |
While it is harder to get Champion chests, the rewards in these chests are way better. For example, you are 5.5% less likely to get potions, which are, if you ask me, the worst reward you can get from a chest. There is a 5% more chance that you will get a card and 1% more that you will get a pack of cards. While that does not seem like a big deal, if you apply this to bigger numbers it is quite surprising.
But it is all about numbers. If you ask me it is better to get more lower-level chests than fewer higher-level chests. By doing that you have higher chances of hitting that SPS or GF Legendary jackpot.
---
If we take a look at the table we can see rewards pulled per chest. Now I must mention that this is done on small amounts of chests and that I will work on this research more in the future.
We can see that higher amounts of SPS were pulled from Diamond chests and by almost 100% more. I think that this is an anomaly and that on the bigger sample, Champion chests should win.
With merits, I had incredible luck and pulled over 12k merits in one season just from Champion Chests and that never happened before, even though I used to have around 5-6k merits per season. That still beats the merits of Diamond chests.
Packs are really straightforward just like it is written in the documentation. You have 1% more chances to pull a pack from a Champion chest than from a Diamond chest and we can see that numbers clearly in the table above.
When it comes to cards it seems that number of chests is a clear winner over the rarity of chests. That can be clearly seen on the legendary cards where I pulled 5 legendary cards from Diamond chests and 0 from Champion chests. Once again, maybe this is just too small a sample pool but I will definitely look more closely into that.
In the end, Potions have 47 multiplier, and merits have a 32x multiplier in Champion. If you are looking to level up your Gladiator cards then Champion chests are the way to go. And I must say that Gladiator cards are very underrated, especially now with summoners that enable us to use these cards in the ranked play. It means that one day, when you complete your Gladiator set, you will be the OG of this game and you will have an advantage that very few can match.
Summary
I don't know how you feel but I will create another way bigger report regarding Champion and Diamond chests so I could decide where to place myself. If I go for Diamond chests I could also fight for the leaderboard and that could bring me more rewards like 10 or 20k DEC per season. I don't like the Champion league due to being very competitive, but that may change with XBOT Battle Helper removing its services for Brawls, Tournaments, and Champion league. It is important that we keep tracking our stats and decide what is the best action based on the collected data.

This presents an opportune moment to strategically acquire new cards and revitalize your deck. It is essential to exercise caution, as the influx of new players can potentially lead to heightened demand and subsequent price fluctuations within the market. For those who have not yet embarked on their Splinterlands journey, now is an ideal juncture to seize the benefits of acquiring exceptional cards at special prices. I invite you to join the Splinterlands Discord community, where you can gather further insights and delve deeper into this captivating realm of gameplay.
Official Splinterlands Discord: https://discord.gg/A6yNcVqbU6
If you are new here
Splinterlands is an exceptional NFT trading card game that operates on the play-to-earn model. For newcomers, this implies that engaging in the game not only offers an immersive and enjoyable experience but also presents an opportunity to generate income through the acquisition of SPS. If you have yet to create an account, I highly recommend registering using my referral link. In doing so, kindly reach out to me via direct message, and upon confirming your presence on my referral list, I will gladly provide you with 100 DEC to facilitate your initial foray into the game.
https://splinterlands.com?ref=vjekich
Have fun and see you on the battlefield.

---
---