Gods Unchained Daily Play & Earn starting August, 31st!

Hi HODLers and Gods Unchained players,
Gods Unchained announced its Daily Play & Earn feature is launching on 31 August at 5 pm PDT!


Image Source
This is very important as it will make Gods Unchained players to compete daily in ranked games.
By playing games (and winning them), you will earn fragments
Play up to 10 Ranked matches each day.
Only wins generate Fragments.
The first 3 wins of a day give double Fragments.
$GODS rewards are calculated as:
$GODS earned = Your Daily Fragments / Daily Community Fragments) * Total Daily $GODS Rewards
How to claim those?
Directly in the game UI Menu as shown below:

You will be able to claim these $GODS tokens 7 days after you have earned them
How many $GODS tokens are given out daily?
There is a formula with the purpose to rebalance the exact amount of tokens given out
It will be starting with a minimum $GODS Rewards of 14,000 and could go up to a maximum Daily $GODS Rewards of 30,000.
They have shown some additional screenshots highlighting dashboards to track your past and present performance. Cool right!?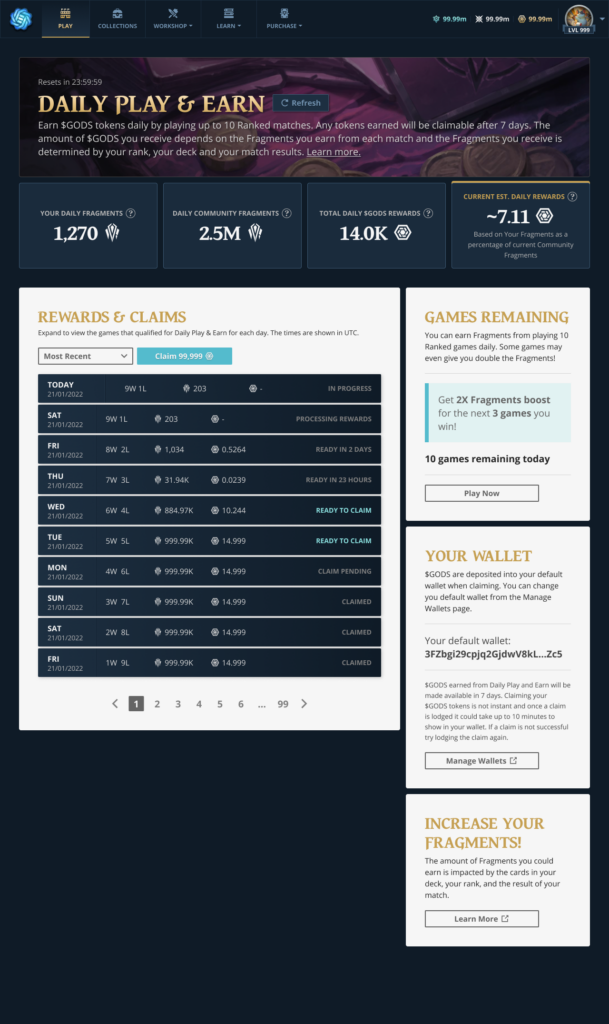 Stay safe out there,
Source: Bored Ape Yacht Club NFTs Ethereum Floor Price Drops to 8-Month Low, Decrypt
Latest articles
---
---