Musaka sa najmanje kalorija! ☝️☝️ Moussaka with the least calories! ☝️☝️
Nekada vam je već stvarno dosta kuvanja i dijeta, zato sam ja tu sa novim predlogom! Musaka sa tikvicama! Ono što je najbitnije, malo kalorija a preukusno! Idealno za goste. Brzo se pravi, ne košta puno i lepo je za oko! 👀☝️
Ok, od materijala vam treba: 1 veća tikvica, mocarela, pršuta, maslinovo ulje, permezan.
Sometimes you're really fed up with cooking and dieting, that's why I'm here with a new proposal! Moussaka with zucchini! The most important thing, few calories and delicious! Ideal for guests. It's quick to make, doesn't cost much, and is a sight to behold! 👀☝️
Ok, from the materials you need: 1 large zucchini, mozzarella, prosciutto, olive oil, parmesan.
Prvo malo poprskajte posudu u kojoj pečete maslinovim uljem. Zatim isecite tikvicu na šnite/ploške.
Počnite da redjate tikvicom. Preko nje pršuta pa opet tikvice. Ponoviti još dva puta.
First, lightly spray the dish in which you are baking with olive oil. Then cut the zucchini into slices/slices.
Start layering the zucchini. Over it, prosciutto and zucchini again. Repeat two more times.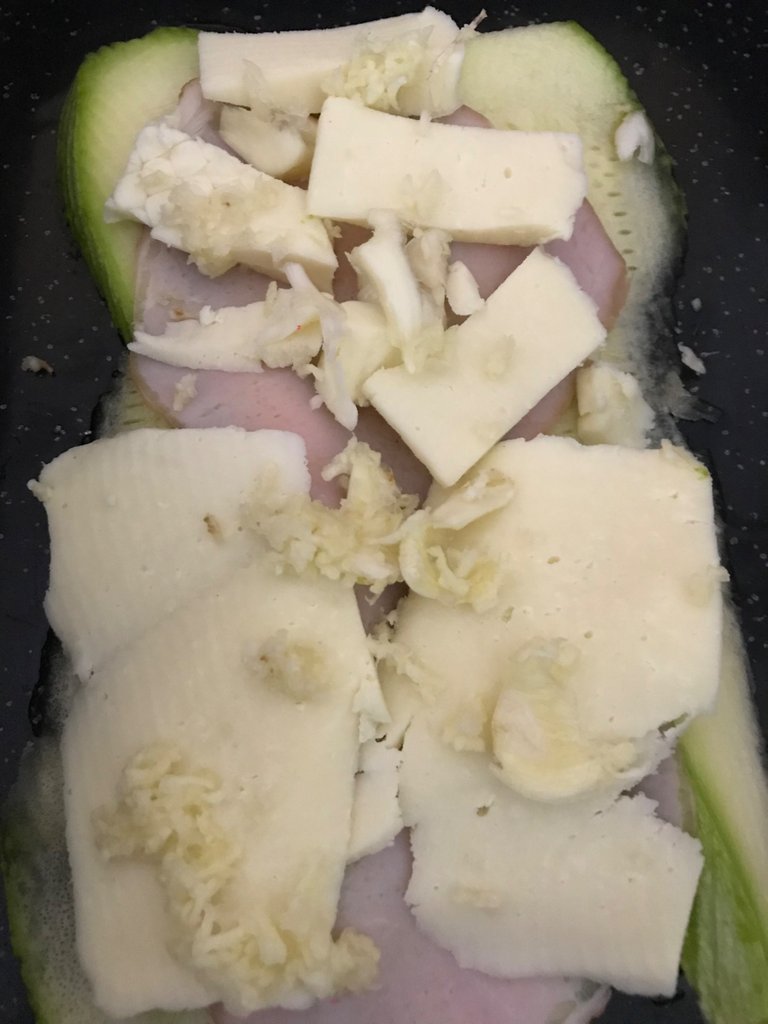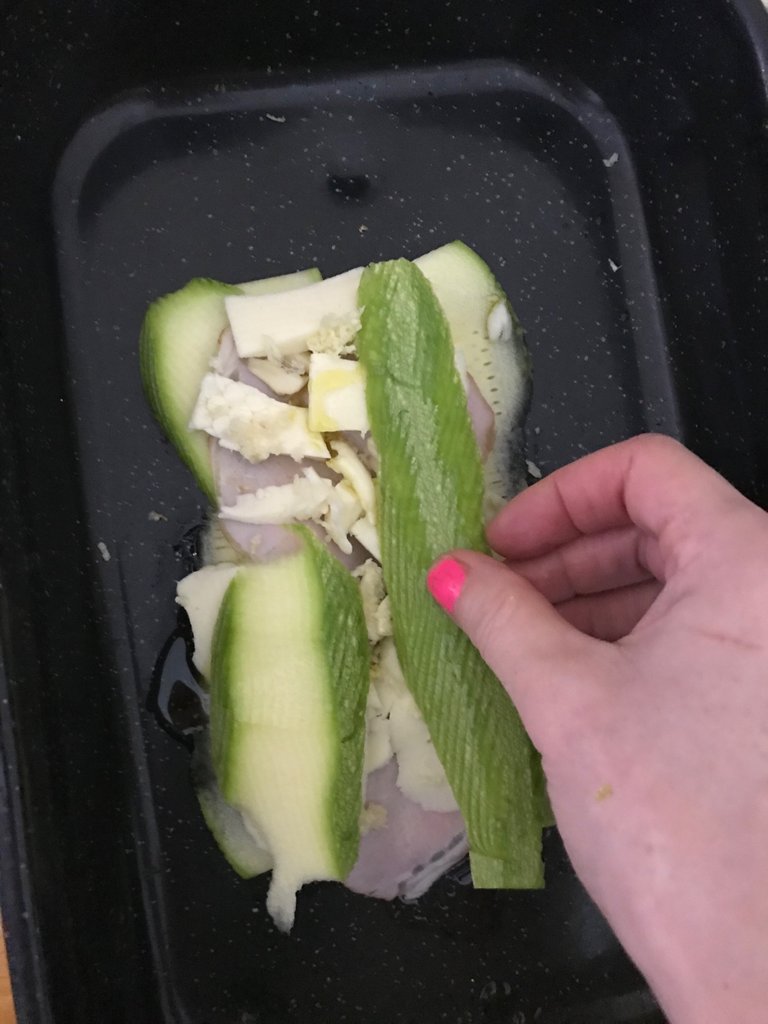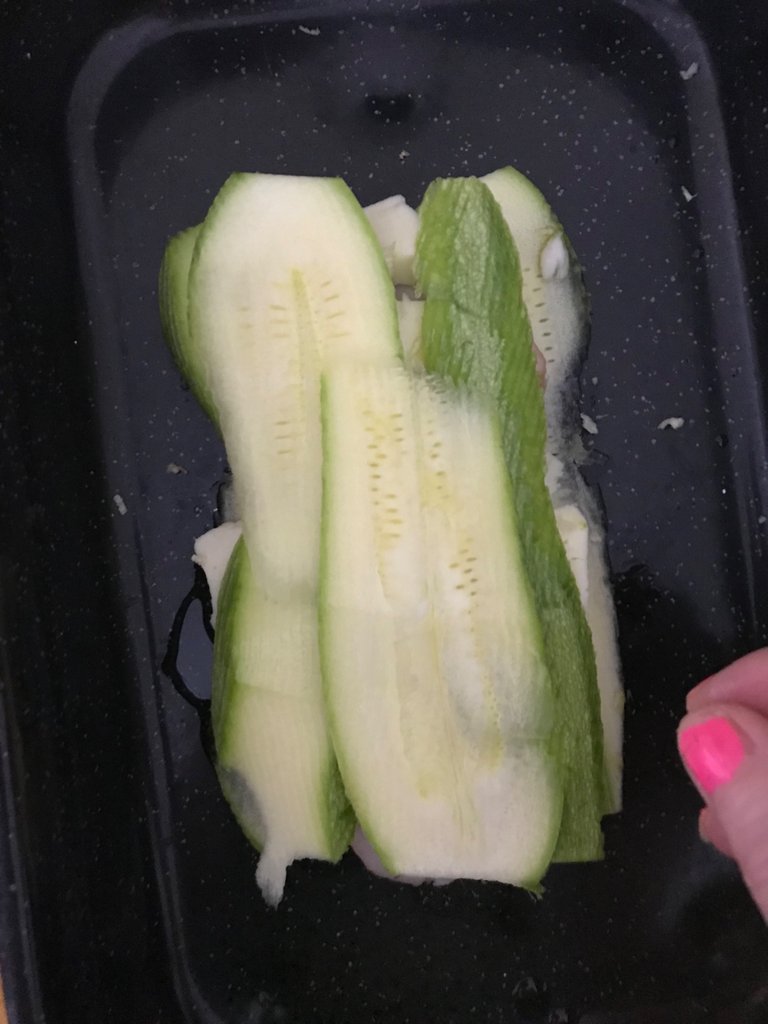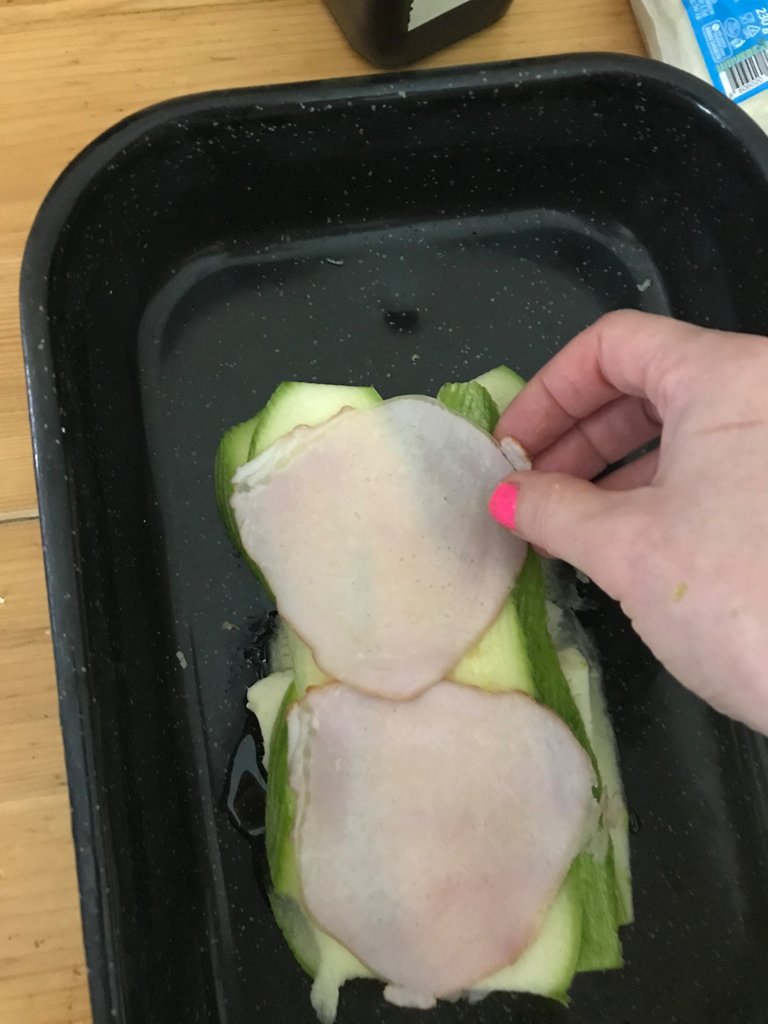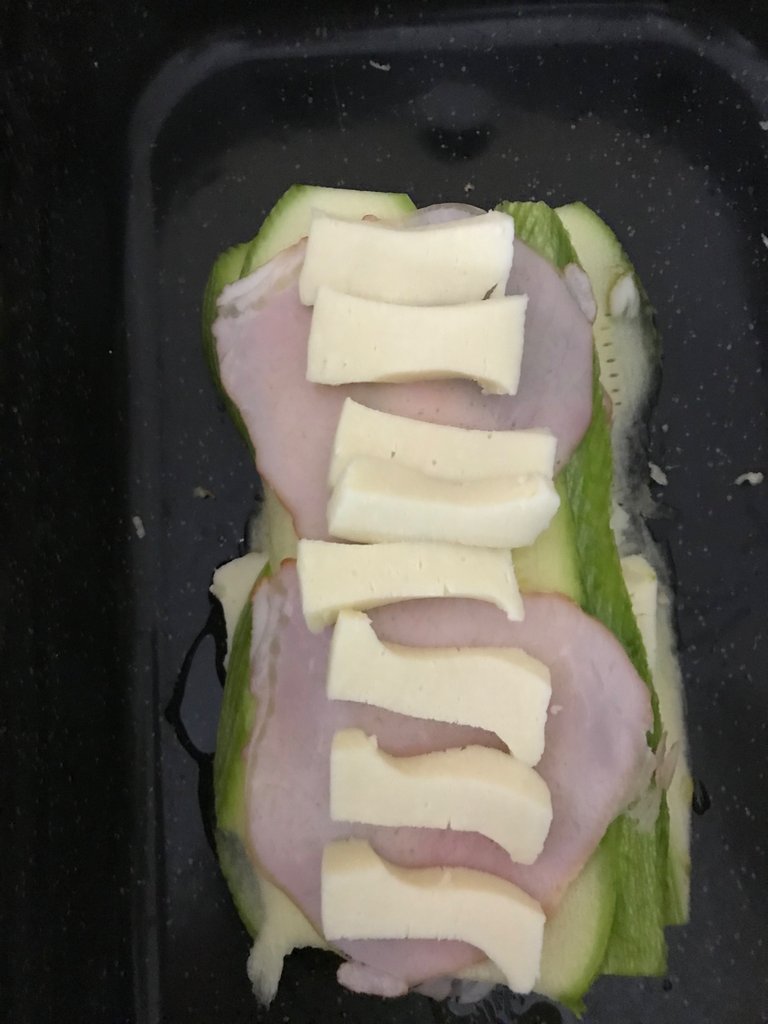 Mocarelu možete i narendati ili ceći na komade. Tikvicu takodje u sredini mižete rendati. Zaboravih reći, ja nisam imala pršute pa sam umesto nje stavila pečenicu.
You can also grate the mozzarella or cut it into pieces. Grate the zucchini in the middle as well. I forgot to say, I didn't have any prosciutto, so I put a sirloin instead.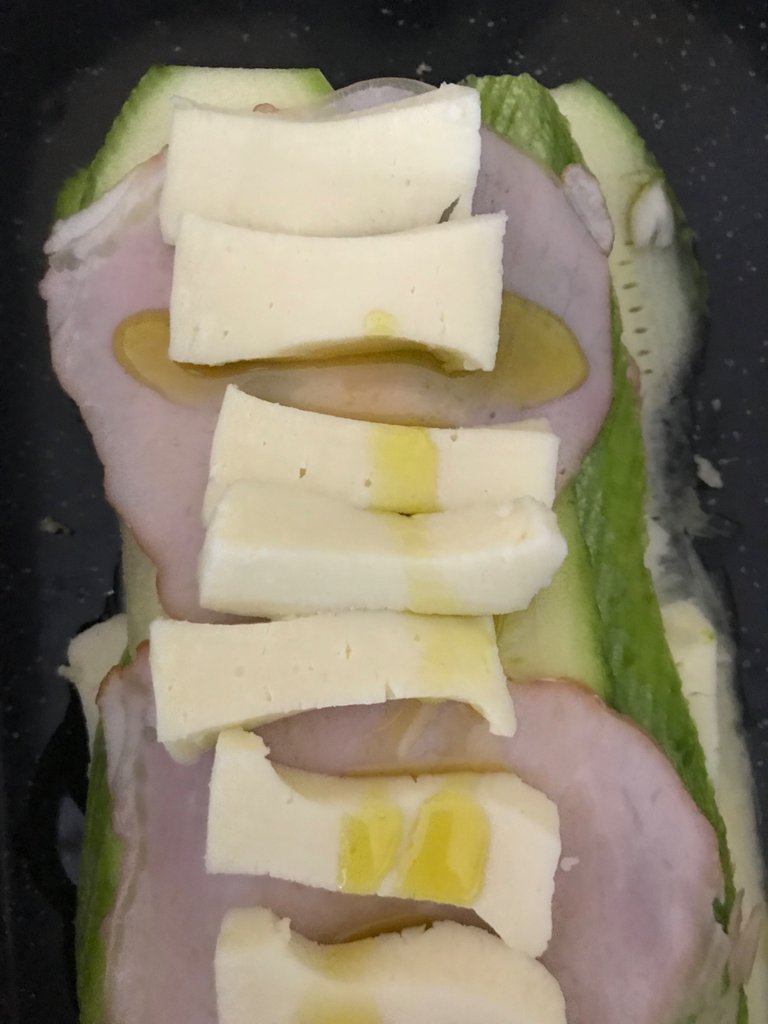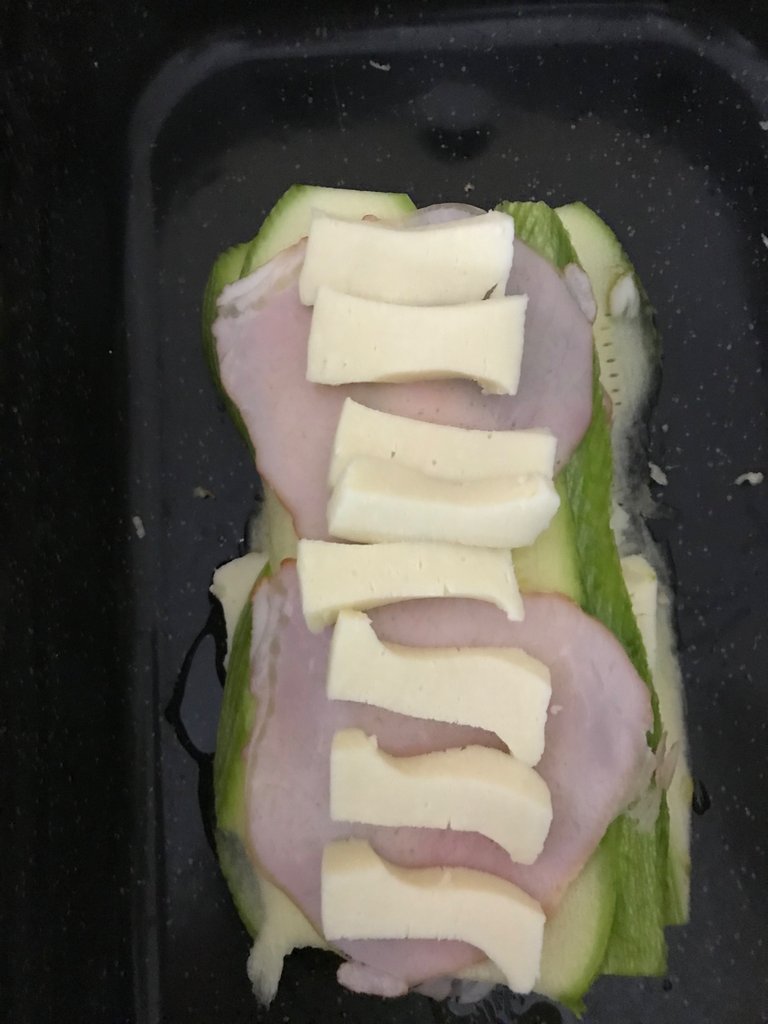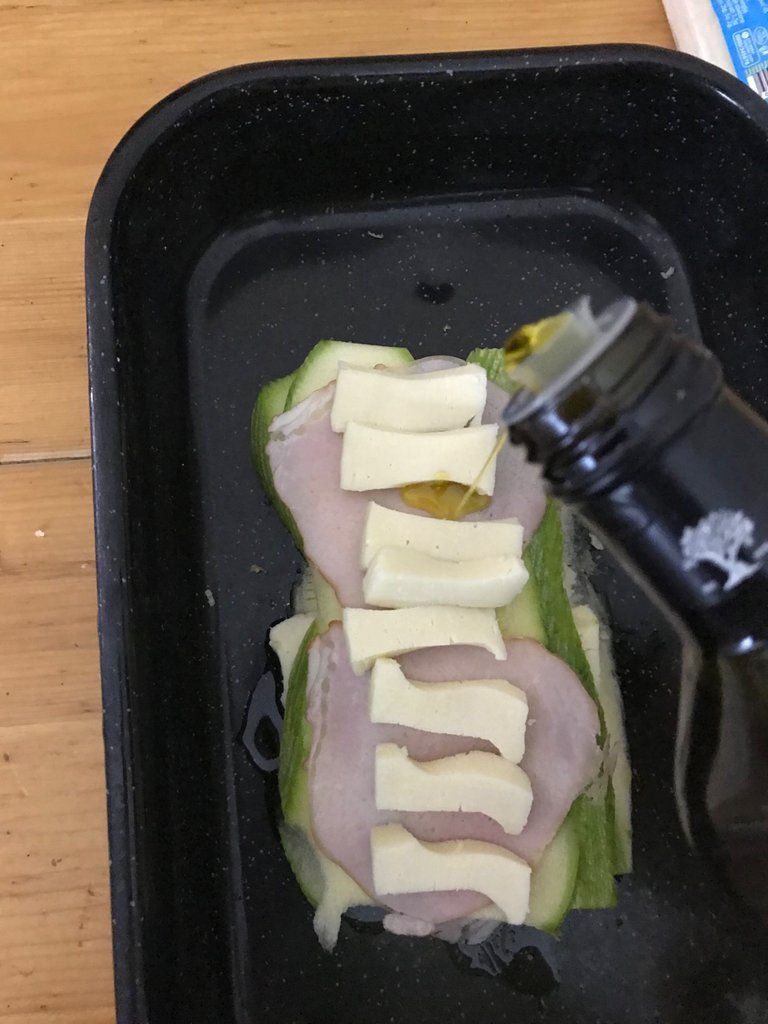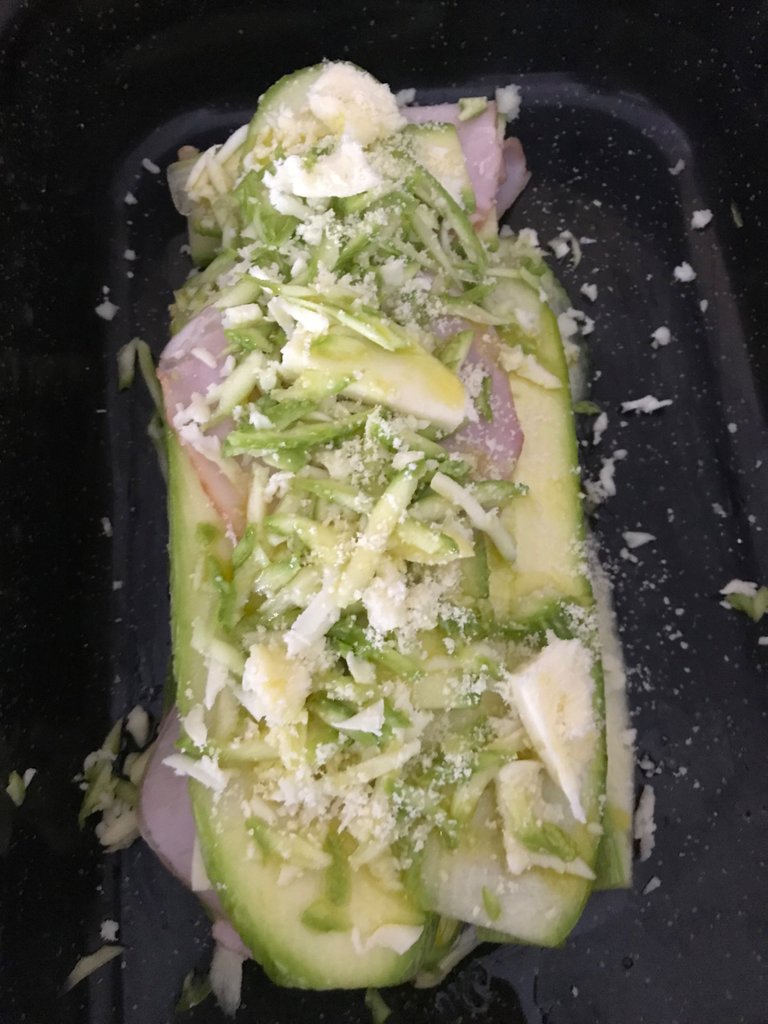 Izmedju dva redjanja prelijte maslinovim uljem.
Pour olive oil between the two layers.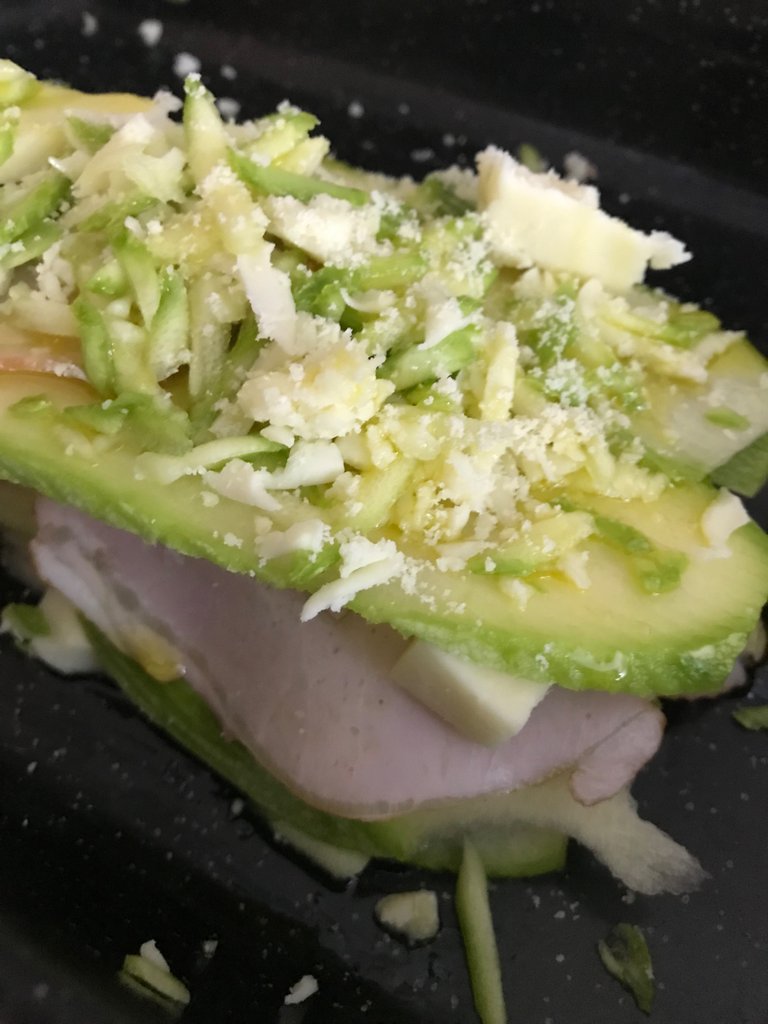 Na kraju treba da završite sa pršutom i mocarelom. na kraju pospite permezan.
Stavite u zagrejanu rernu i pecite na 200 stepeni oko pola sata.
Ovako treba da izgleda kad je pečeno:
Finally, you should finish with prosciutto and mozzarella. at the end, sprinkle with Parmesan.
Place in a heated oven and bake at 200 degrees for about half an hour.
This is what it should look like when baked: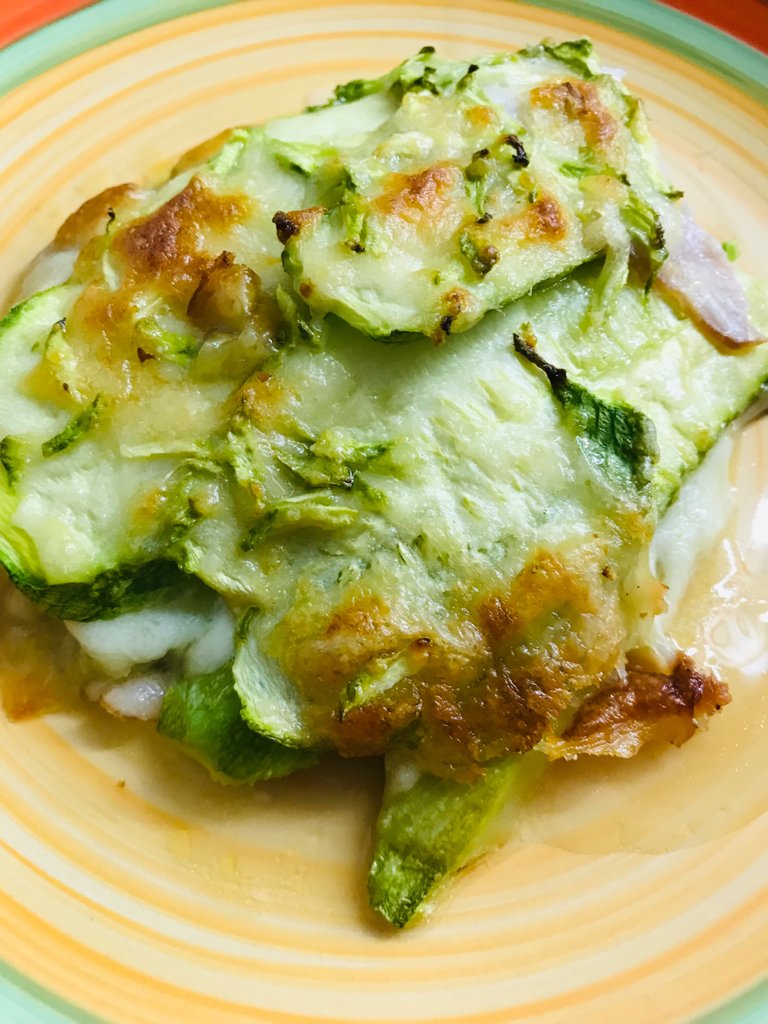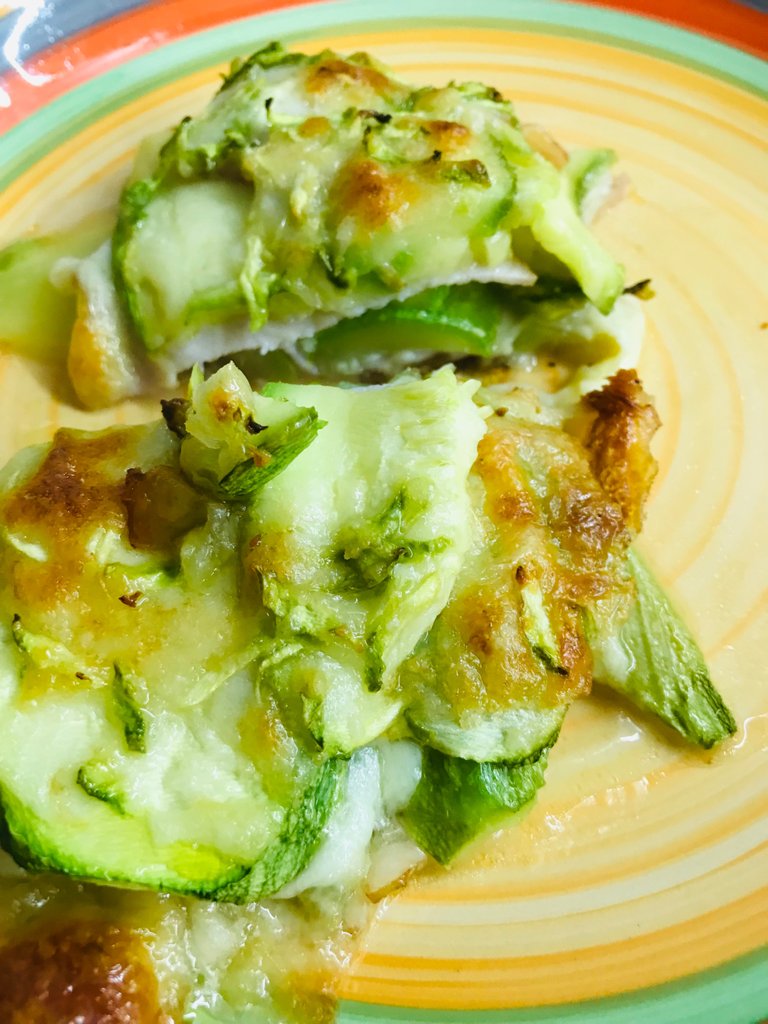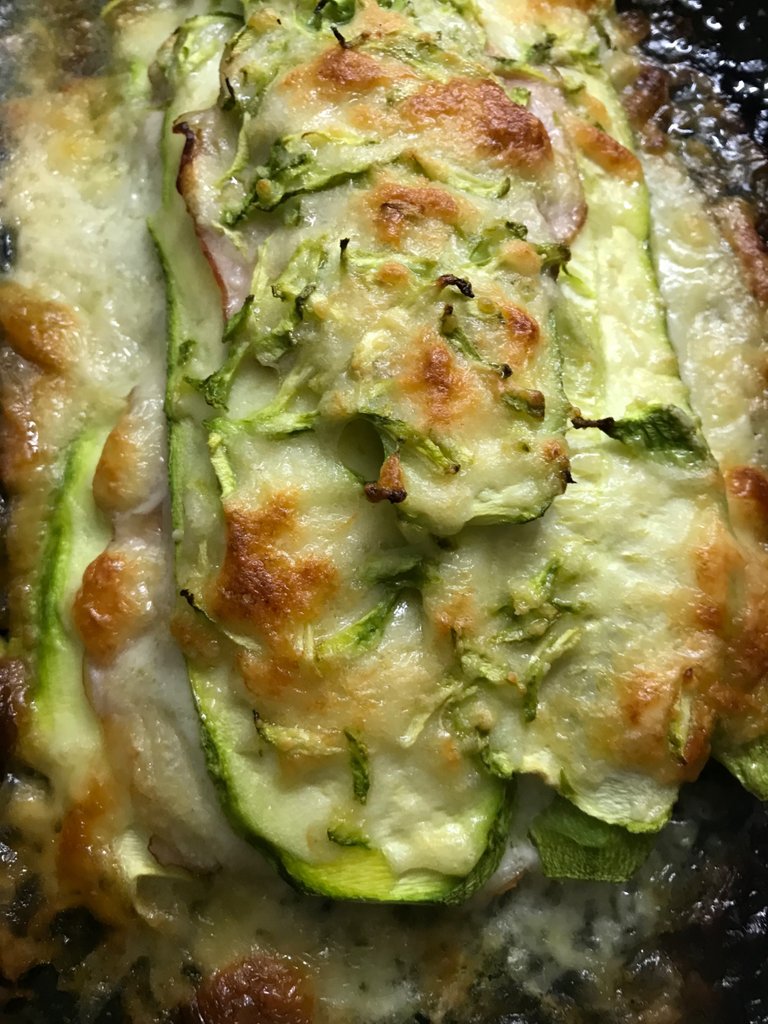 Zar ne izgleda predivno? 😋
S obzirom da je ovo jelo lagano, možete dodati neki prilog. Sos, salatu, bareno jaje, grčki jogurt, dvopek. . .
Ja sam uz ovo jelo dodala zelenu salatu sa crvenim pasuljem.
Proteinski i vitaminski dodatak koji će bojama ukrasiti musaku!
Doesn't it look gorgeous? 😋
Since this dish is light, you can add a side dish. Sauce, salad, hard-boiled egg, Greek yogurt, double-baked bread. . .
I added a green salad with red beans to this dish.
A protein and vitamin supplement that will add color to the moussaka!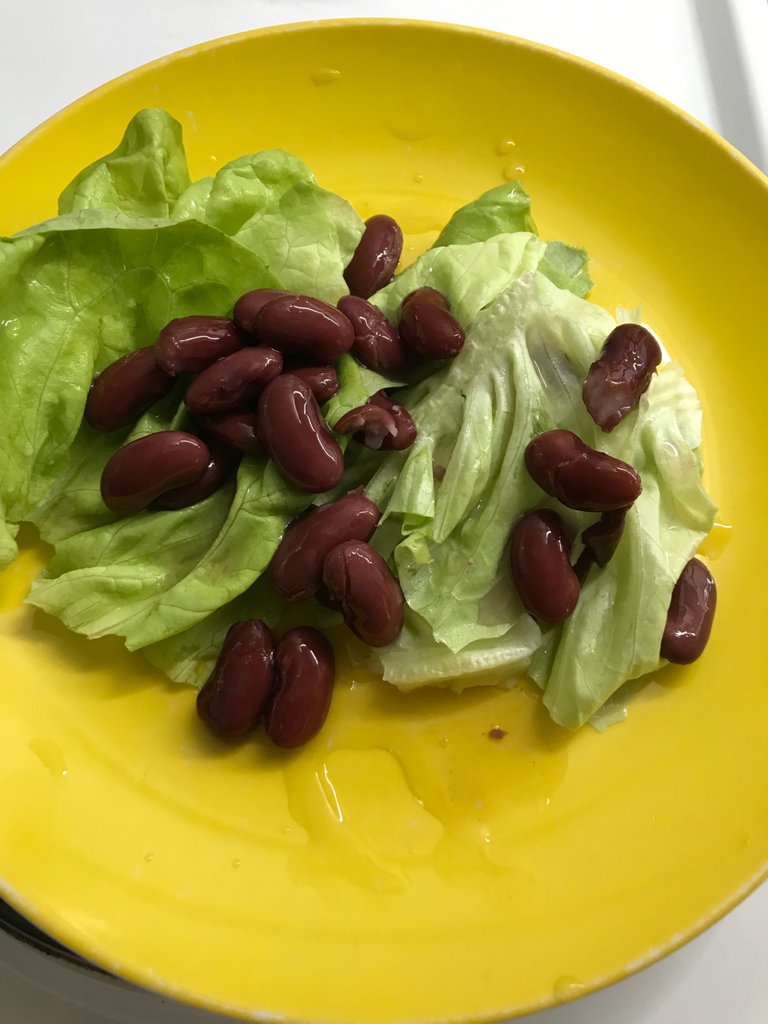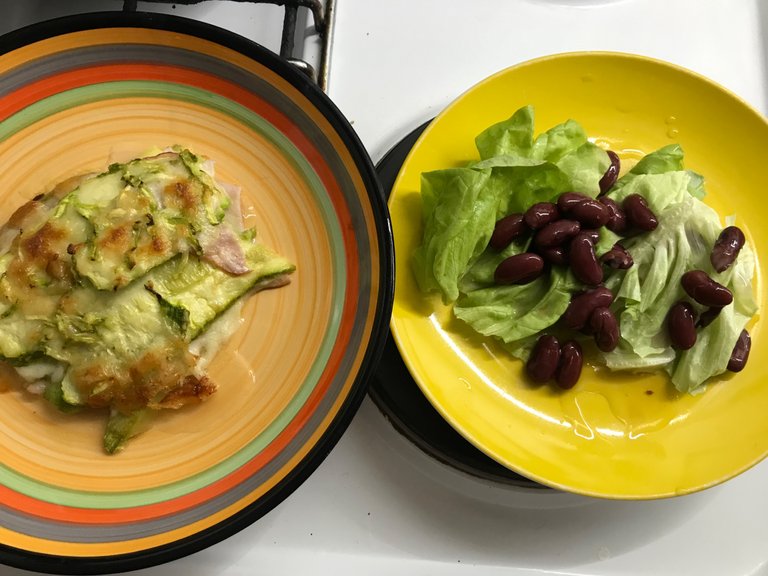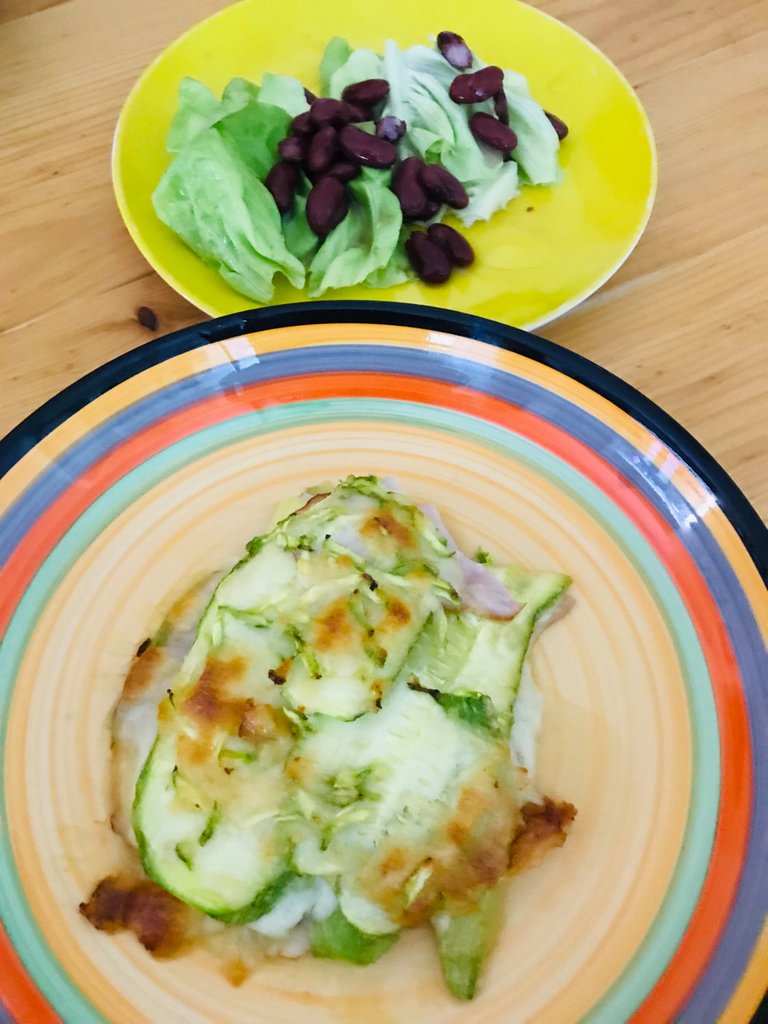 Nadam se da ćete uźivati u ovom brzo napravljenom obroku, razveseliti goste koji neće dobiti višak kilograma već vitaminski gorivo ( energiju ) za novi dan!
Since moussaka is a traditional Greek dish, you can listen to bouzouki and play sirtaki while you eat! 😄😉
I hope you will enjoy this quickly made meal, cheer up the guests who will not gain extra pounds but vitamin fuel (energy) for the new day!
Prijatno! 👋
Pleasant!
Ευχάριστο γεύμα! 👋
Pozdrav od Anke vragolanke.
Greetings from Anka vregolana!
---
---