Gvozdeni drug i ja na kiši! ☔️ The iron friend and I in the rain! ☔️

Čini mi se da su noći lepše za šetnju. Kao da se sve smiri i niko ti tada ne smeta. Ok, ne mislim na Njujork. 😁
Govorim o manjim gradovima kao što je moj. Sem šetnje, noću volim i da slikam. Boje, četkice, platno, miris tempera. Moj mali svet. Često možemo da čujemo - On bira društvo!
Pa naravno da bira! Ne treba svakoga puštati u svoj život. Neka vaši ciljevi budu filter za one koji sa vama ne dele isti sistem vrednosti.
Olakšaće vam život.
Sa ovim mislima krenula sam u noćnu četnju, po ulicama okupane kišom.
It seems to me that the nights are more beautiful for walking. It's as if everything calms down and no one bothers you then. Ok, I don't mean New York. 😁
I'm talking about smaller towns like mine. Besides walking, I also like to paint at night. Paints, brushes, canvas, the smell of tempera. My little world. We can often hear - He chooses the company!
Well of course he chooses! You shouldn't let everyone into your life. Let your goals be a filter for those who do not share your value system.
It will make your life easier.
With these thoughts, I set out for the night reading, through the streets bathed in rain.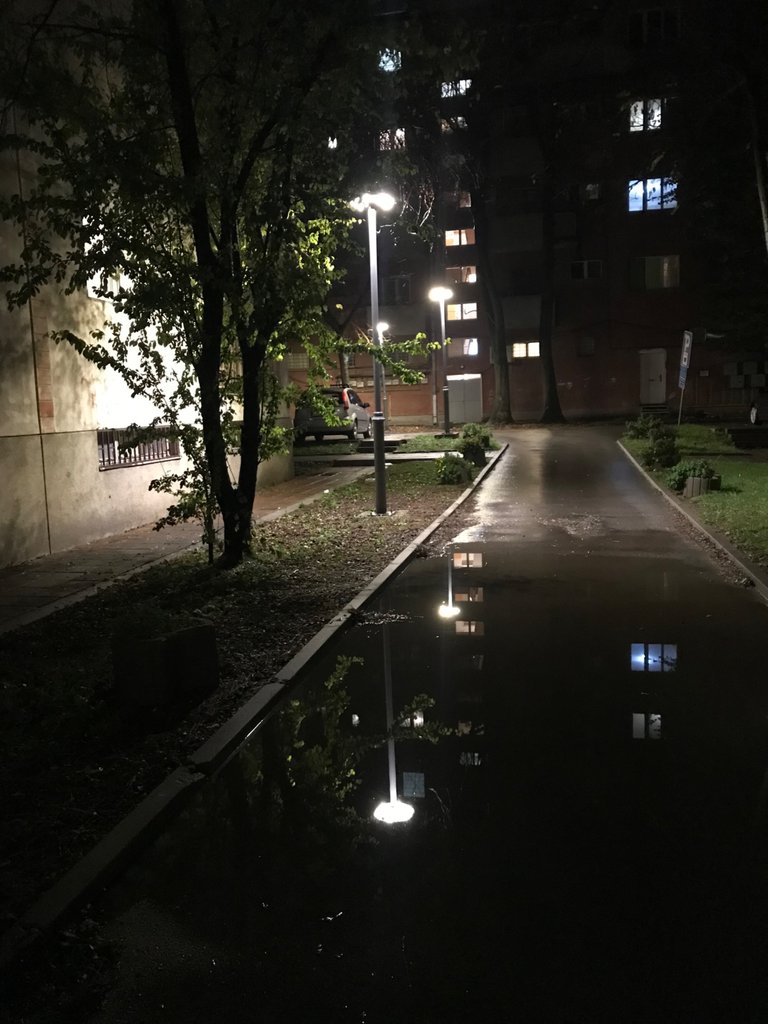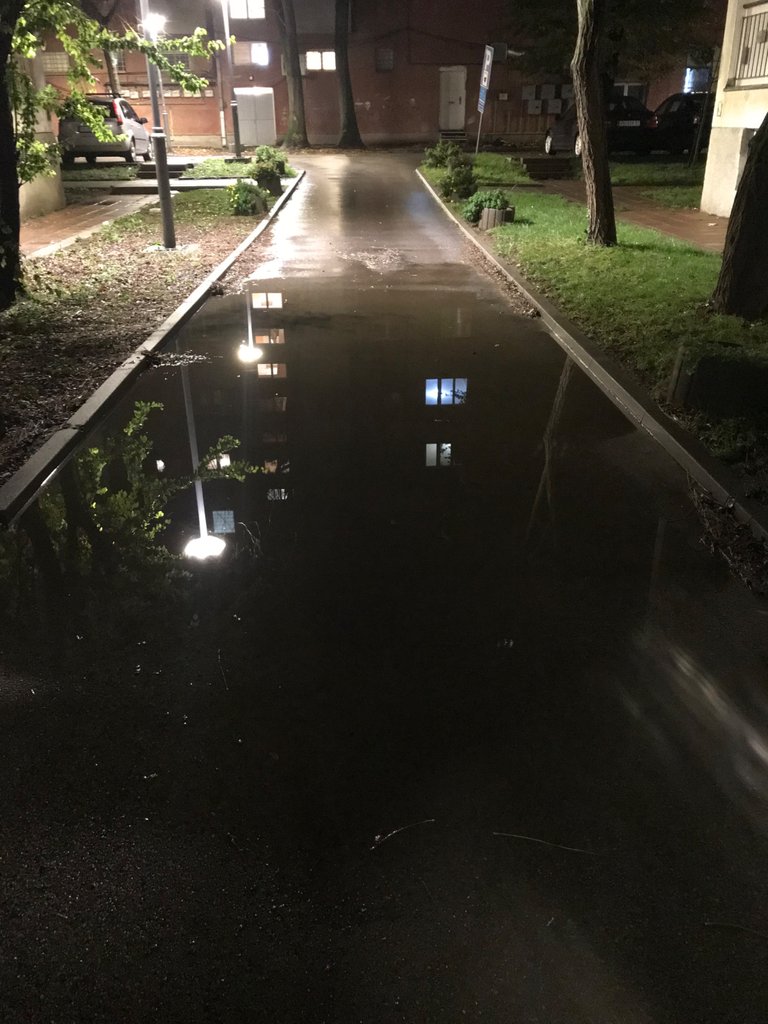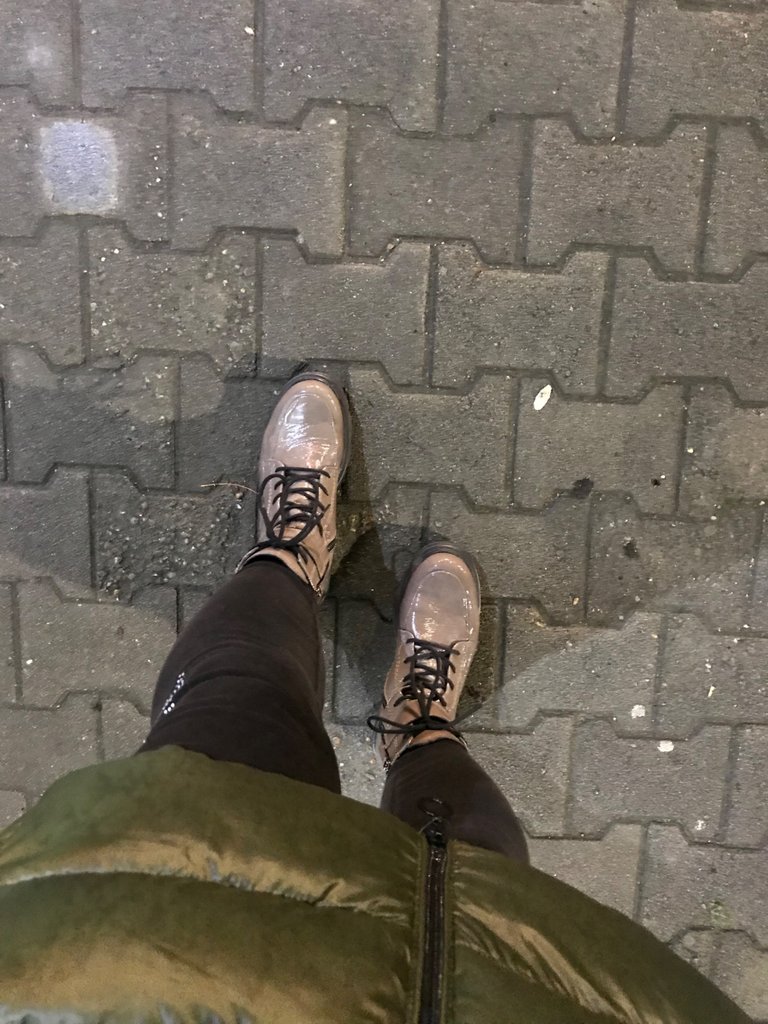 Preskačući barice u kome se ogledao grad,upijala sam svež vazduh i otpuštala nakupljenu negativnu energiju tokom dana. Noć je bila hladnjikava ali pustila sam da mi vazduh prolazi kroz kosu. Volim protok energije. Ako se i smrznu malo uši, pa šta! Kad sam bila mala otpadale su mi od zime pa evo, ništa mi ne fali. Bar mi se tako čini- a? 👂 😆😆😆
Jumping over the ponds in which the city was reflected, I absorbed fresh air and released the accumulated negative energy during the day. The night was chilly but I let the air pass through my hair. I love the flow of energy. If the ears freeze a little, so what! When I was little, they fell off in the winter, so here, I don't miss anything. At least that's how it seems to me? 👂 😆😆😆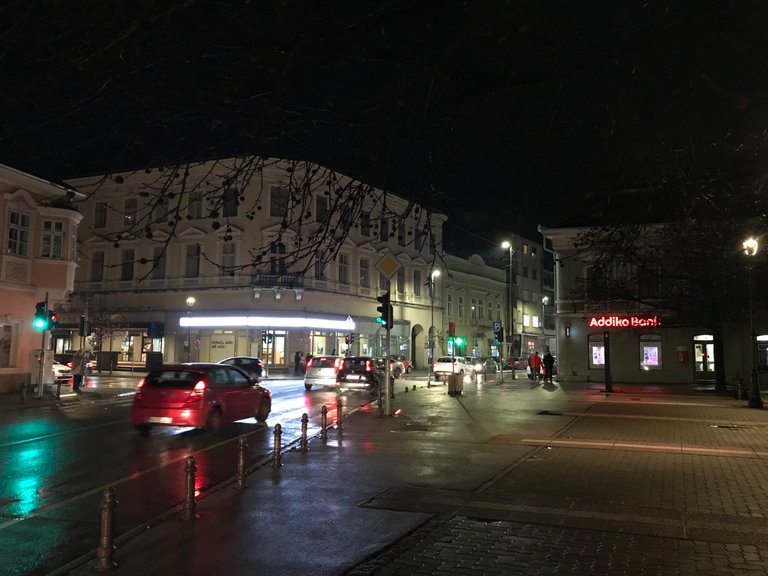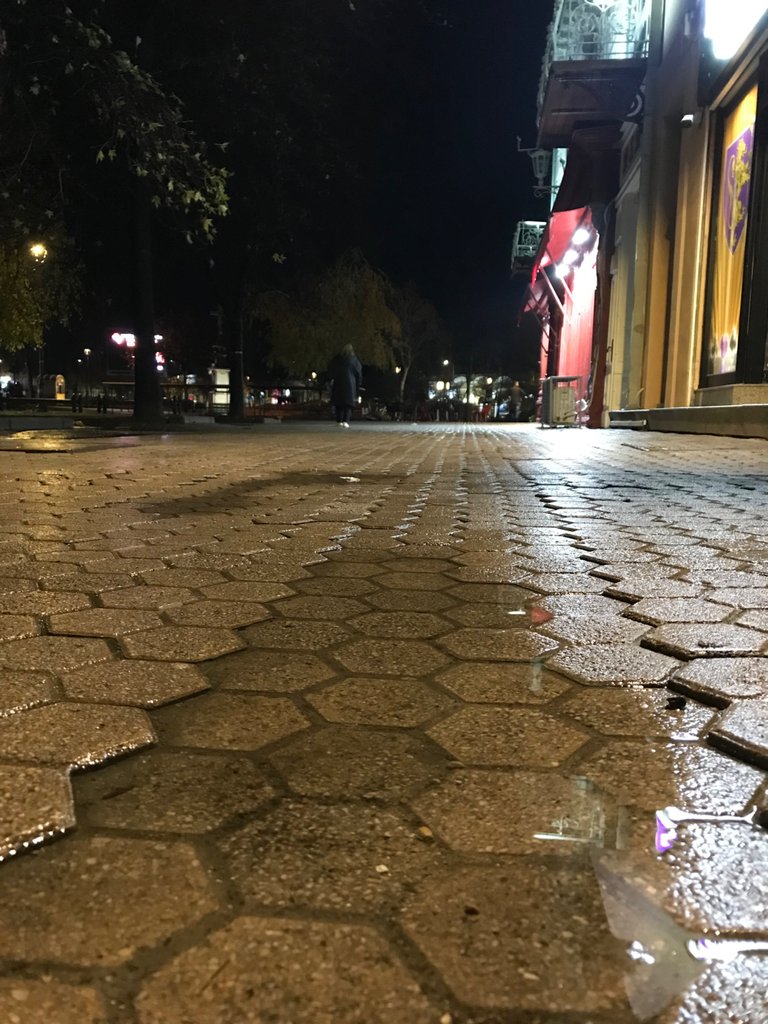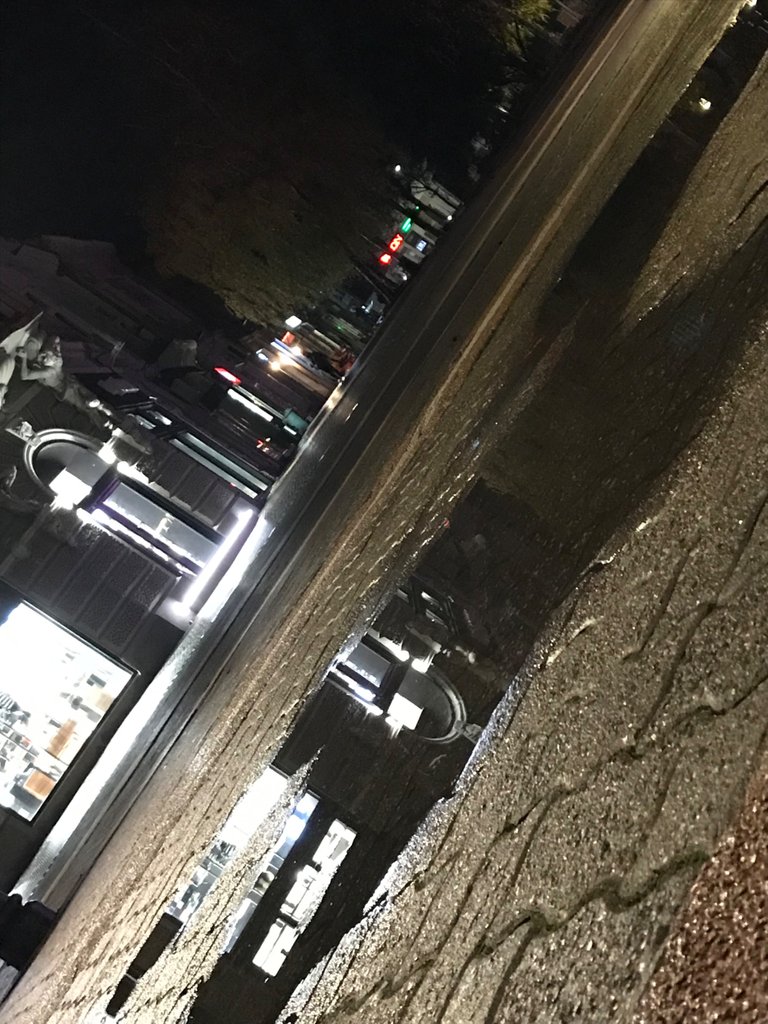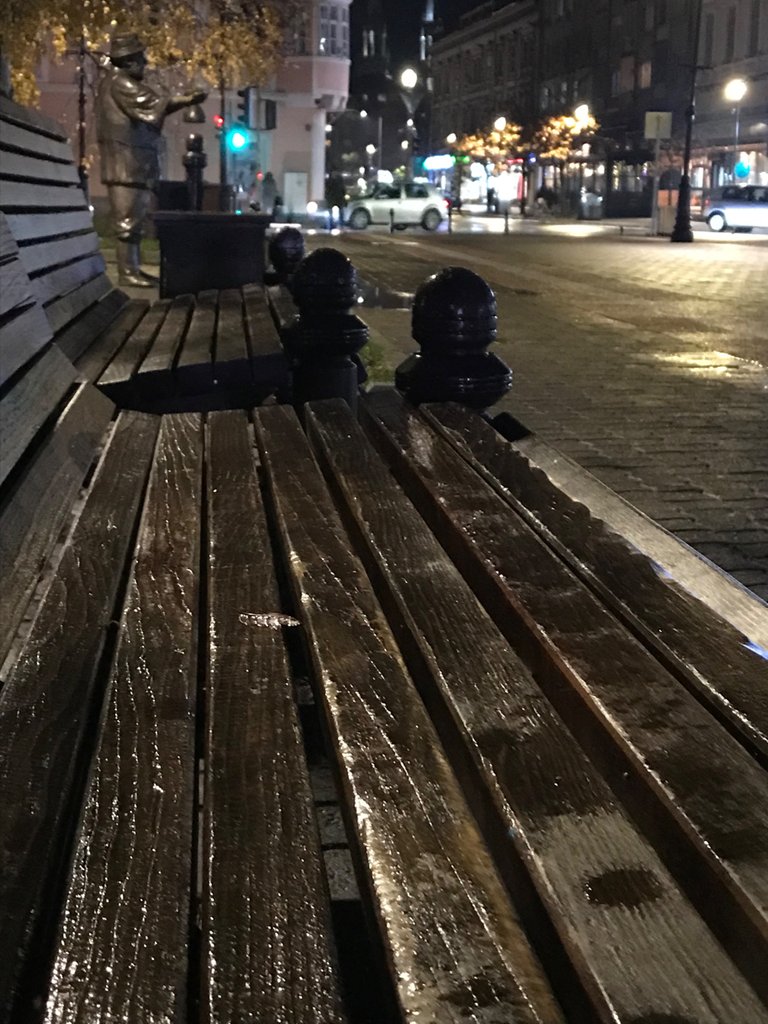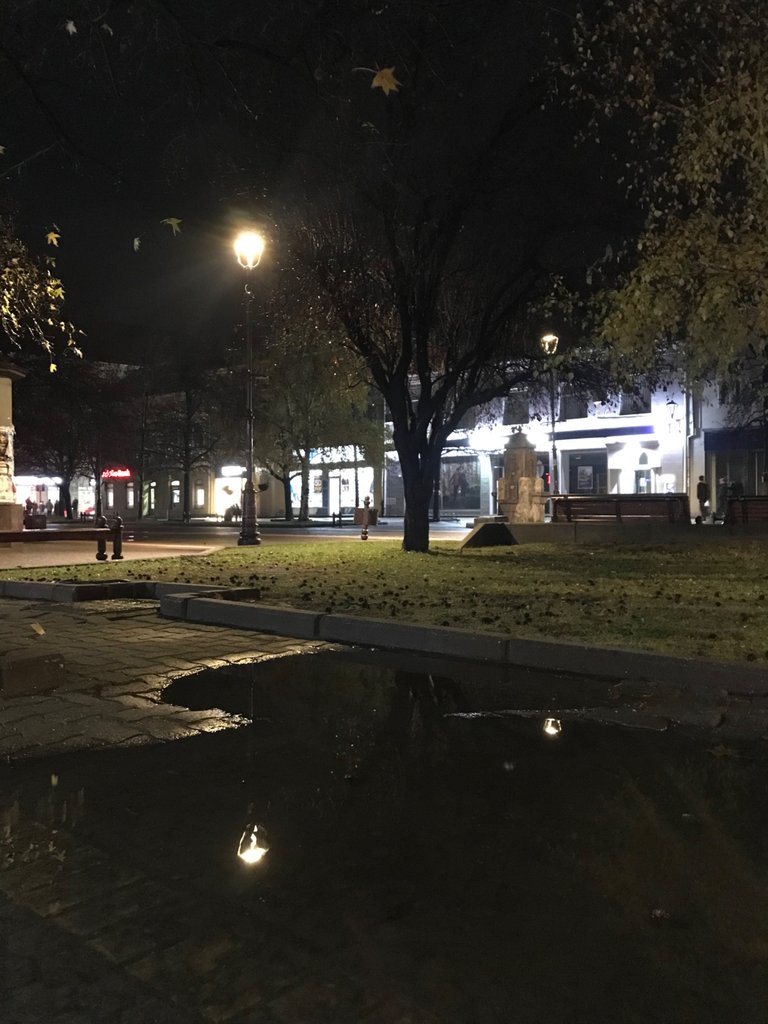 U gradu osim automobila i mokrih klupa skoro nikoga nije bilo. Samo su odzvanjali moji koraci.
Ali, čekaj, nekog sam ipak srela! Gvozdenog druga koji je nepomično stajao na kiši i nudio groždje. 🍇
Apart from cars and wet benches, there was almost no one in town. Only my footsteps echoed.
But, wait, I did meet someone! An iron friend who stood motionless in the rain and offered grapes. 🍇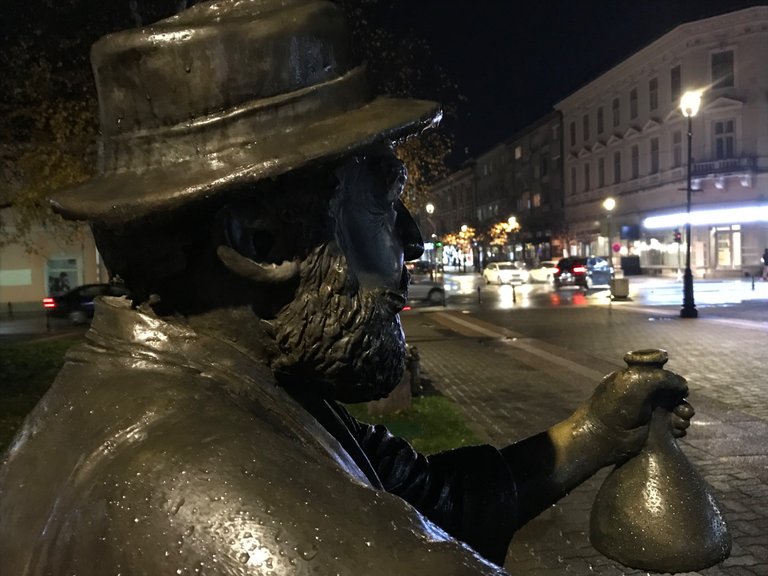 Kucnula sam prstima po njemu da odzvoni za sreću! 😉
Nastavila sam sa šetnjom. Moje nove lakovane cipele, dobro su me čuvale od kiše.Grad je izgledao tako čisto, okupan kišom. Barice mi nisu smetale samo su krasile trotoare. 💦💧☔️
I tapped my fingers on it to ring for good luck! 😉
I continued walking. My new patent leather shoes protected me well from the rain. The city looked so clean, bathed in rain. The puddles didn't bother me, they just decorated the sidewalks. 💦💧☔️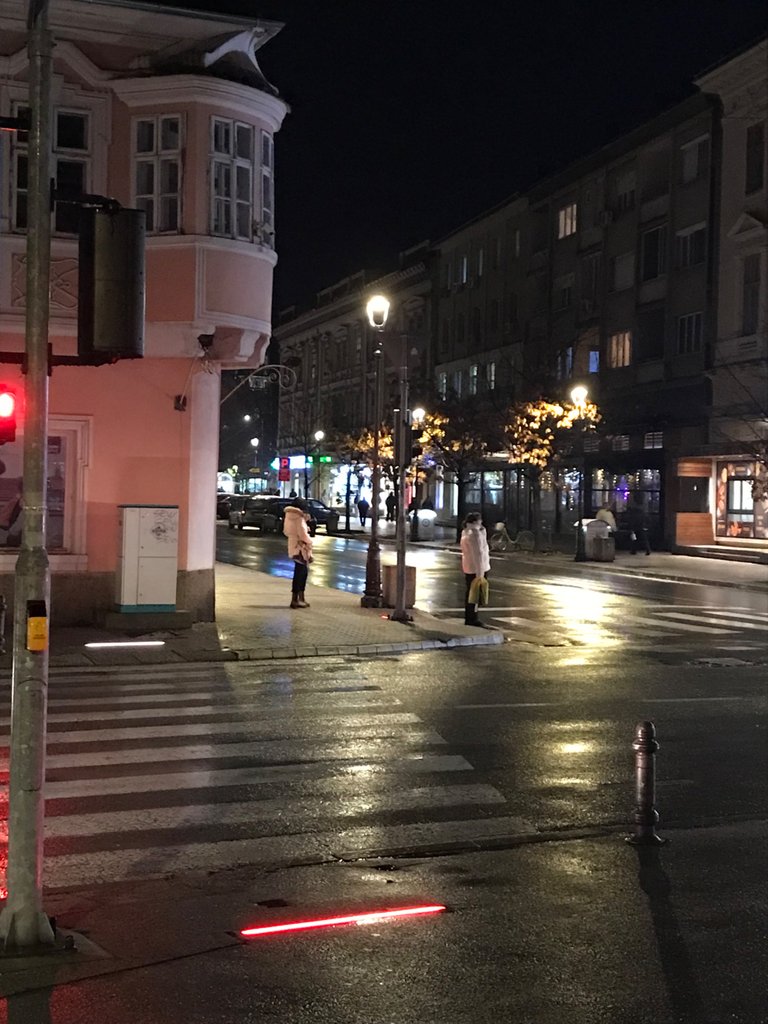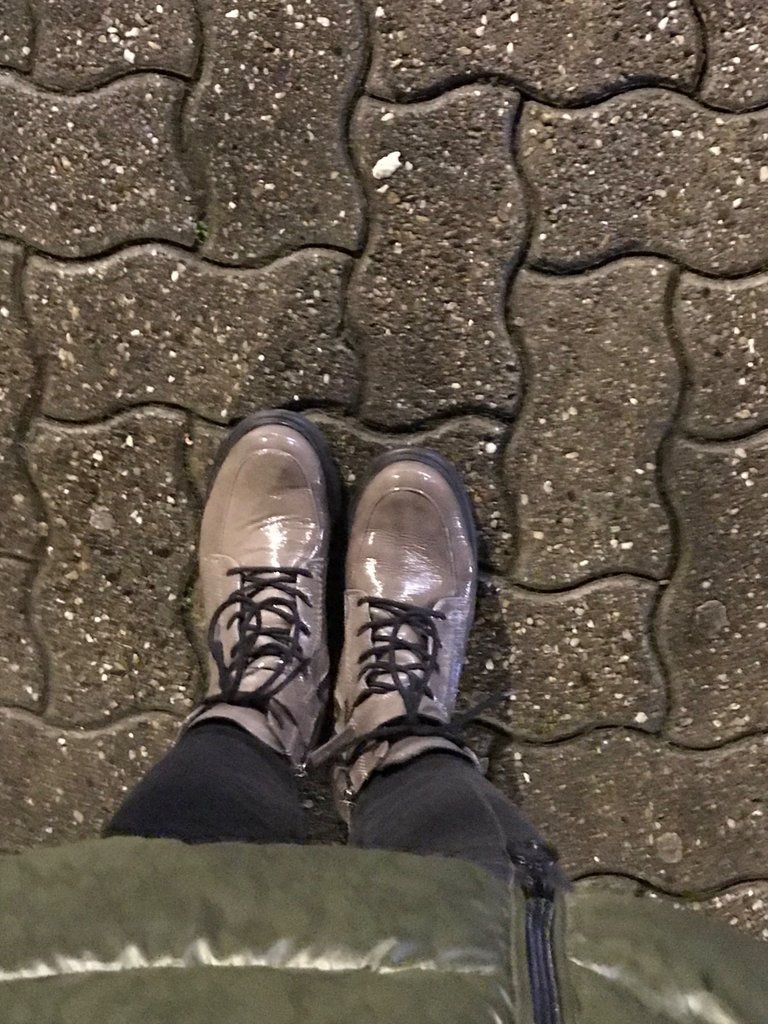 Kucnula sam petama da me moje doduše zelene cipele vrate kući ali ipak sam morala da odpešačim. 😁😉
Doroti je bolje prošla! 🧚🏽‍♂️👠👠✨
I tapped my heels to get my admittedly green shoes back home, but I still had to walk. 😁😉
Dorothy did better! 🧚🏽‍♂️👠👠✨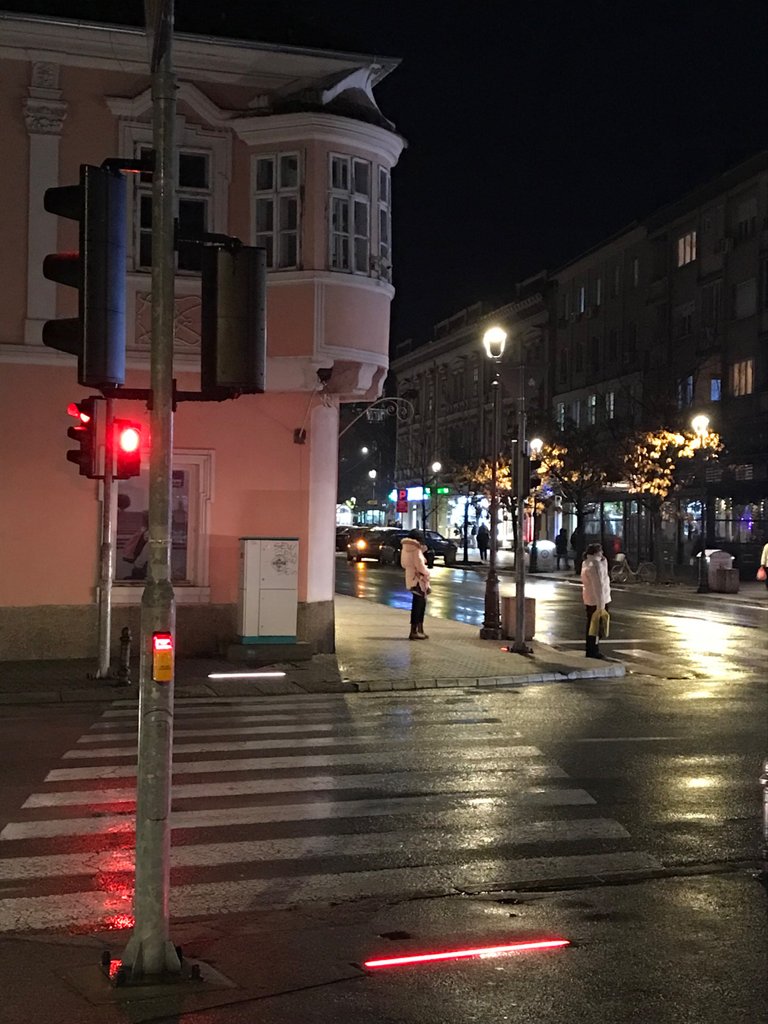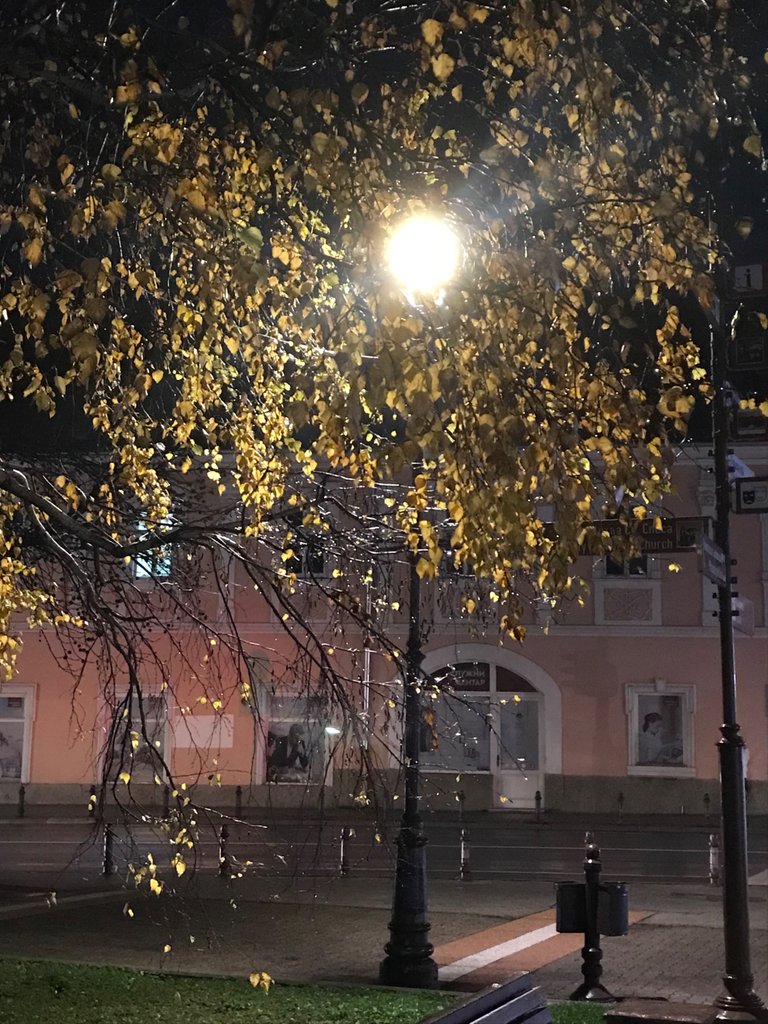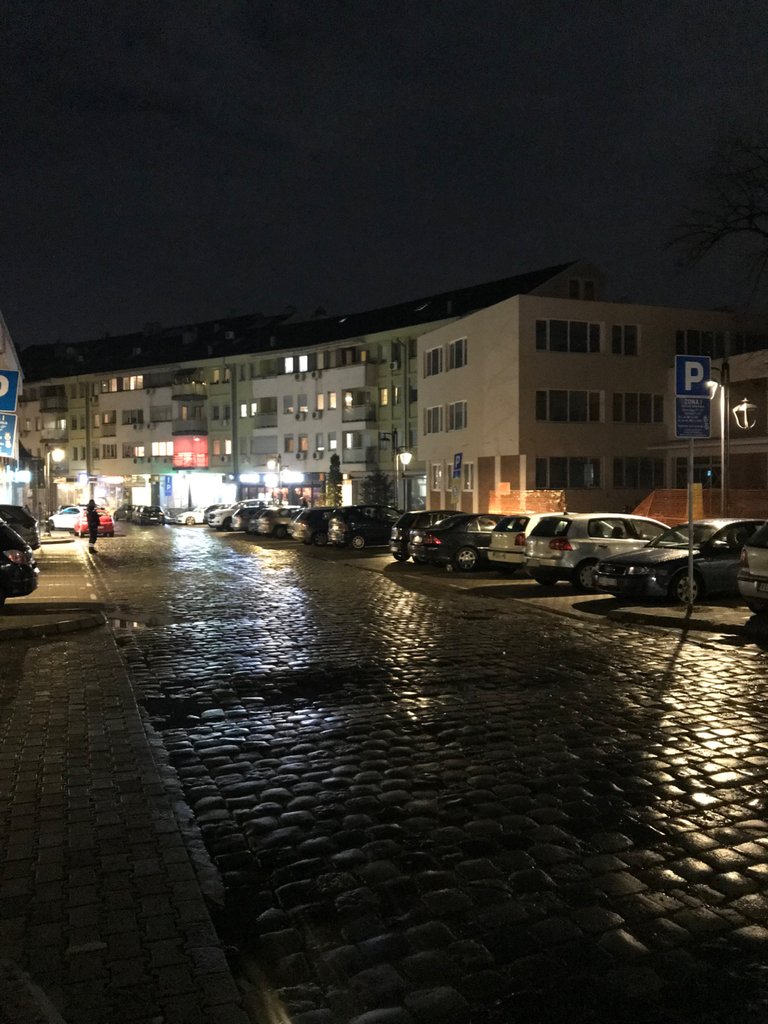 Vraćajući se kući, pogledala sam u Mesec. Stidljivo se provlačio kroz oblake želeći mi laku noć. Namignuh mu. 🌙
Returning home, I looked at the moon. He shyly slipped through the clouds, wishing me good night. I winked at him. 🌙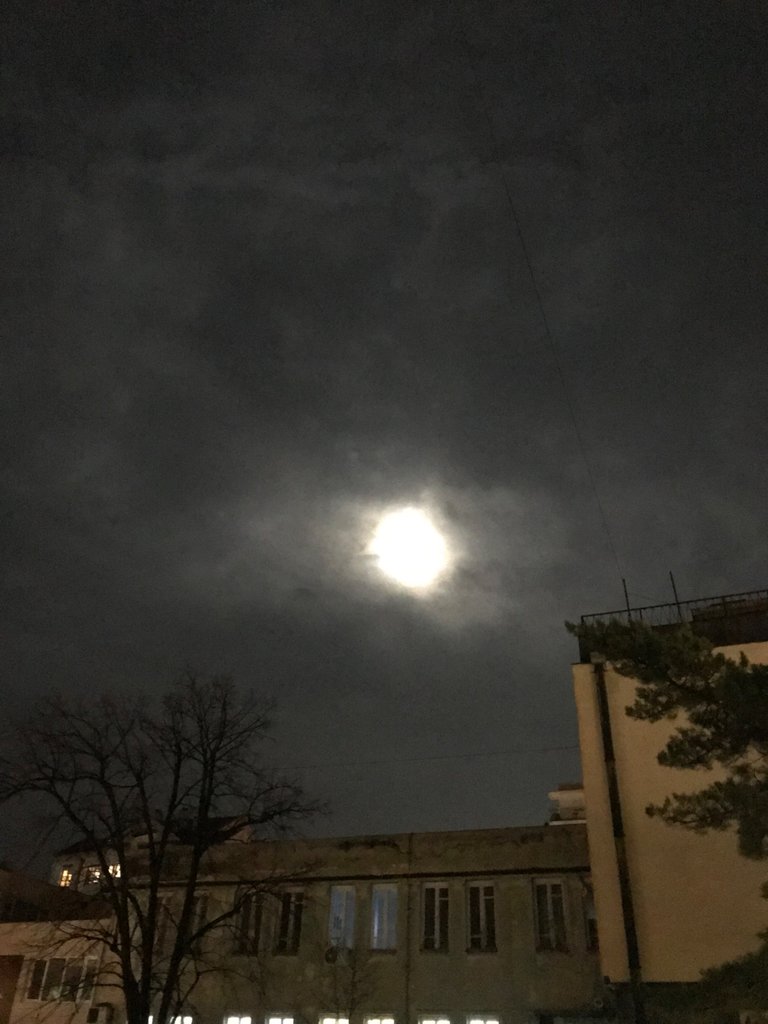 Stigla sam kući. Izula sam svoje nove cipele koje me nisu poslušale i odvele negde kao Doroti već pravo u krevet!
Im home. I took off my new shoes which disobeyed me and took me somewhere like Dorothy but straight to bed!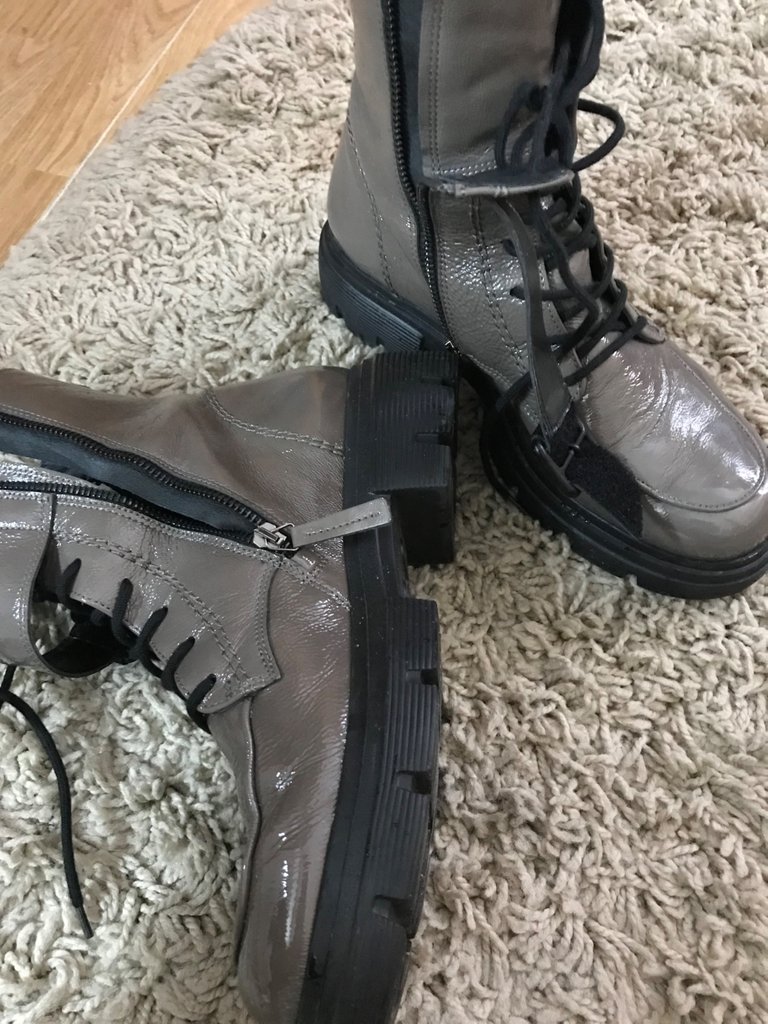 Više sreće drugi put! ✨
Better luck next time! ✨
---
Pozdrav od Anke vragolanke.
Greetings from Anka vregolana!
---
---