SHARE YOUR BATTLE ! WEEKLY CHALLENGE || Lightning Dragon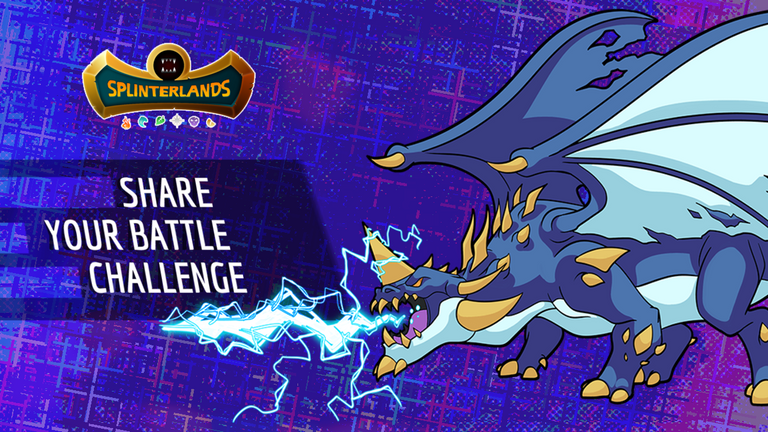 Hi everyone, Welcome to my post regarding the
"SHARE YOUR BATTLE" Challenge
. For this week's challenge, I'll be sharing my battles using
Lightning Dragon
. But before going to the main discussion.........

Ruleset for this time is HOLY PROTECTION And HEAVY HITTERS with 36 mana. HOLY PROTECTION is a situation where All Monsters have the Divine Shield ability. And for HEAVY HITTERS is a situation where All Monsters have the Knock Out ability.

My Line-Up
Cards
Ability
Reason
Give 1 Additional Attack point to All Allies Magic Monster
I chose to use Delwyn Dragonscale (Magic Summoner) because there is one Ruleset (HOLY PROTECTION) which is quite difficult if I use Melee or Ranged monsters.
Another reason is because he is the only Magic Summoners who successfully rented.
Shield + Void (Lv1)
+ Magic Reflect (Lv2)
Has an ability that can withstand attacks from all types of monsters. At level 2, Lord Arianthus gets the ability to reflect attacks from Magic Monsters. And if he is hit by STUN it doesn't hurt me too much because Lord Arianthus is not equipped with Attack points.
Snipe (Lv1)
+ Silence (Lv4)
I used Death Elemental because he got the Silence Ability at level 4.
Flying + Life Leech (Lv1)
+ Slow (Lv2)
Black Dragon is equipped with 2 Attack points as a start (and becomes 3 if you add what he received from Delwyn Dragonscale). At level 2, he gets Slow Ability which is useful for slowing down opponents.
Silence (Lv4)
The reason I chose Elven Mystic is the same as Death Elemental.
Flying (Lv1)
+ Stun (Lv2)
Has the fastest SPEED among all the monsters I brought into battle this time. At level 2, Lightning Dragon has a STUN which is very advantageous in the HEAVY HITTERS Ruleset (If it hits the enemy monster successfully)
Shield (Lv4)
Because I'm a little careful the opponent will bring Melee or Ranged Monster that has SNEAK.

BATTLE START !!!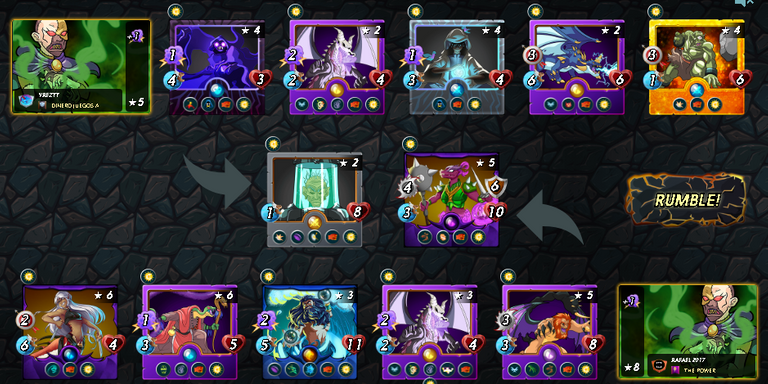 The opponent also uses the same Summoner (Delwyn Dragonscale) albeit at a higher level than me. Since he used a higher level summoner, he could also use a higher level monster and take advantage of the monster's other abilities.
After all abilities have been applied.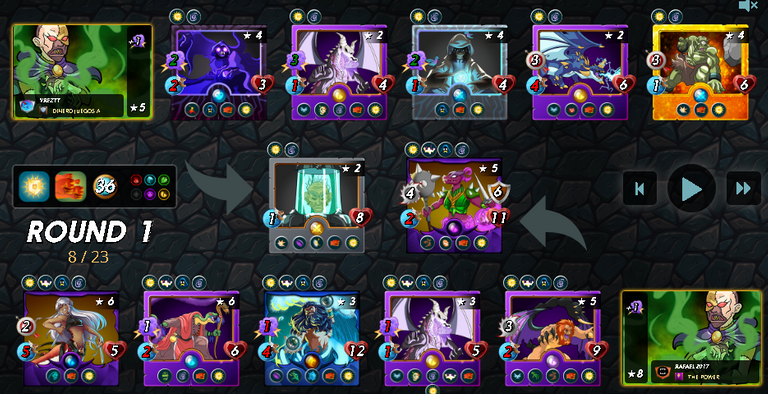 The ability of my Delwyn Dragonscale gives an additional 1 Attack point to all my magic monsters. Additional abilities from monsters in the form of a reduction of 1 SPEED for all opposing monsters by Black Dragon and a reduction of 2 Attack points for all enemy Magic Monsters by Death Elemental and Elven Mystic.
Ability of the opponent's Delwyn Dragonscale gives an additional 1 Attack point to all his magic monsters. Additional abilities from monsters in the form of 2 SPEED reductions for all my monsters by Black Dragon and Serpentine Mystic and the addition of 1 Health point to all opponent's Monsters by Black Dragon.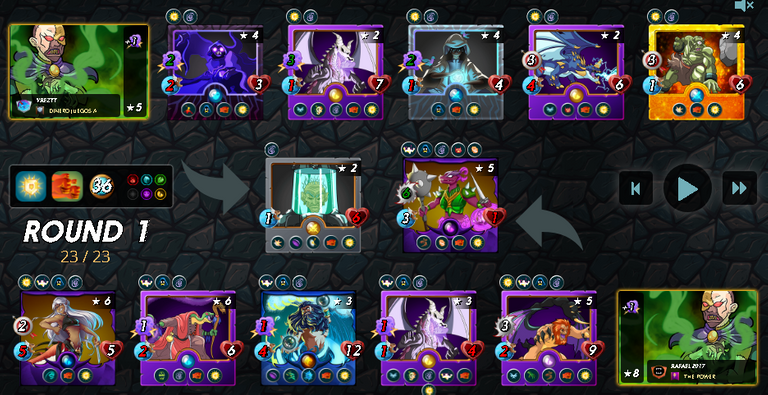 At the end of the first round, I managed to make Djinn Chwala a boxing bag for my monsters. The first attack came from Lightning Dragon which managed to hit Djinn Chwala and gave him a STUN effect. After that, all my monsters (except Death Elemental and Lightning Dragon) attacked him with the effect of "Attack point is doubled when attacking a STUN-affected monster" leaving 1 Health Point for Djinn Chwala.
Meanwhile Death Elemental focused its attacks on Black Dragon.
On the opposing side, all monsters except Djinn Chwala unite to attack Lord Arianthus. But unfortunately, only attacks from Manticore and Dragon Assassin had an effect on him. Meanwhile the attacks from the opposing Magic monsters (Black Dragon, Djinn Oshannus, and Serpentine Mystic) didn't hurt Lord Arianthus and he even returned their attacks with MAGIC REFLECT he has.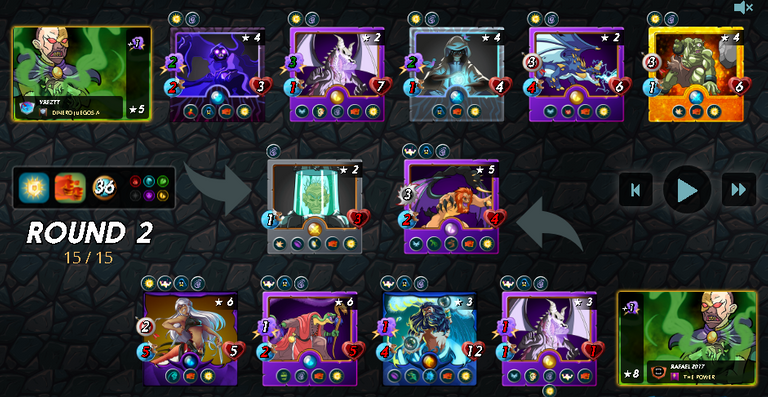 At the beginning of round 2, Djinn Chwala was defeated by Lightning Dragon (the STUN effect can no longer be used for this round). Manticore took the place of Djinn Chwala and received attacks from Black Dragon, Elven Mystic, and Cyclops.
The attack patterns of the opponents in this round are still the same as they did in the first round.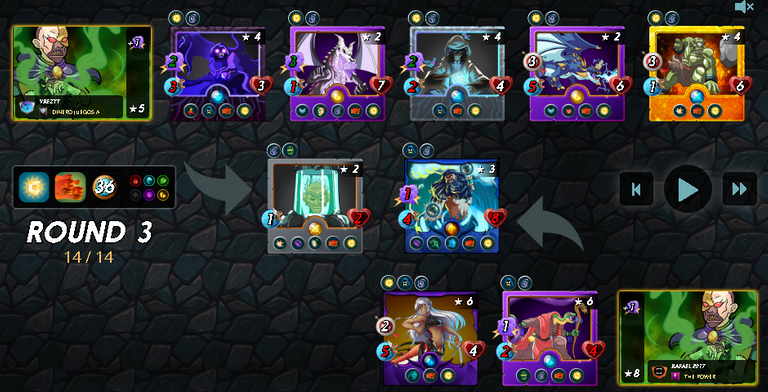 In the third round, Manticore was defeated by Lightning Dragon and Black Dragon while the opponent's Black Dragon was defeated by Death Elemental. Djinn Oshannus who replaced the vacated position Manticore was attacked by Elven Mystic and Cyclops.
With the defeat of Manticore, the opponent's attack capable of injuring Lord Arianthus only came from Assassin Dragon.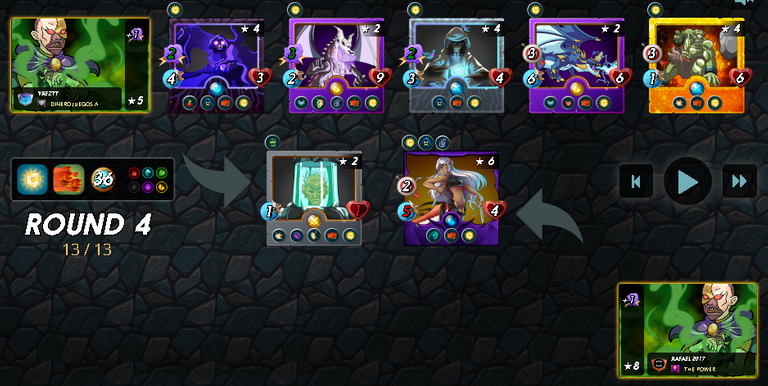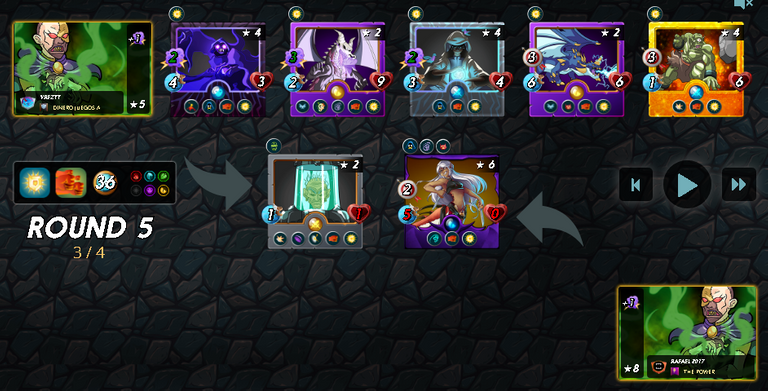 In round 4, Lightning Dragon managed to injure and land STUN on Djinn Oshannus making it easier for Black Dragon and Elven Mystic to defeat him. Meanwhile Serpentine Mystic was defeated by Death Elemental and Cyclops*.
In round 5, only Assassin Dragon is left on the opposing side. He was also defeated by Death Elemental after previously getting STUN from the Lightning Dragon attack.
To see the full battle, you can watch it at >> FULL BATTLE LINK
And this is the challenge link >> CHALLENGE LINK

STRATEGY (Did your strategy work? What will you try differently next time?)
Luckily, this strategy went quite well. DOUBLE SILENCE makes 3 enemy Magic Monsters unable to do anything, the Lightning Dragon attack that successfully gives a STUN effect to Djinn Chhala is the key to my victory in this battle. if the first attack failed, Lord Arianthus could be defeated and disrupt all my formation.
For my future strategy, maybe I will replace Death Elemental with Mushroom Seer (any level) which both have Silence but without SNIPE so they can help attack monsters that are in first position.
I will also replace Cyclops with Queen Mycelia (Level 2) because it has AMPLIFY which is useful for optimizing MAGIC REFLECT of Lord Arianthus.
Do you like Lightning Dragon?
Yes, I like it. He is a Monster from Dragon Splinter who is an archer type. Because Dragon Splinter can be combined with other elements, making Lightning Dragon can be paired with anything.
The STUN ability is one of my favorite abilities at the moment and Lightning Dragon has it at Level 2, so I have to rent a Summoner of the appropriate Level so I can use this ability.

That was the post SHARE YOUR BATTLE CHALLENGE for this time. Thank you for visiting and taking the time to read. See you in the next post....

Thanks to:
---
---