May Account Growth
Looking back at February and March and April I am really liking the growth I am seeing. I am doing a little better each month as far as my hive power goes. In may I earned 10.930 hp and 3.916 hbd bring my current balance to just over 300 hp and 88 hbd.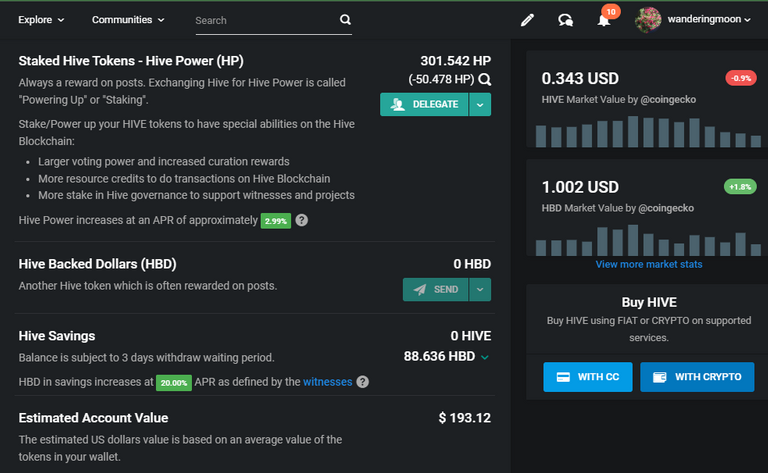 peakd screenshot
I now need to make just over two hundred more hp to become a minnow.
I have also been playing with ecency the last few months. In April I earned 420 points. Last month I was going for just eighty more but earned over one hundred more finishing the month with 540.250, bringing my total up to 6198.875 ecency points.
I Changed up my pool offerings as well and am now earning an extra twenty two different tokens. I removed my pizza because I was earning skull fragments that have $0.00 worth and could not seem to offload them.
I have started staking more alive and am now up to 97.5872 with 1.2022 which I will stake when @flaxz posts for the new contest week.
As far as my splinterlands earnings go 1.996 vouchers (with .049 in hive engine) and 24.614 sps earned for the month of May. This brings my voucher/sps amount to 39.802/1852.127. I am now upi 16,319.048 DEC and getting closer to 20,000 every month. Renting is a slow growth process but at least it is something.
I am also recieving about 50 sim a day between the pool and in game earnings. This is just the tip of the iceberg. There is so much more to learn and earn in hive. All you have to do is look.
A few ways I am currently making it work is staking, pools and delegating. I am looking to drop more in these channels to uncover higher earning potential.
And before I forget. I started a
contest last week in the Terminal discord for redfish. The only person that posted everyday but yesterday is @threedotz (discord name is Ruth_Salihu). Congradulations Threedotz. You win 20 pimp.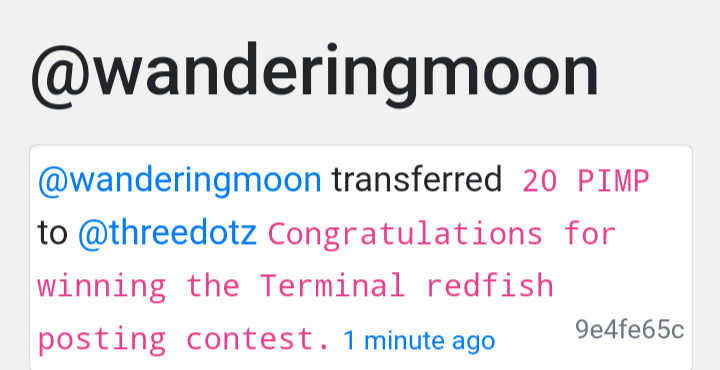 Well I think that is it for now. Keep an eye on your balance and be sure to engage and post daily to see growth.
---
---