Colorful Isaan food - DONG DANG SALAD!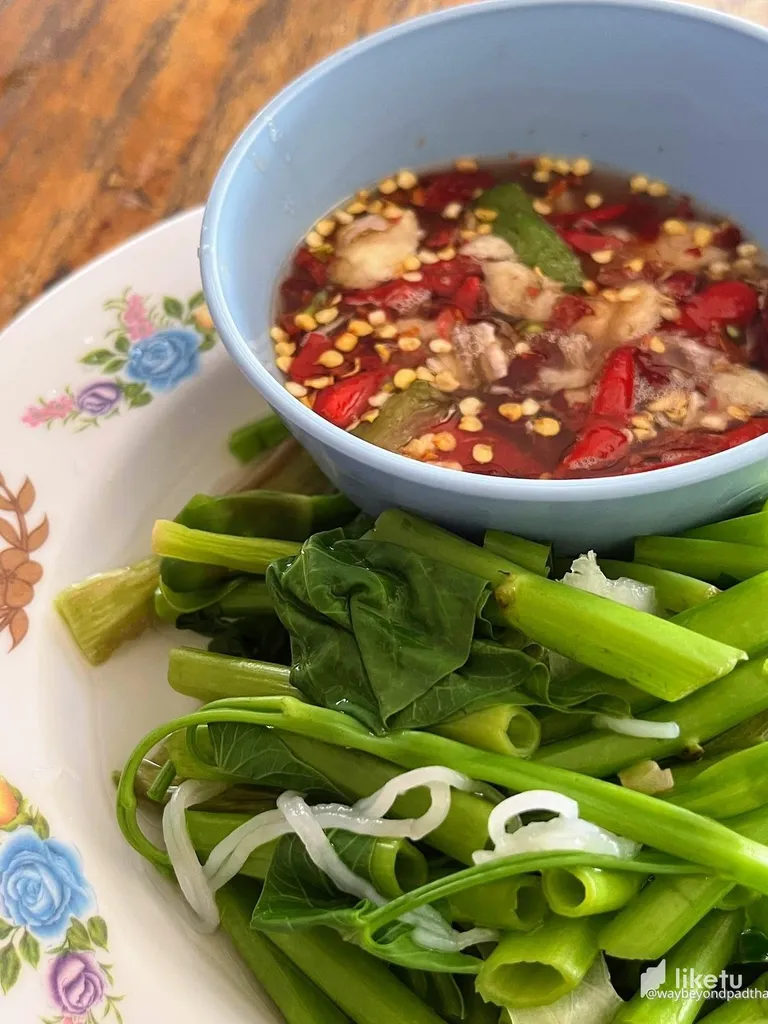 Steamed veggies with spicy dipping sauce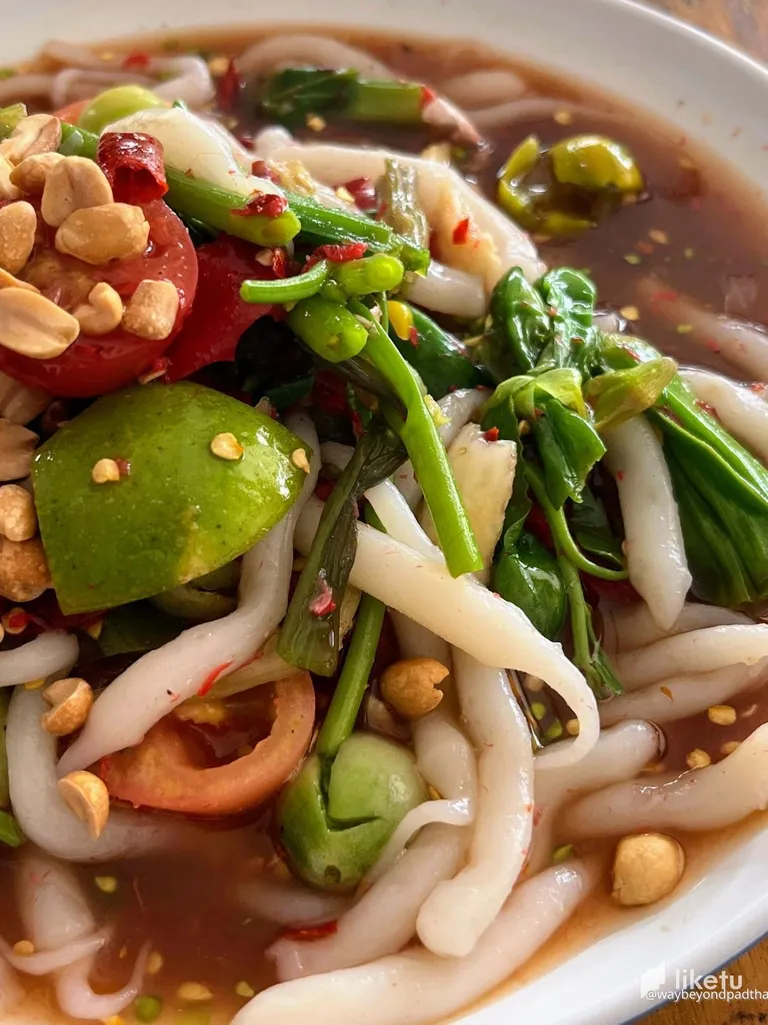 Tum Dong Dang! or Dong Dang Salad
Dong Dang a little closer
Khao Poon Hon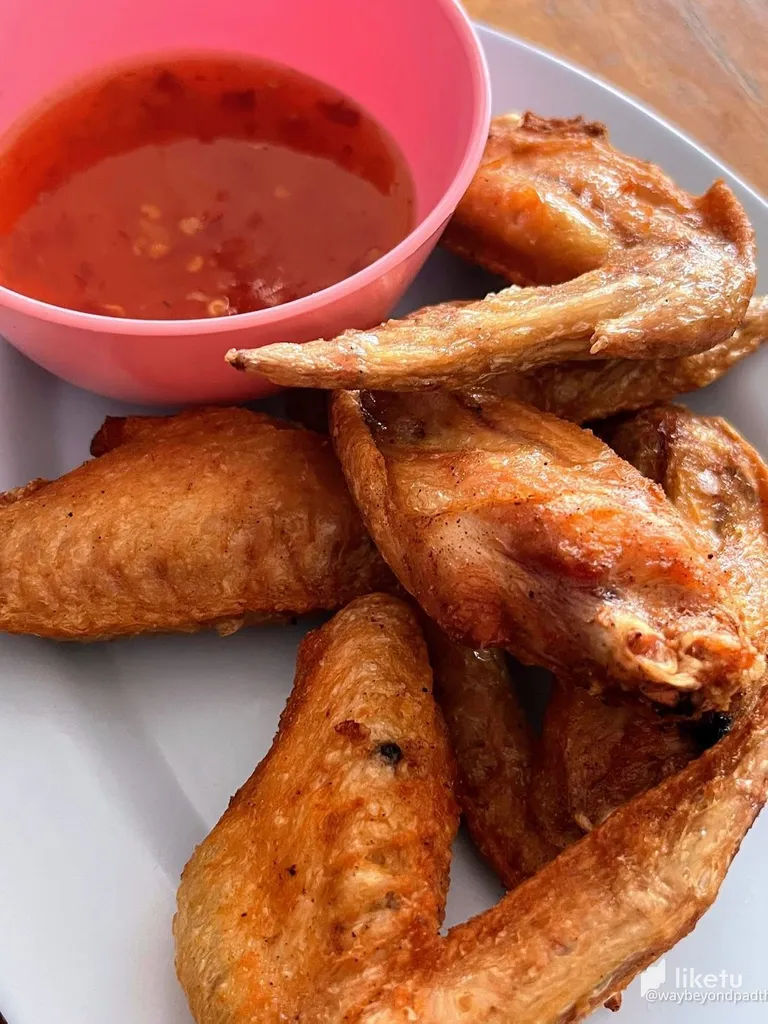 Just fried chicken wings but dang! aren't they so crispy, well-marinated and super delicious!
Hope you're not too fed up of all these exotic, colorful food I have been sharing just yet. They are all quite new for myself as well as we're here in another part of the country, another language, another kind of food but you know what, it's fun to experience all this! Especially in your homeland and to be able to see how different people live, eat, speak and else.
This meal is also another new thing we have tried. It's more like Laotian-ish, Isaan-ish kind of food I would say.. Like, the previous post, this type of food, I have never seen elsewhere in Thailand but here.
Tum Dong Dang (ตำด้องแด้ง)
You may have heard of the dish called 'Som tum' or 'Green papaya salad', it's a flavorful and most of the time spicy salad with shredded green papaya and a lot more ingredients like tomatoes, cowpeas, fermented crabs, fermented fish sauce, palm sugar, lime, garlic and of course, load tons of chillis. Depends on the person that cook it, there maybe some other added ingredients to make it has its own unique taste or color like carrots, purple cabbage and so one.
So.. those are the regular ones we can find almost every corner in Thailand but.. here in Chiang Khan, it's the first time I heard of something called 'Tum Dong Dang'. First time I heard of it, I know it's for sure a kind of papaya salad, I just don't know what exactly else is in it. I mean, the name is really cute even in English, isn't it? 'Dong Dang' (try pronounce it in high tone!)
We have asked around and a local we grabbed a snack from her shop (really good one so check it out!) the same morning recommend us this exact place.. 'Jit Som Tum (จิตส้มตำ)' but when we arrived, we walked past it and go to the one next door for some reasons #lol I know!!! Ridiculous! We just felt like going to the lower-key one and seems more local in my opinion at the moment.
Ting Som Tum, Tum Dong Dang and Khao Poon Hon (ติ้งส้มตำ ตำด้องแด้ง ข้าวปุ้นฮ้อน)
We went to this place that has such a long name.
Let's break down that long ass name a little, shall we?
Ting is the name of the owner
Som Tum is green papaya Salad
Tum Dong Dang is that weird salad dish we have never tried
Khao Poon Hon is also something Isaan-ish, Laotian-ish that we have never tried as well
We ordered just a few dishes because it's just 2 of us hehe. --Now what we eat, what Tum Dong Dang is, how delicious of all these Isaan dishes we tried, let's dive in!
Tum Dong Dang - ตำด้องแด้ง
Came all the way to Tum Dong Dang place, there's no way we don't try it! So basically, it's the same exact ingredients as there are in Som Tum or the papaya salad but instead of the papaya or besides that, they add this specific thick and short fresh rice noodle (looks almost like worms) into the dish. Honestly, love the texture and the contrast of the noodle and how flavorful the salad sauce. They go together quite well!
Khao Poon Hon - ข้าวปุ้นฮ้อน
This is a noodle dish! Fresh rice noodle (pretty much the same type of noodle I shared the other day on this post) but prepared differently and taste way different that the other one so feel free to check that one out if you're a noodle fan.
Now back to this type of noodle that we also tried it for the very first time as well, Khao Poon Hon. The rice noodle are served soaked in warm water topped with a bit of seasoning. Came with a side of steamed vegetable dish and a dipping sauce.
When they were served, I swear we had no idea how to eat it! I mean, before the 'put in your mouth step' #lol. The waitress said we just mix them all around and eat it all together like that.
Honestly, because the noodle is soaked in warm water.. yes, warm water, no soup no broth no nothing like that so it's quite bland. When mixing with other things they serve with it, it just make all the other side dish get a little blander. I'm not quite sure if I like this dish much..
Other than that, we just got this dish of fried chicken wings. Sounds like something we could get elsewhere so why bother to come eat such a dish this far? Sometime we just need something in our comfort zone to go along with some new challenging ones I would say. And it was such the right decision! We almost love the chicken wings the most among the dishes we order.
It's soooo well marinated. Just the right level of crispiness and it's so good with some hot sticky rice which we of course order to go along with all the dishes! Yum!!!
So there we go, Tum Dong Dang and other Isaan dishes we gave them a try for the very first time. Delicious! Exotic! New! (at least to us) so that was a nice meal.
Also, we haven't seen any tourist yet there so I think we picked the right one! Loved it and if I'm back to Chiang Khan again, Tum Dong Dang and that chicken wings would for sure be ones of the dishes we go for!
Ting Som Tum, Tum Dong Dang and Khao Poon Hon (ติ้งส้มตำ ตำด้องแด้ง ข้าวปุ้นฮ้อน)
55/1 หมู่2 Chiang Khan, Chiang Khan District, Loei 42110
0827371996
---
For the best experience view this post on Liketu
---
---