GM! Breakfast feast by a river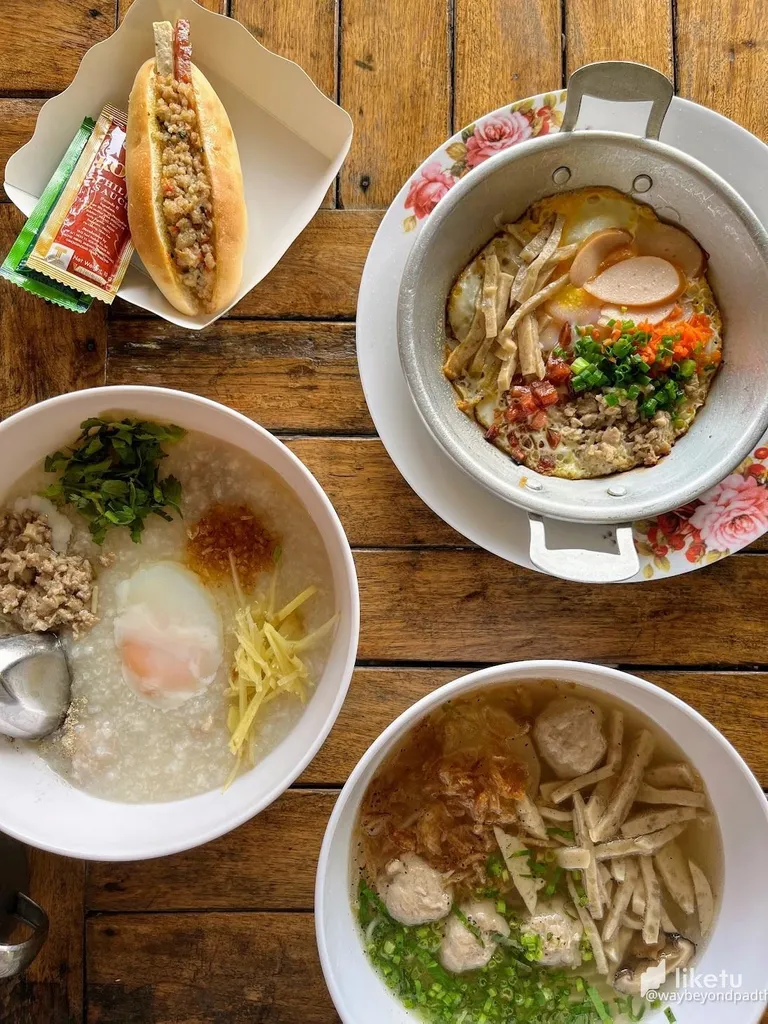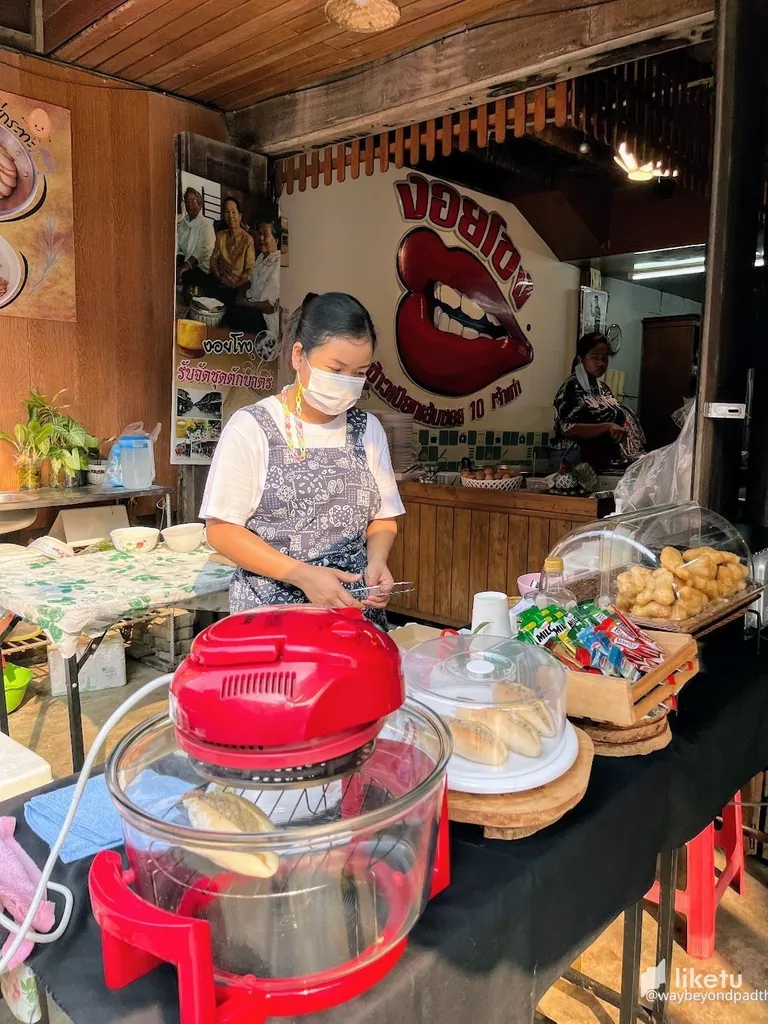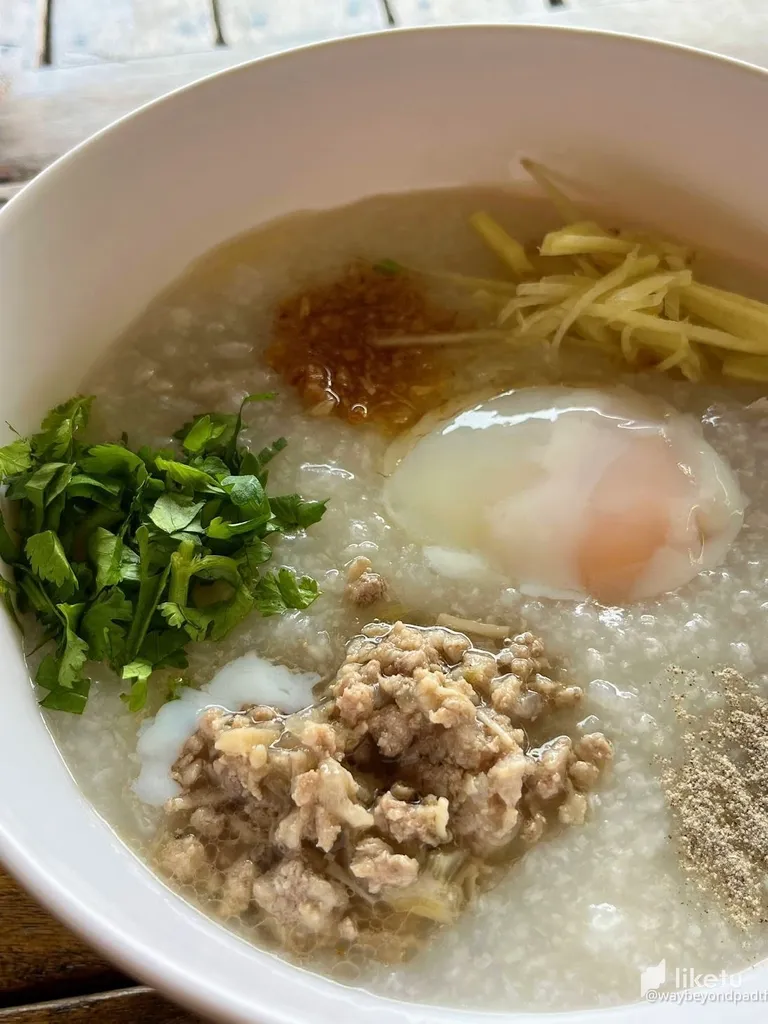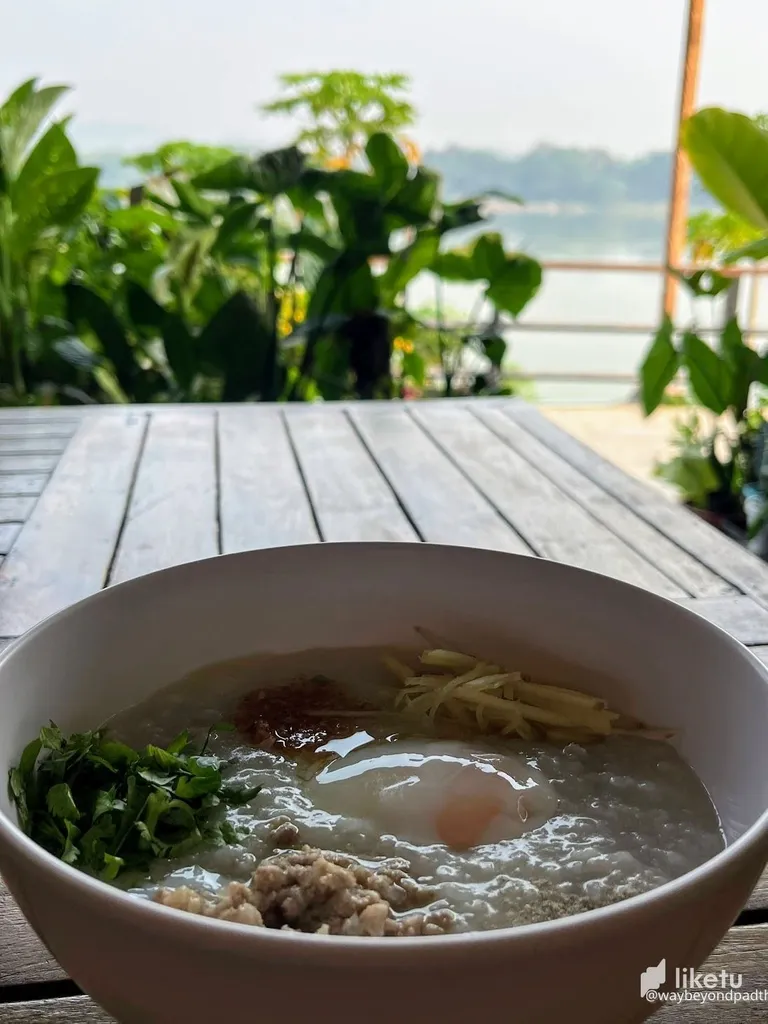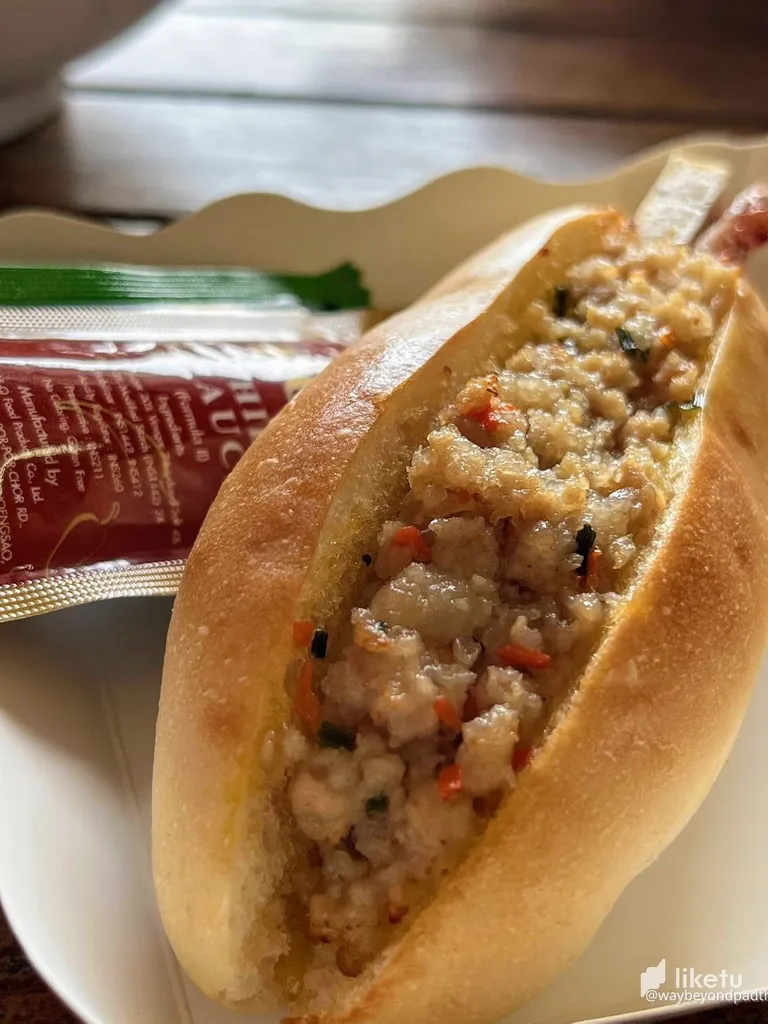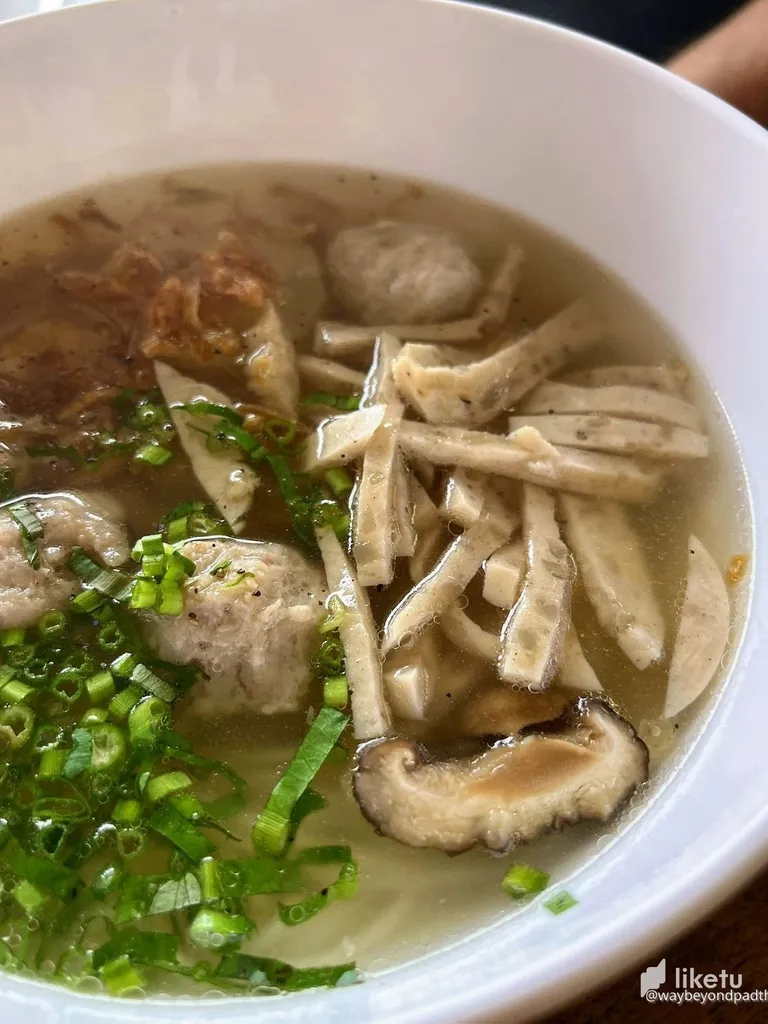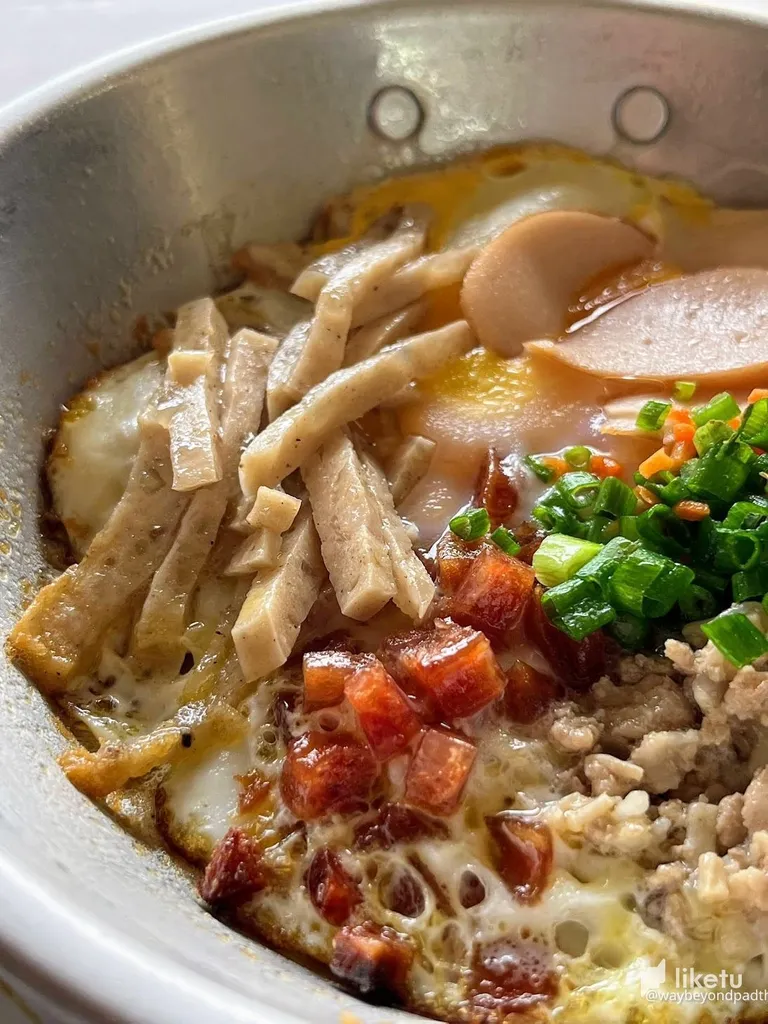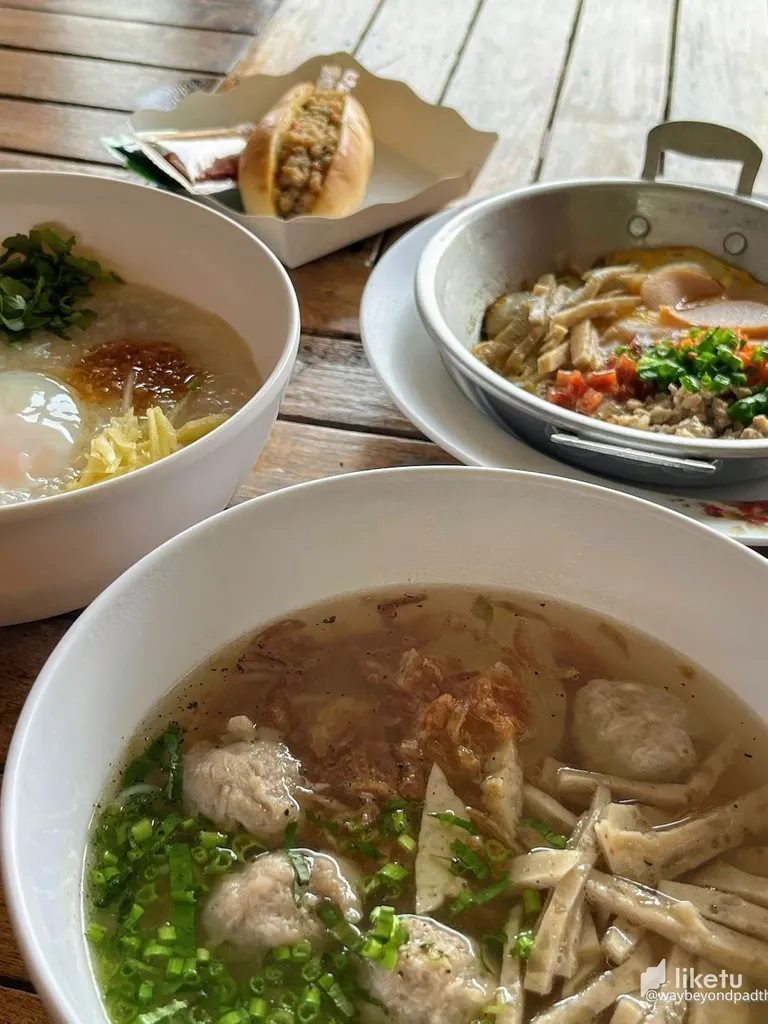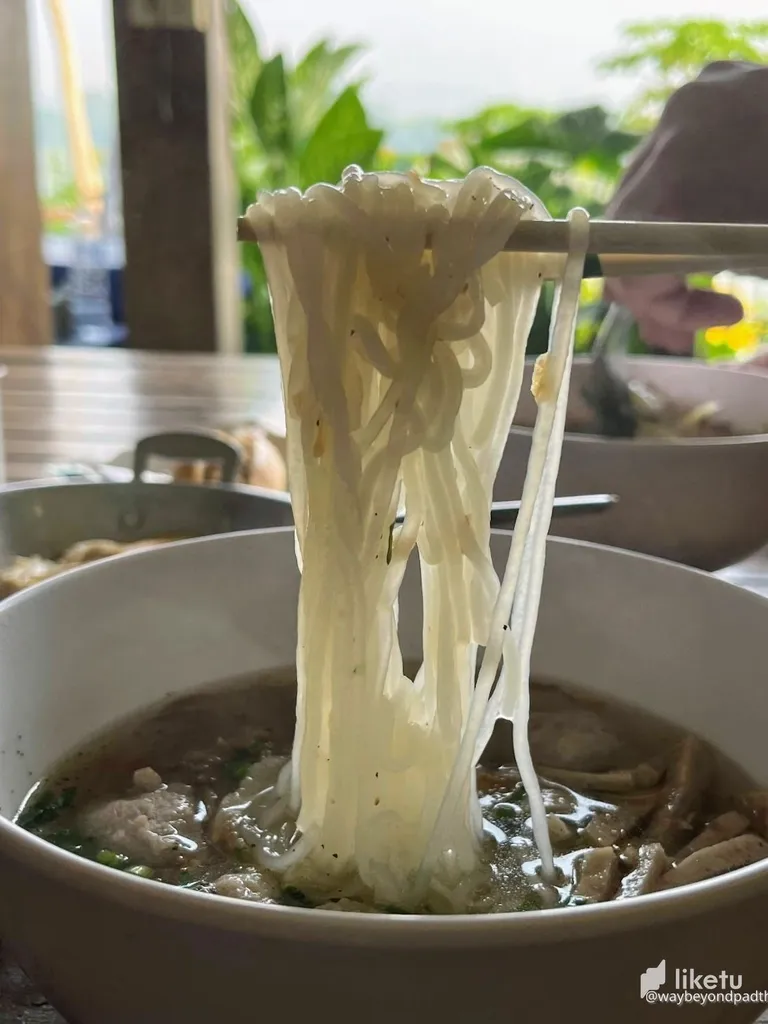 After a morning bike ride by the Khong river, why not stop by a popular local place by the river itself to get some great breakfast. Delicious and inexpensive just the way we like! I order a ton of food for 2 of us so I guess it's worth sharing.
It was the morning we went for some Vietnamese influenced breakfast. Now you're wondering why Vietnamese food in Thailand? I was wondering the same thing so I looked it up. During the Indochina war, there are a good amount of Vietnamese immigrants immigrated to Thailand and now live across the country and for some reasons, a lot of them are in border cities from Laos and Chiang Khan is one of them! That's why we have been seeing a lot of Vietnamese influenced dishes and snacks every so of then here. Our first night at the walking street as well!
Now let's dive into what we got and let's talk about the place we had them later..
Joke or congee
Funny, isn't it, that a dish would be called 'Joke'?
'Can I have a cup of Joke please?'
Yeah, you got it.
Anyways, it's the way we Thai call this seasoned congee or rice porridge dish that's topped with ingredients of your choices from pork balls (I mean, a ball made of pork not the other thing! #lol), liver, intestines, poached eggs, shredded ginger, green onions. Some places made it more fancy with salted egg or century egg or even three different type of eggs in one.
Totally a good energy pick up for the morning or late night drunk food. Very quite, easy and delicious.
I wouldn't call this a Vietnamese influenced dish though as I have seen it in other part of Asia like Taiwan, Malaysia, Thailand, and many other parts. I bet China got it too.
Vietnamese Sandwich
This is like Vietnamese influenced food that was influenced by French cuisine.
The food itself is not as complicated as it sounds though. It's quite simple. Just a small sandwich with stuffing inside. This one we got was ground pork
mixed with some carrot and seasoning. Eat with chilli ketchup (it's that's a thing?)
Vietnamese Rice Noodle Soup
Vietnamese Rice Noodle Soup with Vietnamese style sausage and pork balls.
I love all kinds of noodles and this is one of the very unique ones.
For those that may have this question popped up, 'Is this actually Pho?' and I can answer it clearly, no, it's not. Totally different type of noodle. It's
round, to start with. The texture is so firm, quite chewy and gluey. It's slippery too! On the other hand, Pho use a regular flat rice noodle that we see more
often. I love both of them personally but maybe a little more on the Pho site because of the raw beef. hehe
With a great broth, it's quite delicious and make a perfect breakfast bowl for good energy.
Fried egg with topping on a hot pan
This one is simple yet fun. It's basically just a fried egg like the name of it but it's cooked and served on the same pan that they bring it to the table. There
are quite a variety of topping that can be chosen and sprinkled on top of the dish. Most of the time would be Chinese sausage, Vietnamese sausage,
ground pork, green onions, and else.
It's easy, nutritious and yes, delicious just the way it's supposed to be.
Ngoi Khong restaurant is where we had all these delicious Vietnamese breakfast. A local lady down the street recommended it and I was skeptical a bit
since it's located just right on the tourist street just right by the river.
Turned out, it was sure a good one. The food is clean and delicious. The view from the back of the house is just nice as you can see the Khong river from
there. A lot of people who eat there are also not just tourists but also local people so I think that's a good sign
---
For the best experience view this post on Liketu
---
---