Exploring the Versatility and Investment Potential of Silver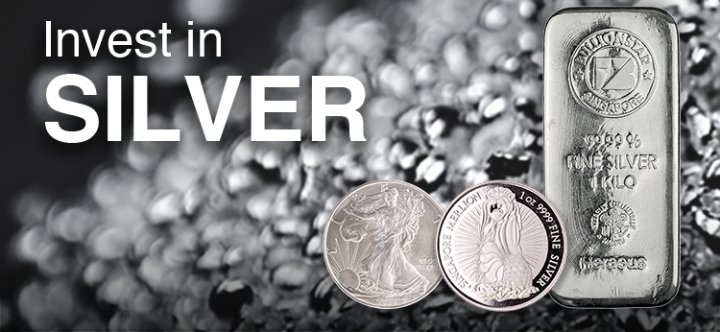 SOURCE
Silver, a precious metal with a rich history dating back 5,000 years, continues to captivate investors and enthusiasts alike. Even as recently as 1964, US quarters were composed of 90% silver. Presently, silver bullion coins such as the UK's 1-ounce silver Britannia, boasting 99.99% purity, still hold a face value of £2. However, the intrinsic value of the silver alone amounts to approximately £19 at today's silver prices.
While silver has long been cherished for its role in jewelry and precious objects, its value relative to gold has fluctuated over time. By around 1600 BC, the increased availability of silver had caused its price to fall to half that of gold. Today, an ounce of silver costs slightly above 1% of the price of gold.
Silver's availability, combined with its unique properties as a precious metal, underpins its diverse range of industrial, medical, and technological applications. This sets silver apart from gold as an investment asset, making it an indispensable metal for the modern age.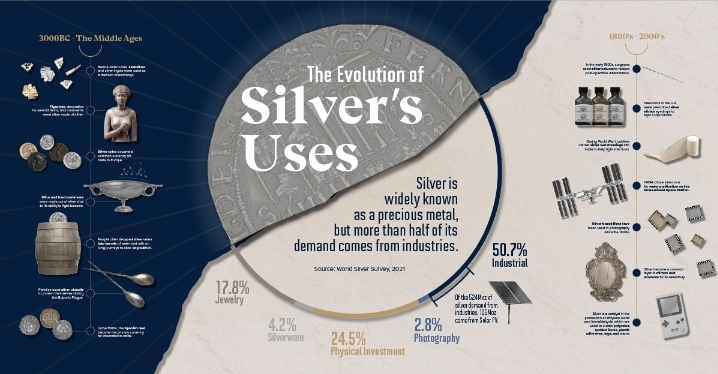 SOURCE
The industrial uses of silver are vast and fascinating. The metal's anti-microbial and non-toxic properties explain its early applications in preserving fresh foods and liquids. In the wild west, cowboys used to place a silver coin in their milk to prolong its shelf life. In the 21st century, NASA astronauts and Russian cosmonauts drink water purified by ionized silver, effectively eliminating bacteria. Colloidal silver-coated ceramic filters and solar disinfection methods are also helping provide clean drinking water in developing nations.
Furthermore, silver plays a vital role in the production of solar panels due to its exceptional electrical and thermal conductivity. With its ability to capture and convert the sun's rays into photovoltaic energy, silver paste is used in the manufacturing process. A standard 3x5-foot solar panel for residential use contains up to 20 grams of silver, valued at approximately £12 ($15).
Despite efforts to reduce silver loadings in solar panels, silver usage in photovoltaics increased by 13% to over 3,200 tonnes in 2021. According to a report by the Silver Institute, photovoltaics now account for nearly 24% of the world's silver industrial demand, a significant increase from 2% in 2006.
Moreover, silver is widely used in the automotive industry. On average, internal combustion engine (ICE) light vehicles contain 15-28 grams of silver, while hybrid vehicles require 18-34 grams. Battery electric vehicles (BEVs) consume even more silver, ranging from 25-50 grams per vehicle.
When it comes to the most significant areas of demand for silver, electrical and electronic applications, including photovoltaics, take the lead at 49.0%. Silver bars and coins follow closely behind, accounting for 25.3% of global silver demand. Jewelry represents 18.3% of the overall demand, while photography and silverware contribute 2.6% and 4.8%, respectively.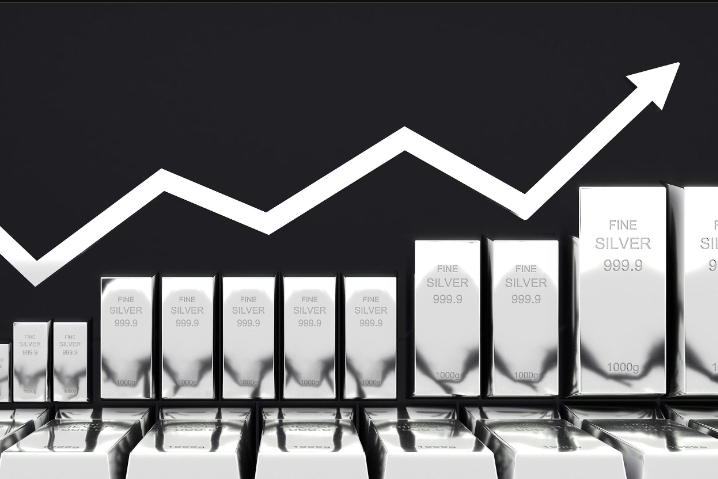 SOURCE
Investing in silver offers several benefits, similar to gold. It is often considered a safe haven asset, sought after when traditional investments such as stocks and shares decline. During economic downturns, silver prices may struggle due to reduced industrial demand. However, silver has historically provided excellent returns when the stock market underperforms.
Silver also serves as a hedge against inflation since its price tends to rise when interest rates fall behind the rising cost of living. This phenomenon, known as the real interest rate, has historically driven investors towards silver during periods of negative real interest rates.
While silver and gold prices are closely correlated, with a correlation value of 0.63 since 1968, silver prices exhibit higher volatility. On average, silver moves three times more than gold for every 1% movement in the gold price.
Determining the highest silver prices depends on the currency of interest. In GBP, the peak spot price for silver occurred in April 2011, reaching £30.06 per ounce (£966.45 per kilogram). In USD, the current all-time high took place on January 18, 1980, at $49.45 per ounce ($1,589.85 per kilogram) when the Hunt brothers attempted to corner the silver market.
When considering investments in silver bullion, it is essential to explore various options. Silver jewelry and cutlery, while aesthetically pleasing, may not prove to be lucrative investments due to higher initial costs and limited resale value. Silver coins and small bars also have drawbacks, including a 20% VAT when purchased in the UK and high trading spreads.
For those interested in owning physical silver bullion, vaulted wholesale silver bars weighing 1,000 ounces (32kg) stored in LBMA-accredited vaults offer a cost-effective investment option. These bars, recognized as "Good Delivery" by LBMA-approved vaults, can be traded VAT free, making them an attractive choice for investors. While "off site" storage can have its benefits, i cant drum this in to you enough - IF YOU DONT HOLD IT, YOU DONT OWN IT.....
As the demand for silver continues to grow across industries and its investment potential remains strong, silver's versatility and enduring allure make it a metal worth exploring for both industrial applications and investment portfolios.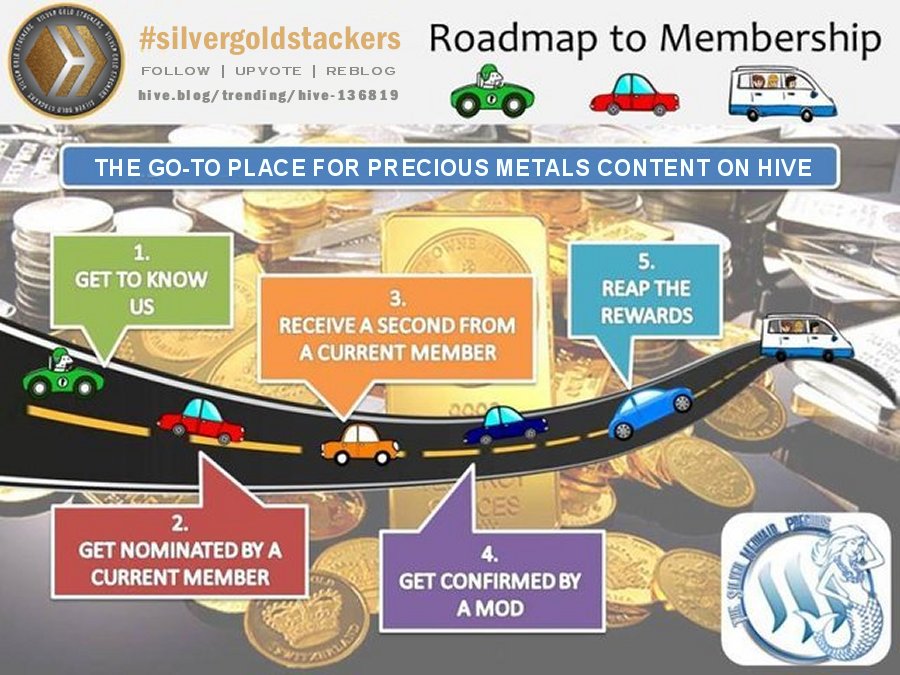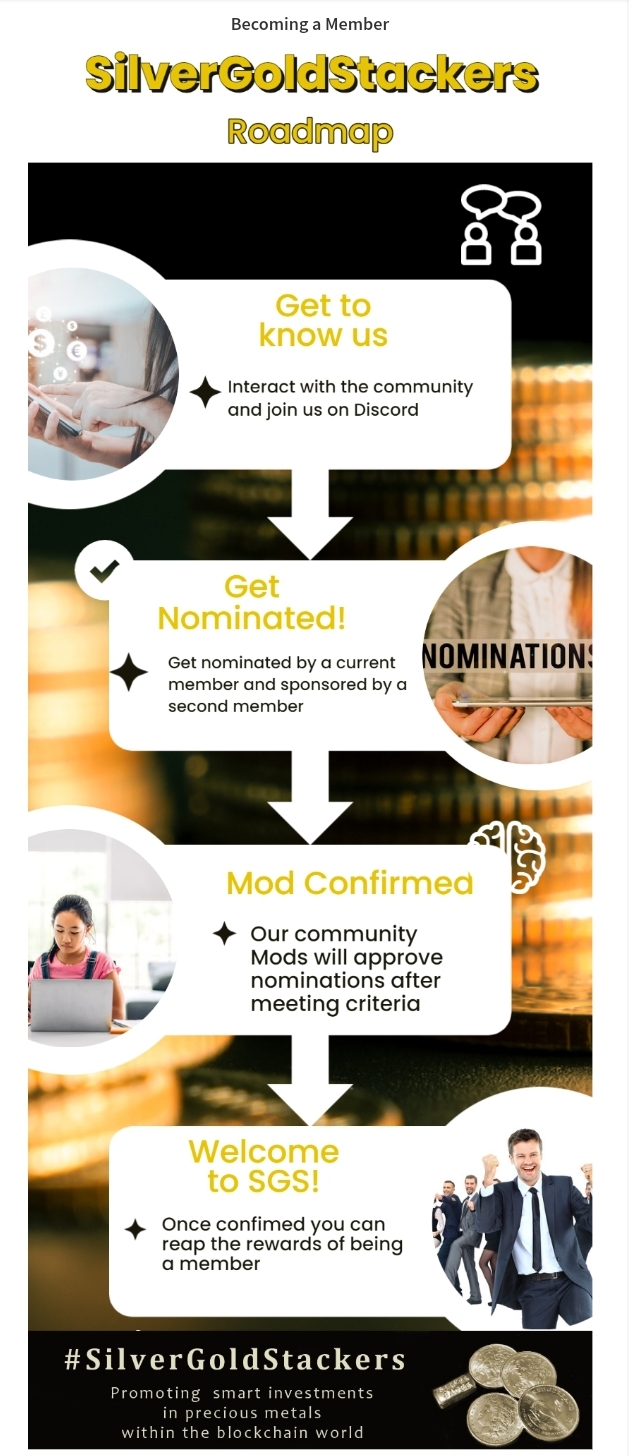 If you dont own any precious metals, then why not tell us? As a community we encourage ALL engagements and encourage everyone to take the plunge and own at lease a sinlge ounce of silver or a fraction of gold. If youre struggleing to find a safe and secure place to buy, reach out to the community as there is always someone willing to offer their time and advice to help you out.

40+yr old, trying to shift a few pounds and sharing his efforsts on the blockchain. Come find me on STRAVA or actifit, and we can keep each other motivated .

Proud member of #teamuk. Teamuk is a tag for all UK residents, ex-pats or anyone currently staying here to use and get a daily upvote from the community. While the community actively encourages users of the platform to post and use the tag, remember that it is for UK members only.
Come join the community over on the discord channel- HERE

Want to find out more about gold and silver? Get the latest news, guides and information by following the best community on the blockchain - #silvergoldstackers. We're a group of like minded precious metal stackers that love to chat, share ideas and spread the word about the benefits of "stacking". Please feel free to leave a comment below or join us in the community page, or on discord.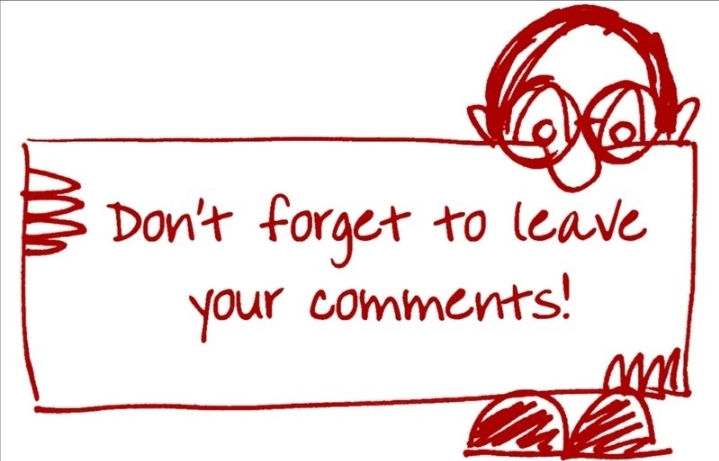 ---
---