Creciendo entre varones: mis primos 🤪 (Esp/Eng)
Hola a todos, una vez más me complace visitar esta bella comunidad donde podemos encontrar un espacio para expresar el amor que sentimos por nuestros familiares y amigos. En esta ocasión quisiera hablarles sobre mi hermano y mis primos y como fue crecer con ellos siendo la única niña de la familia 😊.
Hello everyone, once again I am pleased to visit this beautiful community where we can find a space to express the love we feel for our family and friends. This time I would like to tell you about my brother and cousins and how it was growing up with them being the only girl in the family 😊.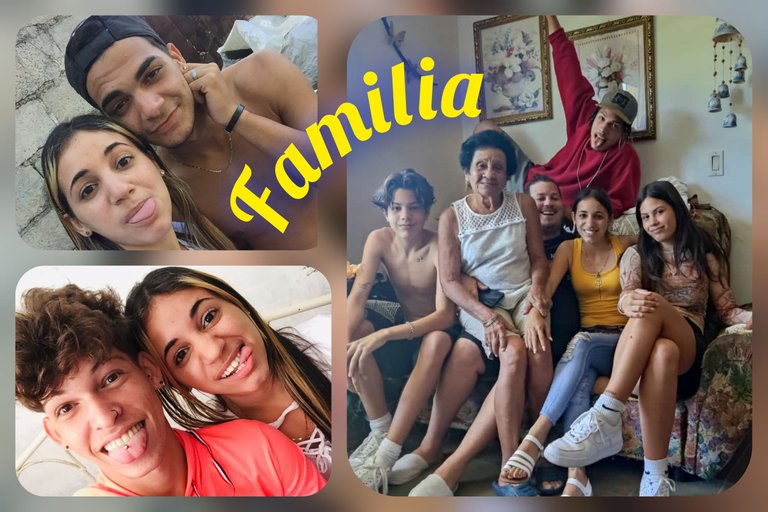 Les empezaré hablándoles de mis primos por parte de madre, ya que con ellos me crié, aunque también tengo varios primos por parte de padre. Yo vivía con mi mamá, mi abuela y mi tía y era la única nieta hasta que nació mi primo Yamill. Cuando él nació yo tenía 3 años y por otros 3 años fuimos él y yo la alegría de la casa, pues después nacieron mi hermano y mi otro primo. Nos queríamos mucho, aunque como niños al fin discutíamos por las cosas más tontas.
Hay un término en el idioma español que se usa para describir a los primos que se crían juntos como hermanos y es "primos-hermanos", eso somos él y yo. Actualmente mi primo Yamill vive en los Estados Unidos, hace varios años que no lo veo, lo extraño mucho. Sé que algún día nos veremos de nuevo.
I will begin by telling you about my cousins on my mother's side, since I grew up with them, although I also have several cousins on my father's side. I lived with my mother, my grandmother and my aunt and was the only granddaughter until my cousin Yamill was born. When he was born I was 3 years old and for another 3 years he and I were the joy of the house, because later my brother and my other cousin were born. We loved each other very much, although as children we quarreled over the silliest things.
There is a term in the Spanish language that is used to describe cousins who are raised together as siblings and it is "primos-hermanos", that's me and him. Currently my cousin Yamill lives in the United States, it has been several years since I have seen him, I miss him very much. I know that someday we will see each other again.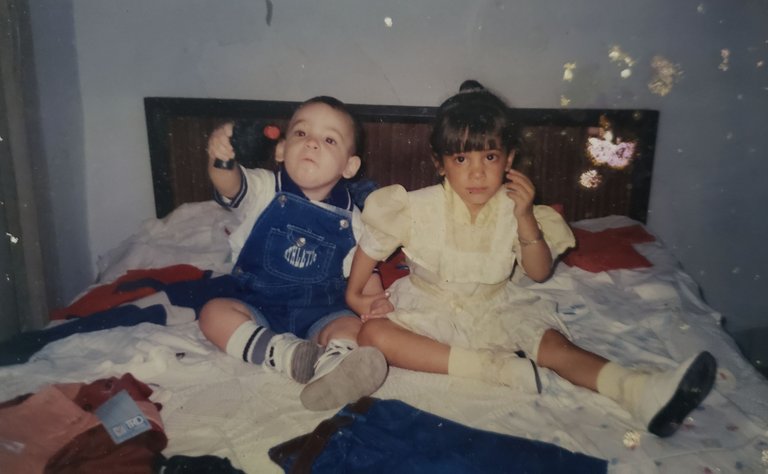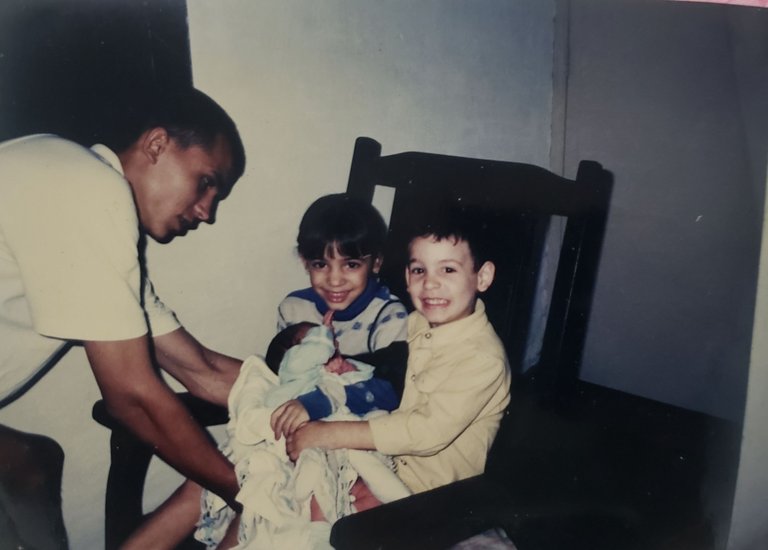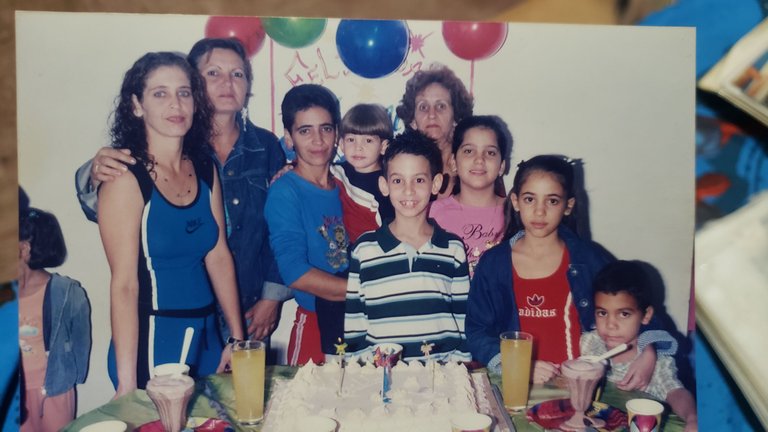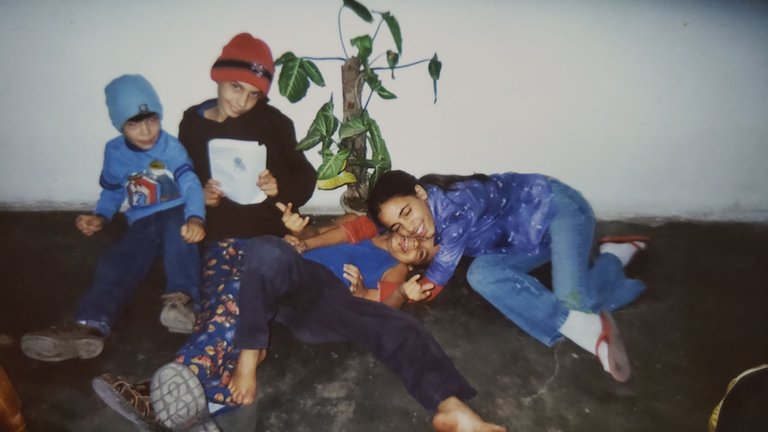 Luego nació mi hermano, Jose Adrián y al poco tiempo mi otro primo Víctor Alejandro. Fue muy divertido crecer con ellos porque siempre tenía con quién jugar. Recuerdo que a veces iba a recogerlos a la salida de la escuela, a mi hermano y a mi primo Víctor, ya que yo era la mayor. No había tiempo para aburrirse en esa casa, jugábamos al escondido, juegos de mesa, fútbol y muchas cosas más. De vez en cuando le hacía peinados a todos, les ponía felpitas y les hacía moñitos.
Sí me hubiera gustado tener una hermana pero a ellos no los cambiaría por nada. Hemos pasado muchos momentos juntos como familia, salidas, viajes, cumpleaños, etc. Actualmente nos seguimos llevando muy bien todos y nos queremos mucho.
Then my brother, Jose Adrian, was born and soon after my other cousin Victor Alejandro. It was a lot of fun growing up with them because I always had someone to play with. I remember that sometimes I would go to pick them up after school, my brother and my cousin Victor, since I was the oldest. There was no time to get bored in that house, we played hide and seek, board games, soccer and many other things. From time to time I would do everyone's hair, I would put plushies on them and make them little buns.
I would have liked to have a sister, but I wouldn't trade them for anything. We have spent many moments together as family, outings, trips, birthdays, etc. Nowadays we all still get along very well and we love each other very much.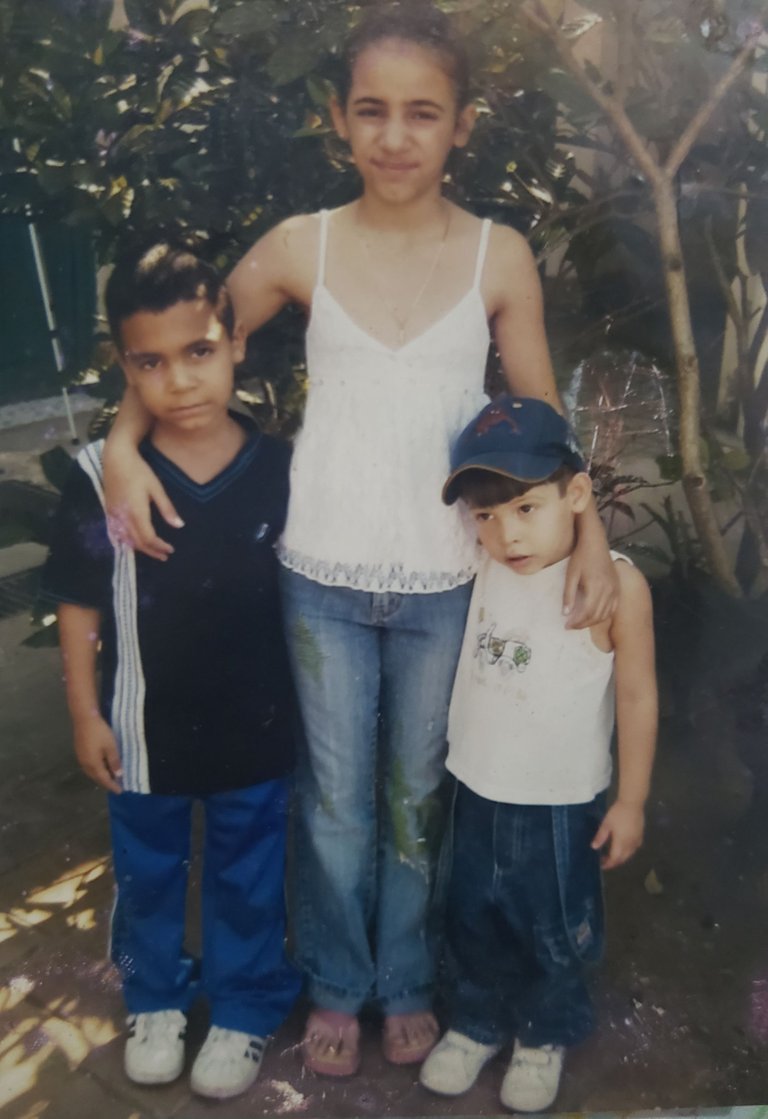 Por parte de padre también tengo varios primos. Tengo un primo mayor que yo que se llama Yoján y su hermano David que es menor que yo. Con ellos también tengo lindos recuerdos, ya que cuando mi papá se fue a vivir para La Habana, solo me quedaba mi tía Tamara aquí en mi ciudad y todos los fines de semana me los pasaba en su casa, con ella y mis primos.
Recuerdo que siempre se estaban peleando por jugar conmigo. Yoján es más cercano a mi edad, por lo que siempre nos entendimos muy bien, además que ambos amamos los idiomas y tenemos gustos similares en series y películas. Con David también me divertía juagndo con sus juguetes y los tres juntos salíamos a jugar por el barrio. Me enseñaron a montar bicicleta, patines, a jugar chinitas y a correr huyendo de algún perro que nos ladrara. Fue una etapa muy divertida. Una vez que se mudaron s La Habana solo los veía en vacaciones y recientemente Yoján se mudó para España, así que me va a ser mucho más difícil verlo.
On my father's side I also have several cousins. I have an older cousin named Yoján and his brother David who is younger than me. I also have nice memories with them, because when my dad went to live in Havana, I only had my aunt Tamara here in my city and I spent every weekend at her house, with her and my cousins.
I remember they were always fighting to play with me. Yoján is closer to my age, so we always understood each other very well, plus we both love languages and have similar tastes in series and movies. With David I also had fun playing with his toys and the three of us would go out together to play in the neighborhood. They taught me how to ride a bike, skate, play chinitas and run away from a dog that barked at us. It was a very fun time. Once they moved to Havana I only saw them on vacations and recently Yoján moved to Spain, so it will be much more difficult for me to see him.
| | |
| --- | --- |
Mi tía Aimeé tambiéne dió dos primos, la primera fue Karla, mi única prima hembra y el otro es Roberto, el menor de todos. Con ellos he pasado mucho menos tiempo, ya que nacieron en La Habana y solo los veo en vacaciones, pero hemos hecho muchos viajes juntos y la he pasado genial con ellos. Sobre todo me encantó tener una prima hembra, porque los varones me sobran 😂. A pesar de la diferencia de edad, ella y yo siempre nos hemos entendido muy bien y nos queremos mucho.
My aunt Aimeé also gave me two cousins, the first one was Karla, my only female cousin and the other one is Roberto, the youngest of them all. I have spent much less time with them, since they were born in Havana and I only see them on vacations, but we have made many trips together and I have had a great time with them. I especially loved having a female cousin, because I have too many boys 😂. Despite the age difference, she and I have always understood each other very well and we love each other very much.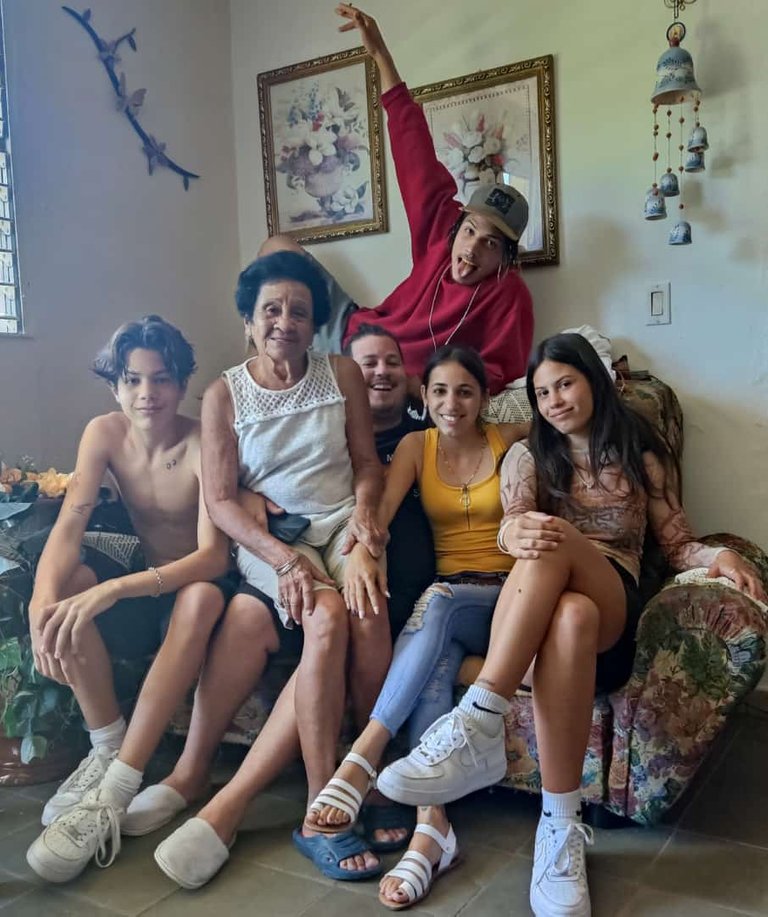 En esta foto estoy con todos mis primos por parte de padre y con nuestra abuela.
In this picture I am with all my cousins on my father's side and our grandmother.

En fin, amo a todos mis primos, a mi prima hembra y a mi hermano, me encanta pasar tiempo con todos ellos y no fue difícil para nada crecer entre varones, ya que aunque soy la mayor me siento protegida por todos ellos y de una forma u otra, todos aportaron algo para ser la persona que soy hoy en día. Sin más, solo quiero decir que la familia es muy importante para mí y me alegra que exista esta comunidad dedicada a ellos.
Anyway, I love all my cousins, my female cousin and my brother, I love spending time with all of them and it wasn't hard at all growing up among boys, because even though I'm the oldest I feel protected by all of them and in one way or another, they all contributed something to be the person I am today. Without further ado, I just want to say that family is very important to me and I am glad that there is this community dedicated to them.

Créditos:
Todas las fotos fueron tomadas de mi galería personal.
La foto de portada fue editada en InCollage.
Los banners fueron creados en Ibis Paint por mi esposo.
Credits:

All photos were taken from my personal gallery.
The cover photo was edited in InCollage.
The banners were created in Ibis Paint by my husband.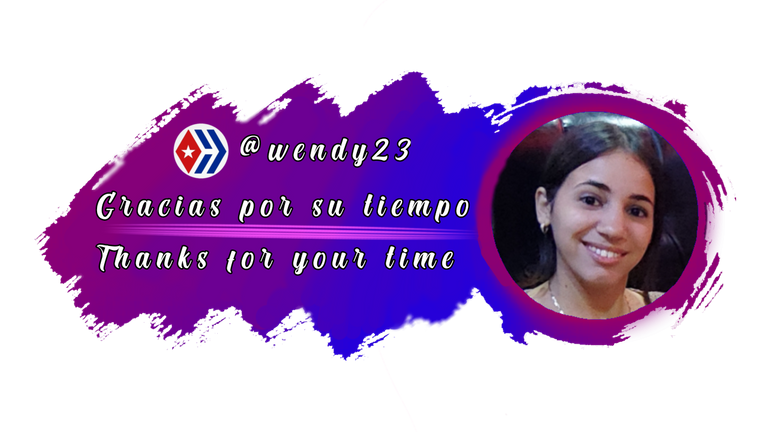 ---
---