FM 2020 - Arsenal FC: Repeating Invincibles - Winter Break
Heyo Hive football enthusiasts!
I hope you're doing great and having fun even tho' there's no football played ATM.
I am writing about my Fotball Manager 2020 journey that I started with Arsenal FC. Since my goal is to repeat The Invincibles season where Arsenal finished the league without any loss, I think this might be a long series.
Nonetheless, it will be an interesting ride and I will do my best to achieve my goal I never achieved before. Imagine how hard it was for Wenger to do it in real life.
Big respect to him but it's time to go virtual and make it happen in game.
---
If you want to read from the start of these series, check them out here:
FM 2020 - Arsenal FC: Repeating Invincibles - Introduction
FM 2020 - Arsenal FC: Repeating Invincibles - Tactics and Transfers
---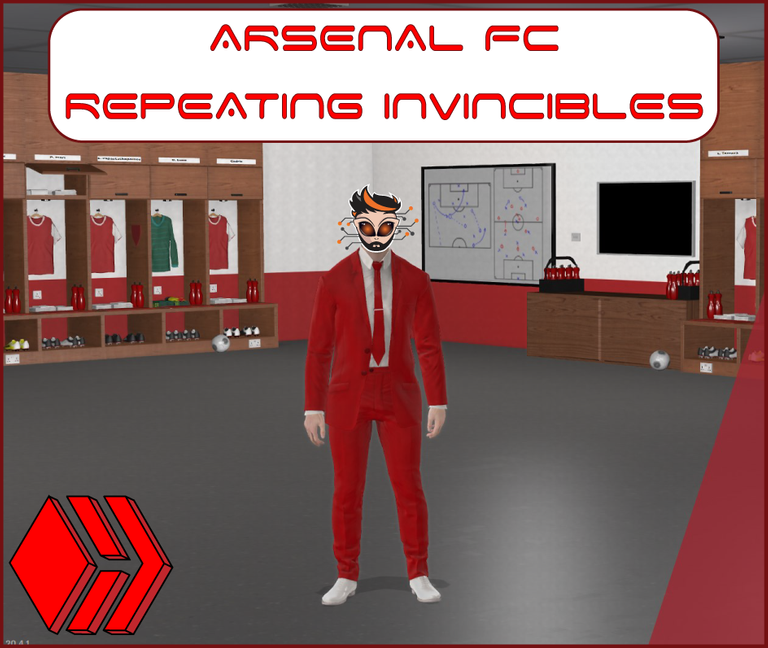 We are currently on a short winter break and looking for players to add quality to Arsenal.
For start, let's talk about Europa League and how we're doing there.
We were handed a really easy group with only Torino as a club who can give us a few problems. I like it when I have an easy road in the group stage just so I can rest my first team players and rotate big time.
I am guilty of rotating too much and this season, I still didn't find my main formation. You can imagine how messy it can get sometimes but it is the price I am willing to pay until I find a perfect solution.

But, we finished our group stage on the first place, drawing only with Antwerp and winning against other opponents. It wasn't hard and I am glad to have quality bench player, as well as youngsters, to fill in the place in first team when needed.

It was time to see what expects us in the next round. And as you can see, we got Club Brugge in the First Knockout Round of Europa League. The first game will be played away but I think we got a great chance to go through.
I am not saying that trip to Belgium will be an easy one, especially because I am probably going to rotate again. But, we are Arsenal FC and we got quality to go through.
It will be interesting to see what expects us in the next knockout round and further more. There are still some great teams in Europa League and it will be harder and harder to win it.
But, Europa League is not our main focus. Our main focus is English Premiership. It is a very though competition and we aim to finish in top 4 to play Champions League next year.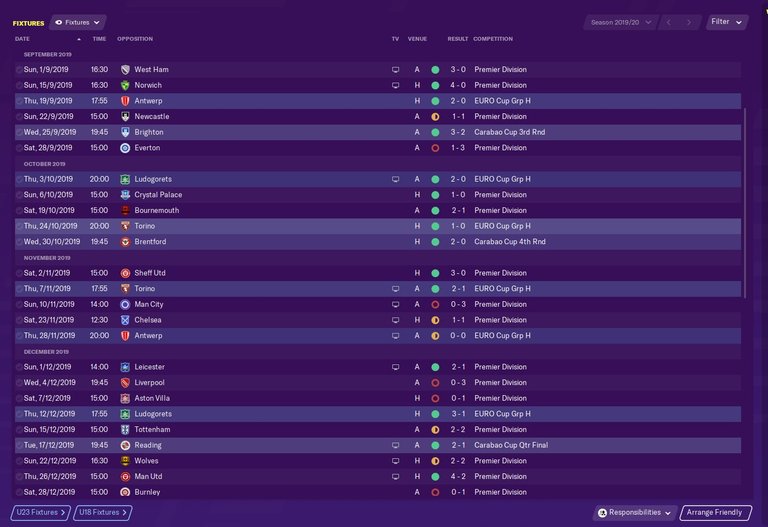 As you can see from the schedule, we started pretty good but nearing the winter break, we got carried away a bit and started to lose and draw some matches we couldn't afford to do.
I don't know if this is only for this year but my schedule was awful. I had periods of time where I played matches every 3 day. That's too much especially when it lasts for a longer period of time. I should have a bench full of really good players to cope with that kind of schedule.
But unfortunatelly, I don't have that much quality bench so I had to do the best I know and can.

Entering year 2020, the table looks like this. We fell down a few places but we're still in competition to finish top 4. I am not even gonna dream to finish the season in 3rd place or better. I will be satisified with 4th place just to get us to Championship League next year.
If we make it, that will give us a huge boost to our reputation. That's very important in FM2020 because we will be able to buy better players and young talents.
Oh and BTW, we are also in semi-finals of Carabao Cup. This cup is something I don't pay attention to very much but it is a good opportunity to test my youngsters. So far, they are doing great even tho' we only played against teams from lower divisions.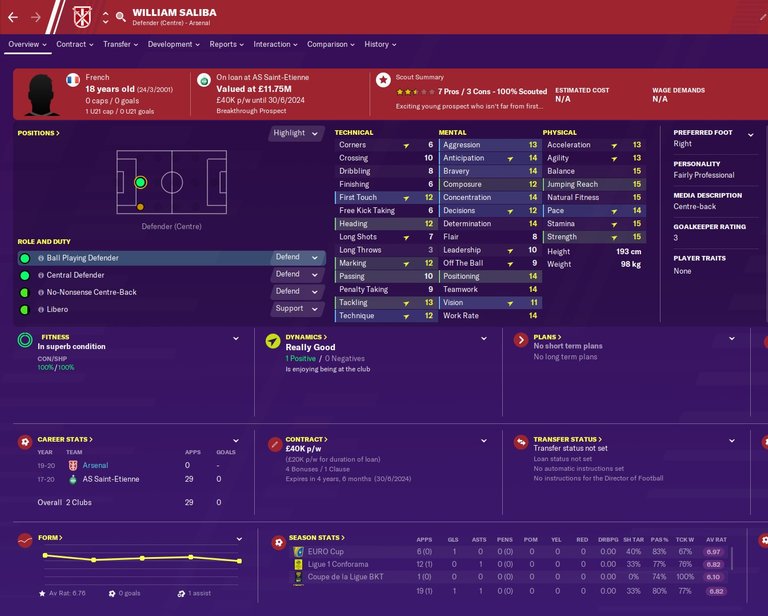 We are surely going to be active on transfer market this winter. My main goal is to buy Defender Centre. It is something I need a lot and I really wanna buy world class player or wonderkid.
William Saliba is on loan and is only 18 years old. I still don't know what I have in store for him. Either he will remain in Arsenal for the next year or he will go on loan again.
I want to start him as 19 year old talent but I know that will cost me a lot of goals. So, I think I will decide after this season when I see his ratings and stats from this season.
If I buy an experienced defender, then I might even keep Saliba in club and start him now and then but often let him play for Arsenal U23. It will be a really hard choice I will need to make but I am looking forward to it.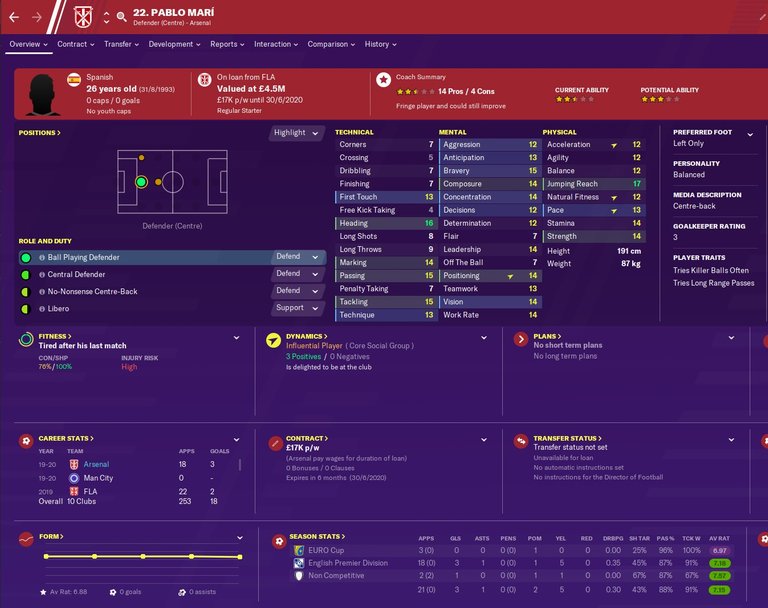 Pablo Mari is still on loan with us and I am still not sure should I buy him. Good thing is that he has £9 mil sell clause so he's not expensive at all. He is also playing fairly good but has a lot of mistakes and some of them led to goals.
This might be due to him being new at the club so I will keep my options open until the end of the season. If he turns out to be good, I will buy him and play him with the new DC or with W. Saliba. It might not work to play him with Saliba but who knows.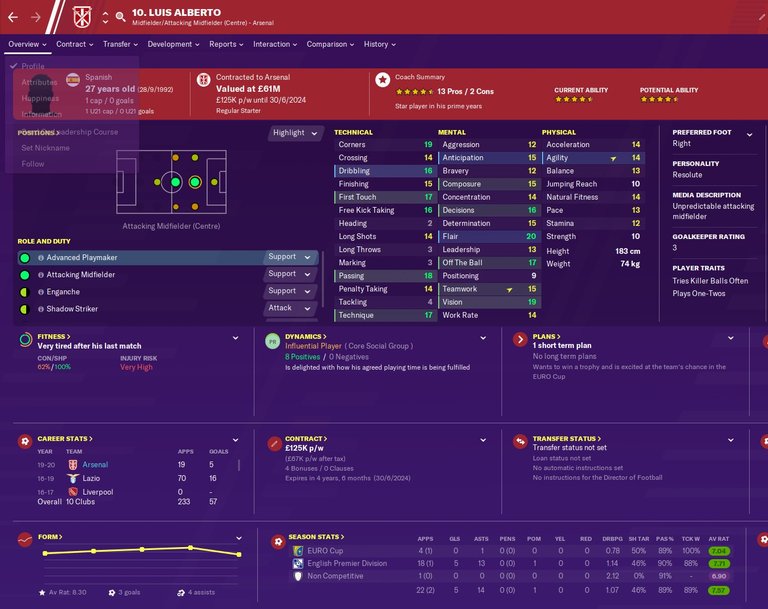 On the bright side, the only player I bought, Luis Alberto, is playing football of his life. He replaced Ozil very good and as you can see from his stats, he was a part of 19 goals in 24 matches he played.
That's more than awesome for his first season here and I expect him to get only better. It would be good to buy Striker so those two can create a great relationship as soon as possible. But, I am not sure I can afford to buy both good defender and striker. It is a bit impossible becuase I have only 64 mil Pounds. Only... :)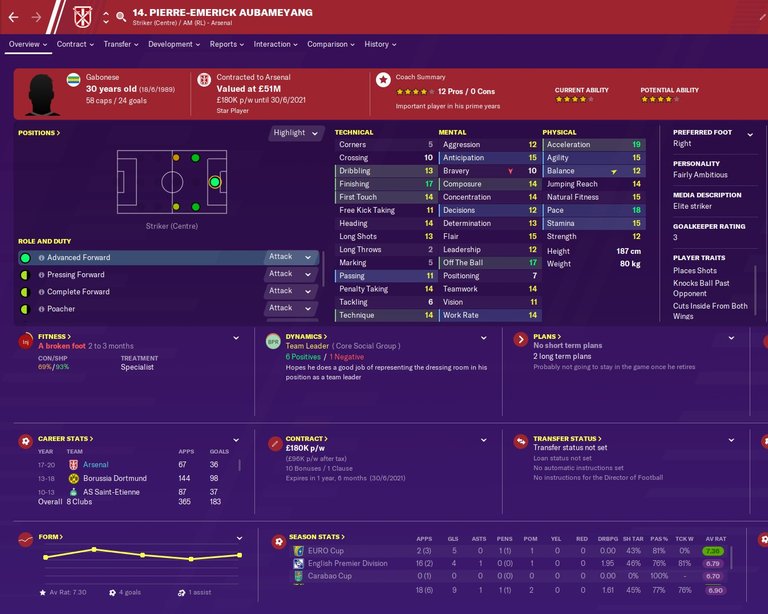 But, looking at Aubameyang's stats and knowing he is injured for 3 months now, I want to buy Striker as soon as possible.
I don't know why it is that every time I play with Arsenal, Aubameyang is a solid striker. He is great in real life but I never managed to get him close to his form like in real life.
Now, he is injured so it will be harder to sell him but I will try. My trasfer targets for Striker are Haaland (Dortmund) and L. Martinez (Internazionale), but I also need to get more scouting going to see if I can find some young talent.
For now, the main goal is to buy quality defender centre that will be an influential player in our defense for many incoming years. Then, we need a striker and with a bit of luck with new talents (new gens) I will create a team that will fight for the title.
It will be a long road, it will be hard but I already got experience with this and I believe time is my only enemy.
Is Arsenal going to finish top 4. Are we going to buy new DC to make our defense better? Stay tuned!
Thanks for reading.
Peace yo,
Mr. Spacely
---
---
---