Architectural work of the Capitol of Valencia [ENG/ESP]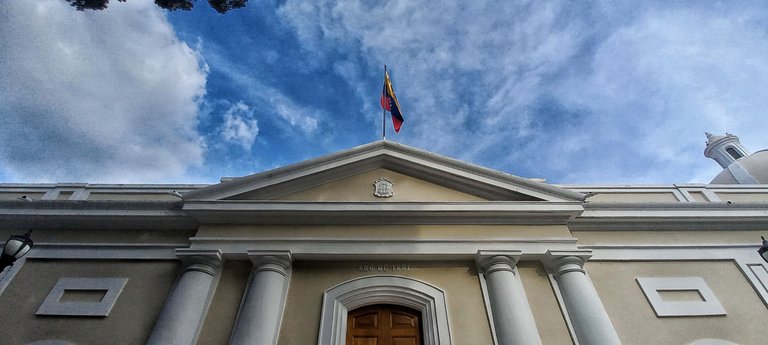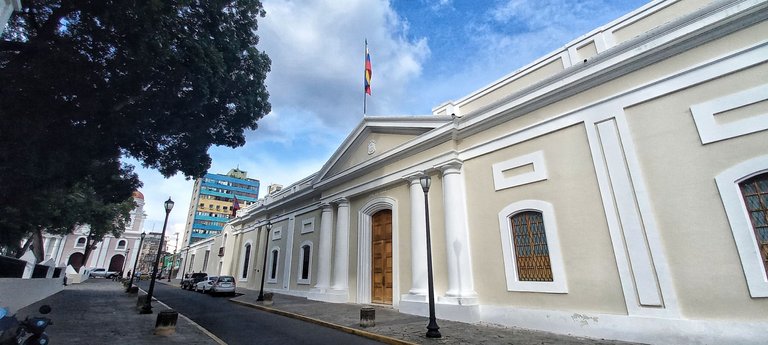 In most of my publications, I have shown and talked about modern architectural works, or at least that were built between the 80's and the present, but in the city where I live, also prevails a great importance of much older architectural works, as in this case, the capitol of Valencia, Carabobo-Venezuela.
Located in the center of the city of Valencia, this structure currently serves as the government of the state of Carabobo, but since its inception of being built, this building had other purposes and has also undergone several reforms, to have the current design that we can all see.
En la mayoría de mis publicaciones, he mostrado y hablado sobre obras arquitectónicos modernas, o por lo menos que fueron construidas entre las décadas de los 80 y la actualidad, pero en la ciudad donde vivo, también prevalece una gran importancia de obras arquitectónicos mucho más antiguas, como es en éste caso, el capitolio de Valencia, estado Carabobo-Venezuela.
Ubicado en el centro de la ciudad de Valencia, esta estructura actualmente funciona como gobernación del estado Carabobo, pero desde sus inicios de haber sido construido, esta edificación tuvo otros propósitos y tambien ha pasado por varias reformas, hasta tener el diseño actual que todo podemos ver.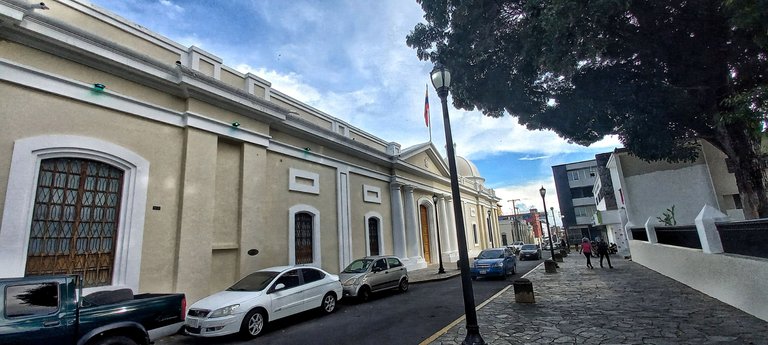 This architectural work was built between 1768 and 1874, by orders of Bishop Antonio Diez de Madroñero, therefore it belonged to the Cathedral of Caracas, located in the capital of Venezuela, and was intended to function as a hospital, but then became a religious convent and even a school under the same religious court of Catholicism.
Until 1874, under the government of Venezuelan President Antonio Guzmán Blanco, a character who also had a great influence in the construction of the municipal theater of Valencia, which I discussed in a previous publication in this community. Guzmán Blanco had a strong persecution against the catholic church, so he took the capitol of Valencia, and gave them orders to make several reforms, to later become an infrastructure, where all the powers of the government of Carabobo were spent.
Esta obra arquitectónica se edificó entre los años de 1768 y 1874, por órdenes del obizpo Antonio Diez de Madroñero, por lo tanto pertenecía a la catedral de Caracas, ubicado en la capital de Venezuela, y tenía como objetivo funcionar como hospital, pero luego se convirtió en un convento religioso e incluso en un colegio bajo la misma corte religiosa del catolicismo.
Hasta llegar en el año de 1874, bajo el gobierno del presidente de Venezuela Antonio Guzmán Blanco, personaje que también influyó mucho en la construcción del teatro municipal de Valencia, lo cual hable en una publicación anterior en ésta comunidad. Guzmán Blanco tenía una fuerte persecución contra la iglesia católica, por lo que tomó el capitolio de Valencia, y les dió ordenes de hacerles varias reformas, para luego convertirse en una infraestructura, donde se gastaba todos los poderes del gobierno de Carabobo.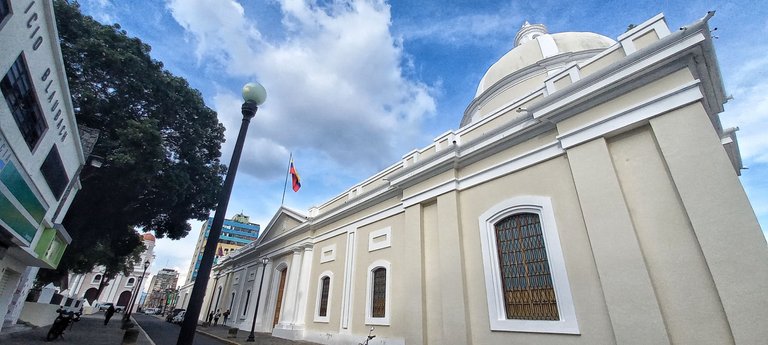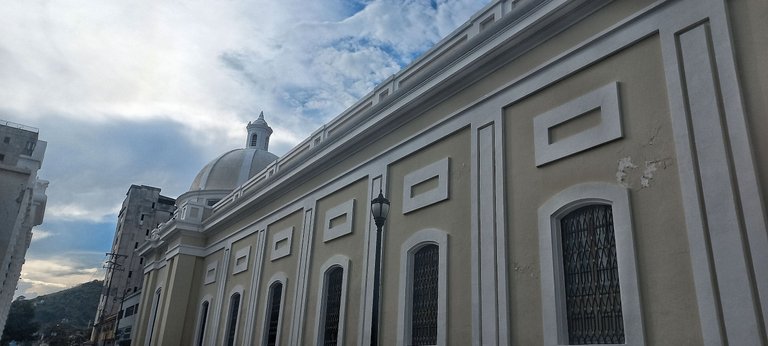 Now, in the architectural aspect, by reference to which it was built, this building was considered under the colonial style, although it can still be seen by the large windows that are throughout the structure, which covers an entire corner of a block, but it is also considered a neoclassical structure, even passing, although as a historical fact after the independence of the country, all buildings were considered by republican style.
Therefore, everything arises from a mixture of styles, which were adopting different styles over the years. As also to mention the dome of the capitol, with a more baroque style, although it is well known that this style ended in the year 1700, but still its influence would continue in later in many constructions in Venezuela.
Ahora, en el aspecto arquitectónico, por referencia al que fue construido, se consideraba esta edificación bajo el estilo colonial, aunque todavia se puede ver por las grandes ventanas que hay por toda la estructura, que abarca toda una esquina de una cuadra, pero también se le considera una estructura neoclásico, incluso pasando, aunque como dato histórico luego de la independencia del país, todas las construcciones se consideraban por estilo republicano.
Por lo tanto, todo surge de una mezcla de estilos, que se fueron adoptandos diferentes estilos a través de los años. Como también por mencionar la cúpula del capitolio, con un estilo más barroco, aunque bien se puede saber que ese estilo terminó en el año 1700, pero aún así su influencia seguiría en la posterioridad en muchas construcciones en Venezuela.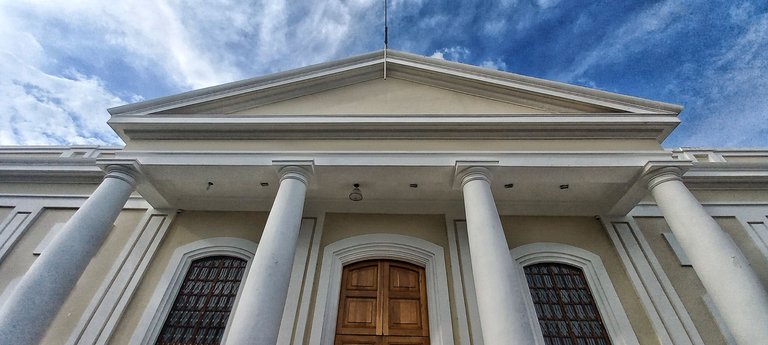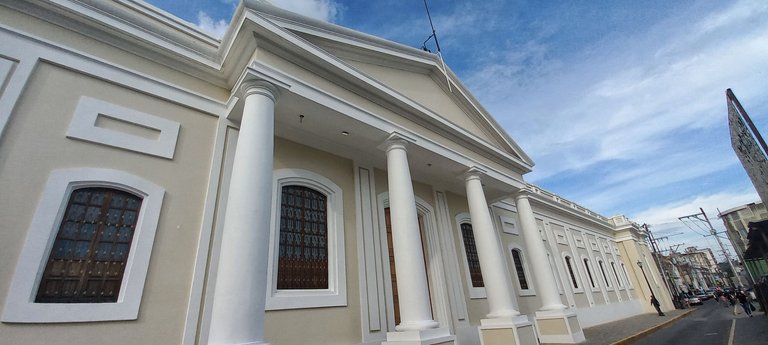 With respect to one of its facades, we see how it has Greek influence, for its Greek pediment and its Doric style columns, but without leaving aside the mixture of colonial and neoclassical style, that is to say a mixture of several styles, which is usually very characteristic in many architectural works of that time in Venezuela, who also followed a strong influence of European architecture, by the cultural ties due to colonization.
At the moment I have not been able to enter this building, due to the fact that it is a government establishment, and its entrance is denied to the general public, although before there were guided tours, but I have conicimientos that inside has a central courtyard, with many more columns of the Doric order, and there is also an authentic painting of the renowned painter Arturo Michelena, where he depicted Simon Bolivar.
Con respecto a una de sus fachadas, vemos como tiene iinfluencia griega, por su frontón griego y sus columnas al estilo del orden dórico, pero sin dejar aparte la mezcla del estilo colonial y neoclásico, es por decir toda una mezcla de varios estilos, que normalmente es muy caracteristico en muchas obras arquitectónicas de esa época en Venezuela, quienes seguían también una fuerte influencia de la arquitectura europea, por los lazos culturales debidos a la colonización.
De momento no he podido ingresar a ésta edificación, por el hecho de ser un establecimiento del gobierno, y su entrada esta negada para el público general, aunque antes se hacían visitas guiadas, pero tengo conicimientos que adentro tiene un patio central, con muchas mas columnas del orden dórico, y también hay un cuadro auténtico del reconocido pintor Arturo Michelena, donde plasmó a Simón Bolívar.
All photographs are my own and were taken with a Samsung A32 cell phone.
Todas las fotografías son de mí autoría y fueron tomadas con un celular Samsung A32.

---
---