Cathedral Basilica of Nuestra Señora del Socorro of Valencia [ENG/ESP]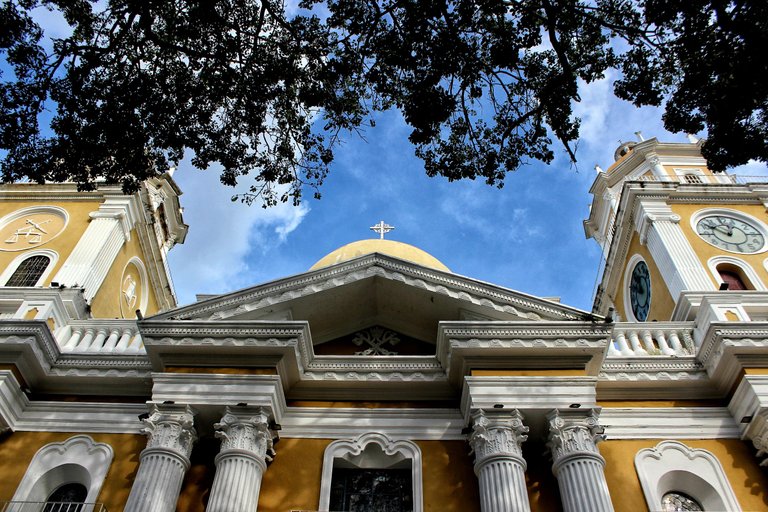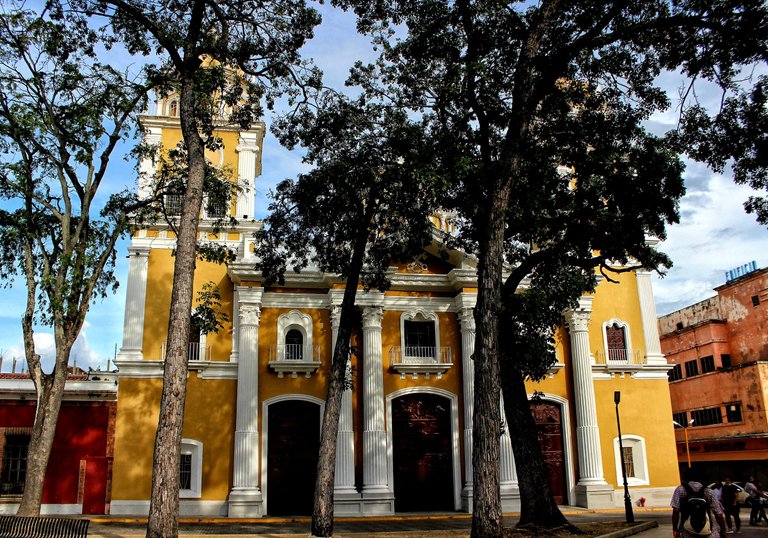 In the center of Valencia, Carabobo State - Venezuela, and in front of the Bolivar Square in Valencia, as all the squares in Venezuela are usually built, there is always a church or cathedral nearby, it is almost a rule in every city or town in the country. This cathedral is estimated to have been built in 1580, but from that time until today, it has undergone several reforms, and perhaps it is not the original design as we see it today.
Its designation as a cathedral, makes it one of the most important religious structures in the state of Carabobo, keeping an infinity of stories, as well as the presence of having spent several centuries in a city, which has been transformed since the times of colonization, passing through the feat of independence of the country, the republican era, until today.
En todo el centro de Valencia, estado Carabobo - Venezuela, y al frente de la plaza Bolívar de Valencia, como normalmente están edificadas todas las plazas de Venezuela, siempre hay una iglesia o catedral cerca, es como casí un reglamento en cada ciudad o pueblo del país. Esta catedral se estima que se construyó en 1580, pero desde ese momento hasta la actualidad, ha pasado por varias reformas, y quizás no sea el diseño original como hoy lo vemos.
Su designación como catedral, la hacen de unas de las estructuras religiosas más importantes del estado Carabobo, guardando así una infinidad de historias, como también la presencia de haber pasado varios siglos en una ciudad, que se ha venido transformando desde los tiempos de la colonización, pasandp por la gesta de la independencia del país, la época republicana, hasta nuestra actualidad.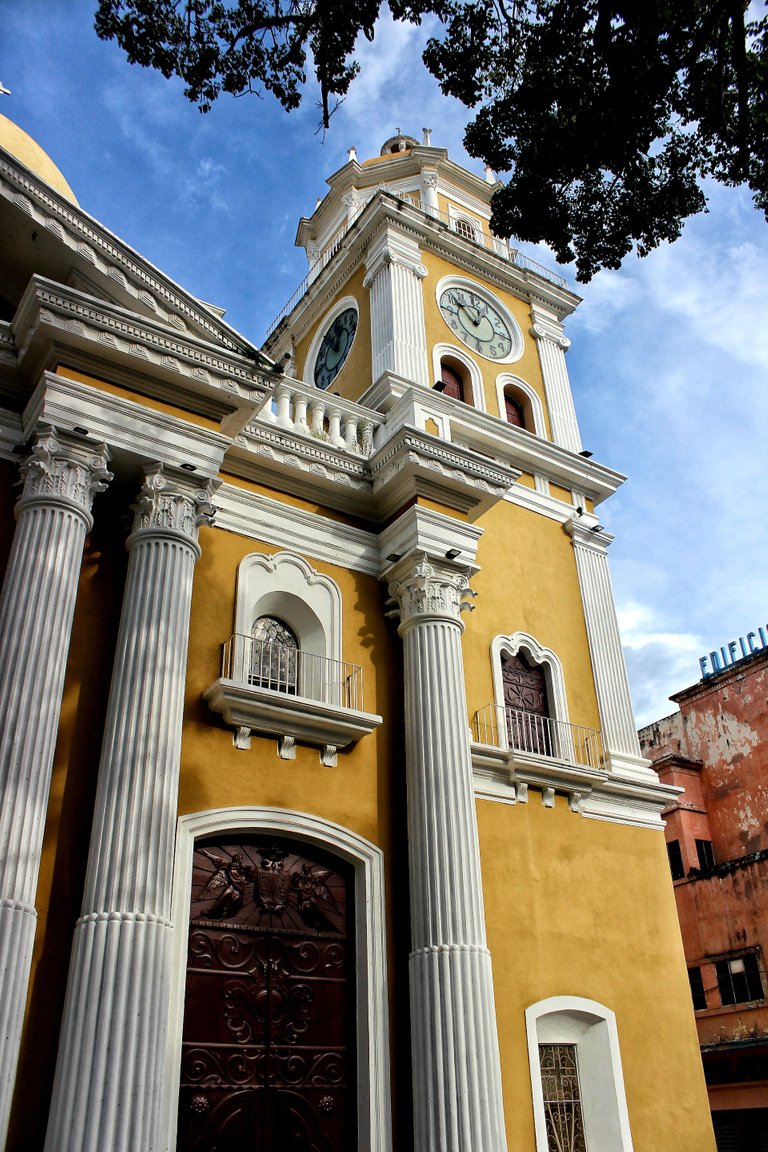 This architectural work of cathedral type, ql principle was of colonial style, by the time it was built, of course it is a colonial style with much influence of European architecture, or even being replicas of existing buildings in Europe, but over the years, certain modifications adapted other styles, through the republican style of the country and the neoclassical style.
Its facade, has as first impression Greek influence, by its columns and the pediment, as well as the constitution of 3 domes and two towers, with one having a clock in full operation, on the other hand we see three large doors, but as a main one, that if it comes influenced by the colonial style, as principles of construction for all buildings in Venezuela, by the fourteenth century.
Esta obra arquitectónica de tipo catedral, ql principio era de estilo colonial, por la la época en la que se construyó, por supuesto es un estilo colonial con mucha influencia de la arquitectura europea, o incluso siendo réplicas de construcciones ya existentes en Europa, pero a través de los años, ciertas modificaciones adaptaron otros estilos, pasando por el estilo republicano del país y el estilo neoclásico.
Su fachada, tiene como primera impresión influencia griega, por sus columnas y el frontón, así como la constitución de 3 cúpulas y dos torres, con una teniendo un reloj en pleno funcionamiento, por otra parte vemos tres grandes puertas, pero como una principal, que si viene influenciado por el estilo colonial, como principios de construcción para todas las edificaciones en Venezuela, por el siglo XIV.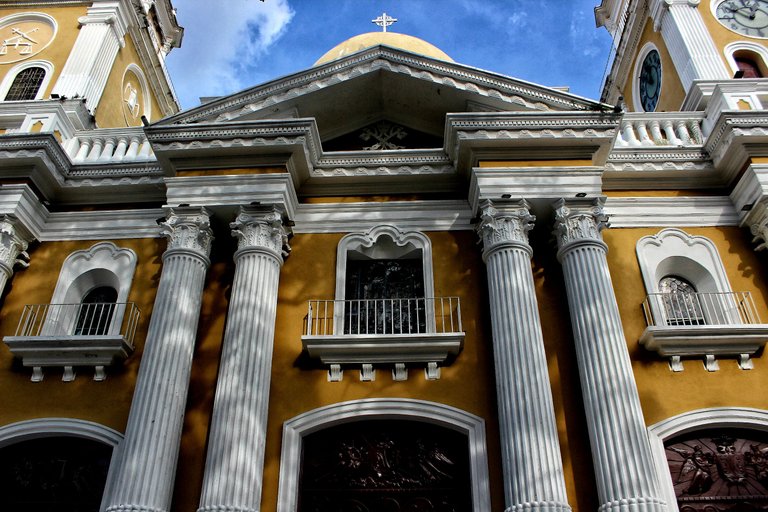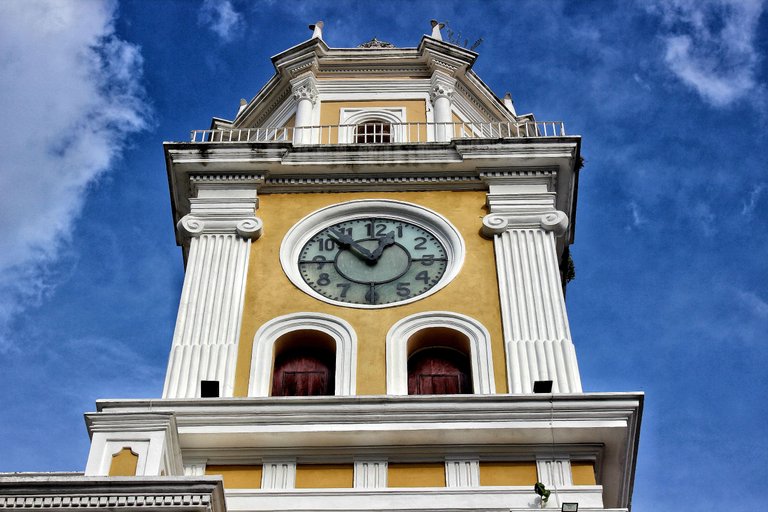 Its picturesque appearance, makes it a very striking landmark, besides having in its facade certain ornamental arrangements perfectly detailed, and you can see that despite all the restorations for which it passed, is a work that has always had a rigidity in their establishments, so as to endure for many centuries.
In addition, it is worth mentioning that its design is very similar to other nearby works that I have also talked about in this community before, such as the Municipal Theater of Valencia, the Capitol of Valencia and the old law school of the University of Carabobo, this last work that I have not yet talked about its architectural and historical aspect. All this is mostly due to the structural reforms by former president Antonio Guzmán Blanco.
Su aspecto pintoresco, hace que sea un punto de referencia muy llamativo, además de tener en su fachado ciertos arreglos ornamentales perfectamente detallados, y se puede apreciar que a pesar de todas las restauraciones por la que pasó, es una obra que desde siempre ha tenido una rigidez, en sus establecimientos, para así perdurar por muchos siglos.
Además, de hacer mención que su diseño, tiene mucho parecidos a otras obras cercanas, que también he hablado en esta comunidad anteriormente, tales como el teatro municipal de Valencia, el capitolio de Valencia y el antiguo facultad de derecho de la universidad de Carabobo, esta última obra que todavía no he hablado sobre su aspecto arquitectónico e histórico. Todo esto se debe mayormente por las reformas estructurales por el ex presidente Antonio Guzmán Blanco.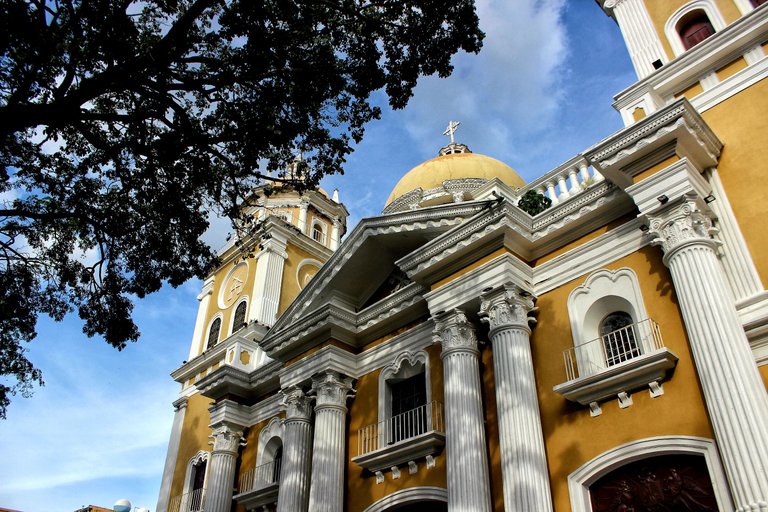 Apart from the architectural and historical value of this cathedral, there is also a great artistic value, since inside the cathedral there are works of art, perhaps some of the most renowned artists in Venezuelan art, such as the Valencian Antonio Herrara Toro, Arturo Michelena and Pedro Castillo, who was the grandfather of Michelana. Images that I have not been able to take pictures of, because whenever I pass by the cathedral, it is always closed.
This is how this cathedral converge many years of history and the union of art, architecture and religion, as a sample of an architectural jewel of the colonial era, with greater influences on the citizens of the city of Valencia.
All photographs are my own and were taken with a Canon T3i camera.
Aparte del valor arquitectónico e histórico de esta catedral, también hay un gran valor en lo artístico, puesto que el interior de la catedral existen obras artes, de quizás unos de los artistas más renombrados en el arte venezolano, como los fueran los valencianos Antonio Herrara Toro, Arturo Michelena y Pedro Castillo, quien fuera el abuelo de Michelana. Imágenes que no he podido tomarles fotos, porque siempre que paso por la catedral, siempre esta cerrada.
Es así como esta catedral convergen muchos años de historia y la unión del arte, la arquitectura y la religión, como muestra de una joya arquitectónica de la época colonial, con mayor influencias sobre los ciudadanos de la ciudad de Valencia.
Todas las fotografías son de mí autoría y fueron tomadas con una cámara fotográfica Canon T3i.

---
---