Don't complicate your life. Learn to say no
Hello everyone and welcome to my blog at this hour. It's a beautiful Sunday and it's the start of a new week, the last week in the month of October. Have you ever thought about the hardest thing for you? That one thing that you find it so difficult to say or do? Well, sit back, relax and enjoy all that I have packaged for your reading pleasure.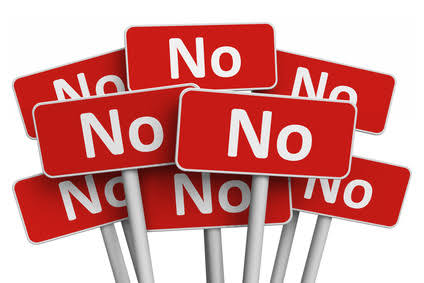 source
Most people would not mind to say yes to someone requesting for something that they do not have in abundance because of the fear of saying NO. Most people who have a lot of work on their desk, would still agree to add a colleague's, mostly senior colleagues job to theirs because they do not want to feel rude, when in actual fact, the senior colleague isn't doing anything productive with his time.
Learning how to say no can earn you some level of respect from people around you, it shows you respect yourself and you've boundaries that you'd not like to be taken for granted. The act of saying no is strongly associated with fear like I stated earlier. People that have low confidence consistently place other people's need above theirs in a bid not to offend or get on their wrong side.
"Let today mark a new beginning for you. Give yourself permission to say NO without feeling guilty, mean, or selfish. Anybody who gets upset or expects you to say yes all of the time clearly doesn't have your best interest at heart. Always remember: You have a right to say no without having to explain yourself. Be at peace with your decisions." Stephanie Lahart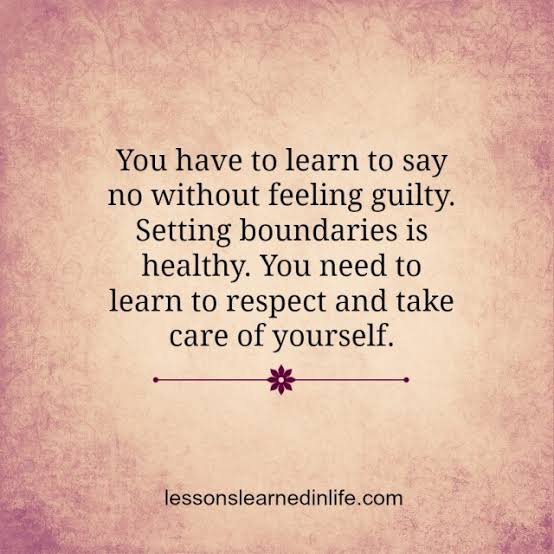 source
On another angle, we often find it difficult to say no to people that add little or no value to our life. We tend to spend our quality time with who constantly waste our precious time and we find it so difficult to shut them off by saying no. It is important to know that nobody can compel you to be around them if doesn't come from your mind. You have the sole power to decide what you want and the moment you realize that some group of people are not the best for you, you say no to them.
"You have a right to say no. Most of us have very weak and flaccid no muscles. We feel guilty for saying no. We get ostracized and challenged for saying no, so we forget it's our choice. Your no muscle has to be built up to get to a place where you can say, I don't care if that's what you want. I don't want that. No." Iyanla Vanzant
In addition, saying yes to an abusive relationship or marriage where your life is threatened is an act of stupidity. It is unwise not to say no to a relationship where the man or the woman is guilty of domestic violence/abuse all in the name of love. So many people have lost their lives, careers, happiness and peace of mind to an unhealthy relationship or marriage because they fail to say no.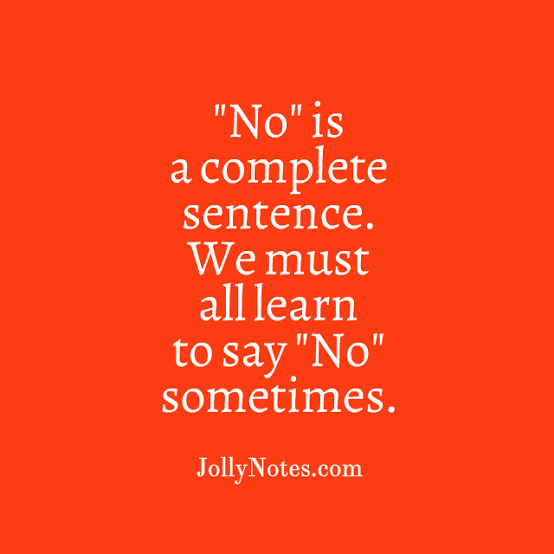 "Give yourself the permission to say no to anything that makes you unhappy or drains your energy." Anonymous
It is not a crime to say no. Be bold and say no with your full chest when the need arises. Be certain that when you are saying yes to the needs of others, you're not saying no to yourself. You do not have to accept anything that you are not comfortable or pleased with. You're hurting yourself at the expense of another person's happiness.
All contents are originally written by me, @williams-owb
ABOUT THE AUTHOR
Williams Oluseyi is a Linguist by discipline from one Africa's Most Prestigious Citadel of Learning, Obafemi Awolowo University. He developed interest for blogging at very early stage which motivated him to study English Language in College. He is a prolific writer, an inquisitive and judicious reader, to say the least. To get his daily bread, he is currently working in a Logistics company in Nigeria.

Thanks For Reading My Blog Post 📝📖🗒️
Follow me on REDDIT
CAMERA SPECIFICATIONS
6.0"
1080x2160 pixels
Vote, Reblog, Follow
Let's discuss in the comment section
---
---