SPEAK LESS, LISTEN MORE
Hello everyone and welcome to my blog at this hour. In one of my courses in the University, I could recall when my lecturer introduced us to the four language skills in English language, which are listening, speaking, reading and writing. She pointed out that listening is one important skill that we must all possess even outside of the four corners of the classroom. Are you a good listener? Well, sit back, relax and enjoy all that I have packaged for your reading pleasure.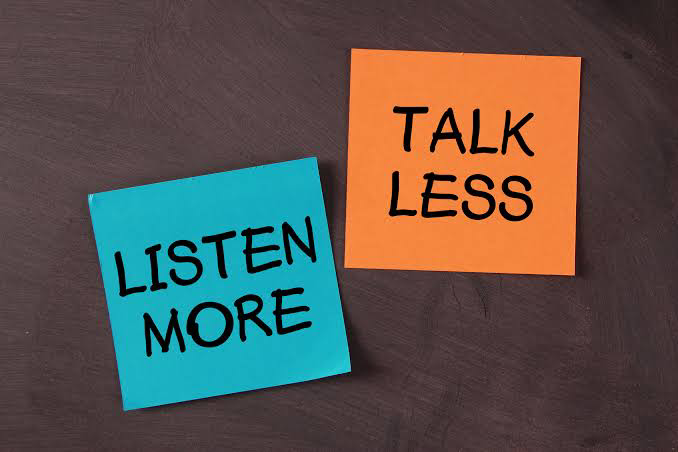 source
A lot of people are not good listeners, rather they prefer to talk more. It's a skill that so many people have mastered that if someone is talking, for instance, instead of paying attention to the details of what is being said, the person would be planning a rebuttal. That is, planning to attack the speaker's opinion the moment he or she stops speaking or even interrupt the other person's speech.
It is an habit for most people to treat a conversation like a competition where a winner must emerge. We see conversations as that which the person that makes more point is well informed or vast in the topic being discussed and would be accorded more respect after the whole discussion. A good example that comes to mind is when a fan of Cristiano Ronaldo of Manchester United/Portugal and Lionel Messi of Paris Saint-Germain Football Club/Argentina are arguing about who is the best between the duo. The conversation will be full of interruptions, and witty comments to make the other person feel defeated.
However, it is important to know that people who speak less and listen more tend to be more productive in life. Bernard Baruch backs this up by saying that "most of the successful people I've known are the ones who do more listening than talking." Have you ever imagined the reason we have two ears and one tongue? Well, according to Diogenes the Cynic, it is for us to listen more and talk less.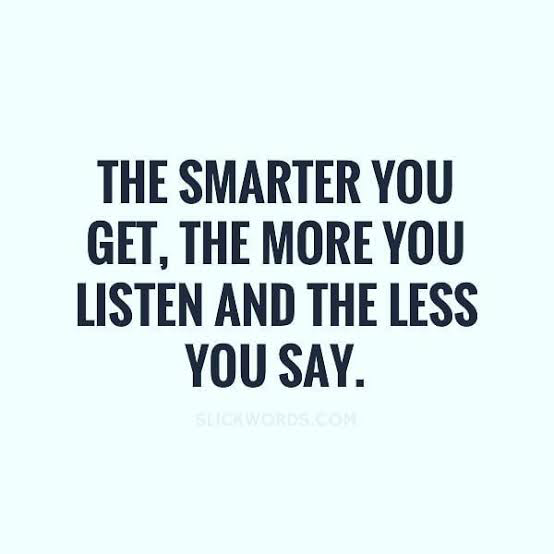 source
Below are some reasons why you should practice listening more and talking less:
The knowledge that one has is greater than any other thing in the world. A person that speaks more is only dishing out everything that he knows and sooner or later such person would be empty if he or she doesn't listen. A listener, a good one, receives information and process it which would be useful for him or her. So, which would team would you rather be? Team speak more and give out information or Team listen more, receive information and be more knowledgeable.

At one point or the other in our lives, we have said something that we wish we never said and it was too late to take it back. There is a Yoruba adage that translates that a word is like an egg, once it is broken it can never be repaired, hence, it should be treated with care. If you listen more than you speak you'd not reveal an information that you'd later regret. There are some comments that we've made when we're discussing with family, friends or colleagues that have damaged a lot of things and this is as a result of too much talking.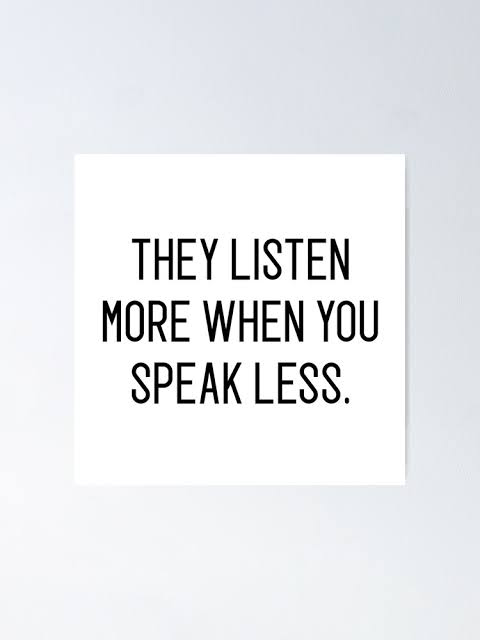 First impressions last long and you may not have the opportunity to right your wrong. There is the tendency that you speak out of point when you talk too much. Isn't it better to stay mute than making foolery of yourself? I'm not saying that you should not contribute to discussions but the point is to know when to stop talking so that you don't give people wrong and misleading information. This is inline with following the maxim of quantity in speech act theory.

There are people out there going through a lot in life and all they need is someone that they can talk to that will listen. Listening to all they have to share with you will make them feel better, and loved. This is an important skill that therapist, counselors, coaches and mentors adopt in carrying out their duties.
Listening more and speaking less gives people the confidence to speak to you because they know you care about what they have to say. However, you should also be able to make your voice and opinions heard by speaking in moderation.
All contents are originally written by me, @williams-owb
ABOUT THE AUTHOR
Williams Oluseyi is a Linguist by discipline from one Africa's Most Prestigious Citadel of Learning, Obafemi Awolowo University. He developed interest for blogging at very early stage which motivated him to study English Language in College. He is a prolific writer, an inquisitive and judicious reader, to say the least. To get his daily bread, he is currently working in a Logistics company in Nigeria.

Thanks For Reading My Blog Post 📝📖🗒️
Follow me on REDDIT
CAMERA SPECIFICATIONS
6.0"
1080x2160 pixels
Vote, Reblog, Follow
Let's discuss in the comment section
---
---