Two ways to prepare Burmese Tea leaves salad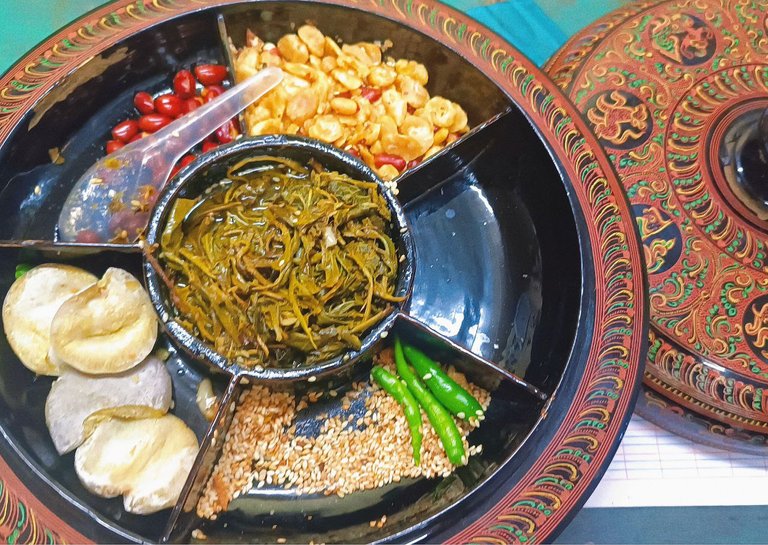 Hello my loving Asean Hive community,
Welcome to my new post. How are all my friends? I hope all goes well. Tomorrow is a holiday, so what are you doing? Next Sunday, my teacher's dormitory has a Myanmar traditional donation. I'll try to share about it on Sunday. Tomorrow, some teachers and I will have to prepare for that traditional donation.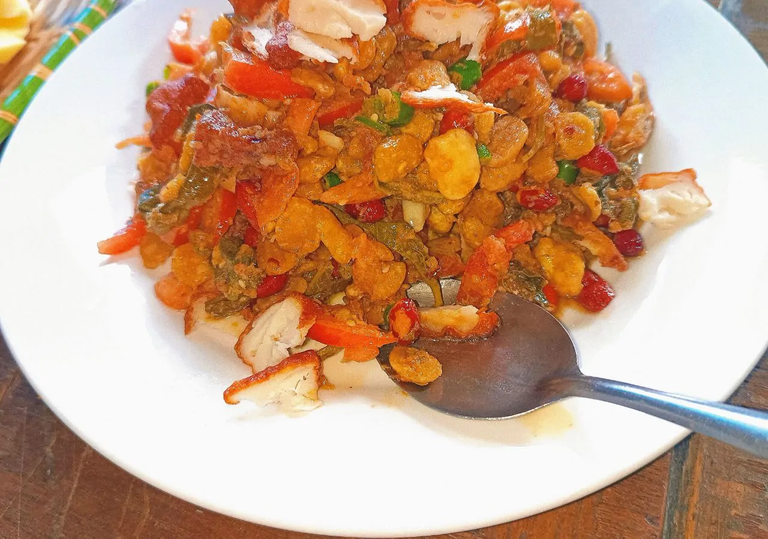 Actually, I thought I'd share a papercraft today, but I'll talk about that later. These days, I talk about delicious food almost every day. Today I will tell you how to make delicious Burmese Tea leaves salad in 2 ways.
The first method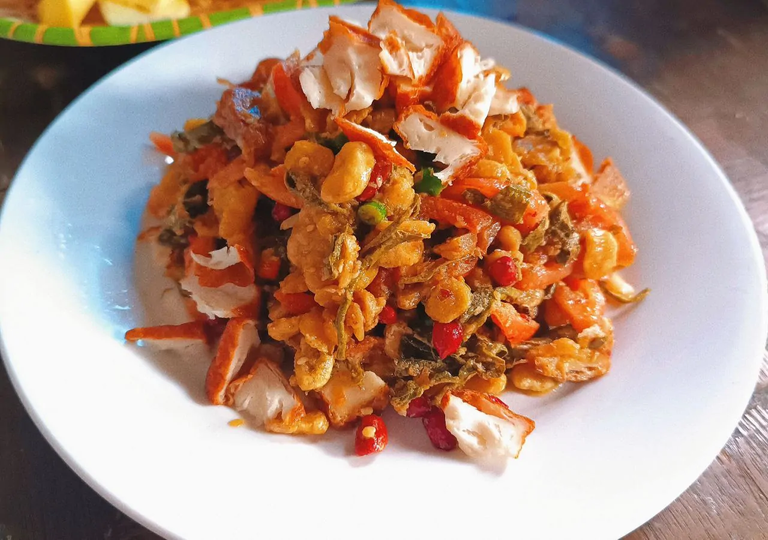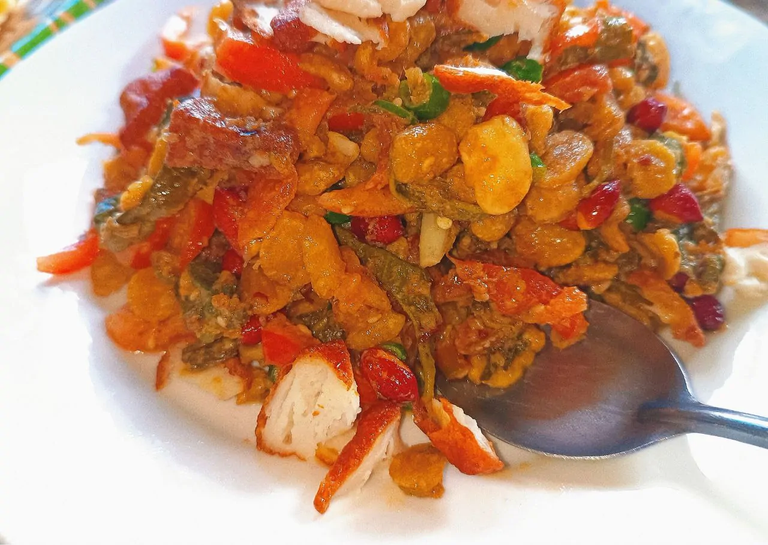 I mentioned how to make this Burmese tea leaves salad two days ago. Burmese tea leaves salad is one of the most popular Burmese dishes and most foreigners like it. You don't need a lot of ingredients to make Burmese tea leaves salad, and those ingredients are easily purchased. It's easy to make and very tasty.
The main ingredient in Burmese tea leaves salad is pickled tea leaves. The province where pickled tea leaves are grown in Myanmar is Shan State, where I live. The plantations where tea leaves are grown are located in the region where I live. I will tell you more about the landscape of those plantations later.
The ingredients of this salad are Pickled Tea Leaves, nuts and beans, tomato, cabbage, garlic, chili, dry shrimp and oil. Some people also use a little lime juice and bean flour in this salad. Method1 is to put all these ingredients in a balanced bowl and mix them all together.
The second method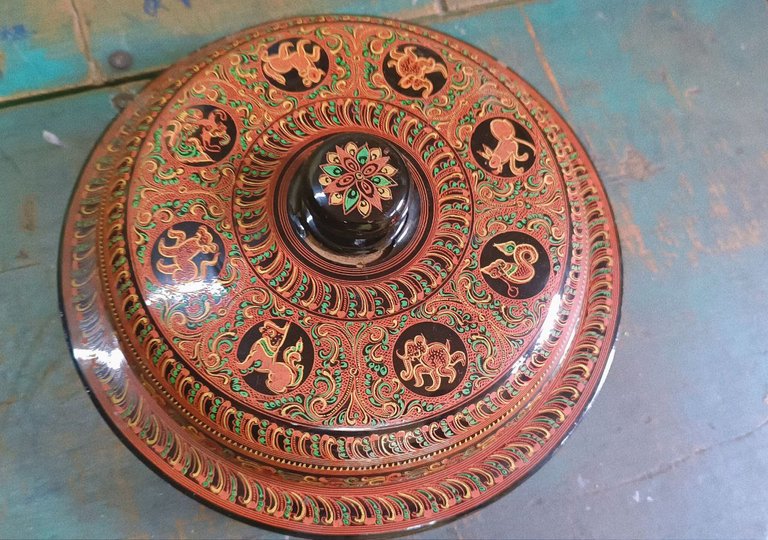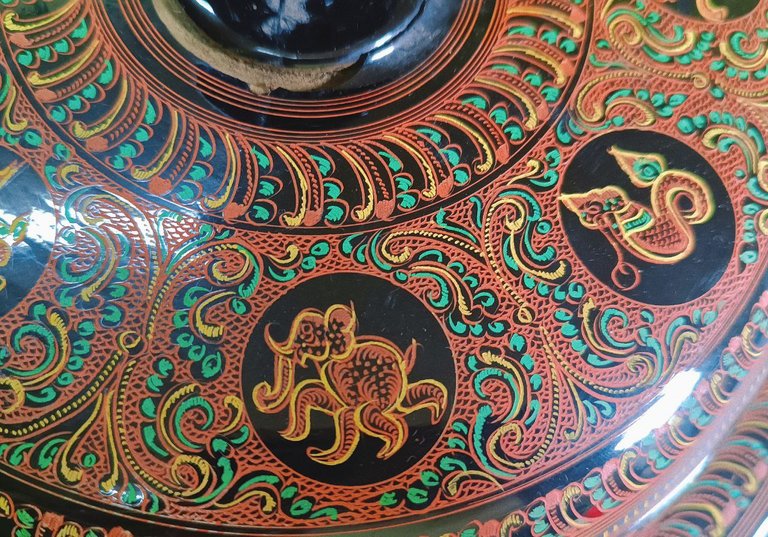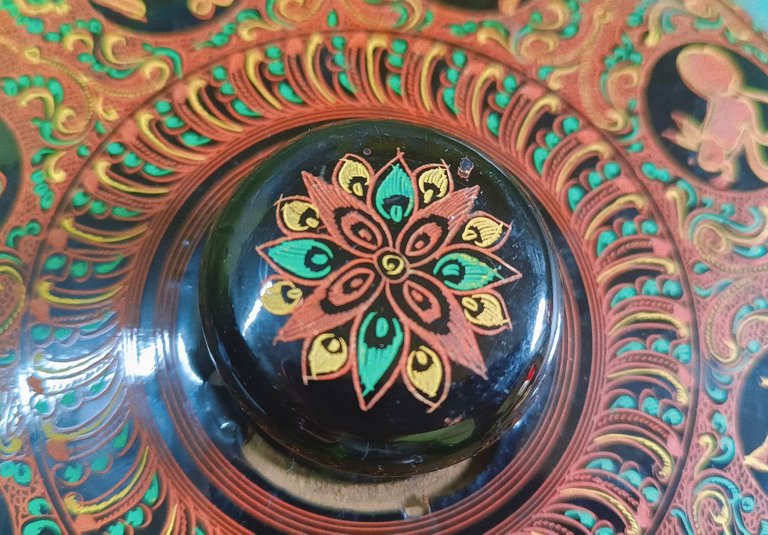 Before I talk about method-2, let me first talk about one of the traditional bowls used in that method. The plate I showed above is a specially designed plate for decorating Burmese tea leaves salad. This type of plate has been widely used in Myanmar since long ago. On the cover of the plate, various patterns are drawn and decorated.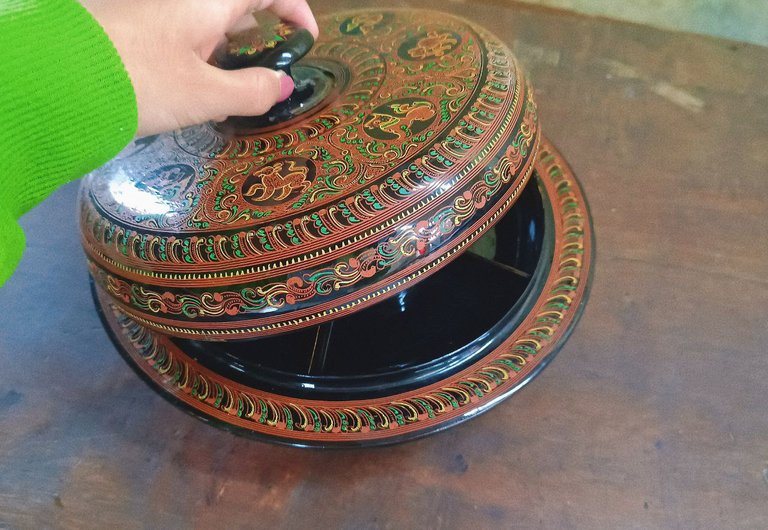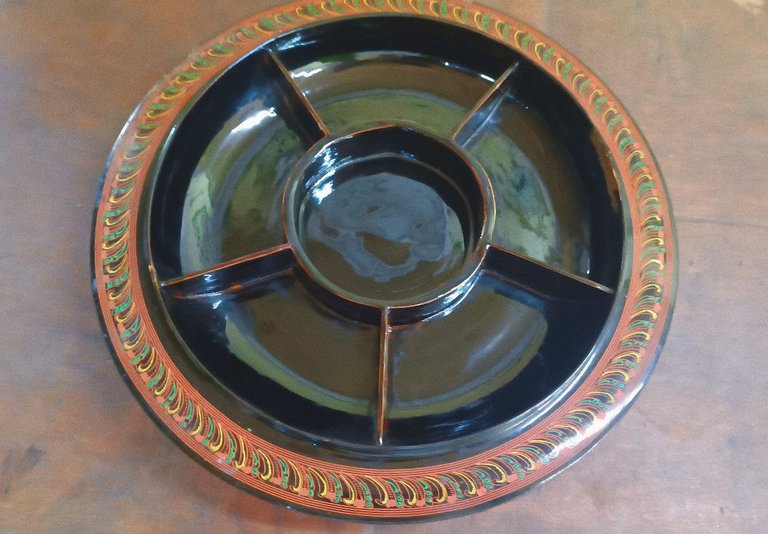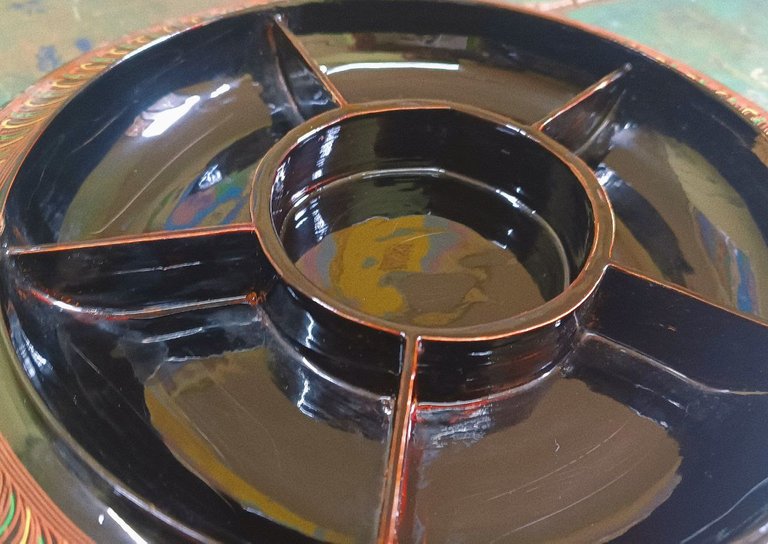 The interior design of that bowl is the same as the one shown in the picture. There is a circular bowl in the middle and several compartments around it. This plate is not made of plastic and the price is very high because it is a traditional item.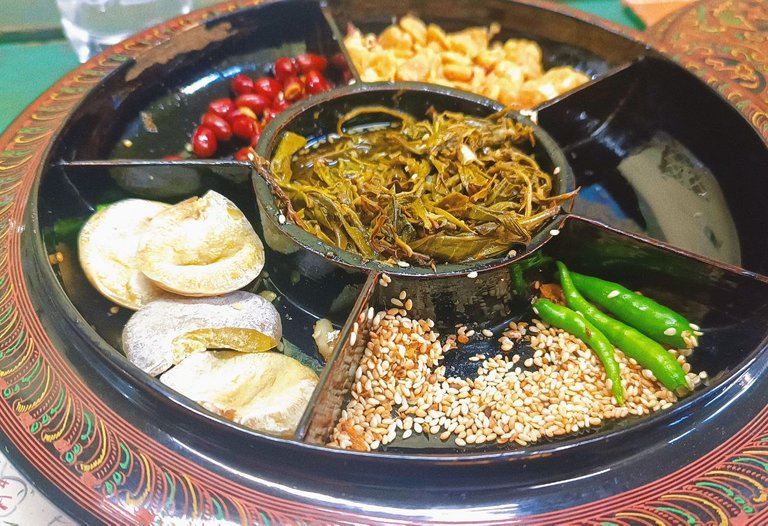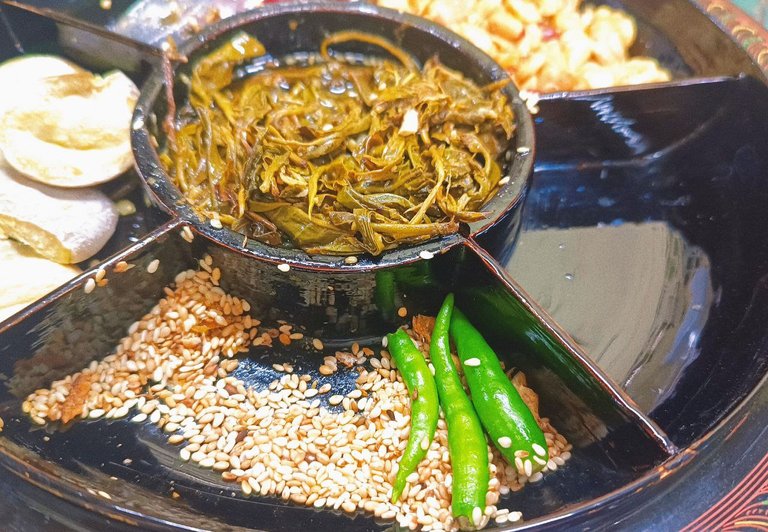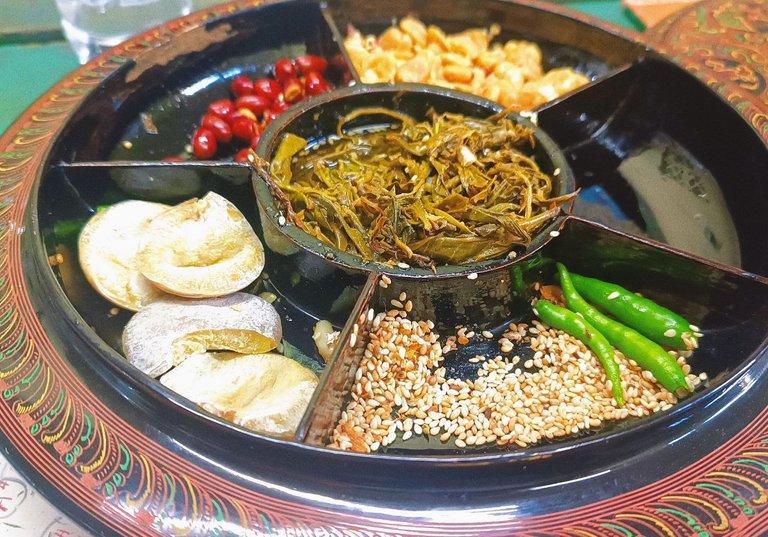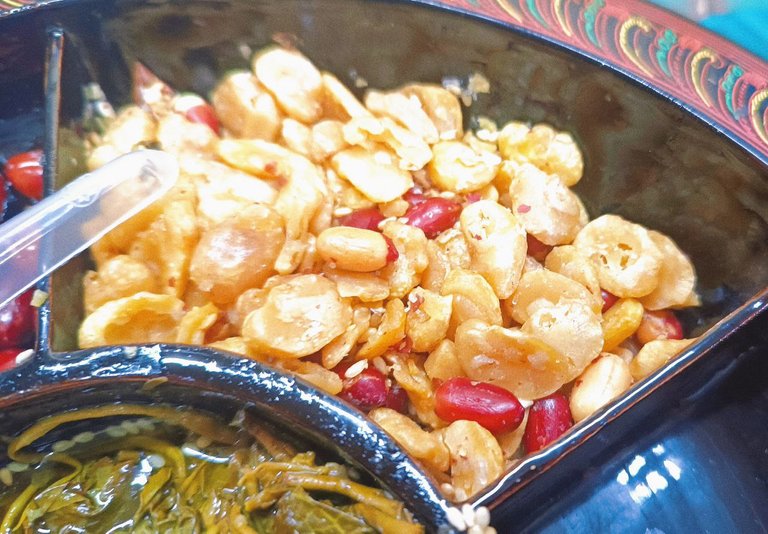 Method 2 also contains the same ingredients as method 1. In method-1, all the ingredients are mixed, and in method-2, the ingredients are separated into one type. I like the taste of method-1 better. That's all for today. Thank you so much for reading my post to the end. 🍇

---
---