Faith & Religion: Uniting and (or) Segregating.
This publication was also writen in SPANISH and PORTUGUESE.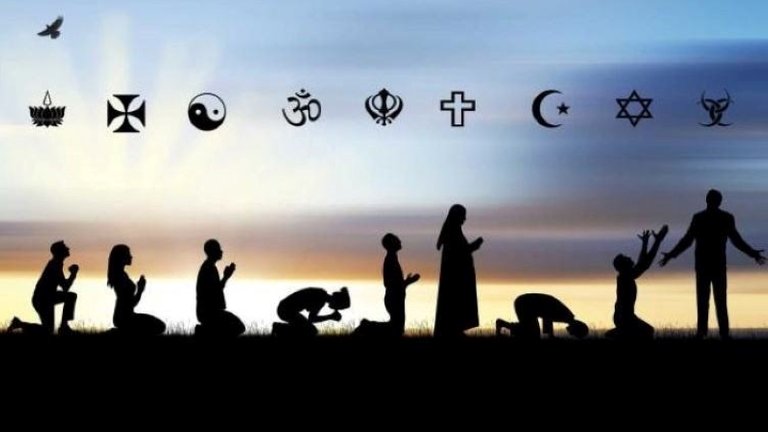 The Human Front
The church's power in relation to people's lives and the building of a society is historical and cultural. The place that is said (and seen) as the house of God is gaining more and more space, not only in physical aspects (with the multiplication of these spaces of divine contemplation), but also in non-tangible aspects (such as the virtual dissemination with the objective of to create a kind of "marketing"). Faith and religion then became almost "antagonistic" themes.
Personally speaking, I'm not an atheist (quite the contrary), but I also don't believe in the traditional image of God that is known worldwide. What moves my faith is believing that there is some positive force somewhere that is watching and taking care of all of us. Within this context, I defend the idea that faith and religion bring different perspectives within this world. I have faith, but I don't follow any religion and for me this is the way.
In my point of view, religion does not fully comply with its proposal of unifying people and the short time I have visited some churches at certain times in my life has already proved this to me (some episodes that I had the displeasure of seeing, I I wish I could erase it from my memory). What I see happening with this "branch of faith" through the most different types of religions is a limitless segregation, where the rules overlap the faith.
If the "common denominator" among religions is a connection to God, why are there so many disconnected points? I never understood, I don't understand and I will never understand the need for this religious diversification, much less many of its practices that I consider abusive, such as, for example, a forced financial contribution that is "disguised" (through far-fetched words) as a help by parts of people during masses.
When you have faith, church is just another place where you pray and talk to God. I can even understand the church as a sacred place that brings peace to many people, but I don't understand the monopolization of this act in a dome that only seems to benefit those who are part of it. When people understand that faith and religion are different things (although they may converge at times), the world will be a much better place.
---
Fe & Religión: Uniendo y (o) Segregando.
El poder de la iglesia en relación con la vida de las personas y la edificación de una sociedad es histórico y cultural. El lugar que se dice (y se ve) como la casa de Dios va ganando cada vez más espacio, no sólo en aspectos físicos (con la multiplicación de estos espacios de contemplación divina), sino también en aspectos no tangibles (como el espacio virtual difusión con el objetivo de crear una especie de "marketing"). La fe y la religión se convirtieron entonces en temas casi "antagonistas".
En lo personal, no soy ateo (más bien al contrario), pero tampoco creo en la imagen tradicional de Dios que se conoce mundialmente. Lo que mueve mi fe es creer que hay alguna fuerza positiva en algún lugar que nos está observando y cuidando a todos. Dentro de este contexto, defiendo la idea de que la fe y la religión traen diferentes perspectivas dentro de este mundo. Tengo fe, pero no sigo ninguna religión y para mí este es el camino.
Bajo mi punto de vista, la religión no cumple del todo con su propuesta de unificar a las personas y el poco tiempo que he visitado algunas iglesias en determinados momentos de mi vida ya me lo ha demostrado (algunos episodios que tuve el disgusto de ver, creo Ojalá pudiera borrarlo de mi memoria). Lo que veo que sucede con esta "rama de la fe" a través de los más diferentes tipos de religiones es una segregación sin límites, donde las reglas se superponen a la fe.
Si el "denominador común" entre las religiones es una conexión con Dios, ¿por qué hay tantos puntos desconectados? Nunca entendí, no entiendo y nunca entenderé la necesidad de esta diversificación religiosa, y mucho menos de muchas de sus prácticas que considero abusivas, como, por ejemplo, una aportación económica forzosa que se "disfraza" (a través de -palabras buscadas) como una ayuda por parte de las personas durante las misas.
Cuando tienes fe, la iglesia es solo otro lugar donde oras y hablas con Dios. Incluso puedo entender la iglesia como un lugar sagrado que trae paz a muchas personas, pero no entiendo la monopolización de este acto en una cúpula que solo parece beneficiar a quienes forman parte de ella. Cuando las personas entiendan que la fe y la religión son cosas diferentes (aunque a veces pueden converger), el mundo será un lugar mucho mejor.
---
Fé & Religião: Unindo e (ou) Segregando.
O poder da igreja em relação à vida das pessoas e a construção de uma sociedade é histórico e cultural. O lugar que é dito (e visto) como à casa de Deus ganha cada vez mais espaço, não apenas em aspectos físicos (com a multiplicação desses espaços de contemplação divina), mas também em aspectos não tangíveis (como a disseminação virtual com o objetivo de criar uma espécie de "marketing). A fé e a religião então se tornaram em temas quase que "antagônicos".
Particularmente falando, eu não sou ateu (muito pelo contrário), mas também não acredito na tradicional imagem de Deus que é mundialmente conhecida. O que move à minha fé é acreditar que existe alguma força positiva em algum lugar, que está olhando e cuidado de todos nós. Dentro desse contexto, eu defendo a ideia de que fé e religião trazem diferentes perspectivas dentro desse mundo. Eu tenho fé, mas não sigo religião alguma e para mim esse é o caminho.
No meu ponto de vista, à religião não cumpre totalmente com à sua proposta de unificar as pessoas e o pouco tempo em que visitei algumas igrejas em determinados momentos da minha vida já me provaram isso (alguns episódios que eu tive o desprazer de ver, eu queria poder apagar da minha memória). O que vejo acontecer com essa "ramificação da fé" através dos mais diferentes tipos de religiões é uma segregação sem limites, onde as regras se sobrepõem a fé.
Se o "denominador comum" entre as religiões é uma conexão com Deus, qual a razão de haver tantos pontos desconexos? Eu nunca entendi, não entendo e nunca irei entender a necessidade dessa diversificação religiosa e muito menos muitas de suas práticas que eu considero como abusiva, como por exemplo, uma contribuição financeira forçada que é "disfarçada" (através de palavras rebuscadas) como uma ajuda por partes das pessoas durante às missas.
Quando você tem fé, a igreja é apenas mais um lugar onde você rezar e conversar com Deus. Eu até posso entender a igreja como um local sagrado e que traz paz para muitas pessoas, mas eu não entendo a monopolização desse ato em uma redoma que só parece beneficiar aqueles que fazem parte dela. Quando as pessoas entenderem que fé e religião são coisas diferentes (embora possam ser convergentes em alguns momentos), o mundo será um lugar muito melhor.
---
---