8 Secrets To An Attractive Blog

This post is an entry to the contest by @hiveph titled How To Improve Your Blog. You can find the details of the contest in this post.
---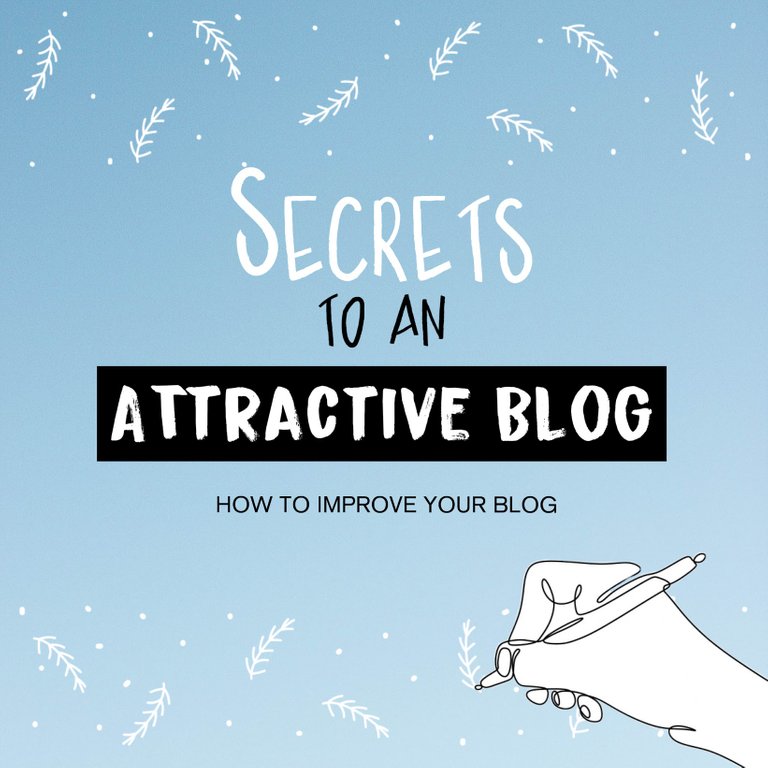 I started blogging from 2010. I could still remember my excitement creating my own blog, designing it, and writing my articles. It took me a while to decide with a username because I wanted it to be meaningful. Those were the days.. Eventually, I couldn't keep up with blogging because of real life stuff, and had to stop writing. No, I didn't lose interest in writing, I just got caught up with life's hurdles and got discouraged by the less interaction and views on my blog.
What could be wrong? I didn't know.
I restarted blogging few years later, this time in Wordpress. My blog is still up til now but I stopped writing. I got demotivated again because it seems that people were not really reading what I was writing. My blog served as my online diary and even when diaries are meant to be hidden, I wanted people to read it. I had less readers so I ended up not writing again.
What could be wrong again?
I think I know the reason why I lost interest on my old blogs. In total, I have 4 blogs outside Hive. But I stayed in Hive, not yet losing interest and planning to continue being a content writer here.
Why?
Not really thinking about the rewards, I think the readers here are solid. I want an engagement and active community, and Hive has it.
But how do I attract people to my post?
Here are the things that I think will help improve your blog and will attract people to read your blogs.
Disclaimer: I am not in any way an expert on this subject so I could be wrong. This is not a strategy too, but just my unwanted opinion.
Add emotions to your post
Take note, this is my first tip. I put this as #1 because I think this is the most important.
Write from your heart. If your heart is leaping with joy, write about it. If you feel sad, describe it in words. Write about what you feel. This is your blog, it's your personal blog so show some feelings.
If you read my blogs, it will always be full of my emotions. I'm not writing a formal report; I am writing my personal thoughts as if I am talking to my friend. You should try it too.
Research about your topic
How will you able to provide information to your readers if you don't know your topic well? When I travel, sometimes I don't really have an idea what's in the place so I do my homework, before and after traveling. That way, I can share some info/trivia about it. If you want to share some information to your readers, better do your research.
Catchy title
Funny thing is, some people I know tease me with having clickbait titles in my blog, particularly my onsen experience. They thought they can see naked bodies in my post. 😅
That is an example of a catchy title. It's not clickbait, but it will attract you to the post. So think hard about it. Be witty about it!
Catchy cover photo
Next to the title is the catchy cover photo of your post. Some people are visual, meaning they see the cover photo first. Sometimes I am like that. If the cover photo is not of good quality (e.g. blurry), I tend to skip that post. There are many photo editing apps now, and even many free to use images' website. Your blurry photo could become nicer if you just spend time to edit it.
Now, some posts don't really need a cover photo. For example, short fiction. It's not required because the content is what matters in this case.
Learn from other writers
If you read other people's work, you will acquire a knowledge or two about their writing style, right? If you don't like reading books, you can read blogs here in Hive. There are quite a number of good and bad posts here that you can learn from.
Engagement is key
At first people don't know you, so you won't really get a lot of readers. But there are a lot of communities here on Hive that you will get to meet a lot of people and interact with them. Introvert? You don't really need to see other people, all of this is done online, so from time to time, you can recharge and be away from online interaction.
My point is meet people. This is a social network, so build solid connections. All the more reason if you plan to stay here for a long time.
Make sure to write appropriate tags
For me, I add tags relevant to the topic first before adding community/tribe tags. The first tag can't be changed so I'm always careful choosing this. And of course, don't ever abuse the tags. If the topic is about food, don't add the travel tag. There are free to use tags in Hive so if you couldn't used up to 10, you may want to use them for more exposure. This shouldn't be your priority though.
Other thing to note is to not add curations as tags. It's like you are screaming for attention from them. They will notice your post when they find it great.
Think before clicking Publish button
When you click the Publish button, everyone will see it, including edits to the post. Some people have their automation set so they will be notified whenever you post. If you made some mistakes in your post, do you think you still have time to update it? If it's just a minor mistake, it may be fine but what if there are a lot?
Before clicking that button, review your work. Does it deserve to be shown to the world? Check for grammar mistakes. Check if you are writing in the correct community. Check if you set the correct tags. Double check everything. Or better, triple check everything before clicking the button.
---
It's okay to have a lot of drafts. This is not a race. And there is definitely no quota when writing blogs.
There are still a lot I want to write but I realized this post has become so long already. 😅 I hope you have learn a thing or two in this post.
Thanks for reading!
See you around! じゃあ、またね!
---
---