Afritunes week63// D'Banj "SUPERSTAR"// Sax Cover @wizj
---
Afritunes week 63. Greetings to you my good people. I trust you all are doing well?
It's another amazing week again for the stage and this week feel good as always.
I am @wizj.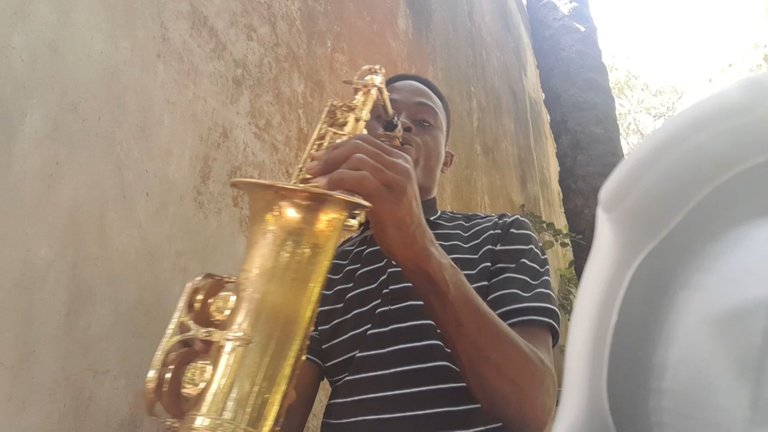 I shall play a cover of "SUPER STAR" (IF NO BE GOD) a song by a Nigerian artist "D'BANJ"
This piece particularly points to God as everything. The one through whom all things are possible
The artist, D'banj praises him and began numbering his blessings from God. Of course, he can't count all to the finish.
It's a reminder to us to always acknowledge God in all we do.
So, just pick up your dancing shoes ready on you feet to shake for joy. Club aloud, sing aloud, nod heavily and praise God the doer, the magnifier and the giver of all good things.
In all you, in all of your actions and inactions let the will of God take absolute position so that you can remain on the right track always.
I love you all and remain more in the Love of God.
Wishing you all a great weekend and a prosperous new week
LYRIC
If no be God
Who I for be
I'll be a nobody nobody
But for God
Who ah be
I'm a somebody somebody
Jehovah na my superstar
Jehovah na my superstar
Alpha and omega
Na my superstar
He's the greatest superstar
My greatest superstar
Everything I know
Everything I own
I got it all from you
So I give it all to you
Am nothing on my own
I have nothing of my own
I have no power of my own
I have no power of my own
Coz you're my greatest superstar ooo
Na you give me the car oo
So that everywhere I go oo
Na you carry me go o
If no be God
Who I for be
I'll be a nobody nobody
But for God
Who ah be
I'm a somebody somebody
Jehovah na my superstar
Jehovah na my superstar
Alpha and omega
Na my superstar
He's the greatest superstar
My greatest superstar
Eledumare butter my bread
Sugar my tea
For everything I've lost
You gave it back to me o
If no be you wey cover me
Wey discover me
Tell me how I for dey how I for dey o
Coz you're my greatest superstar oo
Na you give me the car ooo
So that everywhere I go ooo
Na you carry me go oo
---
---