TORHILO THE FROZEN, O Touro Congelado ANTI-MAGOS [PT/ENG] The ANTI-Wizard Frozen Bull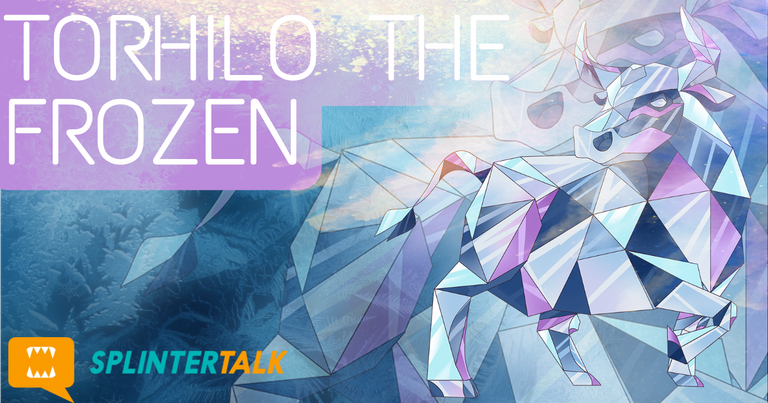 If you want to go to the English version, click here English Version
VERSÃO EM PORTUGUÊS
Este enorme touro congelado é um dos únicos amigos do Gigante de Gelo que restaram no mundo. Ele viveu por centenas de anos e está ficando cansado, mas Torhillo ainda cobra de tudo que enfrenta com vigor.

Retirado do site oficial do SPLINTERLANDS - source
Resumo
Informações gerais


Informações sobre a carta

Diferença de nível
Habilidades
Comparação de custo



Comparação entre cartas

TORHILO THE FROZEN VS LOBSTRADAMUS
TORHILO THE FROZEN VS WAVE BROOD



Considerações finais

Informações gerais
Estou criando essa postagem apenas com o foco de apresentar do meu ponto de vista a carta e seus benefícios referentes ao meu uso, não é nenhuma indicação de compra já que existe milhares de estratégia sobre Splinterlands e estou apresentando apenas mais um termo.
A tabela de preço do mercado em questão do mínimo/máximo pode variar da data da postagem até o dia de sua leitura, recomendo que pesquise mais sobre o valor na hora de comprar a carta.
Informações de imagens e atributos da carta todos retirados do PeakMonster
As informações das habilidades juntamente com seus ícones foram retiradas de Splinter Cards

Informações sobre a carta
Diferença de nível
Enquanto que a carta TORHILO THE FROZEN em seu nível inicial provém de 8 de vida, 4 de armadura, 1 de velocidade e 4 de ataque corpo-a-corpo, sua versão maximizada lhe renderá 10 de vida, 6 de armadura e 5 de ataque corpo-a-corpo sem nenhum aumento em sua velocidade, ou seja não importa o nível da carta ele talvez sempre seja o último a atacar na rodada oque lhe obriga a aguentar bastante até poder usufruir de seu poder de ataque.
Para se atingir o nível máximo (6) da carta será necessário a queima de 46 cartas em sua versão normal e 10 em sua versão ouro, oque pode se tornar um processo bem caro para seu bolso dependendo da variação do preço no mercado, eu lhe recomendaria apenas utilizar em seu nível inicial até a liga Prata I, e em diante até adquirir a sua segunda habilidade (4) pensando no custo x benefício.


Habilidades

Dano reduzido de ataques mágicos
O dano de ataque é reduzido pela metade (arredondado para cima), exceto o ataque 1 que causa 0 de dano
Retirado do site SPLINTERCARDS - source
Void - Nível: 1
A melhor habilidade para destruir os sonhos daquela composição mágica normalmente utilizada do Bronze ao Prata sendo o clássico usando o 'Water Splinter' com ALRIC ou o 'Earth Splinter' com OBSIDIAN, eu ainda não testei o suficiente contra a habilidade 'Void Armor' para saber se séria melhor que a mesma.

Ganha estatísticas aumentadas se for o único Monstro da equipe vivo
Multiplicador x1,5 arredondado para cima

Retirado do site SPLINTERCARDS - source
Last Stand - Nível 4
Eu aluguei uma carta de nível 4 para testar a habilidade no touro porém não obtive um resultado satisfatório, o primeiro motivo foi devido ao fato de sua velocidade ser a menor em maioria das batalhas oque o torna difícil esquivar de ataques e sempre o último a atacar sendo eliminado antes doque meus causadores de dano, e segundo que para utilizar ela bem eu teria que sacrificar minhas outras cartas oque poderia ser um problema já que mesmo que ele ganhe muito ataque e vida com a habilidade ele não conseguirá eliminar todo o time adversário antes de ser derrotado.

A armadura do alvo é destruída quando atingida por um ataque de Monstros com Estilhaçar

Retirado do site SPLINTERCARDS - source
Shatter - Nível 6
Não consegui encontrar a carta nesse nível para alugar, porém com minhas experiências em outras cartas com a mesma habilidade ela pode ser interessante devido ao fato de contornar a situação anterior já que ira eliminar a armadura do alvo o deixando exposto ao alto dano gerado pelo 'Last Stand'


Comparação de custo
| Versão | Preço de Mercado | Menor Preço |
| --- | --- | --- |
| Comum | USD $3.70 | USD $4.79 |
| Ouro | USD $90.00 | USD $100.00 |
A comparação de custo sempre é entre 1 mês no máximo, para evitar comparações desnecessárias de valores.
No período de 1 mês o preço mínimo da carta comum foi de $4.17 ao preço máximo de $6.57.
Enquanto que sua versão ouro chegou ao mínimo de $93.70 ao máximo de $195.62, uma desvalorização de -45,8%

Comparação entre cartas
Eu resolvi apenas fazer a comparação entre cartas da mesma raridade (épica), e logicamente também apenas com funções de um tanque na linha de frente.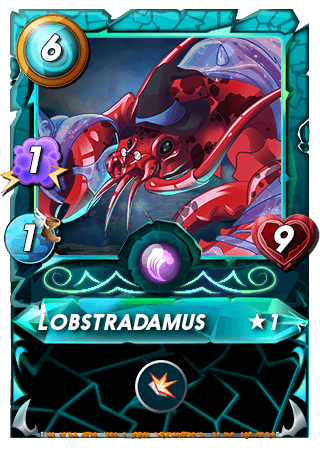 LOBSTRADAMUS - Assim como já mencionado em outras postagens ele também é um tanque que causa dano mágico como o DJINN OSHANNUS, sua habilidade 'Shield' lhe torna uma escolha interessante se não fosse pelo fato da inexistente de armadura o tornando um alvo fácil contra ataques a distância ou corpo-a-corpo acima de 3. *Um ponto importante a se levantar é que em seu nível (4) ele adquire a habilidade 'Magic Reflect' que poderia ser interessante com seus 11 pontos de vida.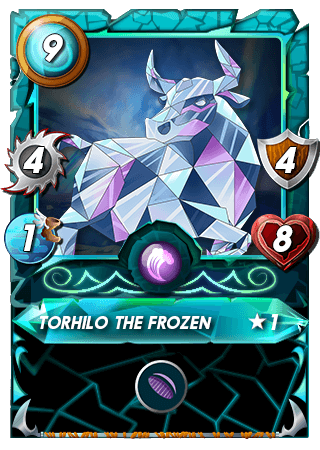 TORHILO THE FROZEN - Tem armadura e ataque corpo-a-corpo bem superiores embora sua velocidade seja a mesma, em contrapartida ele não tem a habilidade 'Shield' que reduz o ataque do oponente o tornando um resistente maior contra ataques mágicos devido a sua habilidade 'Void'.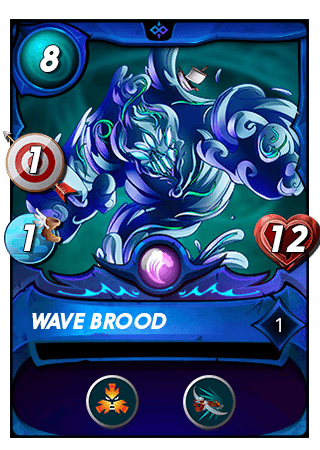 WAVE BROOD - Ele não tem nenhuma habilidade para reduzir o ataque do oponente, oque lhe tornará um alvo de bombardeio já que sua habilidade faz com que todos os oponentes o ataque evitando assim perda de cartas importante, embora sua falta de armadura seja recompensada com 11 pontos de vida, seu dano e velocidade não é atraente para lhe tornar um tanque melhor que nosso touro congelado.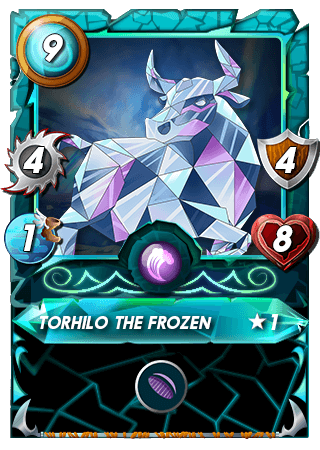 TORHILO THE FROZEN - Novamente com sua vantagem de ter armadura oque é sempre bom em uma carta que irá receber quase ou todo o dano da equipe adversária, perdendo apenas na quantidade de vida.

Considerações finais
Obrigado pelo seu tempo.
Se você ainda não faz parte do Splinterlands, se registre através do meu link de referência
https://splinterlands.com?ref=wlffreitas


Acesse o discord da comunidade brasileira do HIVE: HIVEBR

ENGLISH VERSION
Summary
General information


Card Information

Level difference
Skills
Cost comparison



Comparison of cards

TORHILO THE FROZEN VS LOBSTRADAMUS
TORHILO THE FROZEN BROOD VS WAVE BROOD



Final thoughts

General information
I'm creating this post just with the focus of presenting the letter from my point of view and its benefits regarding my use, it's not an indication of purchase since there are thousands of strategies on Splinterlands and I'm presenting just one more term.
The market price table in question of the minimum/maximum may vary from the date of posting to the day of its reading, I recommend that you research more about the value when buying the letter.
Image info and card attributes all taken from PeakMonster
Skill information along with their icons was taken from Splinter Cards

Card information
Level difference
While the TORHILO THE FROZEN card at its starting level provides 8 health, 4 armor, 1 speed and 4 melee attack, its maxed out version will give you 10 health, 6 armor and 5 of melee attack without any increase in its speed, that is, no matter the level of the card, it may always be the last to attack in the round which forces it to hold out a lot until it can take advantage of its attack power.
To reach the maximum level (6) of the card it will be necessary to burn 46 cards in its normal version and 10 in its gold version, which can become a very expensive process for your pocket depending on the price variation in the market, I tell you I would only recommend using it at your starting level up to the Silver I league, and onwards until you acquire your second skill (4) thinking about the cost-benefit.


Skills

Reduced damage from magic attacks
Attack damage is halved (rounded up), except for attack 1 which does 0 damage
Taken from the SPLINTERCARDS website - source
Void - Level: 1
The best skill to destroy dreams of that normally used magic composition from Bronze to Silver being the classic using the 'Water Splinter' with ALRIC or the 'Earth Splinter' with OBSIDIAN, I still haven't tested it enough against the skill 'Void Armor' to know if it would be better than it.

Gains increased stats if you are the only Monster on the team alive
x1.5 multiplier rounded up

Taken from SPLINTERCARDS website - source
Last Stand - Level 4
I rented a level 4 card to test the skill on the bull but I didn't get a satisfactory result, the first reason was due to the fact that his speed is the lowest in most battles which makes him difficult to dodge attacks and always the last to attack being eliminated before my damage dealers, and second that to use it well I would have to sacrifice my other cards which could be a problem since even if he gains a lot of attack and life with the skill he will not be able to eliminate the entire opposing team before to be defeated.

Target's armor is destroyed when hit by a Monsters attack with Shatter

Taken from the SPLINTERCARDS website - source
Shatter - Level 6
I couldn't find the card at this level to rent, but with my experiences in other cards with the same skill it can be interesting due to the fact that it circumvents the previous situation since it will eliminate the target's armor leaving him exposed to the high damage generated by the ' Last Stand'


Cost comparison
| Version | Market Price | Lowest Price |
| --- | --- | --- |
| Common | USD $3.70 | USD $4.79 |
| Gold | USD $90.00 | USD $100.00 |
The cost comparison is always between 1 month maximum, to avoid unnecessary comparisons of values.
In the period of 1 month the minimum price of the common card was $4.17 to the maximum price of $6.57.
While its gold version reached a low of $93.70 and a high of $195.62, a devaluation of -45.8%

Comparison between cards
I decided to just make the comparison between cards of the same rarity (epic), and of course only with functions of a tank on the front line.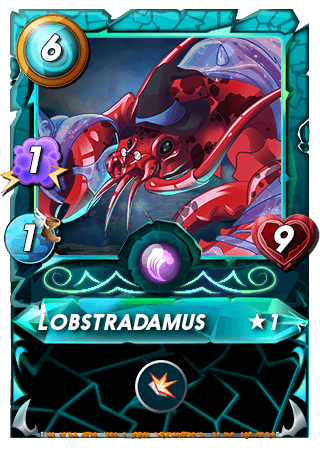 LOBSTRADAMUS - As already mentioned in other posts he is also a tank that deals magic damage like DJINN OSHANNUS, his 'Shield' ability makes him an interesting choice if it weren't for the fact that the lack of armor makes him an easy target against attacks from ranged or melee above 3. *An important point to raise is that at its level (4) it acquires the 'Magic Reflect' ability which could be interesting with its 11 health points.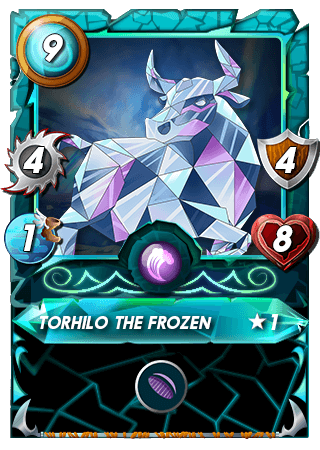 TORHILO THE FROZEN - Has much superior armor and melee attack although his speed is the same, on the other hand he doesn't have the 'Shield' ability that reduces the opponent's attack making him a greater resistant against magic attacks due to his ability 'Void'.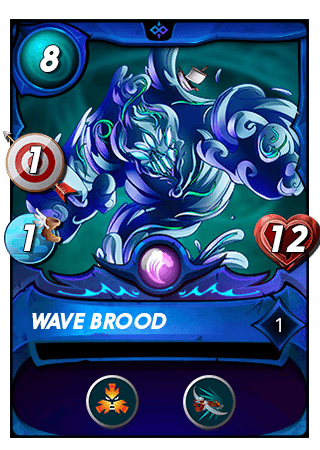 WAVE BROOD - He has no ability to reduce opponent's attack, which will make him a bombing target as his ability makes all opponents attack him thus avoiding important card loss, although his lack of armor is rewarded with 11 hit points, your damage and speed is not attractive to make you a better tank than our frozen bull.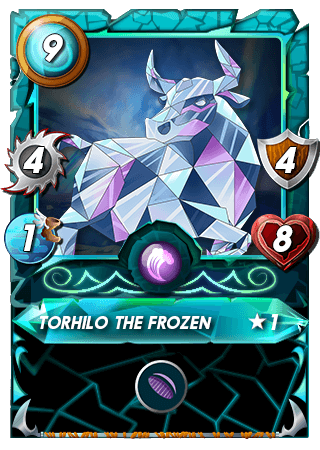 TORHILO THE FROZEN - Again with its advantage of having armor which is always good on a card that will receive almost or all the damage from the opposing team, losing only in the amount of life.

Final Thoughts
Thanks for your time.
If you are not yet a part of Splinterlands, please register via my referral link
https://splinterlands.com?ref=wlffreitas


---
---