Blood Sisters: Is It Worth The Hype?
Have you ever had good or bad expectations of a new movie/series and then when you eventually saw it, your views took a complete 360? It turned out to be a direct opposite of what you expected, initial and final impressions sitting on both extremes. That's what Blood Sisters did to me!
Sit back, relax and find out what I think about the latest Nollywood 4-Part Limited TV series on Netflix.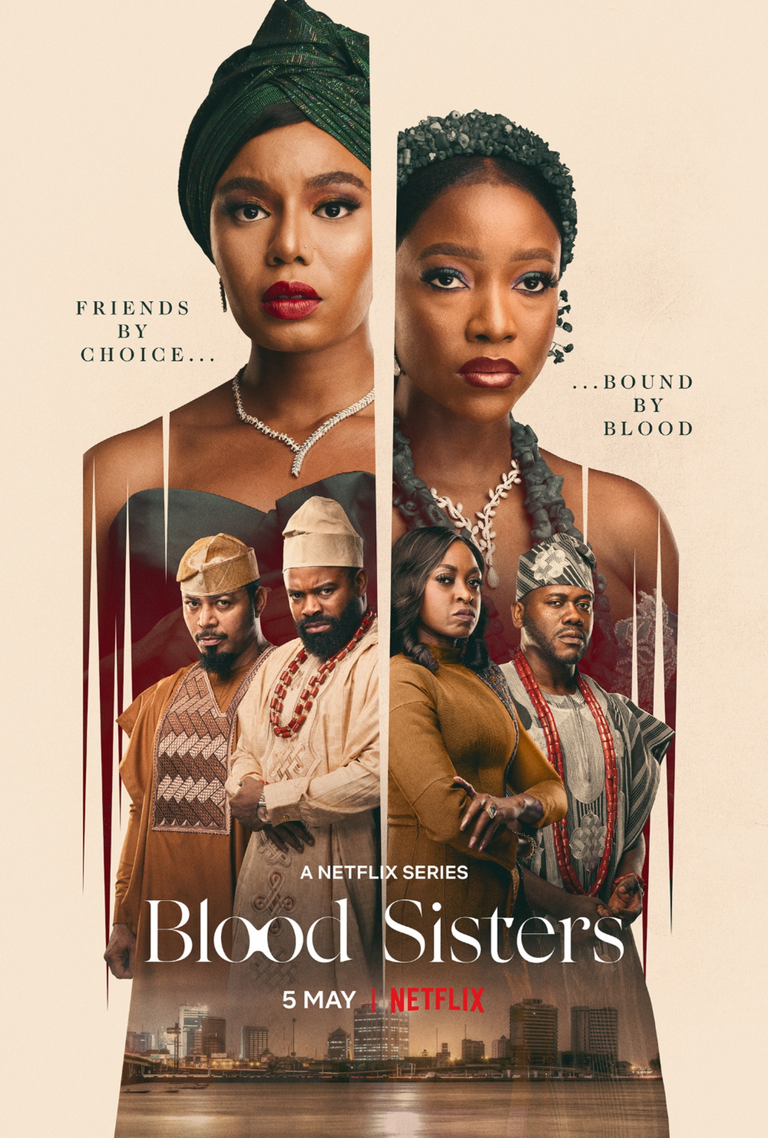 IMDb
The Plot (No spoilers)
A glamorous wedding is brought to an abrupt end when the groom, Kola, suddenly goes missing at the ceremony.
While the bride, Sarah, has doubts about getting married to the man that beats her, there is a hired killer among the wedding guests on the hunt for the groom.
With Kemi, her best friend, increasing her conviction not to go ahead with the wedding, Sarah lets Kola know that she's calling off the wedding. This doesn't sit well with him and he goes on to abuse her again.
While beating her, Kola is shot to death and both Sarah and Kemi, present at the murder scene, try to cover their tracks out of fear of being accused as the killers.
It becomes a long bloody chase with Kola's powerful family strongly after the killer of their figurehead son.
My Thoughts
At the very beginning of this series, I was hooked and curious about what was happening. The opening scene and the very next one captured my attention and it was like shit was about to get real. It began perfectly, a good opening to a crime thriller.
The whole vibe was the exact opposite of what I expected, and I was on the edge of my seat throughout the first episode. I apologize in advance for the many more adjectives I'd be using to describe this show.
Story
The story was interesting and I loved the consistency in the storyline. The theme explores social issues like domestic violence, corruption, social injustice, drug abuse, and human trafficking. It might seem like a lot but it's all spread out into the four episodes and it all blends in seamlessly.
There were several sub-plots but they weren't straying away from the main plot. I'd see a new character and I'd be confused about the reason for introducing them but it all clicks later on.
Production
The production quality is really good and from my amateur eyes, I'd rate it a 10/10. The continuity in scenes was perfect and the picture quality was on point.
The music was an important part of this show and every scene had the right music to intensify it. In my past Nigerian movie reviews, I always complained about how the music is completely off. With Blood Sisters, everything is intentional.
The camera movement made emphasis at the right moments and it made the story more engaging. I particularly liked the way the camera zoomed in on Daniel Etim in the scene were he was talking to Toke at her house. Nah, this production blew my mind.
Setting, costumes, makeup
For once, Lekki-Ikoyi bridge in Lagos didn't star in a Nigerian movie/series. It was nice seeing 3rd Mainland bridge, Makoko, and the fire scene that happened there.
The wedding venue was so beautiful and amidst the chaos, I couldn't help but admire the decor and the outfits of the main characters and even the extras.
The costumes were just okay, and the makeup? Amazing. They weren't trying too hard with it and they successfully made Kate Henshaw look older to fit the role. Prosthetic makeup on different characters was equally realistic also.
Characters
I get annoyed when I see a swarm of Nollywood actors in one movie but this was so different. Every star in it gave it a 100. I had no problems with some of the big actors playing the very small roles or waka pass roles as we call them in Nigeria. They played the heck out of their extra roles and I found it so impressive.
Kate Henshaw did a flawless job being the wicked mother and there was not one second where she was out of character. Nancy Isime and Inidinma Okojie deserve all the accolades for their lead roles and how they brought to life the sisterly friendship of Kemi and Sarah.
I particularly liked Kemi and her consistency of not wanting to give up till the end. She never slipped and was there for Sarah till the very end. This is my favourite thing about the series and not once did Sarah blame Kemi for her decisions.
Everyone else was exceptional as I mentioned earlier and even the newbie actor who played the role of Timeyin nailed it to the T.
The one character that made me raise my brow is Blade the hired killer. I wondered why he couldn't be inconspicuous and blend in with the rest of the crowd at the wedding. I guess Femi really can't get anything right and hiring a good killer is not something he's good at either.
Favourite scenes
The one with Sarah dancing at the wedding even when she knew Kola was dead was interesting. It was exactly how I'd expect someone with heightened nerves to act in real-life. I also liked the fight scene between Kola and Blade, the chase leading to the fight was suspenseful and the fight was neat.
My best one is the one where Kola gets shot and the killer is revealed. That scene was done with intention and they nailed it.
There were surprise deaths that I absolutely didn't see coming and I felt weren't necessary because the motive wasn't strong enough. But where's the fun in crime thrillers if characters are not randomly killed off?
As much as I liked and enjoyed this series, I have to admit that episode one had more fuel than the other three. It's not that they weren't great, it's just that they began on a high note and it became too low at some points.
---
Blood Sisters has set a minimum standard I expect from Nollywood films henceforth. If detailing can be this good, I don't see what's stopping other directors and producers.
I think anyone who has an utterly negative review of this movie is probably doing a major comparison with Hollywood. We are quick to compare with Hollywood, barely cutting Nollywood any slack.
It's not all perfect, can be better, but this was just too good. EbonyLife TV production came all the way through with this first of it's kind Netflix original production.
I loved it and would recommend you watch it if you haven't seen it yet. @selfhelp4trolls, here's one you might be interested in.
I'd rate this a 9/10, -1 for slaughtering a human body with an ordinary kitchen butcher knife.
Have you seen Blood Sisters? What are your thoughts?
Thanks for reading!
---
---