AFRI-TUNES WK 12 | HIGH BY AG BABY | COVER

---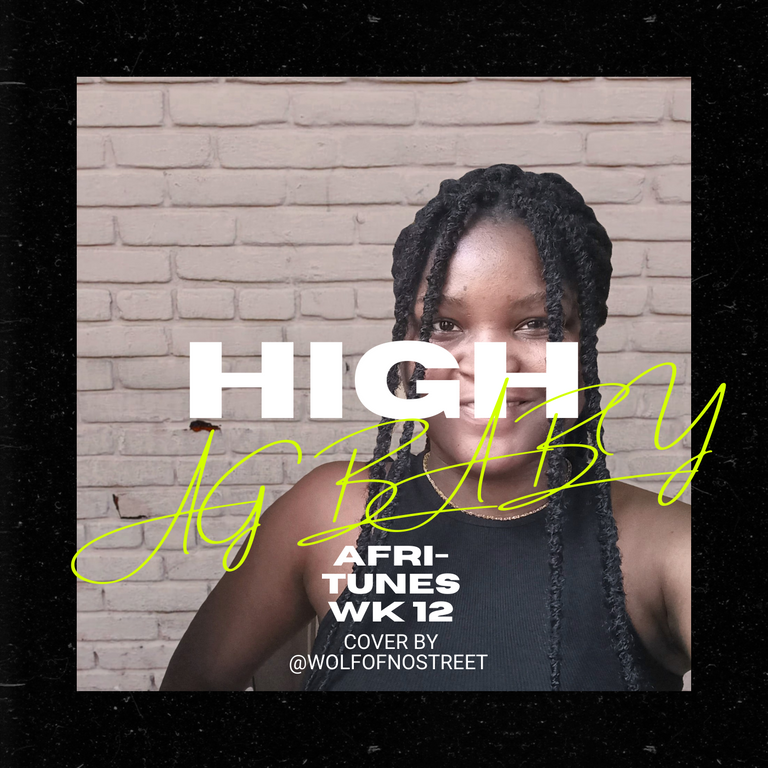 Afrobeats has got to be one of the best mood boosters there is when it comes to music. Let me be honest, I felt like shit before making this video today. I was so weak and had to take a nap in order to feel better. It was really hot because there was no power and I was irritated when I woke up from my nap.
I tried completing my online pre-registration for my voter's card but the site didn't work and today is the last day. It was all so frustrating I tell you. I washed my face, changed from my sweat-soaked shirt to a fresh one, then set up my space to record this video.
Immediately I began playing this instrumental of HIGH by AG BABY a.k.a Adekunle Gold, I felt wayyy better. It was an instant high indeed and my mood immediately changed.
It's fun joining Afri-tunes again this week and I'm happy I got to make this entry despite all odds. Thank you for tuning in!
LYRICS
Love is not enough, baby come to me mo lówó
Love me or you hate me, e no mean, no mess with me mo lógo
Hennessy 250, kó ma lọ ní títì
Giuseppe Zanotti inna Maserati
AG baby easy, fine boy like Wizzy
You wan kill somebody pẹ'lú sweet melody
Normally o, ojojúmọ' là ń ṣayé o ahh ahh
Luckily o, mo lówó tí mo fẹ' ná o ah ahh
Me I just want to be high
Be aight, be high
Me I just want to be high
Be high, be high
Me I just want to be high
(Wátimagbọ', wátimagbọ', wátimagbọ')
Be high (be high)
I just want to be high
(Wátimagbọ', wátimagbọ', wátimagbọ')
Be high (be high)
(I just want to be high)
For-for, for this party, let's get naughty
Can't call mummy, can't call daddy
Vision blurry, words are slurry
Wátimagbọ', wátimagbọ', the sky is fallin'
Eh ehn ah, wake up and jump start, I-I go chop you like ọha
Come be my oga
I can't get away from this thing
I love the way you gat me feeling
Ọmọ má ì lọ baby girl no leave me
Má lọ
Normally o, (ojojúmọ' là ń ṣayé o ah ahh)
Luckily o, (mo lówó tí mo fẹ' ná o ah ahh)
Me I just want to be high
Be high, be high
Me I just want to be high
Be high, be high
Me I just want to be high
(Wátimagbọ', wátimagbọ', wátimagbọ')
Be high (be high)
I just want to be high
(Wátimagbọ', wátimagbọ', wátimagbọ')
Be high (be high)
(I just want to be high)
Source: Musixmatch
---
---
Discord - wolfofnostreet#4939
Twitter - wolfofnostreet_
---
▶️ 3Speak
---
---