AFRI-TUNES WK 11 | MAMA BY KIZZ DANIEL

---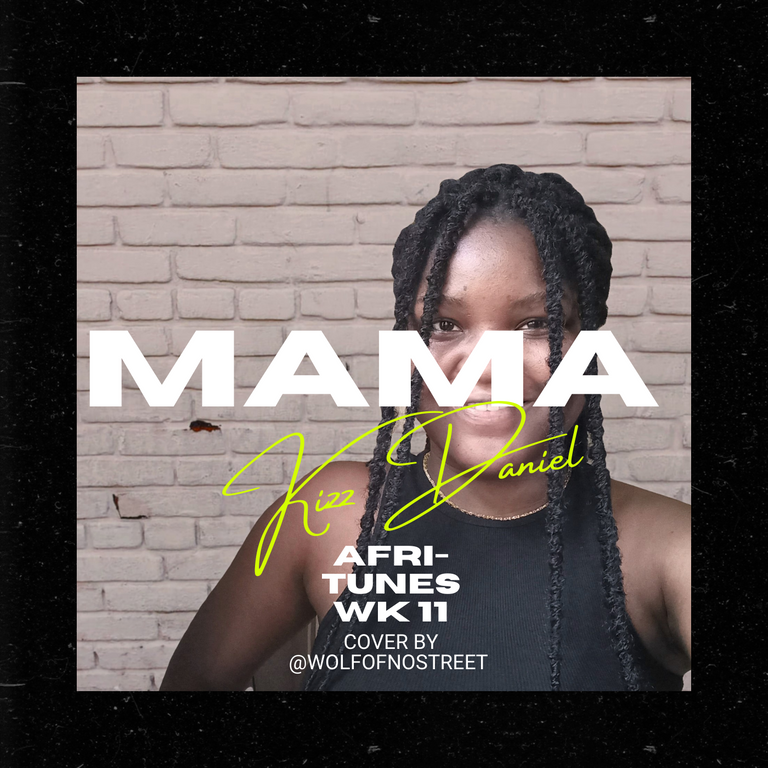 Hello to the Afri-tunes Community. It's a pleasure being able to participate this week and listen to all the wonderful performances. I love Afrobeats and one that easily comes to mind is Mama by Kizz Daniel. This song is so melodious to my ears and six years on, it's still one of my favourites.
I used a backing free instrumental I found online and I think it's only slightly different from the real thing. The song is done in English and Yoruba languages and I might have murdered some of the Yoruba part, forgive me, I can't speak Yoruba. Also ignore me shouting like an agbero at intervals.
Do enjoy and tell me what you think about my first attempt performing an Afrobeats song and in the Afri-tunes Community.
Lyrics
Feel the mama
You know I like you so
See, girl I'll cherish you
I stand for you oh
I won't lie to you
But I fit lie for you, oh-oh
In the night
Girl, I'm down for you, eh-eh
Aah-ah, girl I'm down
Oya talk to me oh mama, be free oh
B'olorun s'oro mi dayo with you oh
Baby, all I seek I find it in you
All I seek I find it in you
See, if I'm to choose, girl I choose you
If I'm to lose, girl I want to lose with you
Them say na taboo but girl I see truth in you
You
Se wa k'orin fun mi? Do you really care?
Se o le pon mi fun mi, baby?
Se mi ni lote o?
To be sincere
I would do almost anything for you
Anything for you (oya, come through)
Girl, I'll cherish you
I stand for you oh
I won't lie to you
But I fit lie for you, oh-oh
In the night
Girl, I'm down for you, eh-eh
Aah-ah, girl, I'm down
Oya talk to me oh mama, be free oh
B'olorun s'oro mi dayo with you oh
Baby, all I seek I find it in you
All I seek I find it in you
Girl, if I'm to shoot, girl I'll shoot for you
Ain't gon' kill baby, just to bullet wound
Prayed about you last night you came my way
Ye, omo baba alayo ni
If you buy infinity, would you buy for me oh?
When I'm in captivity, would you come for me oh?
Step into the light and let me see your face
See your face (oya, come through)
Girl, I'll cherish you
I stand for you oh
I won't lie to you
But I fit lie for you, oh-oh
In the night
Girl, I'm down for you, eh-eh
Aah-ah, girl, I'm down
Oya talk to me oh mama, be free oh
B'olorun s'oro mi dayo with you oh
Baby, all I seek I find it in you
All I seek I find it in you
All I seek I find in you
All I seek I find it in you
---
---
Discord - wolfofnostreet#4939
Twitter - wolfofnostreet_
---
▶️ 3Speak
---
---