Newbie Minimalist? Read This!
Hello my minimalist friends, how are you all doing and how's the minimalist lifestyle going? Great I guess. Well, mine? It's going well as usual. I'm content with where I'm at and what I have, continuously looking for something to declutter because I'm somewhat a declutter freak.
For this week's #KISS blog, we're talking about our minimalist journey and I have chosen to answer the third question,
What are some dos and don'ts that you would give to wannabe minimalists?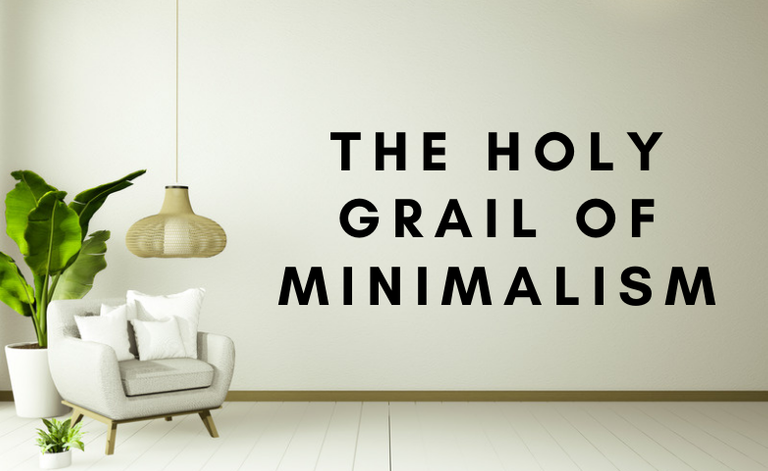 Made on Canva
I don't think there are holy grail guidelines for being a minimalist but in my own personal experience and observation, I think I have a few things I can say to wannabe minimalists.
This is the very first thing a wannabe minimalist should think about. I hope you're not interested in being a minimalist just because it's trendy? You know how it is with trends, here today, gone tomorrow. So are you just going to give up on this new lifestyle when it's no longer cool to be a minimalist?
I would advise that you do some introspection to know if this is what you want to do. You have to make sure it's for the right reasons and that it matches the rest of your personality.
Starting a minimalist lifestyle means changes will occur in your life, some of them huge and overwhelming. Some of your beliefs might change and you might have new patterns in your life.
You definitely can dip your feet in the waters to test if you want to go all in, you don't have to make a final decision immediately. This brings me to my next point.
You've admired minimalists for a while now, you might personally know a few minimalists and you think their lifestyle is satisfying. You have binge-watched several youtube videos on minimalism and you think it's time to fully embody your new minimalist self.
The first thing you want to do is declutter just like the minimalist video said. You're thinking of getting rid of most things you own from the living room down to the kitchen, down to your wardrobe and even the storage. Please don't do that. You might terribly regret it.
As with everything new, you have to go slow, figure your way around it and be sure you're confident to an extent about this. I am a declutter freak as I mentioned earlier, but, I still have control and barely ever regret decluttering stuff at this point in my life.
If the first thing you do is declutter a large percentage of what you own as a newbie minimalist, I bet you, you're going to cry. You will be filled with so much regret if you do a massive first time declutter.
The best way around it is to declutter in bits and you don't have to throw away or give out stuff everything, you can keep it out of sight for a while. If you don't miss it after a while or don't have a need for it, then you can give it out.
Minimalism means owning less and not necessarily about decluttering everything you own. Whatever you have, you see the value in it and you surround yourself with only the things that are useful to you or things that make you happy.
Basically, everything around you serves a purpose and this gradually becomes your mindset. Your mind only craves for peace and fulfillment in all that you do.
Now if you have this satisfaction about life as a maximalist, bravo, you should enjoy yourself. If you crave something different, something new, then welcome to the minimalist club!
---
Other dos and don'ts I'll add are;
Do you. You don't have to be like another minimalist. It's your life and you have a right to be minimalist however you want. You don't have to have your house painted in only neutral colours. You love all things bright and beautiful? Go on and splash colour all over.

Don't buy any more items yet. Chill a bit and focus on sorting and decluttering each room first.

Don't procrastinate tidying up. The best way to avoid clutter is tidying immediately.

Do look for happiness within and not in material things.
Everything I said not to do, I have done at some point in my minimalist journey and it never favoured me. I hope you don't get to make these mistakes. Follow what your heart tells you instead and be content.
I'd like to invite @atyourservice, @ozohu, and @iskafan to participate in the #KISS writing prompts.
Thanks for reading!
---
---
Discord - wolfofnostreet#4939
Twitter - wolfofnostreet_
---
---