My First NFT Giveaway (Edited Fractal Art)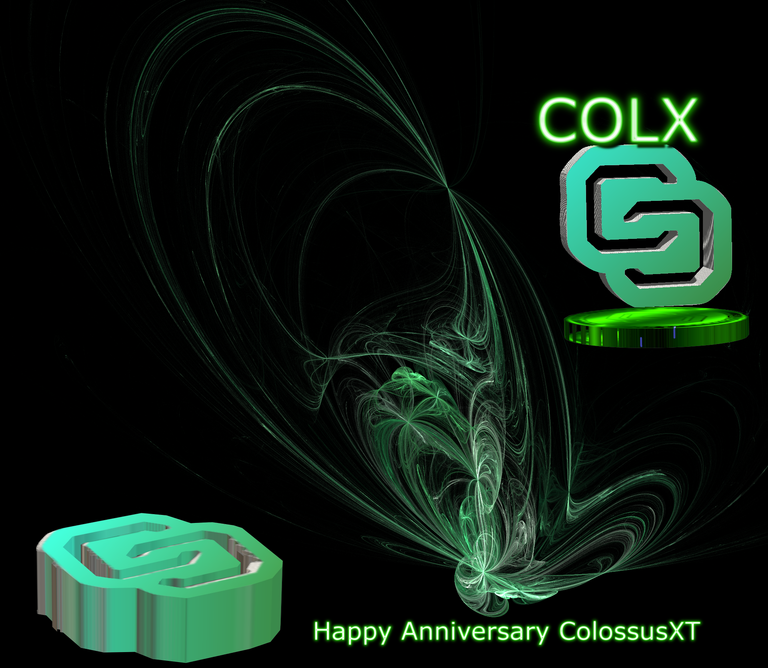 Here is a special NFT that I made, in honor of ColossusXT fourth anniversary!
It's free, just drop your Wax address here in the comments. After all, the Hive magic always happens in the comments!
I would also invite you to check out the website and find the links for the Discord and Telegram communities. I sometimes host contests in the discord server :)
Now for something about the NFT. The main part of it is my original fractal art. The glowing Colx and the background were done in Gimp. Also the other elements were added using Gimp.
The bottom left logo is my edit of the official version. Used with permission from ColossusXT. It was edited in a 3d program. The same logo appears in its original form right below the Colx text. The bright green coin below this was edited by me in a 3d program, to only show the edge. It was originally made by Peter Aldred, who gave me full permission to use it.
I am so proud that Colx still going and growing after four years :)
There is also some exciting news! If you are looking to get in early on a defi project which is run by a respected and established team, please read this.
If you have any questions, please either ask here or come meet the core team on Discord or Telegram. I have deliberately left the specifics about ColossusXT out of this post in order to keep it short and sweet. After all, this is a birthday party, not a master's thesis!
As always I urge you to thoroughly research any project and its team before you invest anything. There is always risk, no matter how good something looks. Even Bitcoin, gold, silver, g property, and other "safe" investments carry some risk.
Image is my original artwork, and my first NFT giveaway I hope you will enjoy it, all feedback is appreciated :)
---
---