Two flies on my chicken[ENG-ESP]
Hello everyone, once again I am sharing with you an anecdote that I remembered and every time I remember it I laugh hahahaha, when I started studying at the university I had a friend who was a great joke teller and always made us have a lot of fun in a group because of his jokes or anything that came to his mind.
Hola a todos nuevamente compartiendo con ustedes una anécdota que recordé y de verdad cada vez que me acuerdo lo que hago es reírme jajajaja.Cuando comencé a estudiar en la universidad tenía un amigo muy echador de broma y siempre en grupo nos hacía pasar momentos agradables de diversión ya sea por sus chistes o por cualquier cosa que se le ocurriera.
---
One day after we got out of class. I remember we were in anatomic pathology class. It had been a very stressful day. We got out of class and were starving. The very witty friend invited us: "Let's go eat chicken broaster style, with yucca, salad and guasacaca. There were three of us together and we gladly accepted the invitation. Not thinking that he was going to throw us a log of pods. He said, "I'm paying.
Un día después que salimos de clases. Recuerdo que estábamos en clases de anatomía patológica. Había sido un día muy estresante. Salimos de clases y estábamos muertos de hambre. El amigo muy ocurrente él y echador de broma nos invita: -Vamos a comer pollo a la broaster, con yuca, ensalada y guasacaca. Éramos tres que andábamos juntos y gustosamente aceptamos la invitación. No pensando que nos iba a echar una tronco de vaina. Es mas dijo: -yo pago.
---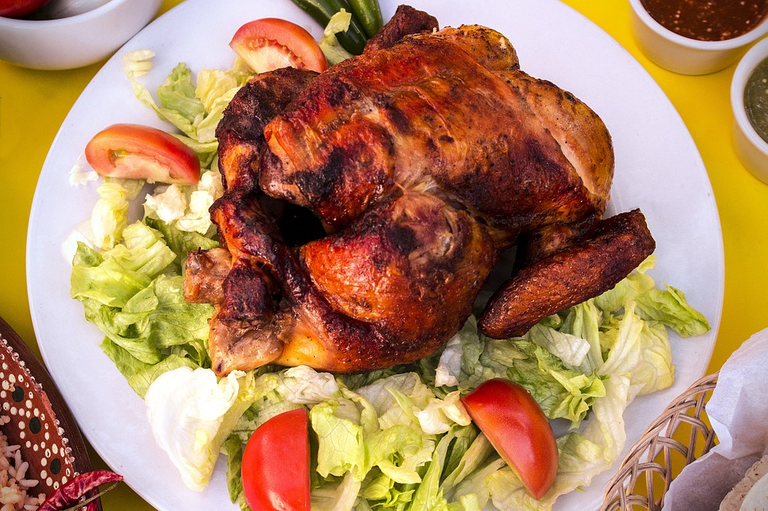 Pixabay
We were too tired and hungry. We accepted the invitation. He had a very comfortable car. We got in the car and he took us to eat chicken. I did find my friend's invitation strange. But I always wondered what he was up to.
Estábamos demasiado cansados y hambrientos. Aceptamos la invitación. El tenía un automóvil muy confortable. Nos montamos en el auto y nos llevó a comer pollo. A mi si me parecía extraño la invitación de mi amigo. Pero siempre pensando que se traerá entre manos.
---
I remember that the sale of broaster chicken was in Plaza Venezuela in Caracas. We arrived at the place and my friend, like an artist, immediately placed the order. He ordered two chickens, two portions of yuga, two portions of salad and a two-liter soft drink. I was thinking where did this man get the money to buy so much chicken. And he would say, "I'm so hungry, hahahahahaha, and we would just go along with it.
Recuerdo que la venta de pollo a la broaster quedaba en Plaza Venezuela en Caracas. Llegamos al lugar y mi amigo como un artista enseguida hizo el pedido. Ordenó dos pollos, dos raciones de yuga, dos raciones de ensalada y un refresco de dos litros. Pensaba de dónde sacó este hombre dinero para comprar tanto pollo. Y el decia:-tengo un hambre atroz jajajajaja y le seguíamos la corriente.
---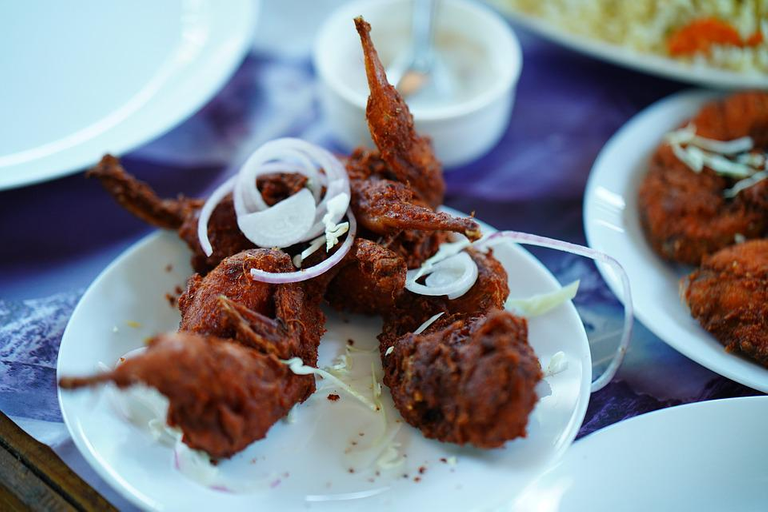 Pixabay
The waiter arrived with the order. There was almost no room at the table. And we started to eat, we were eating like desperate people hahahaha. I was happy because my friend Rafael invited us to lunch. I thought how nice my friend is, hahahahahaha. We were quite full. And Rafael wanted to take the pieces of chicken that were left for breakfast the next day hahahahahaha, when he turned one of the chicken prey that was left he put two small plastic flies that simulated two normal flies. That happened in a matter of seconds. And I really thought it was true. My other friend and I didn't see when he put the flies on. And very astonished he said to the waiter: -how is it possible that in a restaurant of this category these things happen. he said to the waiter: -how is it possible that he got two flies in the food right after he finished eating.
Llegó el mesonero con el pedido. Casi no cabía en la mesa. Y comenzamos a comer, Comíamos como unos desesperados jajajaja. Me sentí contento porque mi amigo Rafael nos invito almorzar. Yo pensaba que bueno es mi amigo jajajajaja. Estábamos bastante llenos. Y Rafael quería llevarse las piezas de pollo que quedaron para desayunar al día siguiente jajajajaja, cuando volteó una de las presas de pollo que quedaba le colocó dos moscas plásticas en tamaño pequeño que simulaban dos moscas normales . Eso sucedió en cuestiones de segundo. Y Realmente pensaba que era cierto. Mi otro amigo y yo no vimos cuando él colocó las moscas. Y muy asombrado le dijo al mesonero: -como es posible que en un restaurante de esta categoría sucedan estas cosas. le dijo al mesonero: - como es posible que haya conseguido dos moscas en la comida justo terminando de comer.
---
The waiter, all distressed and saddened, picked up from the table everything that was left and threw it away with the flies included, they did not check, if they checked, we would have gone to jail. And Rafael said: -this can't be happening hahahaha. My other friend saw my face and moved his eyes like a fan, the expression on his face was of not understanding what was happening. Rafael was asking to talk to the owner of the store. He finally managed to talk to the owner of the store. The man, very sorry, apologized over and over again. And he decided that my friend would not pay the bill.
El mesonero todo angustiado y apenado, recogió de la mesa todo lo que quedaba y la botó con las moscas incluidas, no revisaron, que si revisan hasta presos hubiésemos ido. Y Rafael decía:-esto no puede estar pasando jajajaja. Mi otro amigo me vio la cara y movía los ojos como un ventilador, la expresión de su rostro era de no entender lo que estaba pasando. Rafael pedía hablar con el dueño del local. Hasta que por fin logró hablar con el propietario del local. El señor muy apenado, pidió disculpa una y otra vez. Y decidió que mi amigo no pagará la cuenta.
---
In view of what happened he gave him two chickens to the broaster hahahaha a complete combo with soda. We left the place and told him what he had done, that we were innocent, that if he did not have money to cancel the bill he would have told us. We went through that situation and now we remember how Rafael lent himself to do that. He told us it was out of necessity and he had nothing to eat hahahaha. He really went too far. And he tells that episode very funny and imitates the waiter and the owner of the place hahahaha, we had no choice but to laugh.
En vista de lo sucedido le regaló dos pollos a la broaster jajajaja un combo completo con refresco. Salimos del local y le reclamamos lo que había hecho que nosotros estábamos inocente , que si él no tenía dinero para cancelar la cuenta nos hubiese dicho. Total que pasamos por esa situación y ahora recordamos como Rafael se prestó para hacer eso. El nos dijo que era por necesidad y no tenia con que comer jajajaja. Realmente se paso. Y el cuenta ese episodio con mucha gracia e imita al mesonero y al dueño del local jajajaja, no nos quedó de otra que reírnos.
---
Translation was performed at Deepl.100% original content
---

---
---