Testing Copies Of Minecraft- Maxicraft [En-Es]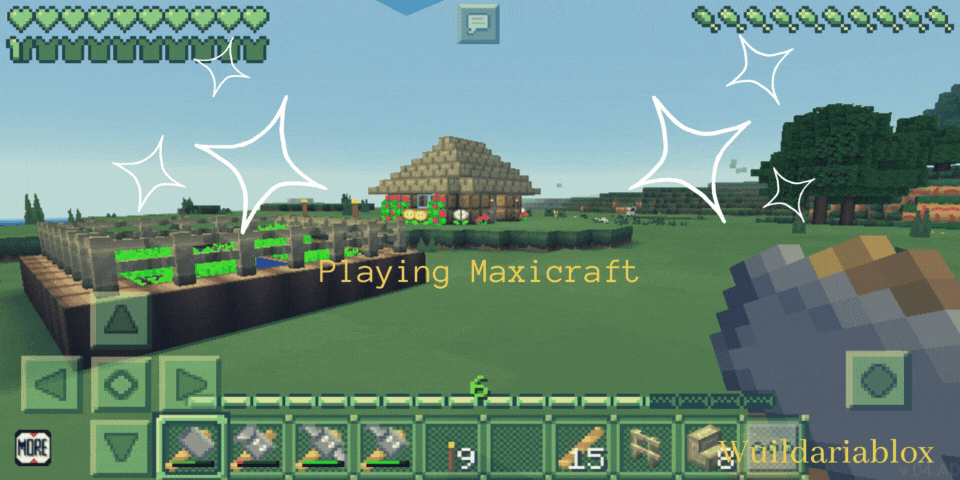 Hola gente linda de Hive, espero se encuentren bien. Después de un largo tiempo me vuelvo a integrar en este bello mundo y que mejor manera de reintegrarme que hablándoles acerca de las diversas copias de Minecraft pirata en la Play Store. Sin más que decir comencemos :)
Hello beautiful people of Hive, I hope you are well. After a long time I'm back in this beautiful world and what better way to reintegrate than telling you about the various copies of pirated Minecraft in the Play Store. Without further ado, let's get started :)

La copia que estaremos jugando el día de hoy, por que sí, probaremos varias copias durante estos días. Se llama Maxicraft.
The copy that we will be playing today, because yes, we will be testing several copies during these days. It is called Maxicraft.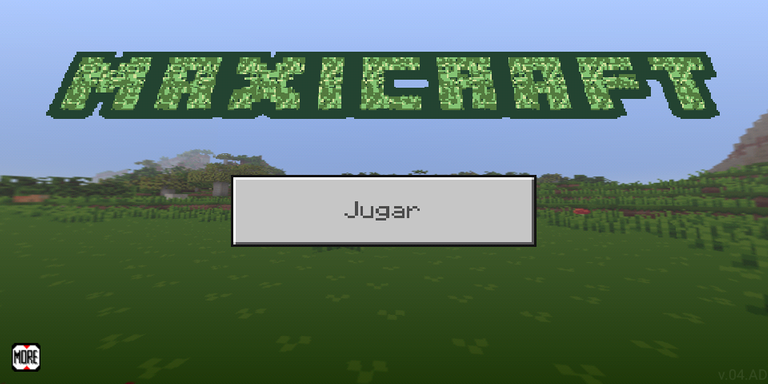 Debo decir que Maxicraft en la Play Store aparenta ser una cosa pero una vez que lo descargas es otra cosa, y esto me disgusta un poco debido al pack de texturas que tiene. Deja de ser una copia exacta de Minecraft a ser una copia de Minecraft fusionado con Super Mario Bros, no tengo nada en contra de Mario, pero no me gusta la combinación que hacen XD.
I must say that Maxicraft in the Play Store appears to be one thing but once you download it is something else, and this disgusts me a little because of the texture pack it has. It goes from being an exact copy of Minecraft to being a copy of Minecraft merged with Super Mario Bros, I have nothing against Mario, but I don't like the combination they make XD.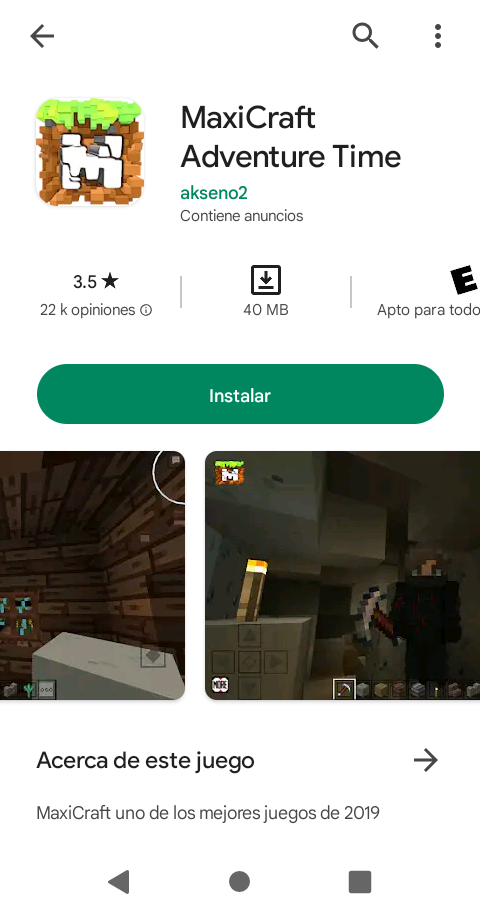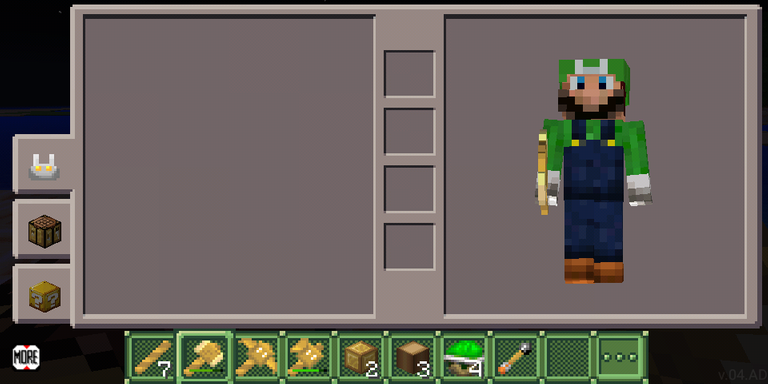 Luigui -.-

Comence creando el mundo donde iba a ser mi primera y última partida de este Minecraft copia, porque en serio no me gusta. Después de haber creado el mundo fue difícil adaptarme a los controles, pero después de 5 minutos ya me había adaptado casi por completo.
I started creating the world where I was going to be my first and last game of this Minecraft copy, because I really don't like it. After creating the world it was difficult to adapt to the controls, but after 5 minutes I had almost completely adapted.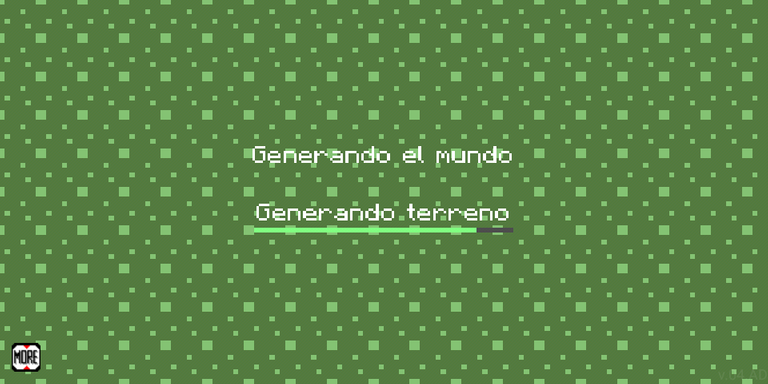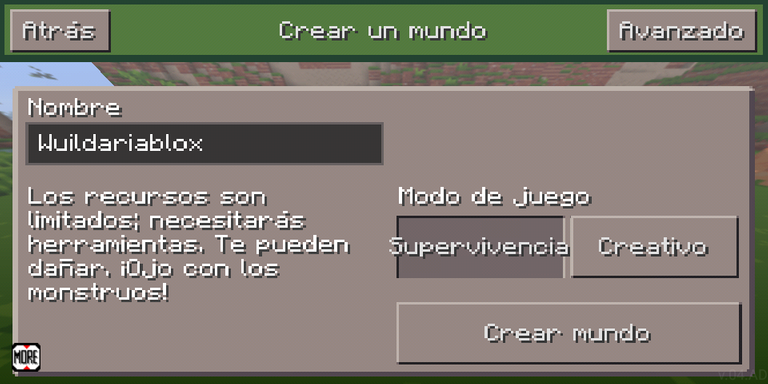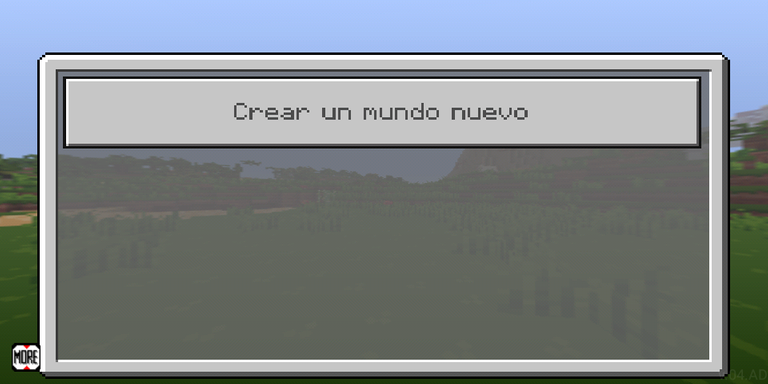 Cuando ya era casi una pro con los controles fui a por los materiales básicos que ya todos sabemos. Picar madera y buscar algo de comida, pero cuando me tocó hacer la mesa de crafteo para hacerme algún arma, no sabía dónde darle o cuál era el botón para craftear, pase como 5-6 minutos buscando el botón de crafting, hasta le pedí ayuda a mi papá (@morenow) y el pudo solucionar mi problema como todo un pro.
When I was almost a pro with the controls I went for the basic materials that we all know. Chopping wood and looking for some food, but when I had to make the crafting table to make a weapon, I didn't know where to hit it or which was the button to craft, I spent like 5-6 minutes looking for the crafting button, I even asked my dad (@morenow) for help and he was able to solve my problem like a pro.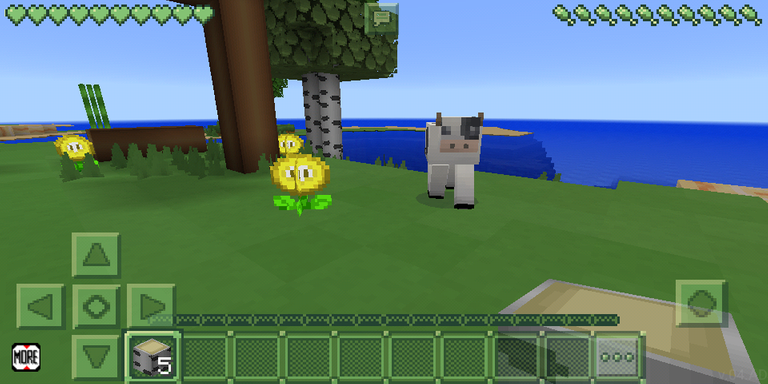 Aqui la flor de Super Mario y a un lado una linda vaca :3/Here the Super Mario flower and next to it a cute cow :3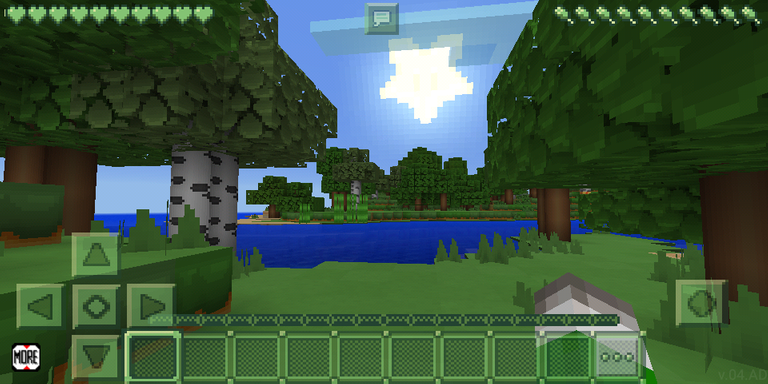 El sol es una estrella literalmente ⁠✧/ The sun is a literal star ✧
Craftee mis cosas necesarias y no me había percatado que me había caído la noche, a este punto me sentía una pro player, no tenía un lugar donde esconderme de los monstruos por lo que decidí ir a pasar la noche en una isla apartada del lugar donde me encontraba. No la pasé tan mal, pero 4 monstruos en total se acercaron a mi para atacarme, y uno de ellos que era un esqueleto casi me mataba, pero no pudo conmigo B)
I crafted my necessary things and I hadn't realized that night had fallen, at this point I felt like a pro player, I had no place to hide from the monsters so I decided to spend the night on an island away from the place where I was. I didn't have a bad time, but 4 monsters in total approached me to attack me, and one of them was a skeleton that almost killed me, but he couldn't kill me B)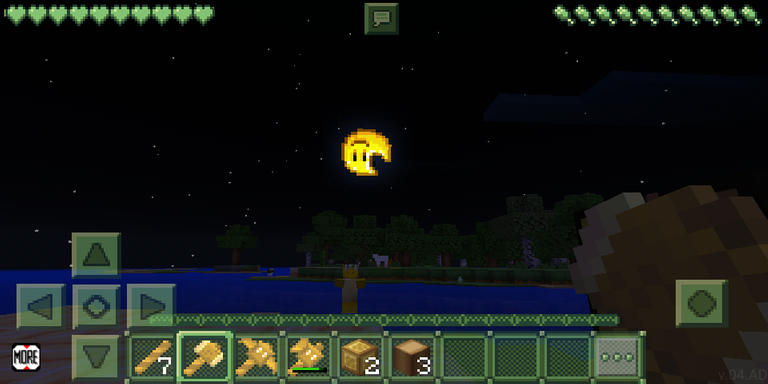 La luna es muy linda :3/
The moon is very pretty :3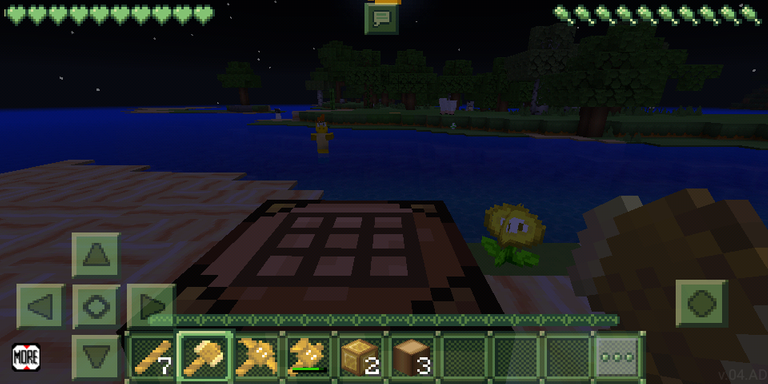 Los zombies son tortugas... -.-/Zombies are turtles -.-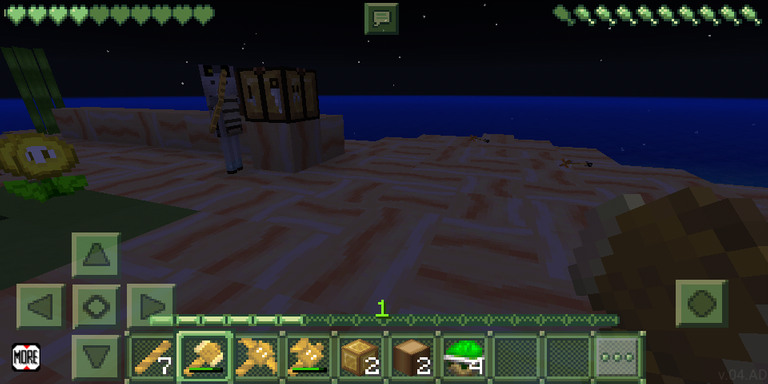 Esqueleto malo >:c/
Bad skeleton >:c
Cuando por fin se hizo de día, fui a explorar un poco, me encontré con una cueva con un poco de carbón, varios animales y por supuesto que le saque provecho a cada cosa, luego me encontré con un hermoso terreno donde decidí que sería mi futura casa.
When it finally became daylight, I went to explore a little, I found a cave with some coal with various animals and of course I took advantage of everything, then I found a beautiful piece of land where I decided it would be my future home.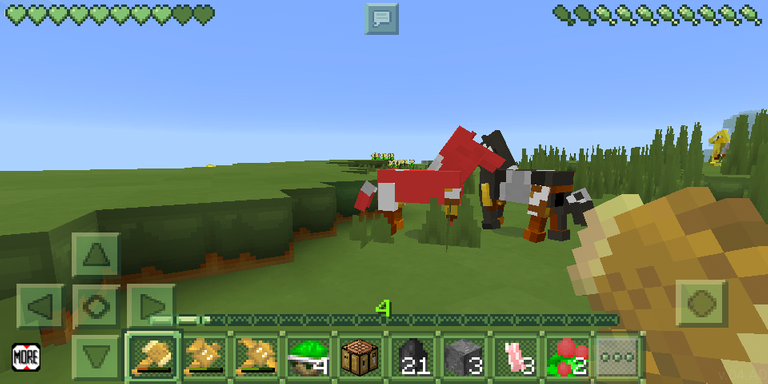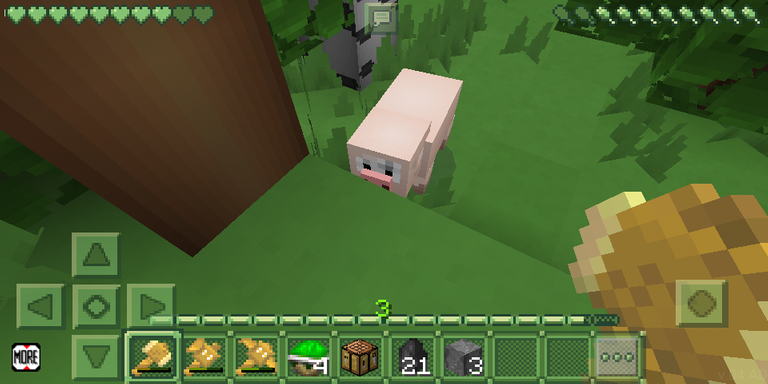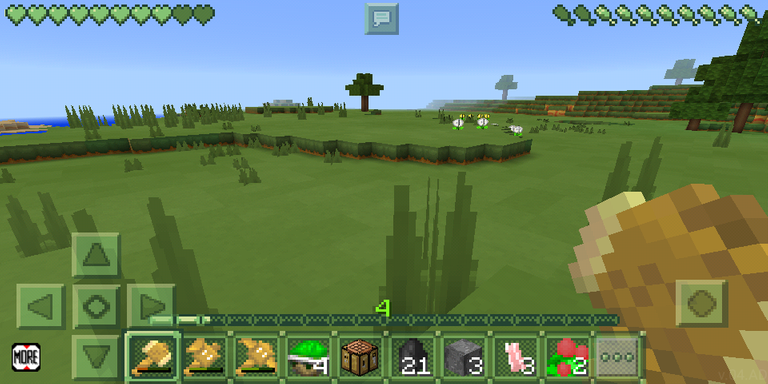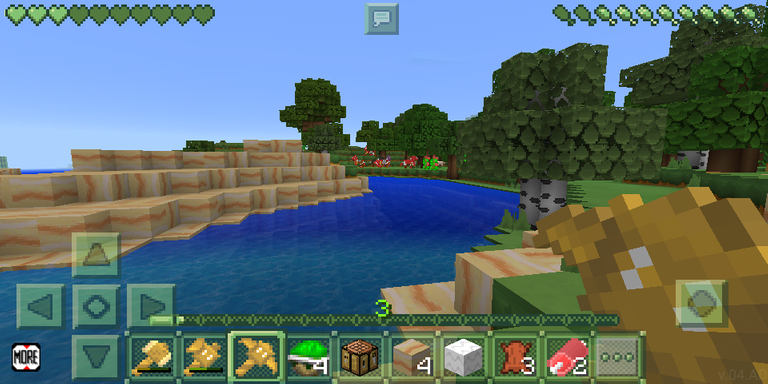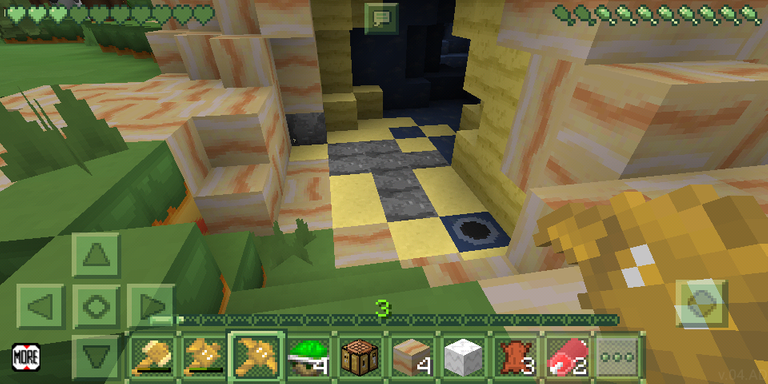 Hacer mi casa no fue tan difícil como creí que sería, fue fácil, aunque los controles para construir no son nada cómodos, pero te adaptas con el tiempo. Mi idea sobre la casa no era concreta por lo que iba construyendo y lo que saliera así se quedaría, al terminar no quedó nada mal la verdad. Hasta yo quedé sorprendida con el resultado final. Pero una vez más debo decir que odio la combinación del Mario con el Minecraft o al menos esta combinación.
Making my house was not as difficult as I thought it would be, it was easy, although the controls to build are not at all comfortable, but you adapt over time. My idea about the house was not concrete so I was building and what came out would stay that way, when I finished it was not bad at all. Even I was surprised with the final result. But once again I must say that I hate the combination of Mario with Minecraft or at least this combination.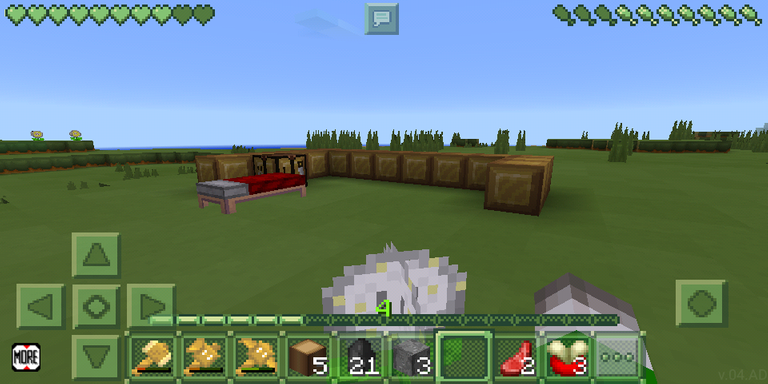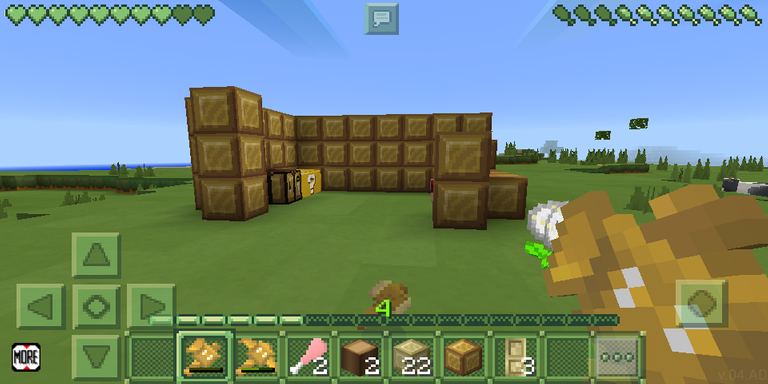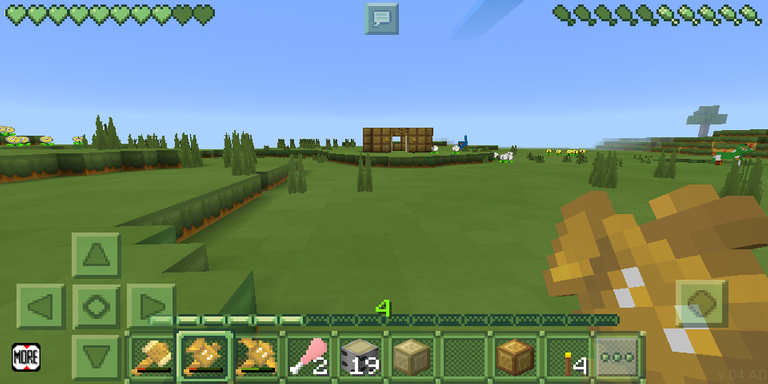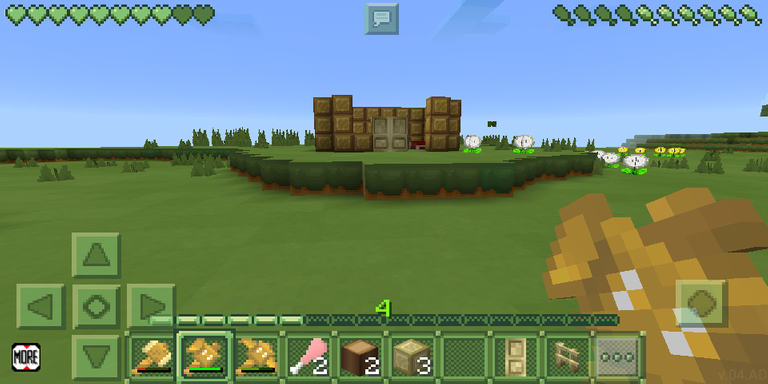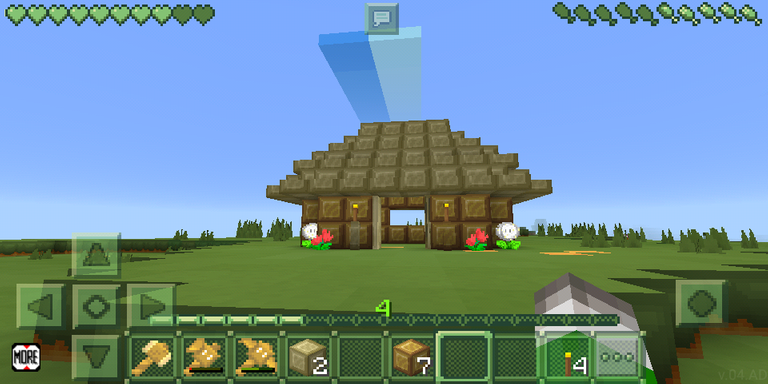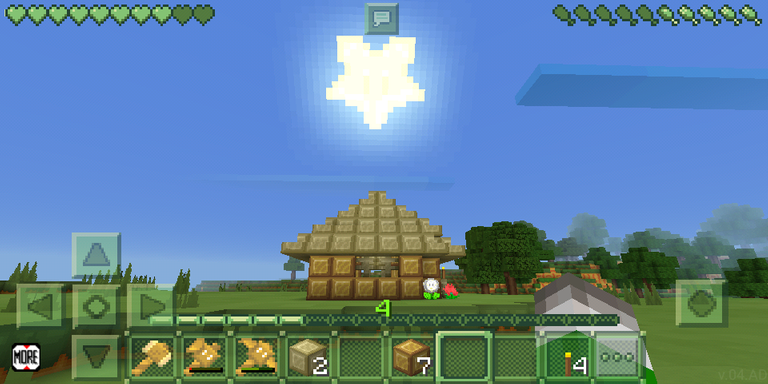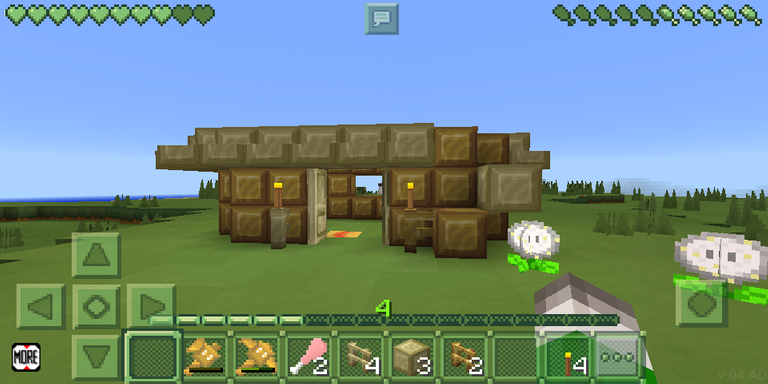 Después de tener seguro un lugar cómodo para pasar la noche, decidí explorar un poco más, pero esta vez con cuidado de no perderme, porque si me perdia, perderia todas mis cosas y avance por lo que recurriría a borrar el juego completo XD. Ok no, luego de explorar por un rato encontré una cueva donde por fin pude minar algo de hierro, eso me vendría bien para mejorar mis herramientas y hacerme una armadura.
After finding a comfortable place to spend the night, I decided to explore a little more, but this time being careful not to get lost, because if I got lost, I would lose all my stuff and progress, so I'd have to delete the whole game XD. Ok no, after exploring for a while I found a cave where I could finally mine some iron, that would come in handy to improve my tools and make me an armor.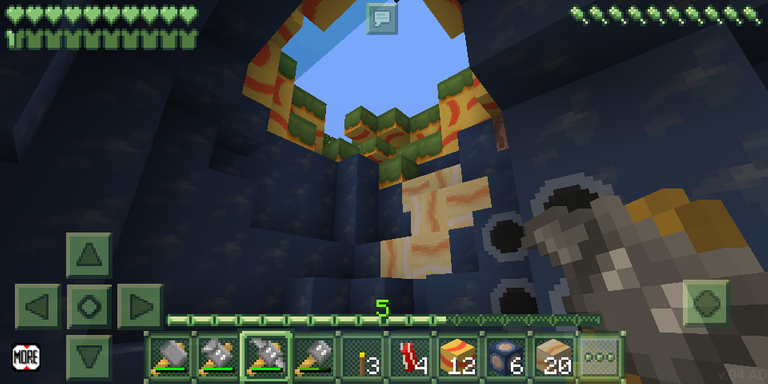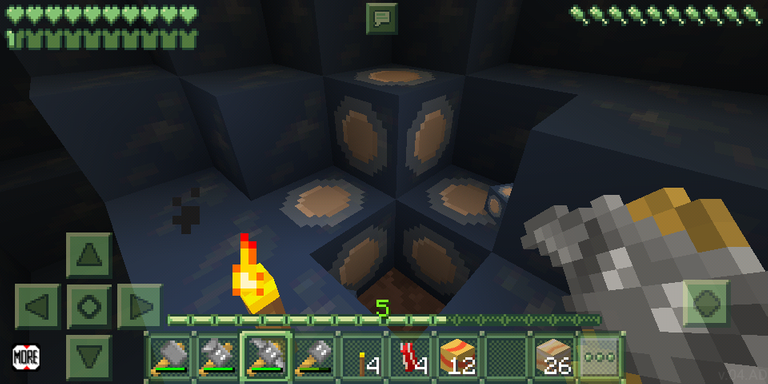 Al final no me hice una armadura y termine gastando el poco hierro que tenía en un valde, para agarrar agua, y debo decir que cuando fui por agua, por primera vez en toda la partida pude ver una araña. En fin, me puse a hacer un mini cultivo y quedó muy lindo, hace que quede bien junto a mi linda casa.
In the end I didn't make an armor and I ended up spending the little iron I had in a bucket, to get water, and I must say that when I went to get water, for the first time in the whole game I could see a spider. Anyway, I started to make a mini crop and it was very nice, it looks good next to my nice house.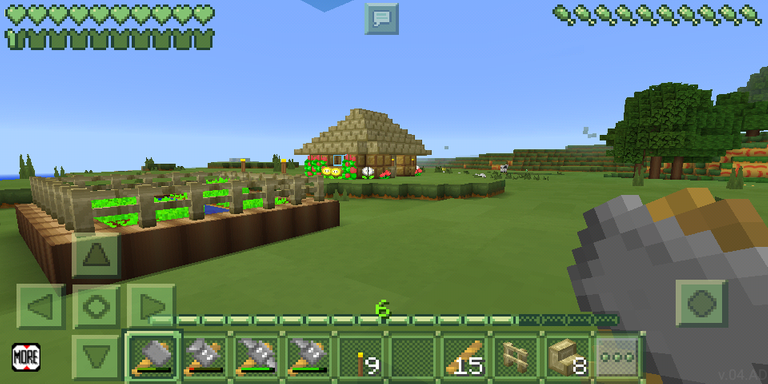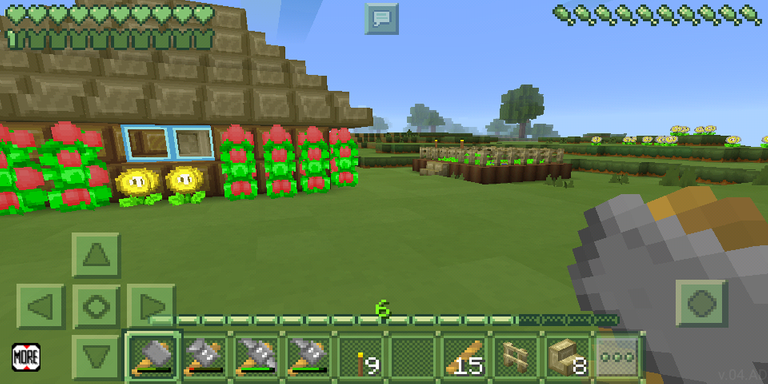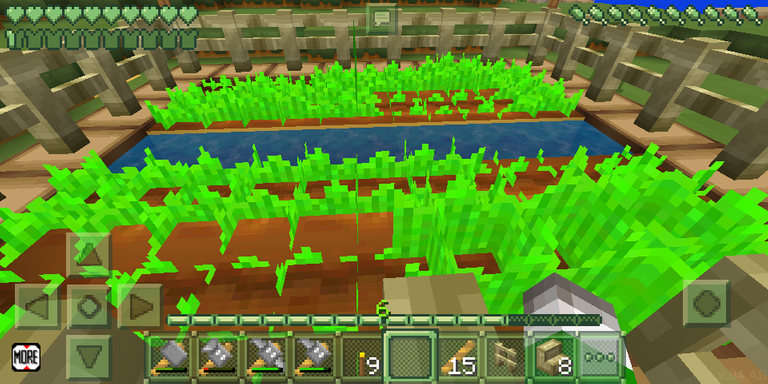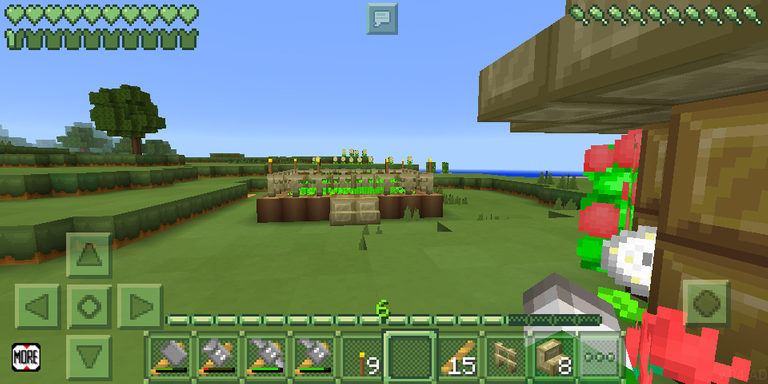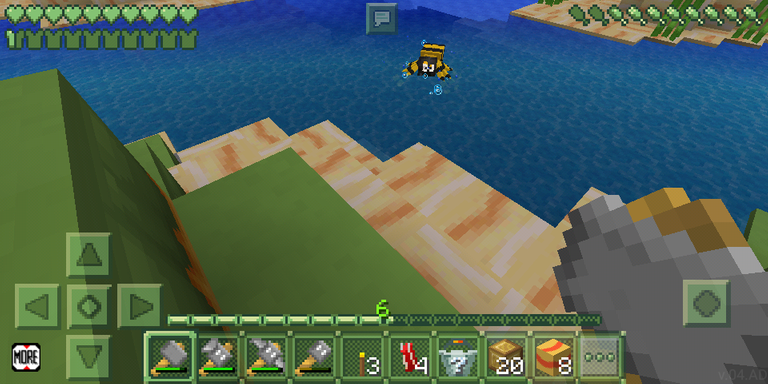 ¿Se supone que eso es una araña o una abeja🐝?/ Is that supposed to be a spider or a bee🐝?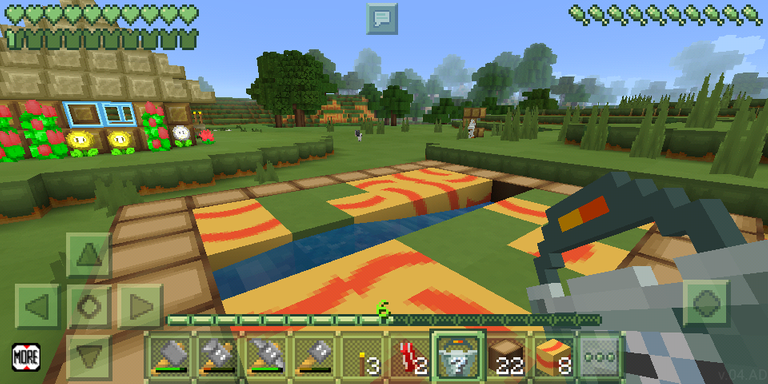 Y así quedó el final de todo ese recorrido por este mundo, en esta copia de Minecraft, sinceramente a esta copia, Maxicraft de 10 le doy un 4, por el pack de texturas del Super Mario Bros, no le doy menos porque los animalitos me parecen super lindos o al menos las vacas me parecen muy bonitas. Además de que los monstruos no son nada terroríficos. Los controles son malos y el juego tiene varios bugs uno de ellos son los slendermans,en toda la partida no había visto uno. Literalmente vienen pegados a unos cuadrados negros que al moverse o al parecer en un lugar te tapan la vista. Y para finalizar, me había hecho un mundo en creativo para entrar al inframundo, y es muy horrible. Le doy un 4 de 10.. :/
And so was the end of all that beautiful journey through this world, in this copy of Minecraft, sincerely to this copy, Maxicraft of 10 I give a 4, for the texture pack of Super Mario Bros, I do not give less because the animals seem to me super cute or at least the cows seem to me very nice. Besides the monsters are not scary at all. The controls are bad and the game has several bugs one of them are the slendermans,in the whole game I had not seen one. They literally come attached to some black squares that when you move or seem to be in a place they block your view. And finally, I had made a world in creative to enter the underworld, and it is very horrible. I give it a 4 out of 10. :/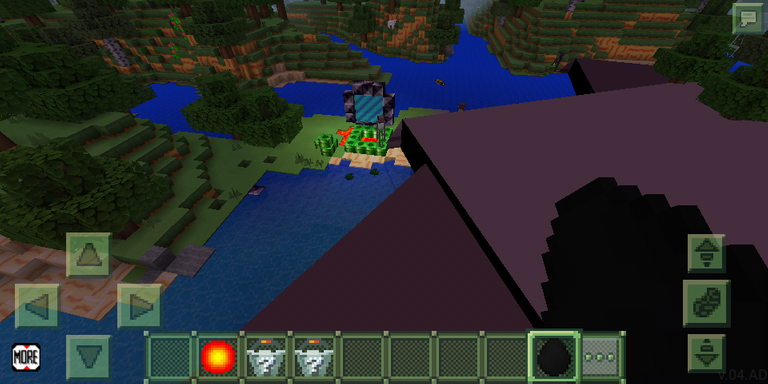 ¿Que se supone que sea esa cosa, un Slenderman?/ What is that thing supposed to be, a Slenderman?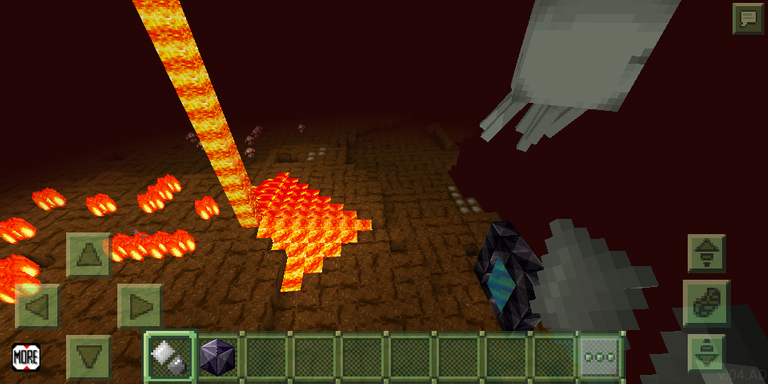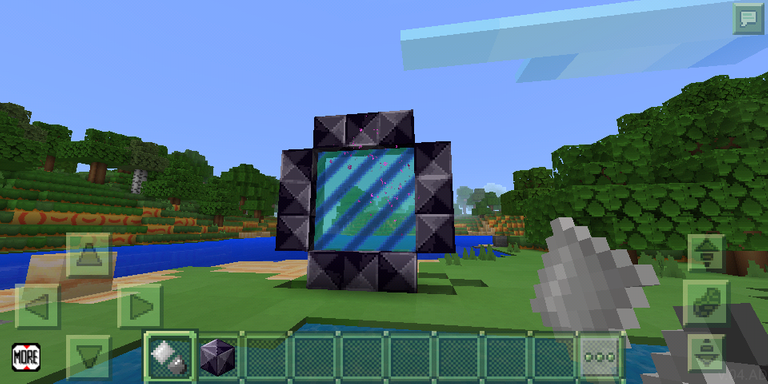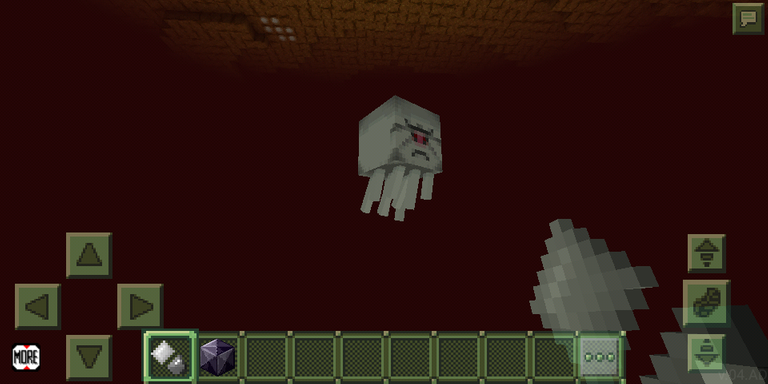 Que fea cara tiene...💀/
What an ugly face he has..💀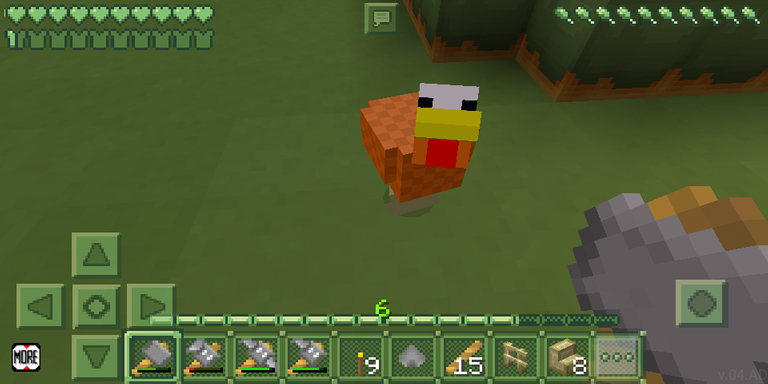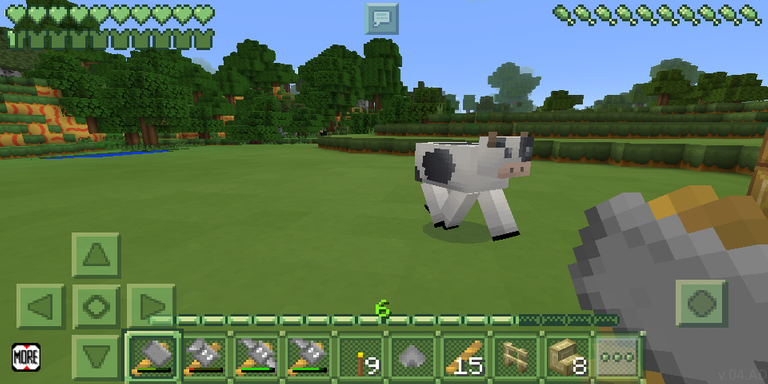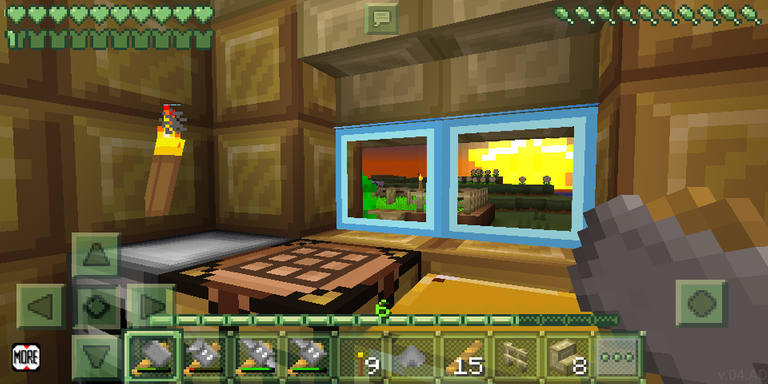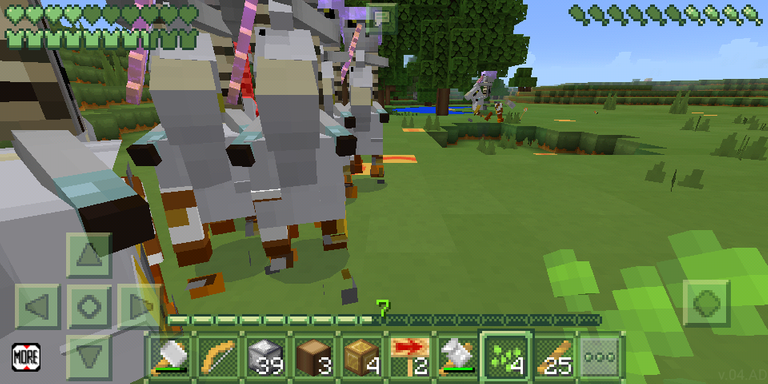 Aqui habían caido rayos del cielo, haciendo que aparecieran esqueletos montando caballos esqueletos que me atacaban como locos/Here lightning had fallen from the sky, causing skeletons riding skeleton horses to appear and attack me like madmen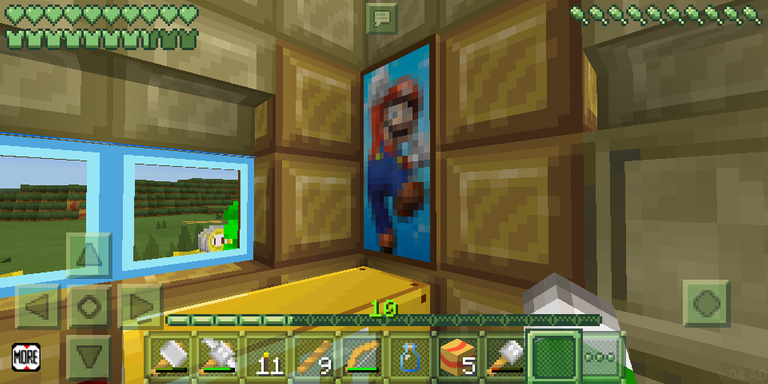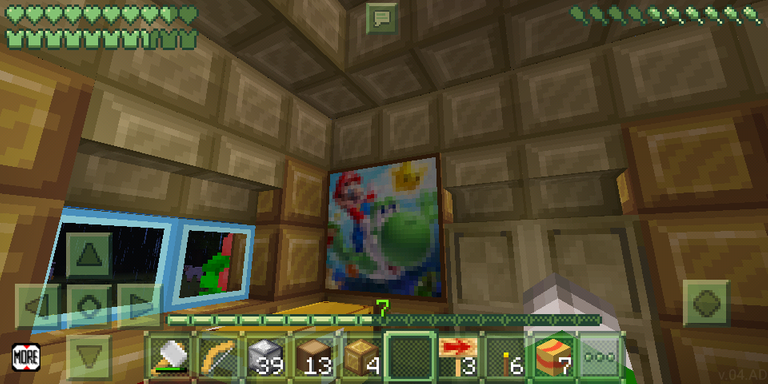 Bueno gente hasta aquí el post de hoy, a ustedes ¿Que les pareció esta copia de Minecraft? Me gustaría saber lo que piensan en los comentarios, no olviden que las fotos fueron tomadas por mi mientras jugaba. ¡Nos vemos la próxima! :3
Well folks, this is the end of today's post, what do you think about this Minecraft copy? I'd love to know what you think in the comments, don't forget that the pictures were taken by me while I was playing, see you next time! :3

---
---