From Solar to Mythic with an Aggro Deception Deck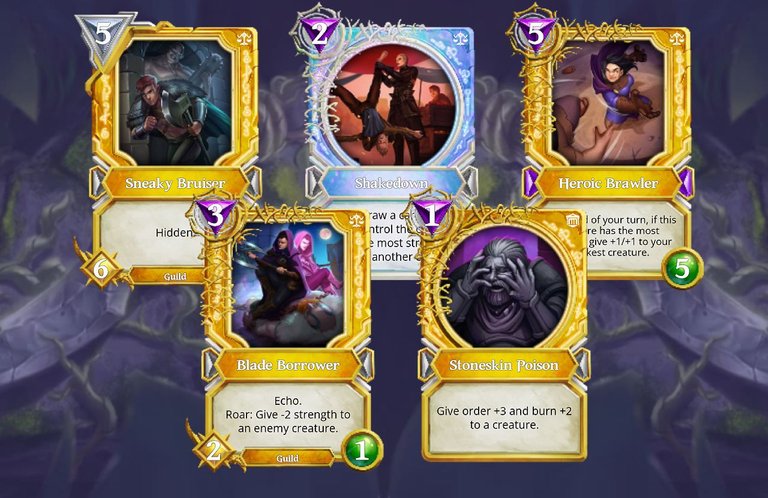 2 weeks ago, I traveled by train for two days, crossed that big mad country called Russia, this was more than 2000 km from North to South, then, had a night bus over a 5000-meter mountain range and entered Georgia (a country I lived in childhood), right in the middle of the grape and fig season. +38, a lot of sun, cheap fruits, and mozzarella cheese everywhere, thousand-year-old churches here and there. 😎
Days before and after the trip were full of chores and stress so I hardly had time to play GU. I had a 10-day gap with no playing at all. When I started playing a week ago, I won only 1 game out of 10 starting in Solar with full power aggro Deception! 🙁 Truly, you must play GU regularly otherwise you are among those people who play decks with 2 Demos in Auric. 😟
In the last few days, I was jumping from Midnight Shadow to Ethereal Diamond and why not, why I should care about tiers? I had promised myself I wouldn't care. But when you invest so much time (I've been playing since November 2021!) and even some money in this game, you want the maximum... so I was very upset.
I achieved much progress after I decided "ok I will buy extra Whisper Barons to forge shadow versions". I mean I have too many Deception shadows to mess the deck with a meteorite - depressing for me. Around 2.8 $GODS each, 8 pieces. These days, $GODS comes to the pocket easier than ever so why not.
A shadow version of Lokian Disciple was another thing I was thinking about for a while. A hidden one with 4 health (Shaped Blast resistant), 1 turn before Sneaky Bruiser, on mana 4 that has no many good Deception creatures, looks nice. And it makes relics sleep, this is amazing against War. After I saw Lokian played in Mythic successfully in @kstreet's post, I decided to get a shadow one.
I swear to myself I need no shadow versions anymore until a new set appears. (Don't mention Pietro, I pretend it doesn't exist. Encumbered Looters? What do you mean saying Encumbered Looter? 😀)
I want to start accumulating crypto, at last, not spending it.
My Deck
So this is what brought me to Mythic yesterday: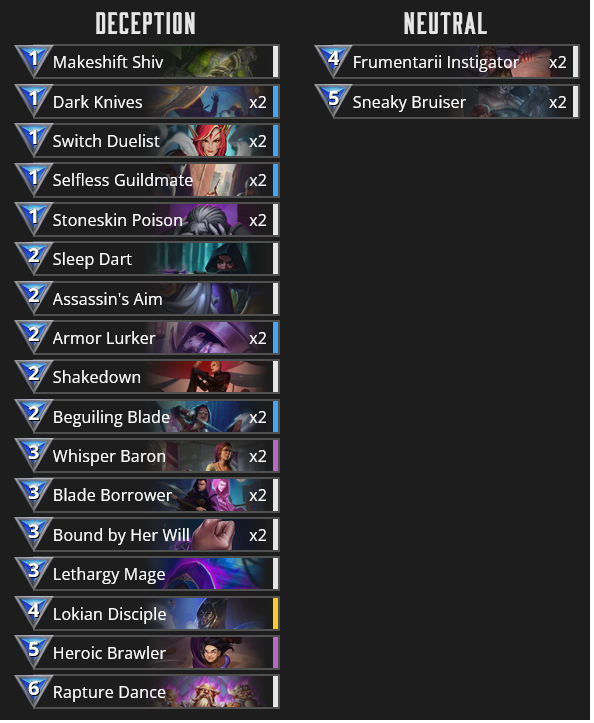 Deck code: GU_1_2_CCQCCmCCmCDDCDDCFVCFVIAlIAlBEsCEPIClIClKCdKCiKCiCFTCFTKCZKCZKCbKCbKCgGBnGBnCAbKCsKDLKDLCAJ
Nothing too surprising. Except Heroic Brawler. I bought 66 meteorite Heroic Brawlers to raise 10x one day and I am still waiting and I keep insisting this is an amazing card 😀 Alas, too many nice 5-mana creatures so Heroic Brawler has a place that can be taken by Guild Enforcer otherwise, for example. But ... don't forget a surprise is an advantage.
Sleep Dart - at some point, I felt 2 Stoneskin Poisons weren't enough.
Shakedown - the third diamond card I have forged (in August) and, unlike two diamond Sneak a Peek I also have, it works perfectly in an Aggro Deception deck.
I played a deck with the full set of strength-stealers (including 2 Sneak a Peek and 2 Lethargy Mage) but it didn't bring me to Mythic. Although Sneak a Peek, when played on turn 1-3, can be powerful. Sometimes, Deception-haters concede immediately when 2 Sneak a Peek on turn 1 make their Black Jaguars dwarf-like. 😀 Sneak a Peek is probably worth trying for Control Deception but I never played this archetype. I still hope forging two diamond versions was not completely useless. 🙂
Shiny Cards
Irl, I have no Lambo and I don't even have any other car and I even don't want one (probably). But in Gods Unchained, I feel a driver of a sort of prestigious automobile. It shines as hell. A full shadow one with gold and diamond inclusions: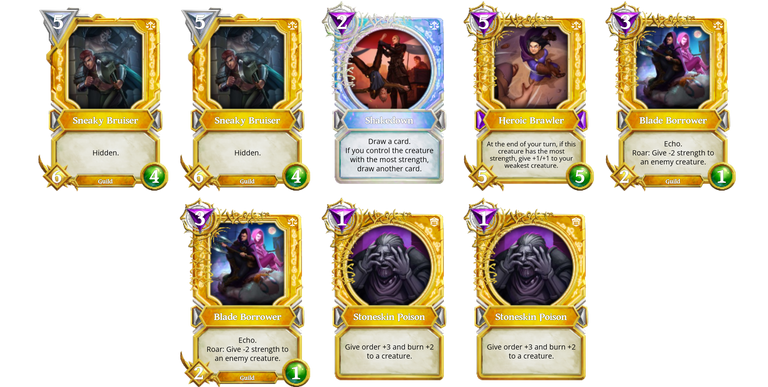 🤠
As for earning daily $GODS, it looked like that (mostly in Solar, one or two days I started in Auric):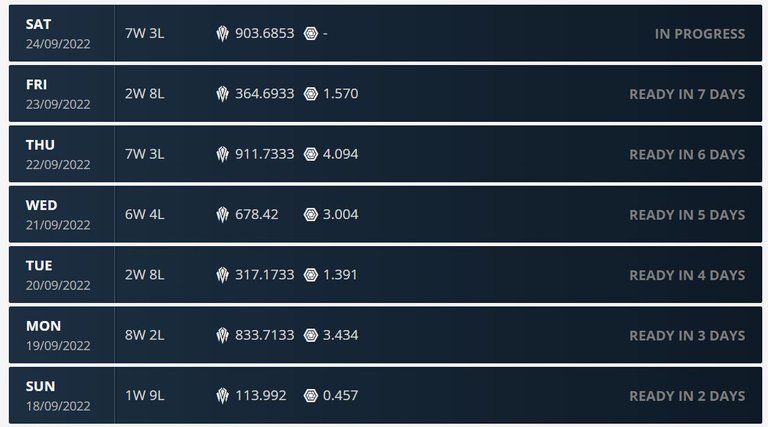 Let's see how much $GODS I'll have in Mythic. 🤠
Current WR results
Nothing too special, the main thing is that I reached Mythic yesterday 🙂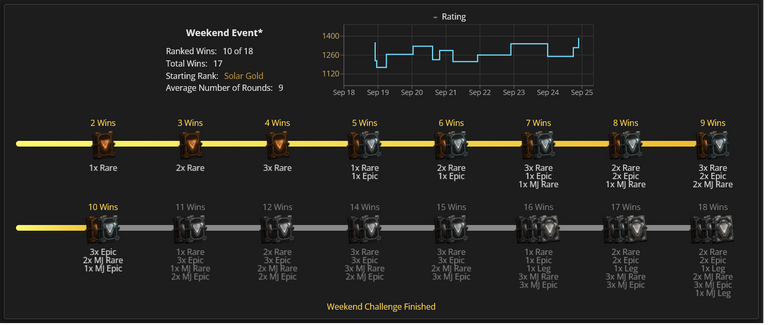 Playing Aggro Deception Decks, My Experience
vs Aggro Light
The easiest archetype to play against in the last days. No need to hit the face, I don't mulligan Dark Knives, etc, fight for the dominance on the board until the opponent has nothing. Mulligan Bound by Her Will, Beguiling Blade, Lurker/Switch Dueslists.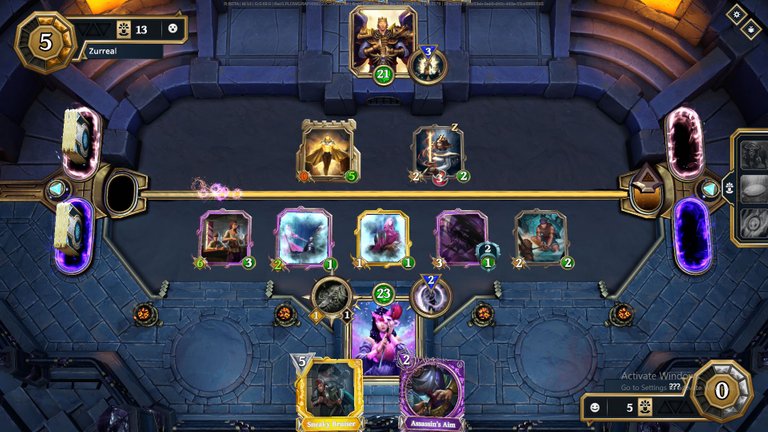 Turn 5, dominance achieved
vs Nature
Hard. I mulligan Bound by Her Will and fight for dominance as in the case of Aggro Light. But buffed hidden creatures can't survive in most cases because of Lightning Strike and Canopy Barrage. Low-health echo creatures die in Wildfire. Regen makes things even harder.
But pleasant moments are possible too, like this: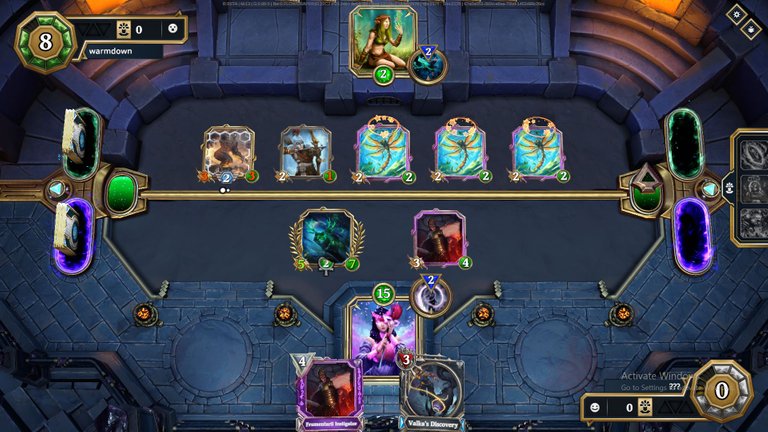 That acid wolve, Dagan, stolen, buffed, and hidden. Awesome! 🙂
vs Magic
Rather easy to play against but depends on luck. I mulligan Switch Dueslist and Dark Knives, and Makeshift Shiv which helps against Safeguard Incantation and Lightning Talisman. Don't throw everything you have at the point when (potentially mulliganed) Shaped Blast might appear (turn 4-5). The early wave should make 12-15 damage. The rest must be done by buffed hidden creatures, better before 7 mana reached by the opponent. City Planner is usual so I try to have something for this guy (Stoneskin Poison, Bound by Her Will).
vs Aggro Deception
My playstyle in case of a mirror match resembles the one I have against Magic. Play aggro early with minions, then start hitting the face with a big buffed hidden creature (Sneaky Bruiser, Lokian Disciple, Whisper Baron) remembering the opponent's Rapture Dance. Mulliganing Beguiling Blade is a good idea since it kills Switch Duelist (not protected by a stronger creature) and this thing happens in spite of everybody knowing this trick.
vs Zombies
Mulligan Bound by Her Will to steal Cursed Obelisks, Armor Lurkers to kill zombies, strength-stealers to neutralize zombies and remove them with echo creatures after that. I don't have Counterfeit but the deck is efficient against zombies even without it.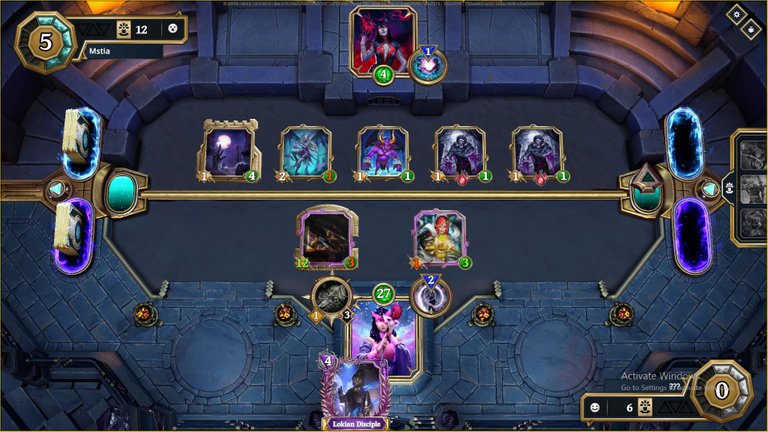 Unstoppable buffed Whisper Baron with strength 12 on turn 5
vs Anubians
Very hard. Much depends on the luck of both sides. I try to steal Priestess of Takhat and buff hidden creatures. You need to have nothing to hit against on your side of the board after mana 6 is open when Land of the Dead might appear.
vs Aggro War
Simple: use strength-stealers to weaken the opponent, buff hidden creatures to hit the face. I don't fight for dominance too hard in the case of War.
vs Control Deception
If I play against it, I lose. After that, I wait for several minutes to avoid playing against the same player. I believe you must kill them before mana 7 but this is a hard goal. Hope Whisper Barons will help me to beat Control Deception oftener.
vs Sleep Death
Very hard. But possible to win sometimes.
vs Control Light
I lose almost every time. Happily, I haven't encountered this archetype for a while.
3-Minute Gameplay
Cats are dangerous, especially buffed. But you can over-aggro them as I did in the video:
I was lucky for sure but my opponent mulliganed nice cards as well. But my luck beat their luck. 🙂
Thank you for stopping by! 😎 Comments are welcome!
The header image was created by me by blending Gods Unchained art.
---
---