Gods Unchained Shopaholic Notes. 90$ Literally Dissolved! Hope Upcoming IMX Airdrop Will Cover That :D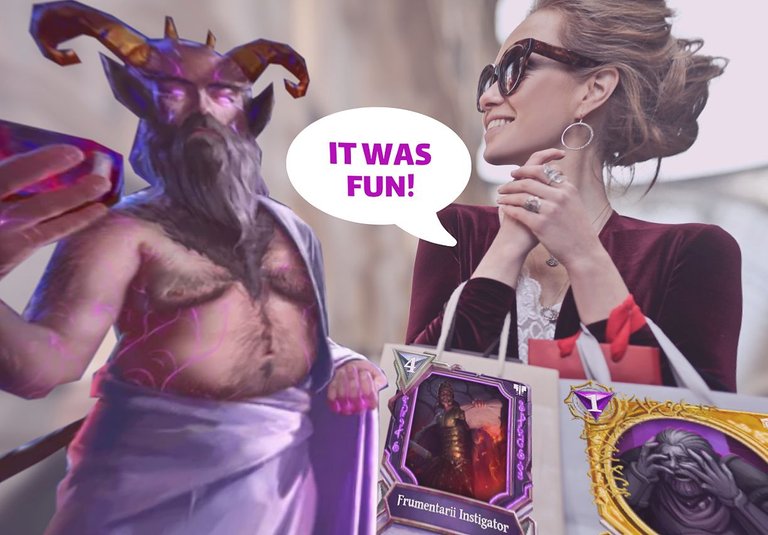 My own words awoke my biggest concern:
I have no chance to get a full shadow deck in the near future. Genesis and Trial cards are too important for my Deception and Anubian collection. Thus, I am a meteorite player so I can relax about all that shinization - from my post Shizination.
So am I a meteorite player forever?
Then, I realized there are key Trial cards I need if I want to play full shadow decks one day: Frumentarii Instigator for Guild Deception and Priestess of Takhat for Anubians. Other old cards can be substituted more or less successfully.
And this was the last drop that made me transfer ETH from crypto exchange to my Immutable X balance.
Other reasons were:
I always wanted to invest extra in GU cards.
They promise IMX for those who trade on IMX market.
3 Doubles of Big Shinies: 49$ Altogether

I added another card to that must-have list: shadow Necroscepter. A relic that fits every Death deck including Anubian ones.
I bought 2 pieces of the mentioned cards. At that moment, shadow versions only cost 2-2.5 more than Meteorite.



I was slightly late to buy shadow Frumentariis for 0.005 ETH each 🙁 - the price I paid for my hesitation. But I got cheap Priestess of Takhat.
Today, the supply on IMX market looks like that:

Yes I Know
I know that I am not going to become rich with GU daily earnings. I guess this will be about paying off in a year or two. It might be like staking, earning a little bit day by day for having your ETH/GODS invested in GU cards and playing. So probably no much reason to spend big money on shiny cards.
But what I did was different: metaphorically, I have bought an apartment above my own one and destroyed the floor there to allow my potted palm trees to grow higher 😀 These palm trees are still small (meteorite) but I can be sure they will have space to grow 5-meter tall and fruit abundantly with high-class dates 😃
Full Non-Leg Shadow Deception, at Last
I boasted recently I bought most shadow versions last months. I didn't have shadow Counterfeit and no shadow Golden Curse + some dubious cards... Ok, now it's solved, I bought everything even a couple of shadow Pray to Win. 7$ altogether.
Look at this cute treasure 😍: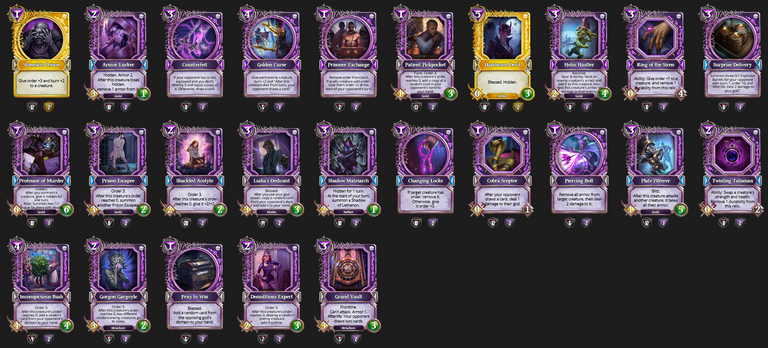 2 Gold Stoneskin Poisons - 7.5$
When I have crypto on IMX balance, I can't stop! Look, there is one certain card that goes with every Deception deck: this is Stoneskin Poison. Still relatively cheap. Two gold ones is a must-have, isn't it?
I calculated that at that moment it was cheaper to buy shadows and fuse them together into two decent pieces of gold.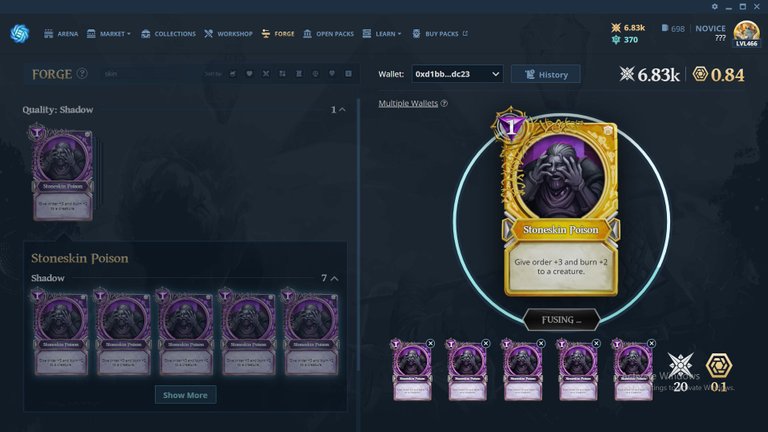 Burn, burn, burn!
Being rich is fun! 😄
This was what I paid for 1 shadow on average:

7.5$ for 2 gold Stoneskin Poisons altogether.
Investment - the Rest of the Money
Hierophant Silenus. A solid one, a creature that can confuse the opponent and, thus, give you an advantage. I bought two, to sell one when the price is up. I was lucky to buy both for only 0.007 ETH.

When/if Casino Deception archetype is strong one day, this card will be especially valuable. Because Casino is supposed to be friendly to anything from other domains. For example, this one is friendly:

So you shouldn't be surprised to see this on my immutascan.io: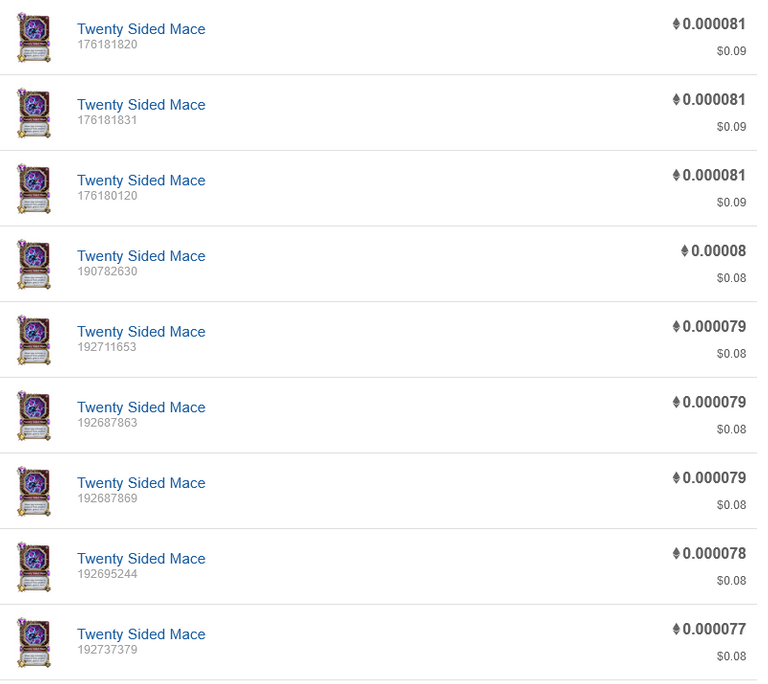 10 cents for a card that will cost 10 USD in two years?? 100x right in front of you!! 😀 You have missed BTC, ETH, don't miss that!! 😃
Do your own research, never believe NFT shopoholics like me! 😃
I bought 5 more pieces of meteorite Counterfeit, 3.5$ altogether.

This fridge is full! 😃 Waiting for the next bull market!
Frumentarii Researcher, 2 meteorites, 2.6$ to sell as soon as they are expensive.

Old Death Cards to Play
My second kingdom is Death and I am still collecting interesting cards from Genesis and Trial so, with the rest of the money + some rewarded GODS, I bought these old Death cards, each two:

What I Missed
More Patient Pickpockets to fuse 2 gold ones
2 meteorite Untold Greed for my Anubian deck and
many Core and MJ cards for fusing shiny versions of the most useful of them.
https://twitter.com/x___rain/status/1539667482973437952?s=20&t=cB_dXImL6_20WdpQ5HSL6Q
Hopes for IMX Airdrop
I actively trade on IMX market and I hope to get some IMX, a hundred would fit.... 😃 I have already made 177 trades since June 2 eligible for that airdrop program. And I have made 1290 trades since I started in December 2021. 😃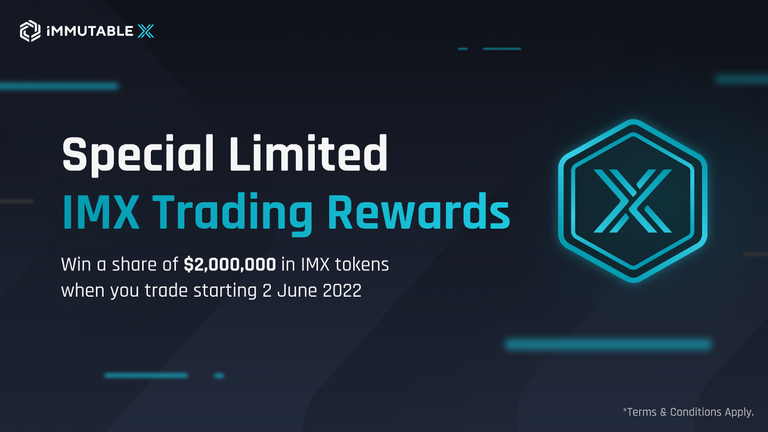 Risks
I have promoted GU shopping above... But I hope everybody understands the following: new cards can be nerfed, old cards can outdate. I personally believe that Gods Unchained will succeed and everything will grow higher and thicker but I don't know for sure... DYOR and play Gods Unchained 😎 Thanks for stopping by!
No copyright issues as always on my blog! 🙂 For the header image, I used that photograph from pexels.com
---
---