Rain in Bangkok. Street Photography Walk
I was having another one-hour bus trip from Bangna District to a more centrally located area, Sam Yan BTS, when I noticed that the sunny day suddenly died and turned into total grayness. My plans for the golden hour died with it but I also had time for a night walk so I didn't get upset.
Only when I left the bus, I noticed that the northern part of the overcast sky was occupied by black clouds. And that gave me hope for good fun - for a long time, I had been wanting to take images of Bangkok streets during tropical rain. But the fact of rain itself isn't enough - you must be at a proper place: below a shed with enough square meters around for choosing a position, the opposite side of the street must be interesting as well as the whole area must be colorful as well. It's also hard to plan such a thing since rains are capricious, they can start for ages; sometimes, everything looks a preparation to precipitation but it doesn't rain for the whole day.
I was thinking this during a stroll and evaluating buildings I was passing by from that point of view. In half an hour, I saw a sign "WC is at the second floor" and went into the building thinking "if it rains, the place isn't bad". And I was right: when I came down from the bathroom, it was downpouring to the full extent.
A street shop on the opposite side of the road was already covered with additional plastic; a tuk-tuk driver had stopped his vehicle near it and was hiding behind lowered plastic curtains.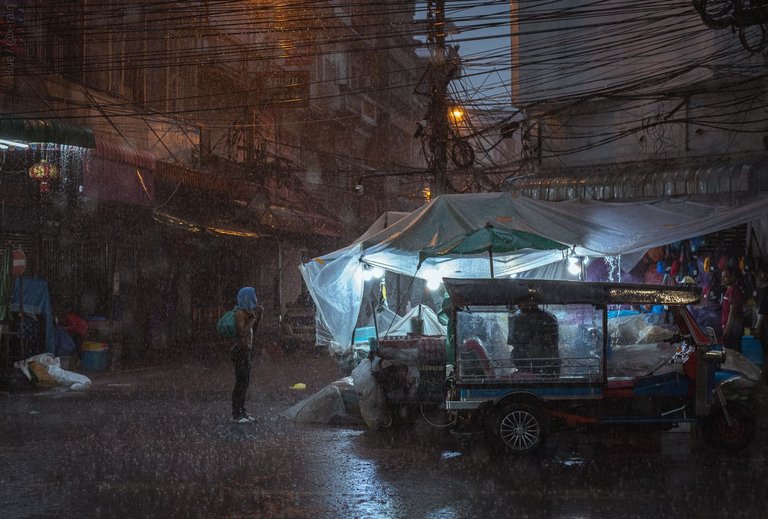 A passerby, instead of being under a street shed, was walking with his T-shirt on his head instead of a hat, and with a plastic bag on his back. Old block houses, blackened by age, with heavy architectural details, and all those black wires like a cobweb hanging above the scene. I think there's a lot of rainy Bangkok in this image.
There was another spot I could take images at without going out into the rain, this door with the rainbow shed: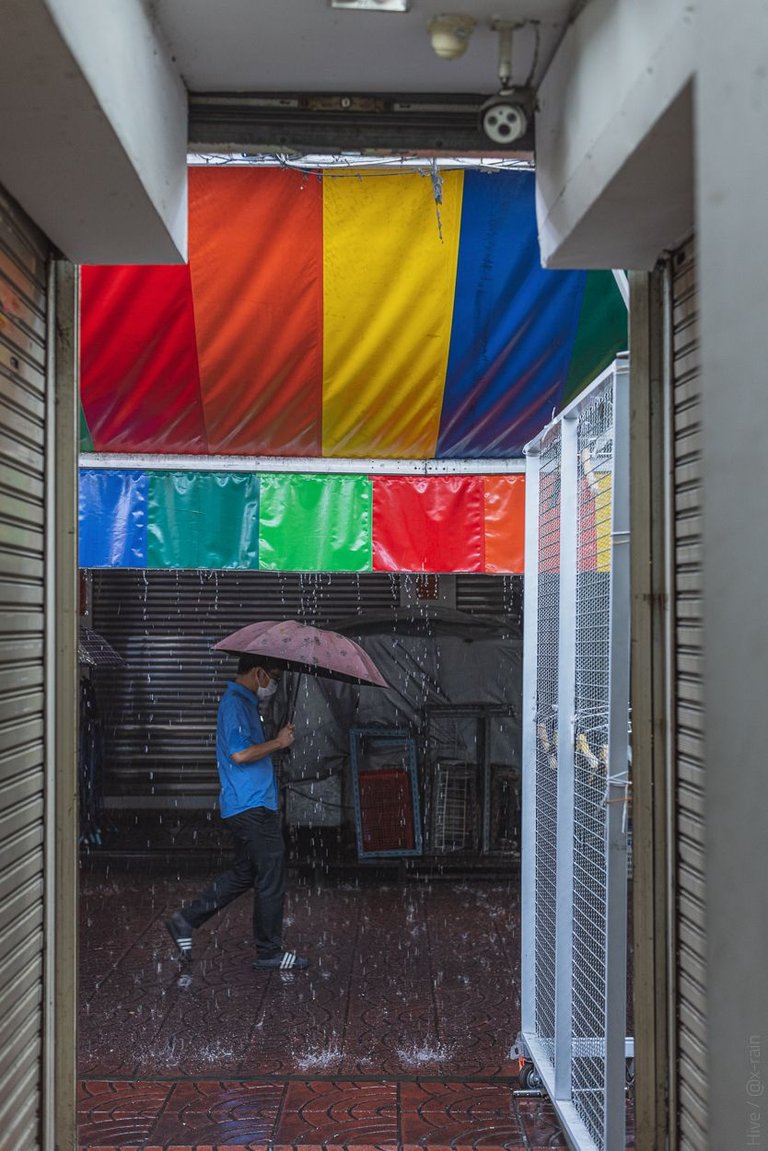 I couldn't know who was going to pass that frame so I was taking images blindly hoping that colors would fit each other in an interesting way.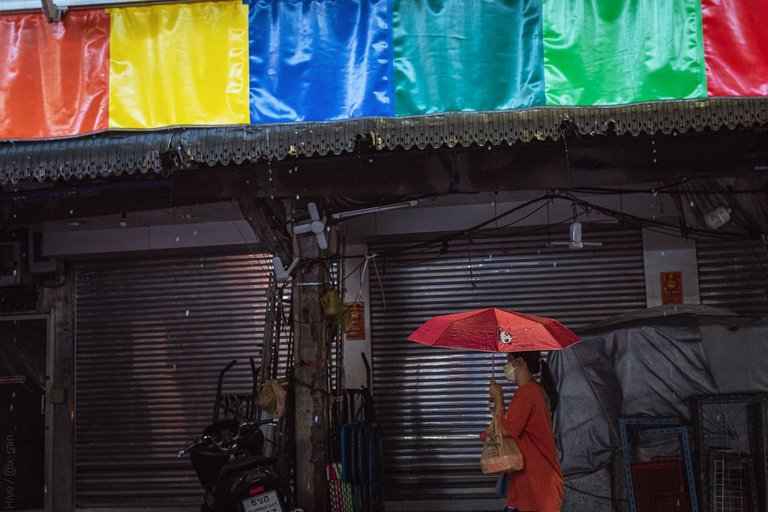 The downpour eventually turned into drizzle and I headed to nearby famous food street called Yaowarat Road. I was slightly upset that the rain stopped. I didn't yet know that there were still two hours of rain to come.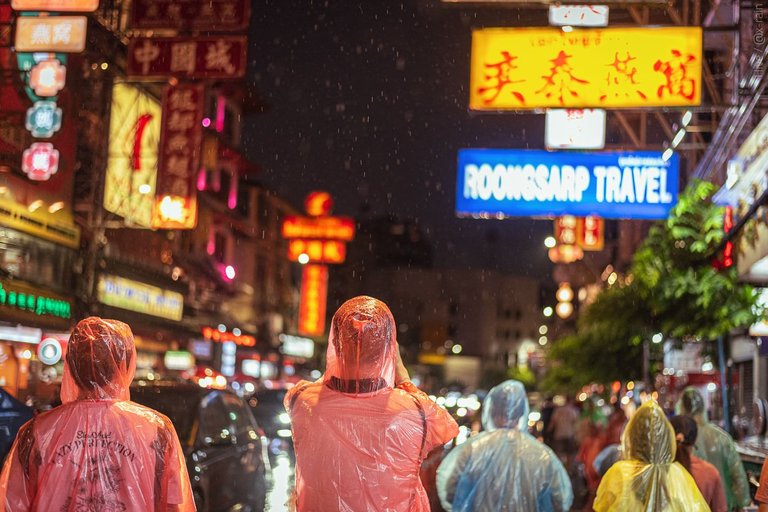 The noodle trade that day did not go well on Yaowarat but sellers of plastic ponchos, who, like mushrooms, quickly appeared out of nowhere, obviously made a decent profit.
My walk in Yaowarat started with photographing that girl playing synthesizer: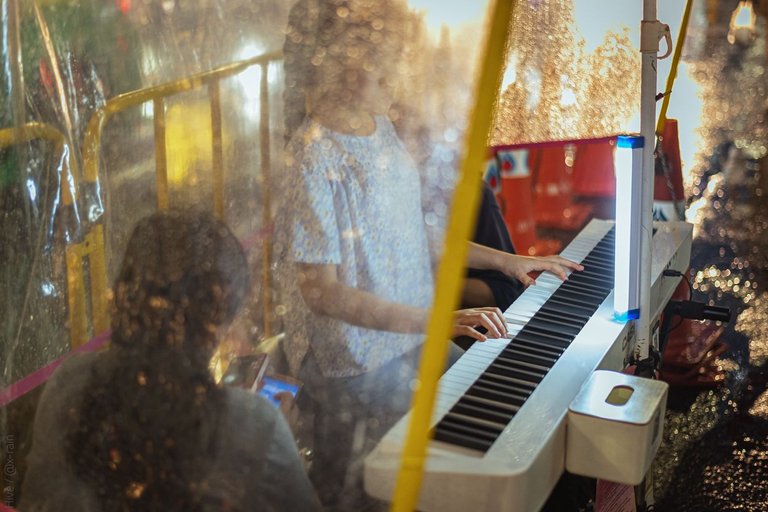 Every time I am on this street, she plays. Without joy with the dead face. I feel she's exploited by her family. It looks to me this way at least.
I was fascinated by the face of a young man, which I spotted between two black umbrellas, and I decided to sneak a picture: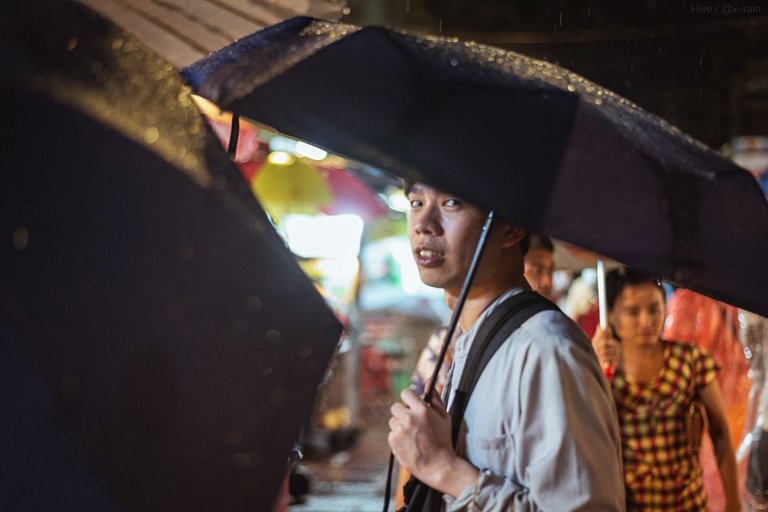 He noticed me in surprise but, then, warmly smiled at me in this special way.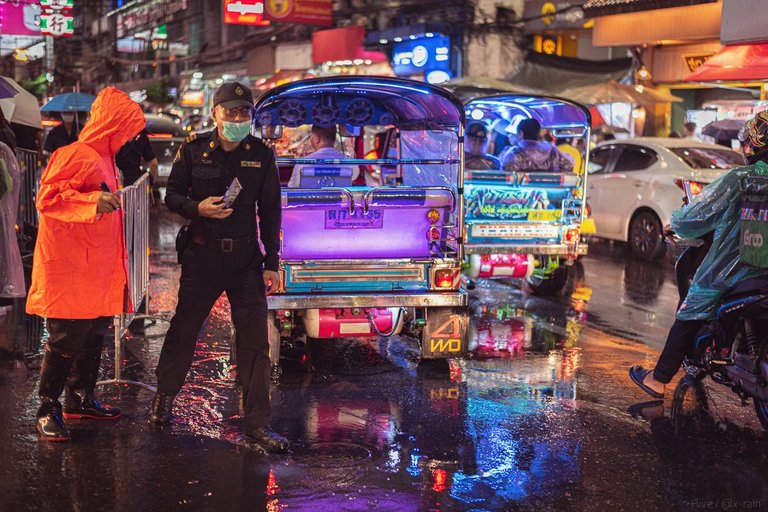 Keep walking. Bright ponchos, colorfully illuminated tuk-tuks, neon signs, and puddles reflecting all this: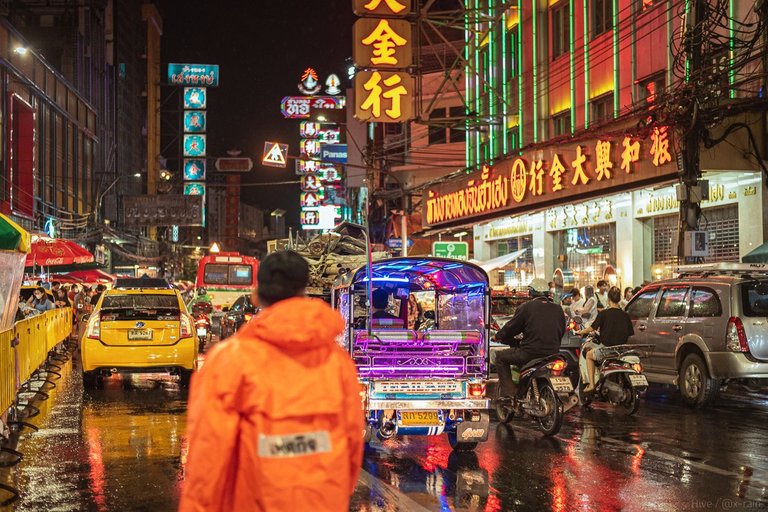 And, at last, that lady, with another type of "umbrella":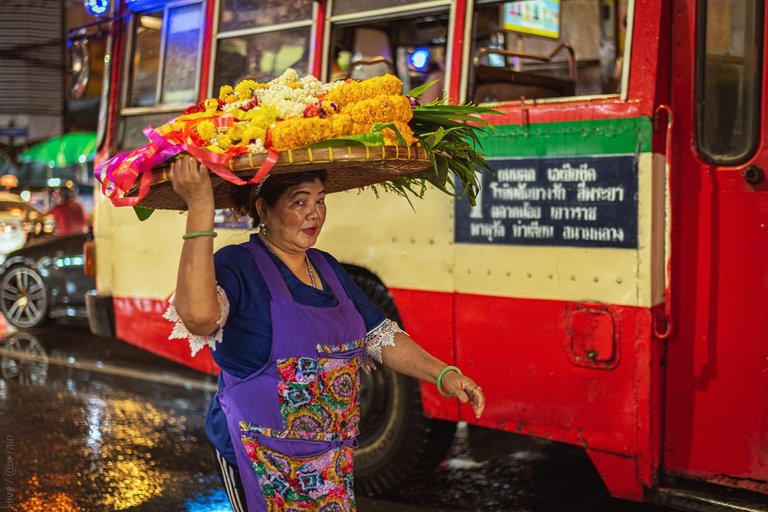 She was so gorgeous, so energetic, floating towards a coming red bus, that I openly took her images at the moment when she and the bus got combined in the frame.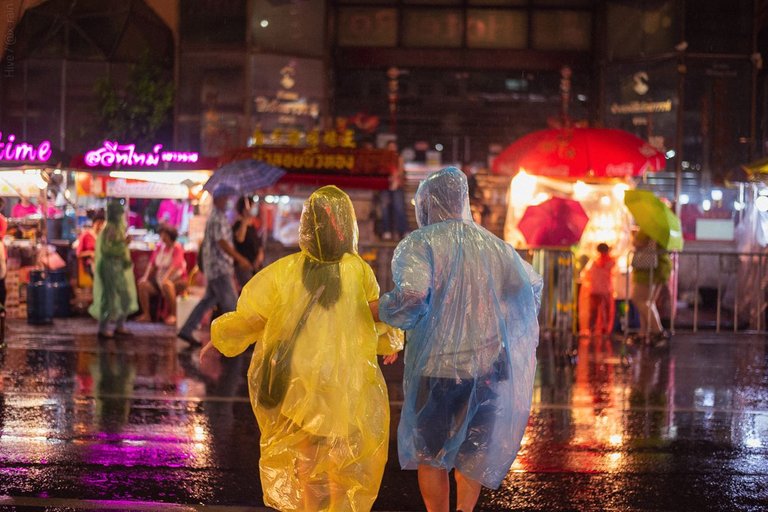 Then, I found this amazing red umbrella and started waiting something red passing the frame, and this happened: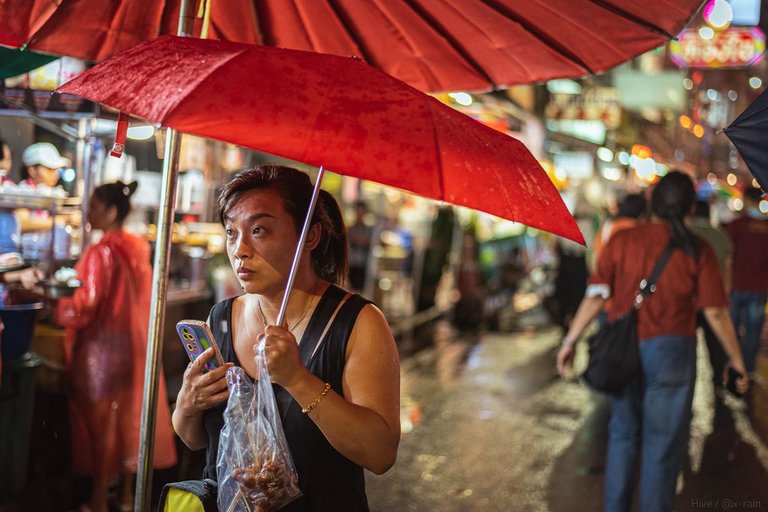 By 8 pm I had been walking around for two hours in a wet T-shirt, with wet feet in my slippers, and also hungry. I began to freeze, believe me or not, although it was 28 degrees. I could have stayed an hour longer, but my battery was already low and, after eating spicy fatty rice with pork from 7/11 convenience store, I went down to the subway.
More stories from #Thailand are ahead! Check out the previous ones on my personal Pinmapple map.
I took the images on September 9, 2023 with a Nikkor 50mm f/1.8G on a full frame Nikon D750 in Bangkok, Thailand.
---
---