Apricots and Street Photography (15 Images). Bicycle Trip in St. Petersburg with 24mm Lens

That day, I decided to cycle without thinking "where to shoot today". I allowed my legs to choose the direction, and the day, as a result, turned out to be very pleasant.
I zigzagged in Chekushi, crossed the Neva River over Annunciation Bridge, and cycled further to the South until I was noticed near Sennaya Square.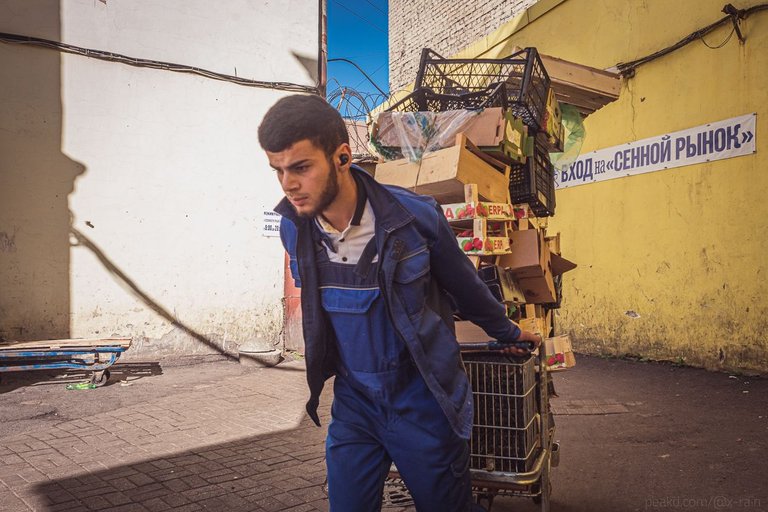 Handyman at the Sennoy Market
I explored a yard where a praying room for Muslims is located. Google.maps say this is actually a sort of biggish mosque. I found nothing pretty there: no good light in the evening there and a strong smell of rotten veggies in boxes brought from the nearby Sennoy Market.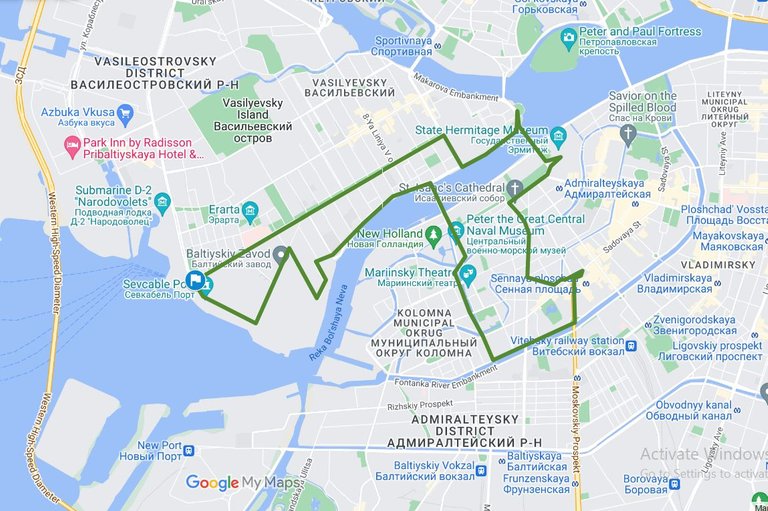 My route, 16.5 km
Of course, I couldn't resist the temptation of practicing my oldie Nikkor 24mm f/2.8D at the market. I locked my bike at the entrance with the thought "if they steal this creaky piece of iron, then it's ok" and headed to the photo adventures.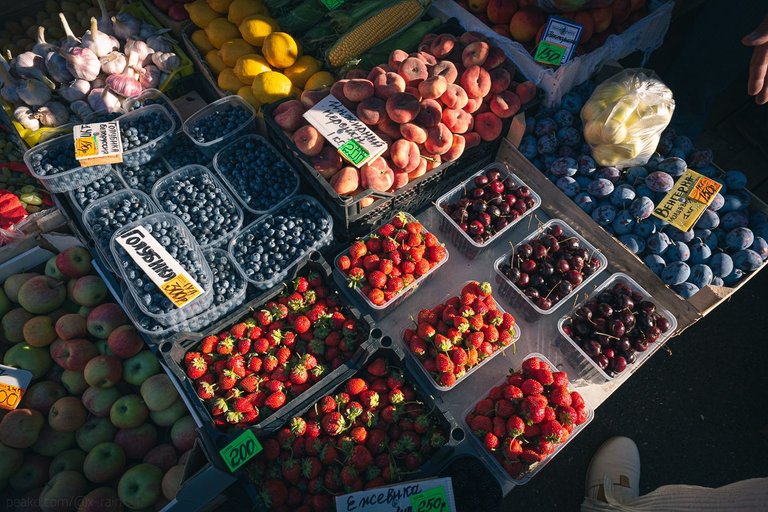 Not the cheapest fruits but well-lit
When I saw some price tags I turned upset. Some seasonal fruits & veggies cost 2-3 times less there than in convenience stores I usually buy food. For example, apricots costs 120 rubles (1.7$) in a shop called 5chka while you can buy them for only 40 rubles (0.6$) at the Sennoy Market these days. (It was 6 p.m. - quite late, it could play a role too - maybe vendors set sellout prices in the evening as someone later told me.)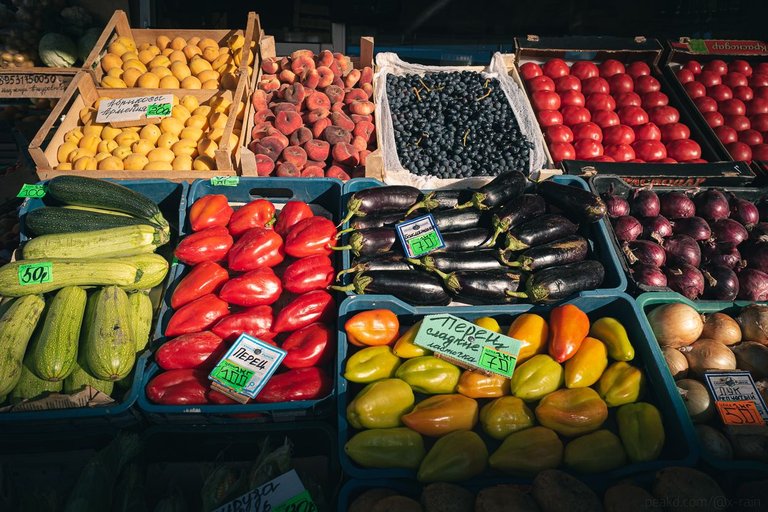 I wanted to have a photography trip without much weight on me so I thought of leaving without purchases but eventually ended up buying 2.5 kg of apricots from Uzbekistan.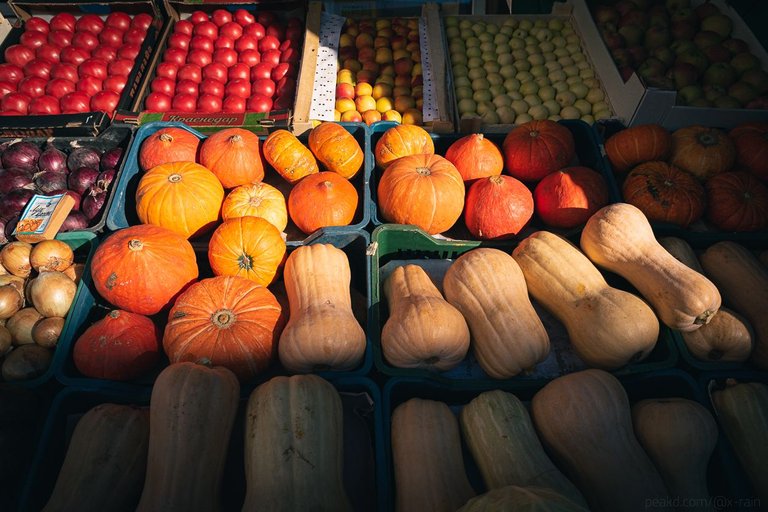 Then I paced back and forth looking for the sunniest views of the stalls.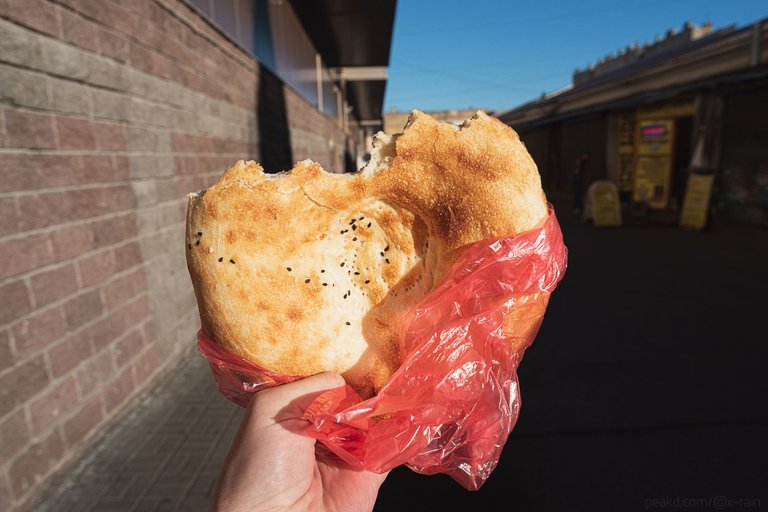 I also tried a Tajik (or Uzbek?) pastry but the meat in it wasn't that really fresh - probably, I should have thought about recent heat before buying a pie with meat. Then, I bought bread (in the image above) and it was amazing, hot right from the oven and so fragrant - I ate it with water I had with me - a great lunch. The bread's price was 30 rubles (around 0.4$), "лепёшка из тандыра" in Russian.
Find more details about the market in the recent post by @qwerrie.
A part of the apricots got mashed in the plastic bag so I decided to "save" them by eating at the spot. I couldn't wash them but ... I wanted them too much... I remembered about potential rats and pesticides but it didn't spoil my appetite at all. 😃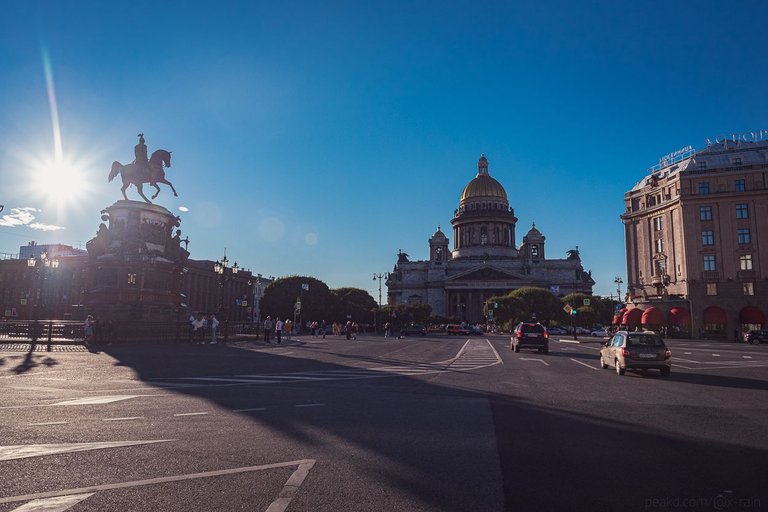 My small trip to Central Asia was finished and I cycled to where my legs wanted to bring me. It turned out to be St. Isaac's Square.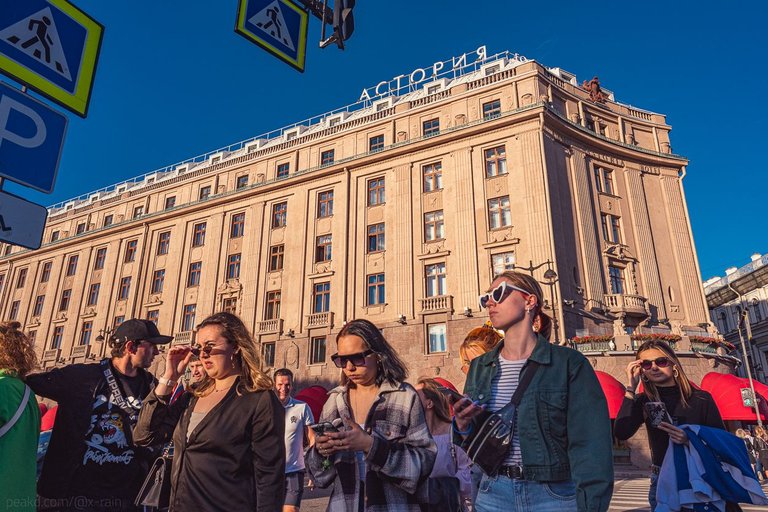 This place is full of travelers from other parts of Russia as well as locals. Much activity, much happiness there because the place is beautiful and the day was the nicest, and many people were taking selfies, and I took one, too: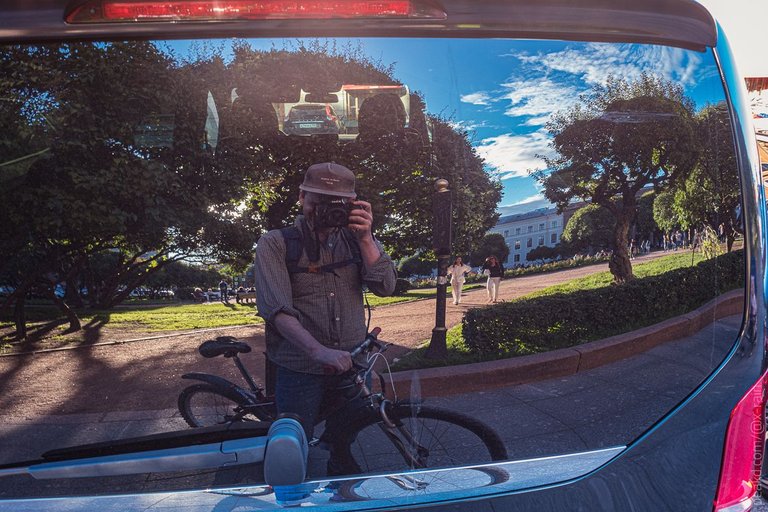 Ok, this is me.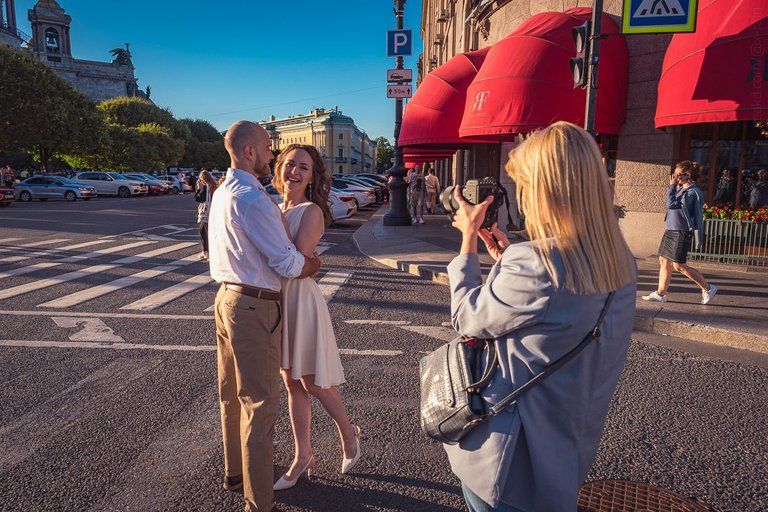 This image, I took right from the bike, the girl noticed me and turned even happier, probably feeling herself right in the middle of Petersburg's romantic fairy tale.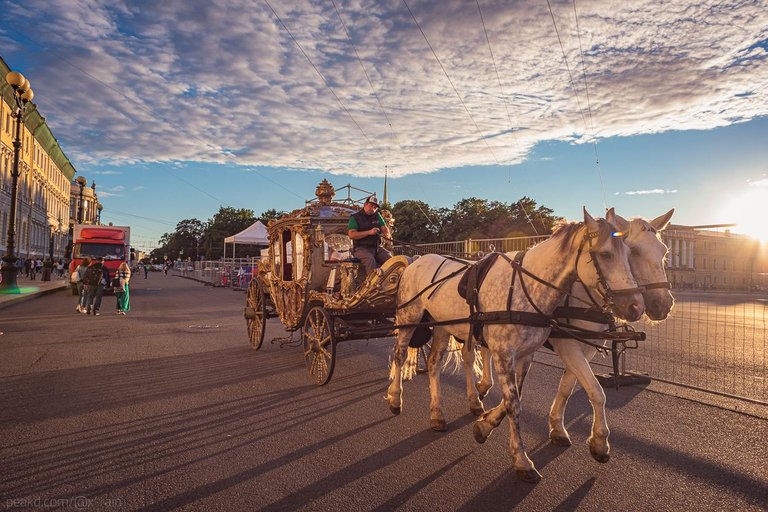 But if you prefer more modern vehicles, you can try a retro taxi: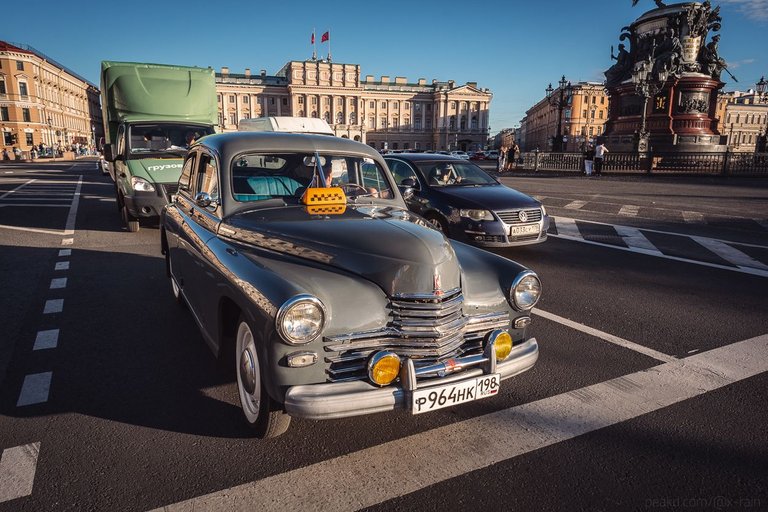 They also offer motorcycle tours with those fat tatooed bikers as drivers. Everything for the vacationer!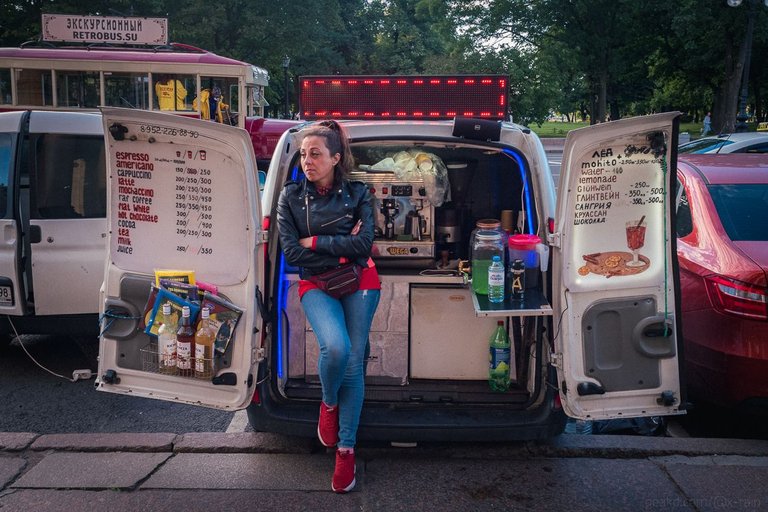 For locals, the fairy tale is more routine. I liked her expressive posture and couldn't resist sneaking a picture.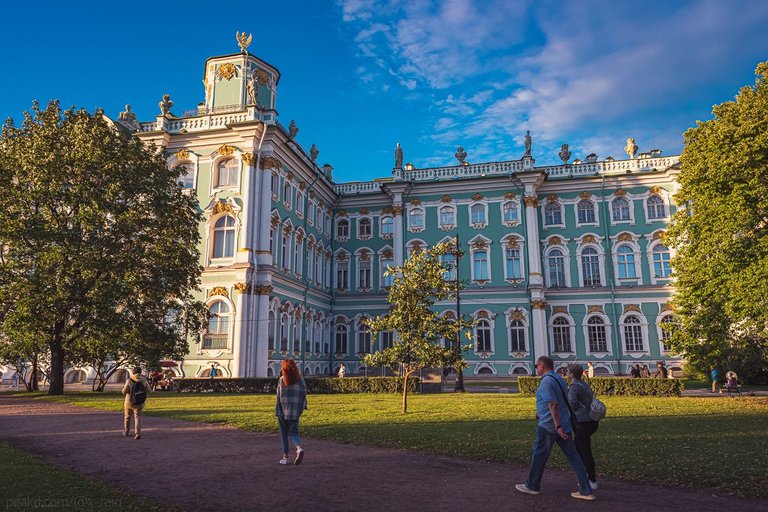 8:25 p.m. last sun rays lying down on the Hermitage.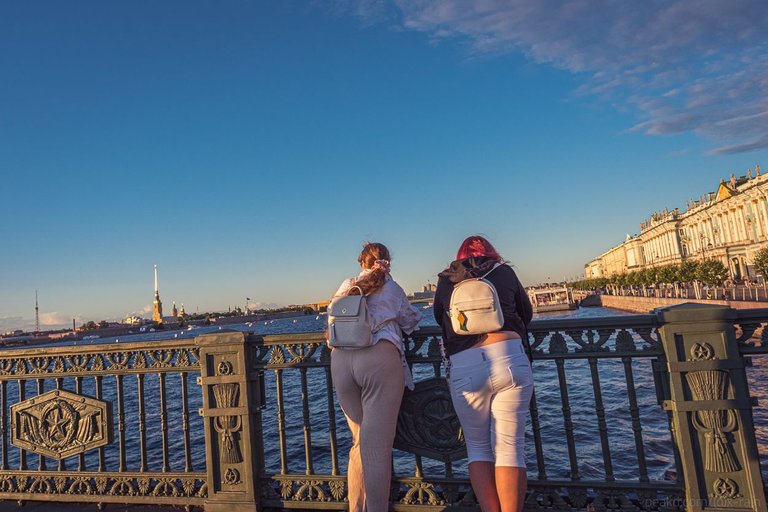 Crossing the Palace Bridge and taking images from the bike. The Neva River, the Hermitage, Peter and Paul Fortress.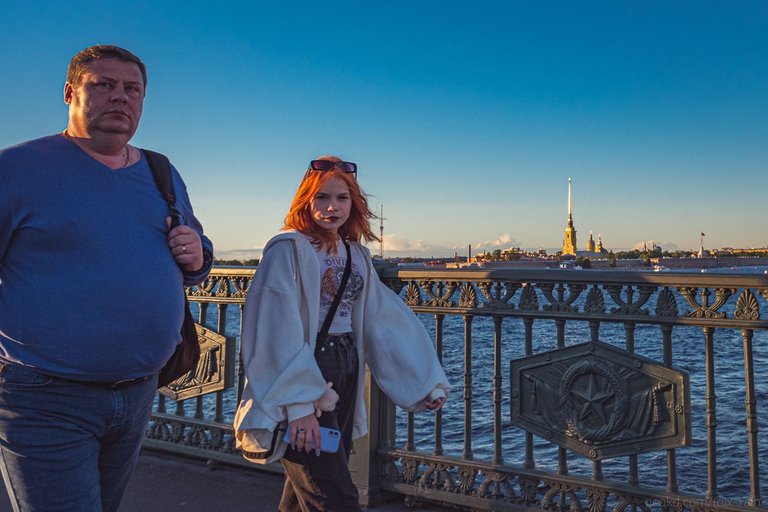 Soon, the light left the streets and bridges and was touching only the roofs and spires, and I was cycling back home at that time.
I took the images with a Nikkor 24mm f/2.8D on a full-frame Nikon D750 on August 7, 2022, in St. Petersburg, Russia.
---
---