In Palace Square, St. Petersburg. Venezuelans, Empresses, Dancers (18 Images)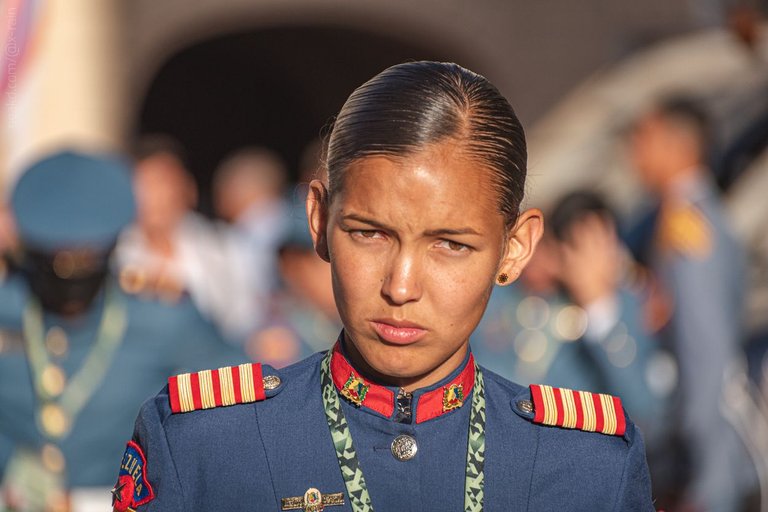 My last bicycle trip (on August 11) in the historic district of St. Petersburg began slowly. I found nothing inspiring at the beach of Peter and Paul Fortress - sunbathers were rather in the pack-and-leave mood. I wanted life, wanted street photography but I couldn't catch the right vision: everything and everybody seemed to be dull. I crossed the Neva River over Trinity Bridge, visited a Volchek bakery for a raisin bun with hot black tea (to stop feeling hungry, otherwise I am angry as hell), and arrived to the Palace Square.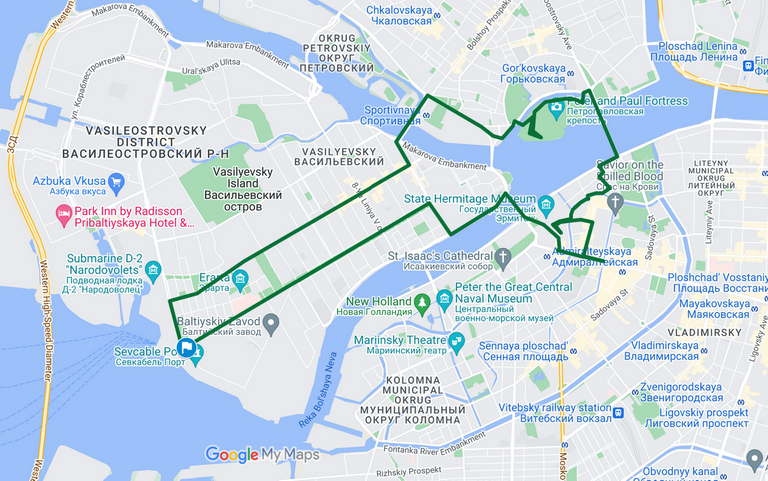 My cycling route, 17.4 km
To that moment, I had only this image I could call nice:
This time I had a telephoto lens Nikkor 70-300mm f/4.5-5.6G on my full-frame Nikon D750
Only one nice image isn't much considering I crossed half the city center.
I thought "I am too long in this city" and felt that it wasn't the right day to take images in the street. And I started going back home. Then, I saw this boy: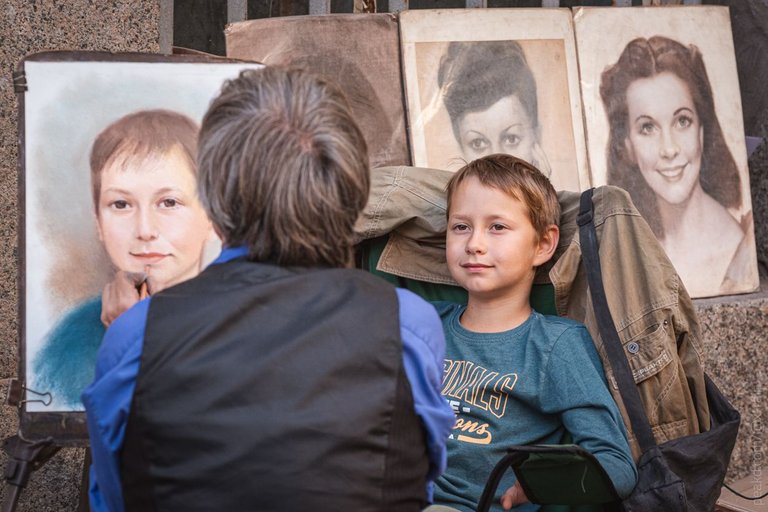 He was trying hard to keep his face relaxed and benevolent to look like an exemplary boy in the portrait. That made me smile, and I giggled when I took a look at an ugglier version of the boy in the portrait - a silly forelock, crooked smile, larger eyes too wide apart. The only win of the artist was that she caught well this funny expression of the boy's face. That actress on the portrait behind, she understands this too and grinning with me! 😁
I canceled going home and started "hunting" in the Palace Square and the nearest surroundings: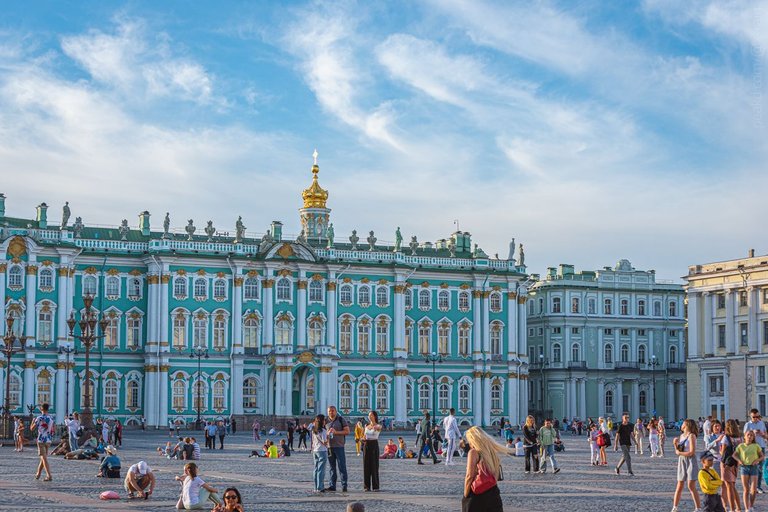 Hey, someone plagiarized my belly 😀: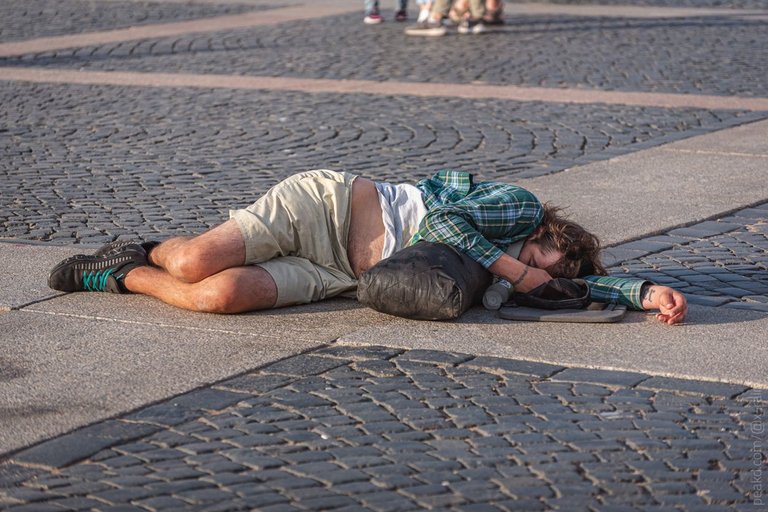 Then, I found this amazing international crowd leaving Capella and heading to buses in the Palace Square. Young Africans, Asians, and other foreigners, all in uniforms. I noticed flags of Syria, Venezuela, Myanmar, Iran, Belarus. Best dictatorships in one place! 😁 It was clear to me that there had been a sort of ceremony of a sports competition among military guys from countries-henchmen of the Russian dictator. But let's forget about politics and just look at these cool faces.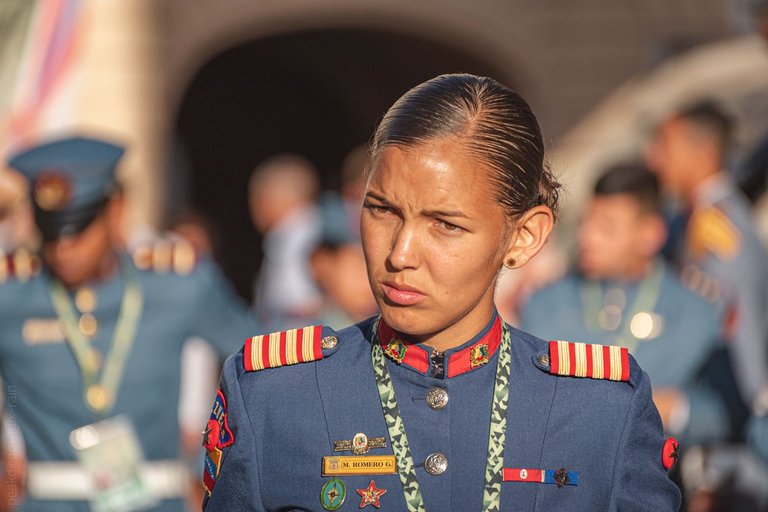 People in beautiful uniforms, with the proud posture, stern Latin American faces lit with orange sunrays of the low sun... I felt like being in a movie!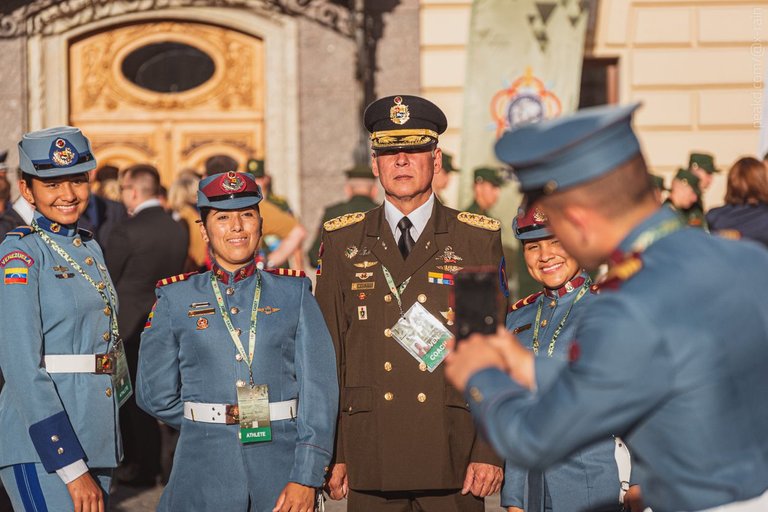 This guy looks like a colonel from Hollywood movies about Latin America 😮😃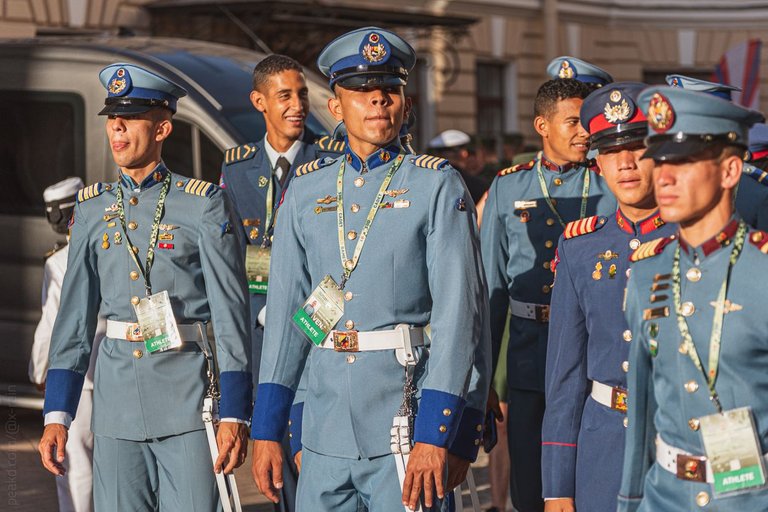 Am I wrong, or there are two couples of twins in the image?
These international people left soon so I had not much time. My heart still bleeds when I remember slim African military girls who were amazingly dancing for their pleasure, just for fun in the Palace Square... I didn't immediately take an image and had no chance later... Ok, let it be in my heart...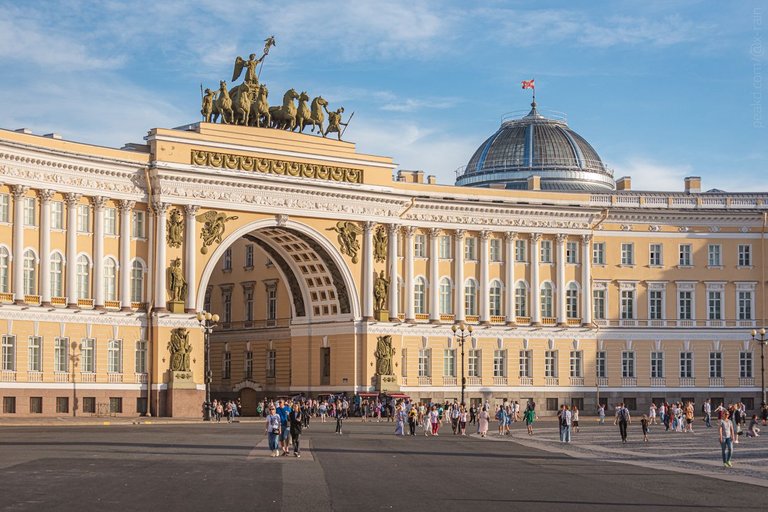 Invasion of Dancers
The Palace Square gifted me another group of costumed people: dancing girls with a youngster videographer shooting them. Probably, for a music video. I and several other people with mobile cameras approached to take images.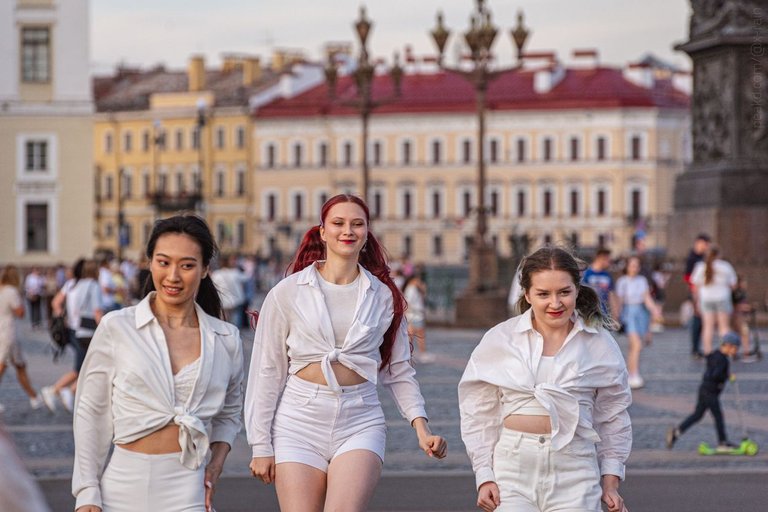 They danced well in sync. Despite the share of the ridiculousness of this sudden show, the action looked fun.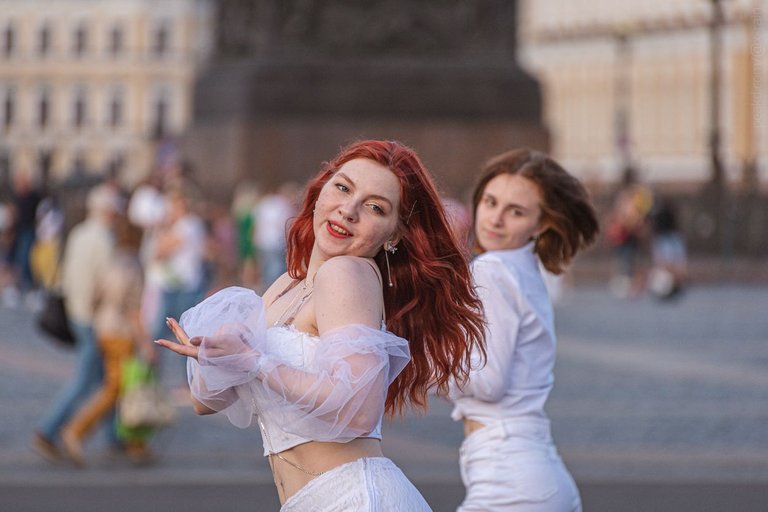 The leading dancer was lovely but my heart had been already taken by dancing African military girls I mentioned.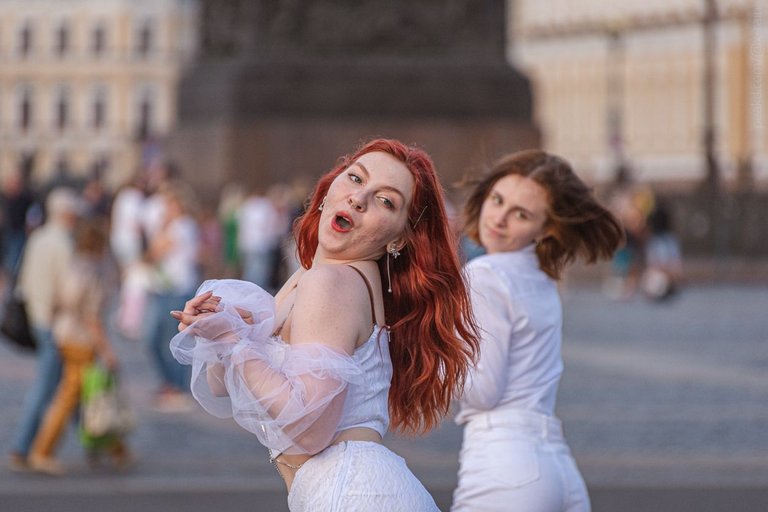 😃
Well done girls, it looks neat!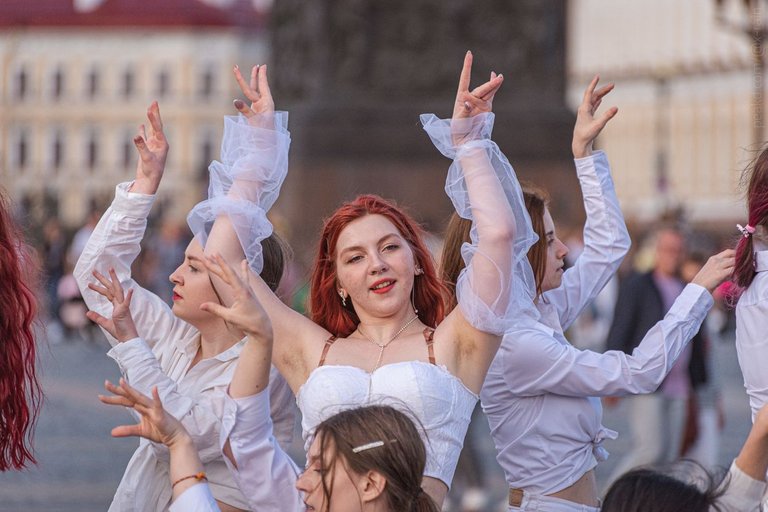 Except, these open armpits do not add elegancy. It would be better if they were hidden in my opinion.
Emperor and Empresses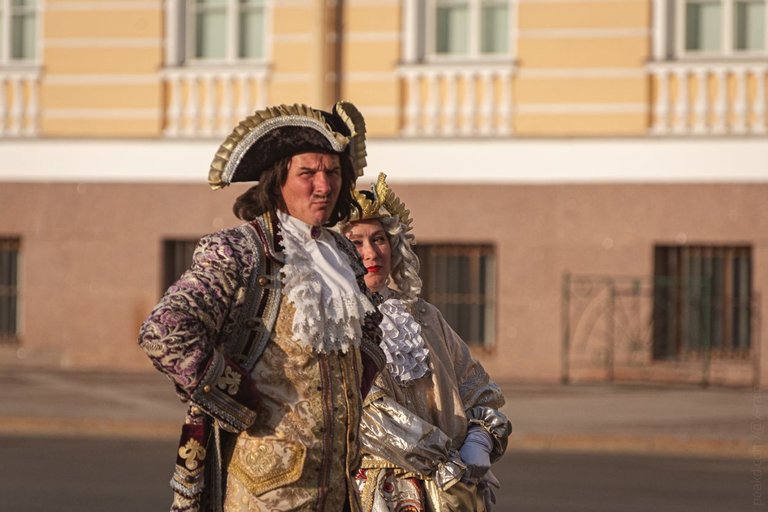 Peter the Great and Catherine the Great, always several ones in the Palace Square.
Their work is to friendly and deftly impose themselves for tourists as an object for photographing and, then, change a friendly tone for a business one and demand a generous fee. Mass media reports that sometimes these guys can be harsh (for example). Some people would even call them scummers although their job isn't illegal. What I know for sure they regularly make visitors of St. Petersburg upset.
At the same time, their costumes are beautiful and their rogue faces add a flavor to the Palace Square.
They don't like I am taking images of them in the image above. It could be because they are thinking I must pay or they are afraid that my images could be for the police. Or maybe both.
But look at this woman, she is acting for me: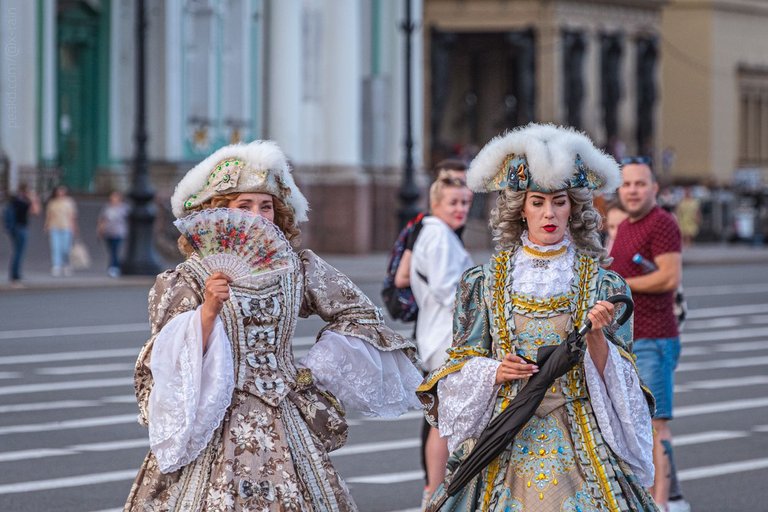 How charming she is, isn't she?
Of course, these dresses and work must be paid but, probably, in another way. Maybe, the city government could pay salaries to these guys?
When I was cycling home, a driver of a passing trolleybus swore at me through the open doors, and I gave him the middle finger in the rear-view mirror. But it could change nothing, my battery of positive energy was at 100% thanks to that great time in the Palace Square.
I took these images with a Nikkor 70-300mm f/4.5-5.6G on a full-frame Nikon D750, on August 11, 2022, in St. Petersburg, Russia.
---
---