Street Photography Walk on Khaosan Road, Bangkok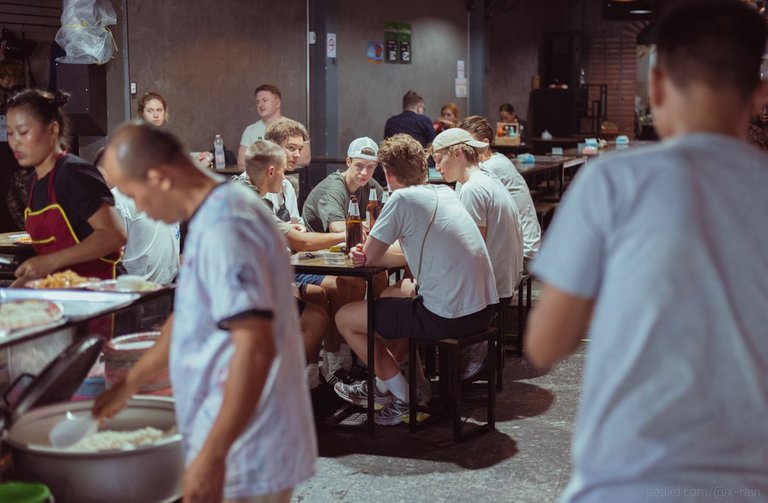 I was walking down an alley in an area full of backpackers when I saw this scene. I recognized their story in a split second. Without stopping, I chose a moment and took one frame on the go.
Nikkor 50mm f/1.8G: Manual Mode, f/1.8, 1/320 sec, ISO 2500.
I don't know if you see this since you maybe don't have my Asian traveling experience. So... This is a group of youngsters who went on an adventure to Asia for several months most probably, in the status "traveling at last without parents". They arrived in order to have booze every day, get stoned every day (Thailand recently legalized weed), drive a rented motorbike as fast as possible, and meet girls probably including ones who take money (because this is a challenge).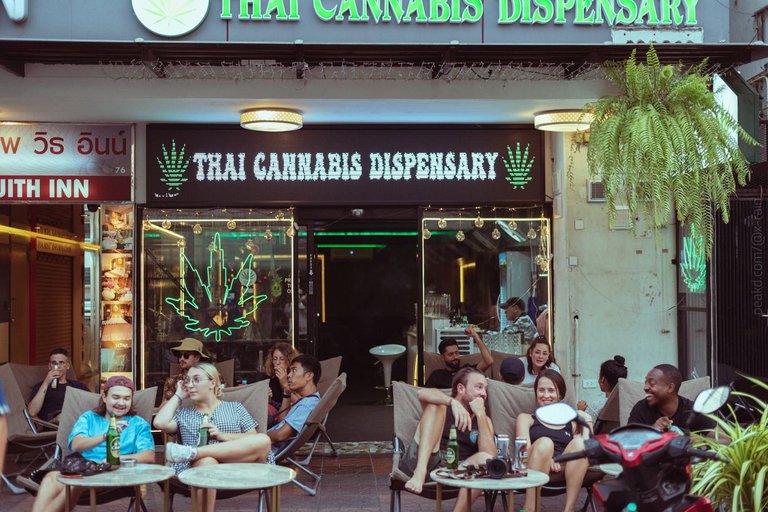 Weed cafe (dispensary) on Khaosan Road
Some of them could know each other in their home country and, after arriving in Thailand, they could flock into a bigger group with other guys they met at the hostel.
They are having beers, probably discussing some decision, and the whole night is ahead...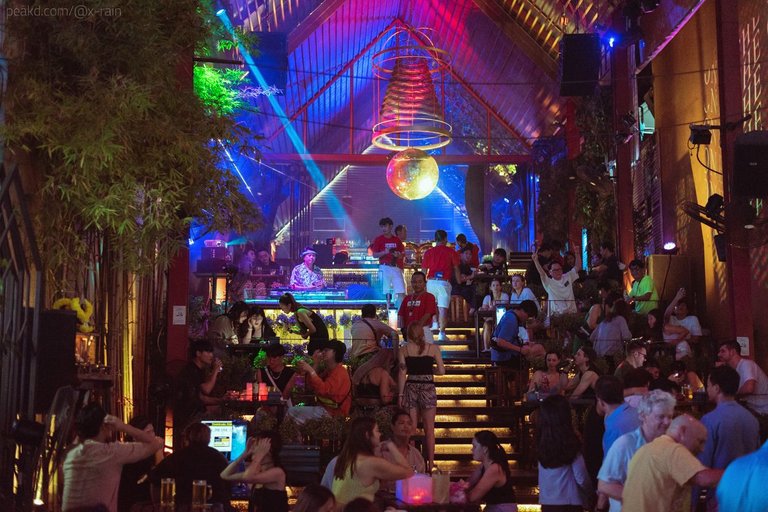 A bar with loud music on the same street
This was on March 3, 2023, on Khaosan Road, a street and adjacent alleys that have much to offer to foreign travelers, especially, young people on a tight budget.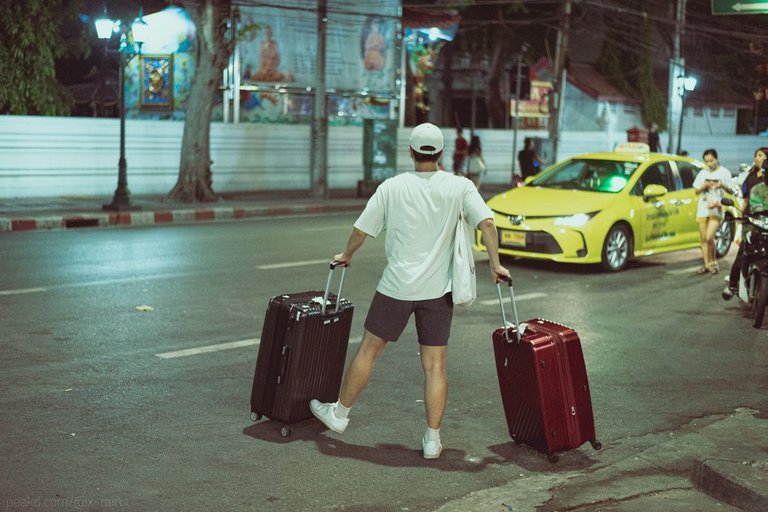 Not always with the backpack on their shoulders
Hostels, restaurants, night clubs, weed shops (since recent times), a ton of street T-shirt shops, street vendors of souvenirs, etc.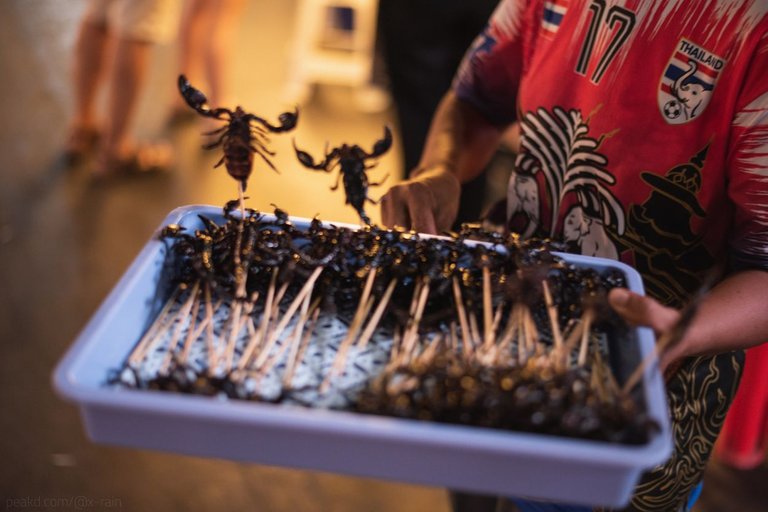 This is a street vendor selling snacks made of scorpions, 100 baht for a piece. Not many people want to try, too many people want to take a picture. For that reason, some sellers have a sign "PHOTO 10 BAHT". (I guess this is designed more to extort money from the foreign simpletons than to prevent photographing.)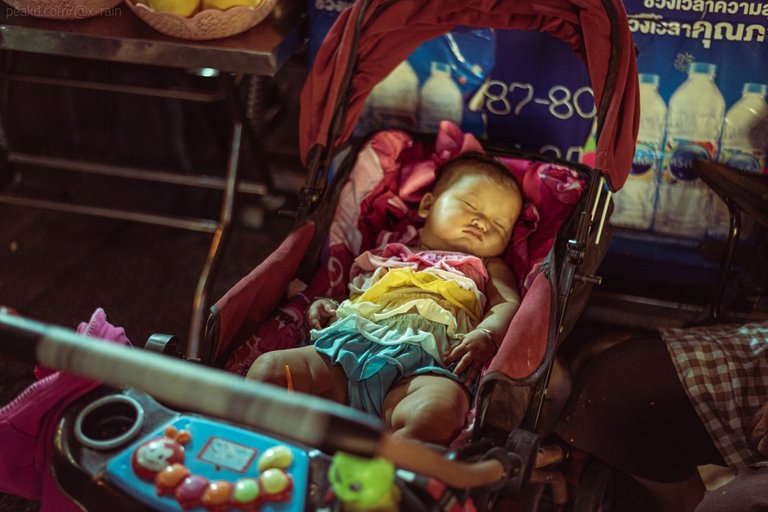 A baby of a street vendor sleeping at her mom's working place. Why not? It's +28°C (82°F) there.
Although, young travelers are the majority on Khaosan Road, you can also meet people of all ages there including travel veterans who probably knew Khaosan Road in the times described in The Beach movie (with Leonardo DiCaprio).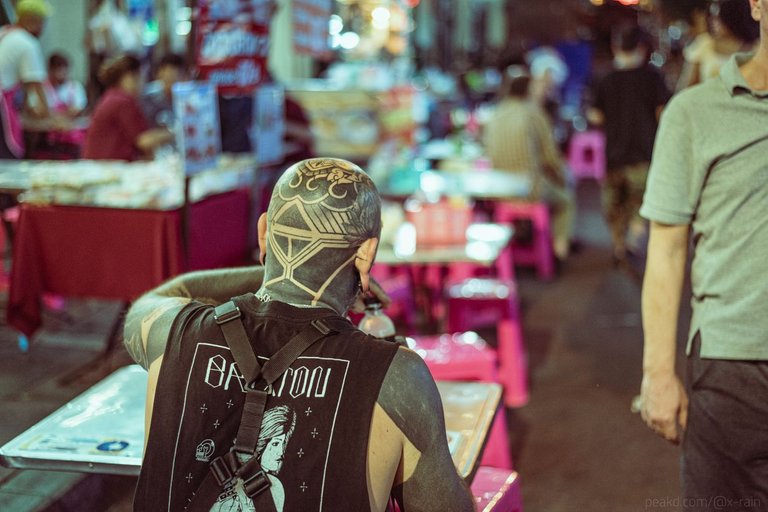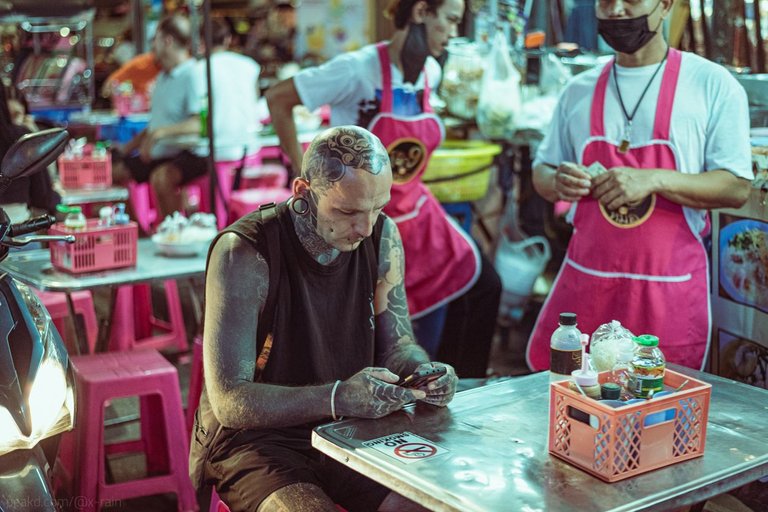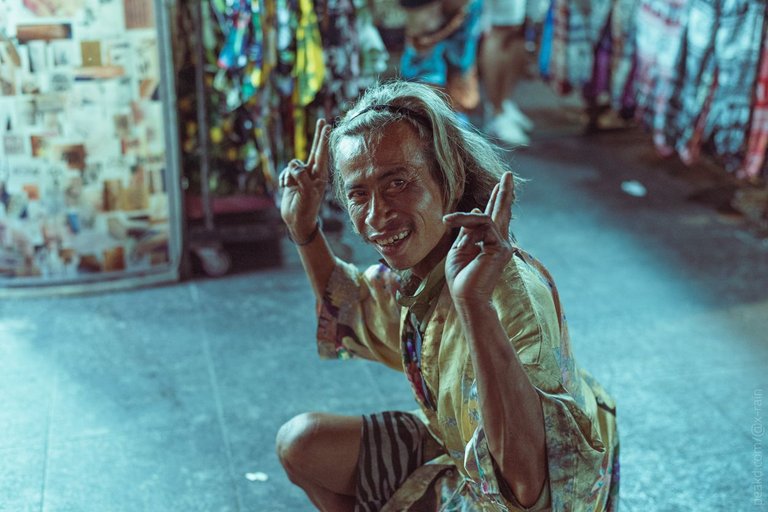 Bright characters are regular on Khaosan Road and this is one more reason to visit the area.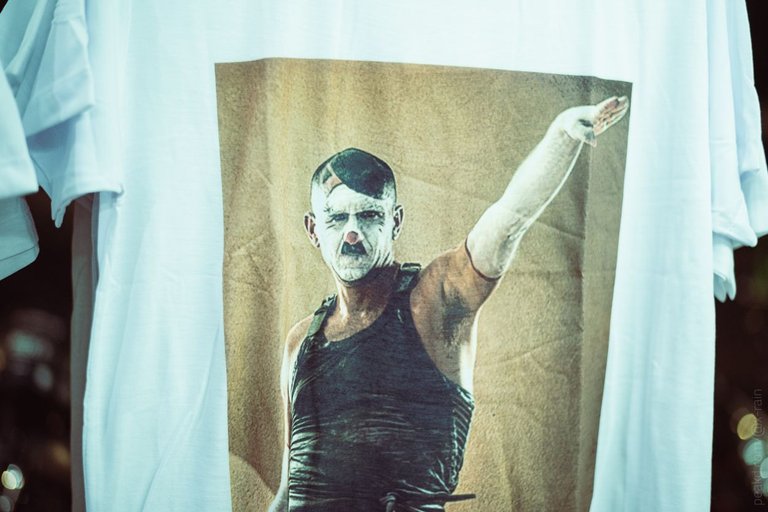 A design of a T-shirt, on Khaosan Road. Thailand and Southeast/South Asia overall have less taboos on this topic - the WW2 is rather an episode of long-passed history here.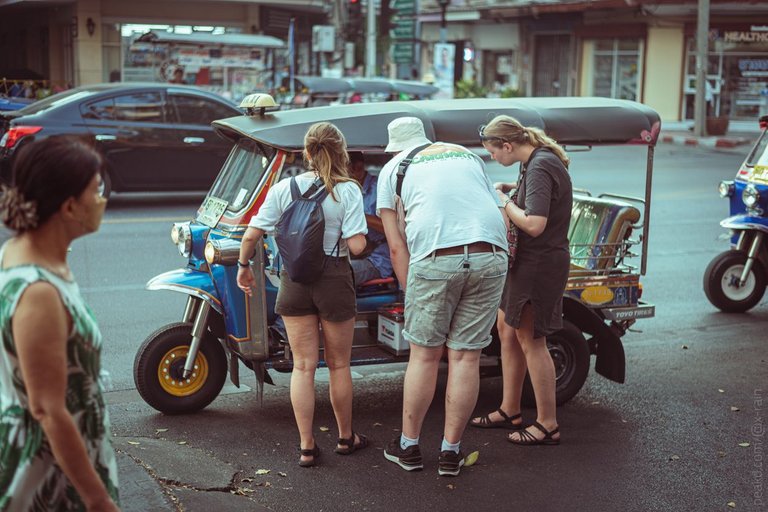 Another typical scene on Khaosan Road: youngsters negotiate the trip price with a tuk-tuk driver. Colorful tricycle mopeds, tuk-tuks, are part of Khaosan Road landscape. Not the cheapest mode of transport in Bangkok though but newbie travelers don't know it yet.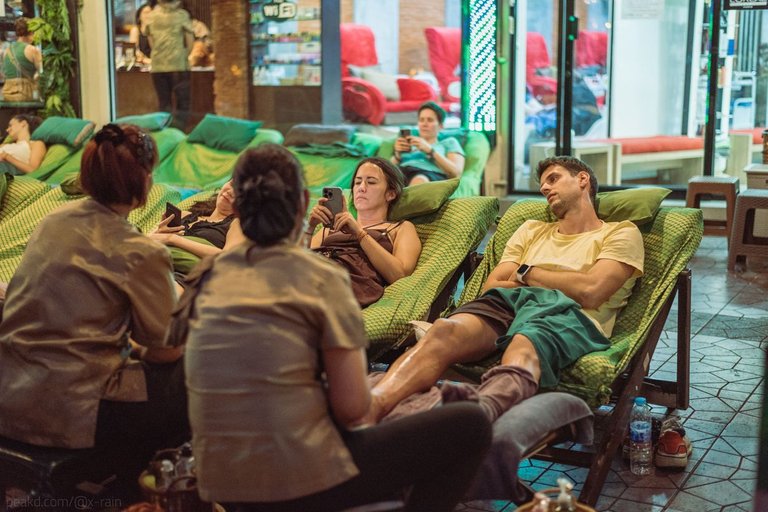 Khaosan also offers massage (women shouting out gently "massaaah").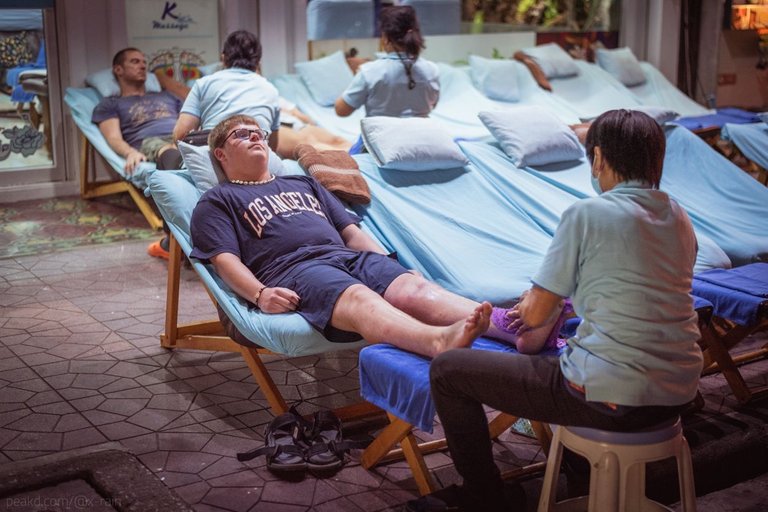 Travelers are lying on deck chairs right on the street - an easy target for a man with a camera. 😃
Khaosan Road has become a common noun among travelers, and not always the connotation is positive. The meaning can be a street or an area of inauthenticity specially designed to satisfy demands for entertainment of newbie or superficial travelers from (rich) countries. But in my opinion, this is a too categorical judgment.
For me, Khaosan Road is first and foremost a place to photograph a wide variety of emotions, people of different races and lifestyles, who are experiencing perhaps the best time of their lives. The problem of authenticity is also a sign of the times, and this is another reason to come to Khaosan Road.
More Bangkok stories are ahead! Check out the previous ones on my pinmapple.com
I took these images with a Nikkor 50mm f/1.8G on a full-frame DSLR Nikon D750 on March 3, 2023 in Bang Krachao (Bang Kachao), Thailand
---
---