SPS Governance Proposal # 8 & 9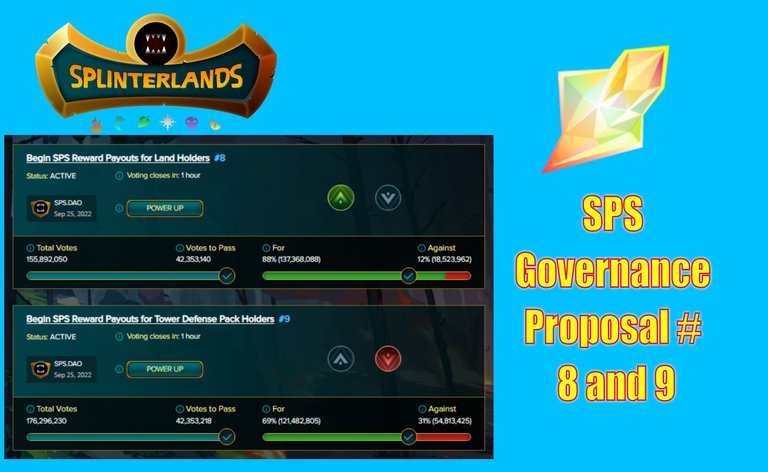 Evening Splinternerds
Its been more than a month since SPS governance voting system started working. It indeed feels empowering to know that community have a say in the affairs. Simply speaking SPS governance voting system gives those who are vested into the game a say into the matters regarding the game. The more SPS stakes you hold the more powerful your opinion is.
Nine governance proposals have been floated since, out of which 5 got passed, 2 failed and 2 are still active. I have participated in most of the floated proposals and voted as I deemed correct for the betterment of the game and personal gains of course. Well that's the beauty of it, I don't have to be answerable to anyone regarding whether to vote yes or no on a proposal. It's just plain democracy at its best.
Two important proposals(No 8 and 9) as of now are currently active. Proposal # 8 relates to start SPS Reward Payouts for Land Holders, whereas Proposal # 9 asks about distributing SPS Rewards to SPLTD packs holders.
Proposal #8: Begin SPS Reward Payouts for Land Holders
Well, this the proposal that many of us were waiting for. Lands presale was like 2 years ago and they are still in development. Although Land deed holders did got fairly compensated from the year long SPS airdrop but still vesting your money in lands for that much period is a great ask and land holders deserves to be compensated more for their patience.
I hold about 135 land deeds, so naturally I have voted yes for this proposal. As of now 2 hours are left and 88% votes came in favor of the proposal. It is certainly gonna get passed and we land holders will start receiving SPS daily payouts.

Proposal #9: Begin SPS Reward Payouts for Tower Defense Pack Holders
Proposal #9 is more of the controversial one here, at least according to the voting results so far.
A part of the community thinks that its too early to pay SPS dividends to SPLTD packs holders. Its been less than a month since SPLTD packs presale ended and may be it is too soon to be paying dividends to tower defense packs holders. Others who have invested heavily into naturally it think that they need to be rewarded for their investment sooner than latter.
I have voted against this proposal, may be because I don't have enough tower defense packs; call me selfish if you like.
With two hours left, 69% of the votes came in favor of it and 31% opposed it. Looks like it is also gonna get passed, unless a SPS whale comes in the nick of time and turn the scales.


Controversial or anodyne, passed or failed it doesn't matter... since the community here is making the tough calls. Anyone who doesn't like it should go and get more SPS in their bank and increase their say in the system or else just acquiesce to the decision of community.

That will be all for today!

What you thing of the two proposals?
Do let me know in comments below👇
👋Adios👋


Posted using Neoxian City
---
---