SPS Holding Ground Despite Bears... What Future Holds For SPS???

Evening Splinternerds
So, SPS price has been hovering around $0.07 mark for sometime now and even the prevailing bulls have failed so far to push the price down significantly. Last month SPS started pumping, following the announcement of Genesis Premier League(GPL) year long airdrop for SPS stackers.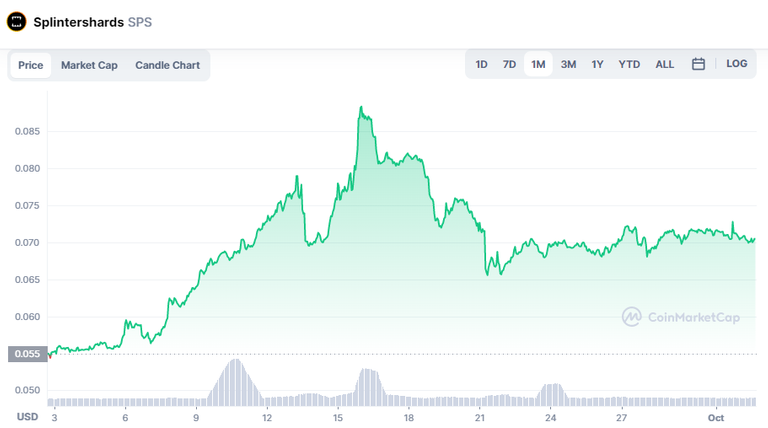 The fact of the matter is that lesser people are willing to sell their SPS, especially now that the GPL airdrop have been announced. SPS stacking stats are a clear indication, as almost half of the SPS total supply has been stacked as of now.
With almost half of supply stacked, the SPS stacking APR in range if 30%+ is still very much appealing. If you ask me, SPS stacking is a better option than those stable coins fixed APRs. Yeah, I am talking about HBD.
Considering the fact that the SPS price held its ground pretty decently so far during the bears, I see it moving only upwards with the airdrop drawing near or may be even if the market sentiment takes a slight bit of bullish turn. Plus once SPLTD goes online, that circulating DEC is gonna get sucked dry quickly pushing its price towards the peg. And as DEC moves above the peg, arbitrage opportunity via SPS burning is gonna come in play. So, more SPS burns can be expected in future; yet another reason to be bullish on SPS.
As of now, I am staking all of my SPS earning to maximize my stakes and be eligible for the bigger chunk of GPL's GLX token airdrop. I am currently sitting at 124K SPS staked and the goal is to reach 150K SPS staked by the end of the year.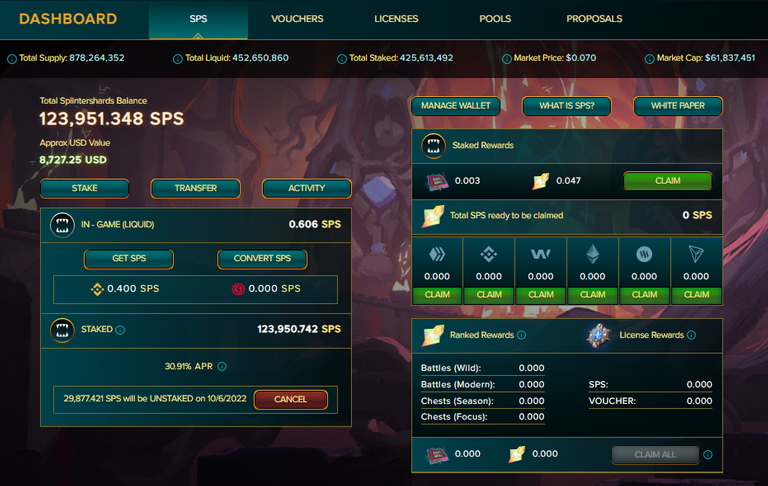 With SPS payout proposal to land deed holders getting approved, I am expecting to get decent amount of SPS airdroped. So suddenly the goal of reaching 150K SPS by the end of years seems achievable.
Getting too much bullish about SPS future, many people tend to exaggerate thing too much. I heard a few guys saying that SPS will reach $1, but considering the circulating supply I don't expect that happening anytime soon. My estimate for SPS price in coming months is around $0.20 and that is if all the expected bullish actions take place at the right time. Yeah GLX airdrop is gonna push SPS price higher but $1 SPS is still not on the table at least not in short to medium term.
Thoughts???


text
---
---