Terra Woes Worsen Despite $1.5 Billion Bailout From Luna Guard Foundation

Evening
So things are not looking good for Terra ecosystem as its native stable coin TerraUSD(UST) has
lost its peg for the second time in last 48hrs falling as low as $0.95. Back over the week end UST lost
its peg dipping s low as $0.985 but latter recovered.
Terra algorithmic stable coin UST works together with its sister coin LUNA in a unique mint and burn mechanism to maintain its peg. E.g. if UST falls below peg, users can burn UST to mint LUNA (@1UST=1USD LUNA), thereby reducing UST supply and making a small profit in the process. On the other hand if UST gets above peg, LUNA is burned to mint UST (@1USD LUNA=1UST), increasing the supply of UST and again making profit. This mint and burn mechanism ensures UST peg and regulates its supply.
Things started to turn ugly for Terra on Saturday, as people started dumping large amounts of UST in fear for a broader bullish market, with a single whale dumping $285 million UST. This caused the UST to lose peg down to $0.985. Large UST dumping from Curve Stable Coin Pools also happened as panicked investors reacted to the domino effect.
As a result today Luna Guard Foundation (LFG), a non-profit organization deployed to help out
Terra ecosystem, stepped in to support Terra ecosystem. Luna Guard Foundation (LFG),announced that it has voted for lending out $750 million Bitcoin and $750 million UST from its reserves to help the TerraUSD(UST) to maintain its peg.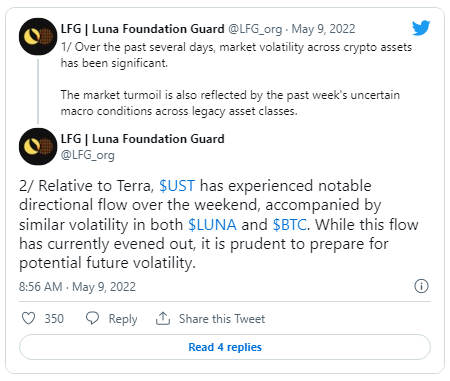 But it seems even the huge injection from LFG is not working, as UST has again lost its peg, this time even way down below to $0.95. Meanwhile UST stakes on Terra's main staking protocol continues to fall, indicating investor's lack of confidence in UST. Anchor's UST deposits plunged by $5 billion from $14 billion to $9 billion since Friday.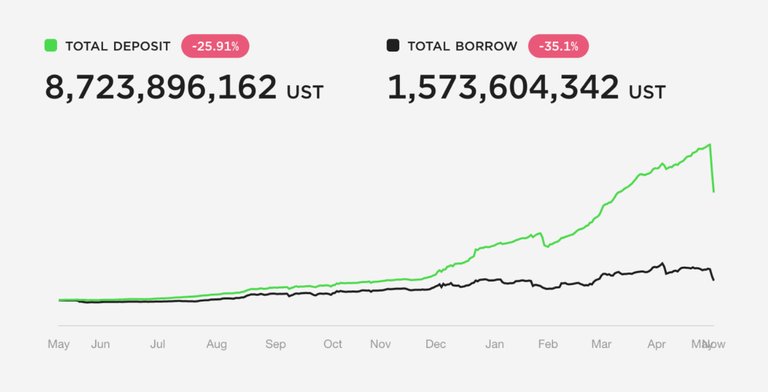 (Anchor Deposits Declining Sharply)
Apparently the panic is causing investors to pull out their UST stakes and dump them. Terra ecosystem is working hard to get its UST back to peg by burning UST and minting LUNA, as it is designed to do; price of LUNA has dropped by 50% to $30in last 24 hrs. This sharp decline in LUNA price has put LUNA marketcap below UST circulating supply. LUNA market cap is getting more and more below that of UST as of now. Simply speaking the whole ecosystem is at risk a bank run now, meaning some of the user might not be redeem their UST for LUNA.
Algorithmic stable coins rely heavily on investor's confidence and as the panic prevails the cascade effect could send the whole ecosystem down in a death spiral. It is yet remains to be seen whether LFG will step in once again and inject more reserves into the ecosystem helping it to weather the storm. But things are not looking good for Terra and some drastic measures are urgently needed to save the ecosystem going down into a death spiral, as the cascade effect can accelerate making the downfall even more fast and beyond recovery.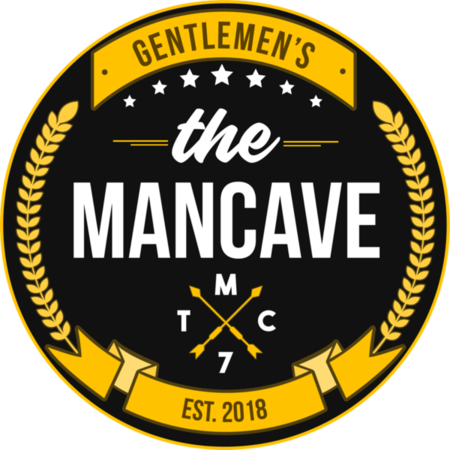 Posted Using LeoFinance Beta
---
---