Around The World: Challenge - #20/4 | Lanzarote | ESP / ENG
La Geria is a region in the south of the island of Lanzarote, in the Canary archipelago. The area is characterised by a landscape transformed by the hand of man, who for centuries sprouted vines to produce wine and fig trees from this black volcanic soil, each of them surrounded by a semicircle of black volcanic stone to protect them from the wind. All this is surrounded by the dormant volcanoes that in the 17th century transformed the landscape of the south of the island with violent eruptions, covering the fertile fields with a sea of lava.
ESP
La Geria es una comarca al sur de la isla de Lanzarote, en el archipiélago canario. La zona se caracteriza por el paisaje transformado por la mano del hombre que durante siglos hizo brotar de esa tierra negra volcánica parras para producir vino e higueras, cada una de ellas rodeada de su semicírculo de piedra negra del volcán para protegerlas del viento. Todo ello rodeado por los volcanes inactivos que en el siglo XVII transformaron con unas violentas erupciones el paisaje del sur insular, cubriendo los fértiles campos con un mar de lava.
---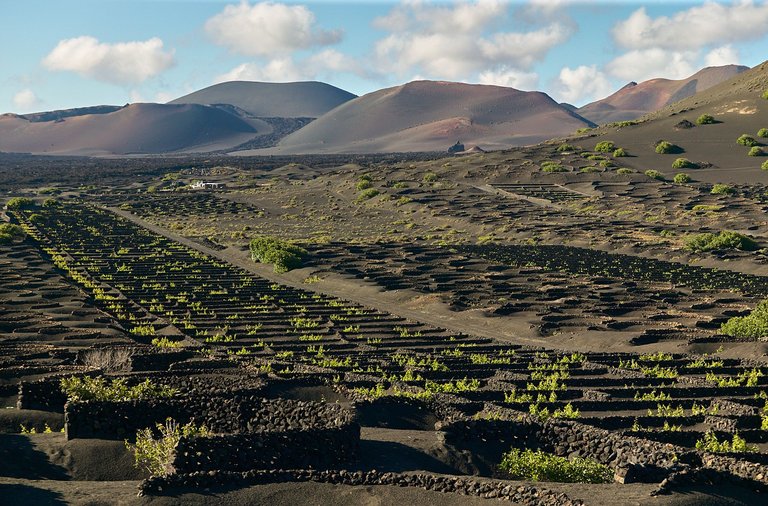 ---
Unless stated otherwise, all the pictures and the words are mine.
Do not use this image without my written permission.
Proudly free of AI.
Thanks for stopping by and taking a look.
Camera: Canon EOS 5 MkIII
Lens: Canon 24-70 f:2.8
Processed with Capture One
---
---