Battle Mage Challenge of this week - Broken Arrows -
Welcome back to my Battle Challenge Blog 😎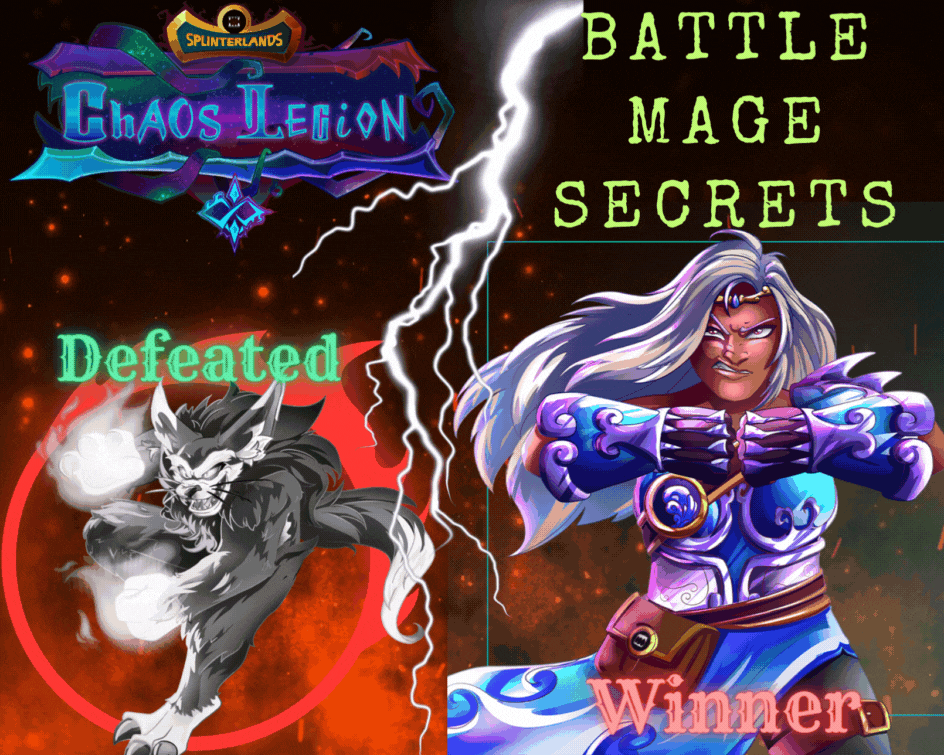 ---

Summary of the Game
Early Match up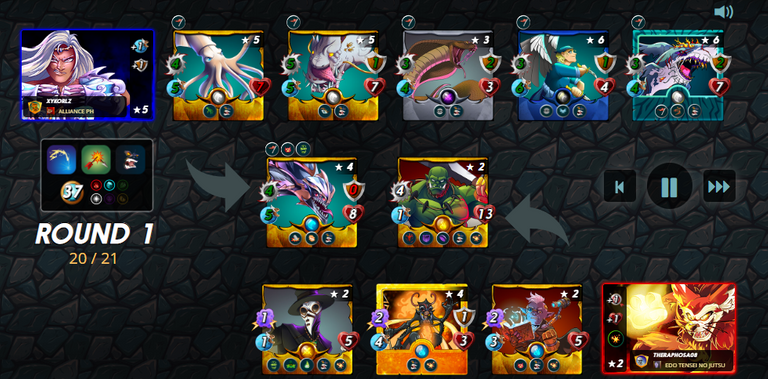 The first round is intense because I was surprised to see Yodin Zaku in this match. Despite the fact that it was Broken Arrows, Yodin's legendary Range Buff is useless because no weapon with range can be used in the battle, and I just realized how he can manage to destroy me by using Grum FlameBalde with his monster with ultimate magic combos in this match. I had Kelya Frendul on my side, and I fought with all my might with powerful melee attackers, with the speed buff and armor to aid me defend Yodin Zaku's magical Explosive Weaponry. I was the first to engage, and my Deeplurker annihilated its burnt fiend with a swift assault. My Ureaus released its stealth strike, rapidly eliminating Djinn Apprentice, and my opponent begins to decline its power after the first round of the duel.
Mid-Game Encounter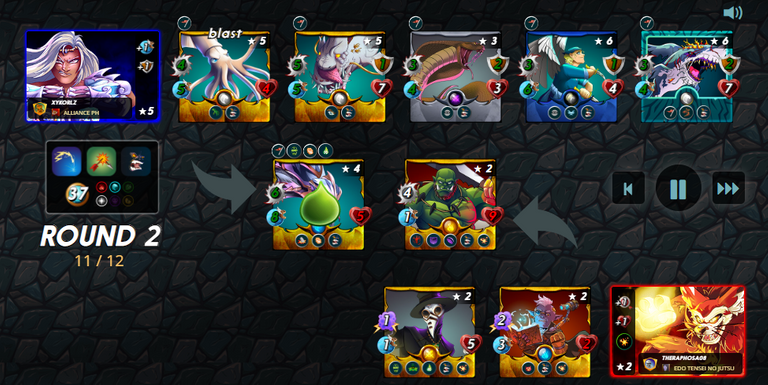 Another devastating strike from my Deeplurker on round 2 kills Battle Queen and wipes out the battlefield. With a five massive damage attack, it was terrifying and satisfying to witness. This Deeplurker power is very fantastic, and I am pleased to have it on my account. The increased damage produced by Demented Shark is what makes my melee monster so powerful on this strategy. This Shark is level 6, thus it has the ability of Thorns, which is ideal for putting it on the backline so that when your opponent has a sneak attack, they will most likely be unpleasant when striking my Demented Shark due to its Thorns Defense Mechanism. One of my opponent's main problems is quickness, which is why his Grum Bladeflame cannot properly hit my Diemonshark, and if he cannot strike, he can't take out my tank, and the bloodlust is useless when you can't eliminate competitors monsters, so the missed really adversely affected him seriously, my Kelya Frendul is strong because it allows me to increase my speed in order to help my monster dodge some damage when my opponent use attacks that are physical, and I never forget the one additional armor is very advantageous.
Weak Spot

As I saw my opponent's lineup, I was able to figure out his weak positions. Although magicians and wizards are good against armor, my speed helped me a lot to win this match. In other words, due to I am faster than him, I was able to execute and kill his monster first on the first round before his magical monster hit me with his magic; I understand that magic cannot be avoided, so Explosive Weaponry can be triggered and will undoubtedly hit the second position monster; fortunately, my Flying Squid is tough with nine health points, which was an enormous asset in protecting my other monster on the backline. His Doctor Blight was good on hitting my Diemonshark that inflicted poison yet still my tank is pretty tough that he couldn't properly kill on this round.
End Game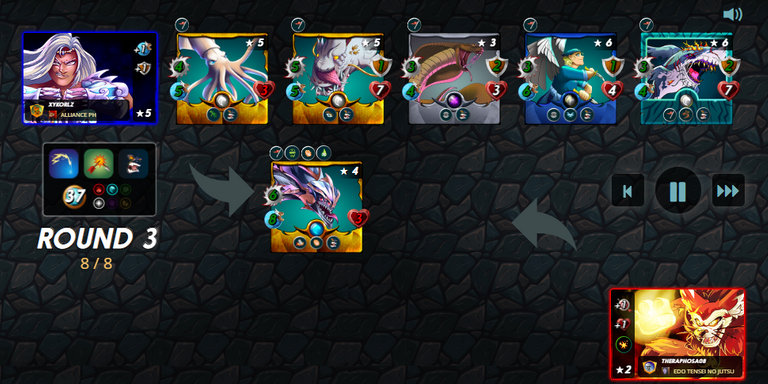 I was expecting the battle to last a long time because Yodin Zaku's abilities and skills provided to its monsters will help him win the battle, but because of the BROKEN ARROWS, Yodin's Weak Spot, he can only trigger Blast and additional health on all of his monsters on the field. What happened on the last round is that my Diemonshark dealt 6 damage to Grum, then my Pelacor Bandit killed Technowizologist, and then my Flying Squid with the Reach ability hit Grum, assisting me in killing that big tank and doctor blight swap on the first position, making him more vulnerable to pain and death. As my favorite character in this battle began to attack, I killed him with a lethal smashed from my Deeplurker, quickly winning the game.
Congratulations to me 🤑

Splinterlands Battle Link ✍️
The Combat Link leads to the battle on the website of the Splinterlands.

Video Battle Challenge
Weak Magic+ Broken Arrows + Ferocity
(Unsupported https://youtu.be/0jMhgVeFrzc )
Visit My Splinterlands Content: 3speak TV My Channel 💪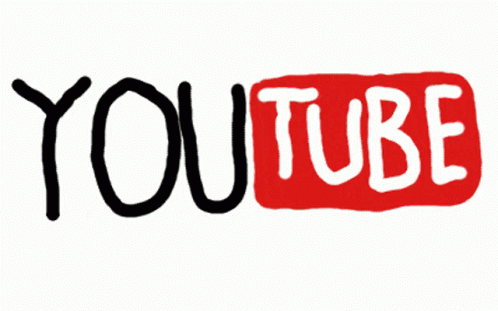 Thank you for reading my blog; if you found it useful, please click the YouTube Like and Subscribe buttons. I really hope you like it and recommend it to others.

Did your strategy work?
Did my strategy work on this battle mage challenge? Yes, because broken arrows were the ability to help me win on this challenge, simply because Yodin Zaku is ineffective on this match, my Kelya Frendul is the almighty summoner who provides speed and armor to help dodge my Diemonshark from a massive blow from Grum Flameblade, my opponent tried his best to employ magic since range attacks are not available, but those methods were the ones who murdered his strategy on the first match of the battle.
Do you like the Broken Arrows? Why or why not?
Actually, I sometimes hate those rules because I couldn't use my distance attackers, but for this time, broken arrows were the best because it was banned on the rule set, so my opponent is getting weaker because he doesn't know how weak his strategy on this match is, maybe if he uses melee attacks with speed with a summoner of Yodin it might turn it around since I couldn't dodge enough that explosive weaponry, for example, opportunity and sneak attacks are good to match up with blast abilities, yet. he insists to use magic because that is what he really intends to do for assuming to win against me.
What are your thoughts about Broken Arrows?
What I think about this rule condition is that broken arrows are good when you have cards that are good with this rule, such as summoners like Kelya Frendul or Mylor Crawling, because this rules undoubtedly offer melee creature on the field and wizards, so if you employ Mylor Crawling, it provides you an advantage because of the thorns, and when Kelya is your summoner to be used, it will provide you speed and extra armor, which is advantageous when battling against a monster melee attack. I also advocate employing magic when you notice broken arrows on the rules because sometimes magic is powerful, but you must defend them because some magicians have poor health and no armor.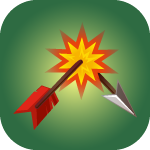 Recommendations
You will enjoy these rules once you learn how to play with them; basically, it is vital to have more cards in your deck so that when the rules are not in your favor but you have plenty of cards on your account, you can play with and win on this type of challenge.


Join the game with my referral link: https://splinterlands.com?ref=xykorlz
if you like my content please follow me for more 🤗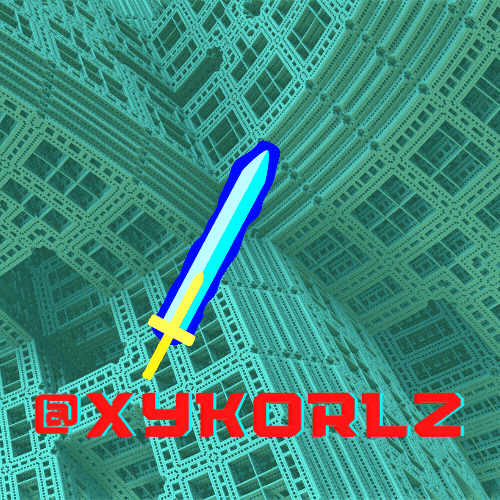 ---
---