Libra
Greetings my dear Hive community!
Good night, dear community!!!
I want to show you a new illustration, quite special since it has a great meaning for me. This mermaid is also for #mermay2023 which had to be one of the zodiac signs and I, well, I chose my sign 😏🥵.
Tbh with so many things I haven't had the pleasure of making so many mermaids for the contest, just a few 😱🥺, even if the #mermay contest ends I plan to do the others that I missed, maybe the ones I like the most but they will be useful for the collection 😏 😍.
Although there have been few, this has been a great experience for me, I have made new things and not only for mermaids, I have experienced new things, brushes, textures, besides that it is a subject that I like and it has also encouraged me to hurry up a bit more when drawing because well, the day doesn't have so many hours with electricity 🤭🤣🤣 so bad 🤯🥺... Draw fast Triz pleaseeeeeee !!!! 🤭🤣 ... I invite you to scroll down to see the images and video of how I worked on it. 🫶🏻😘⬇️⬇️

---
---
𝕾𝖔𝖒𝖊 𝖎𝖒𝖆𝖌𝖊𝖘 𝖔𝖋 𝖙𝖍𝖊 𝖕𝖗𝖔𝖈𝖊𝖘𝖘 💖😋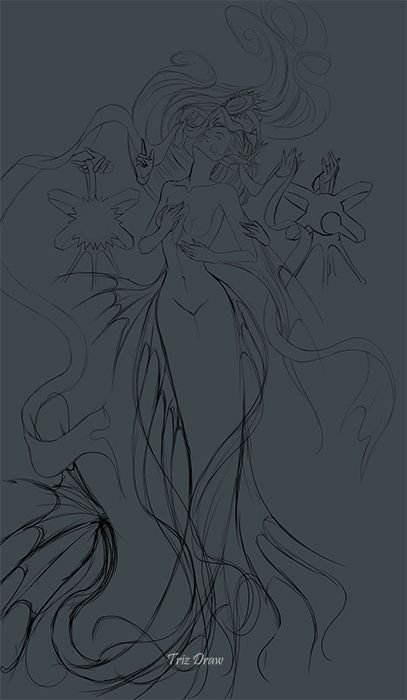 When I was going to start this drawing, I looked through my sketches in the sketchbook and I found one that would work for me, although what remained of that was essentially the position because I made some adjustments to fit it with the idea I had planned for the representation of ⚖️... On this occasion, as you can see and as I believe, so far it is the sketch with the most decent lines that you can see of me, although to do this I actually did about 4 sketches, improving and improving 😳🤯 I'm so bad 😔😂.
-.-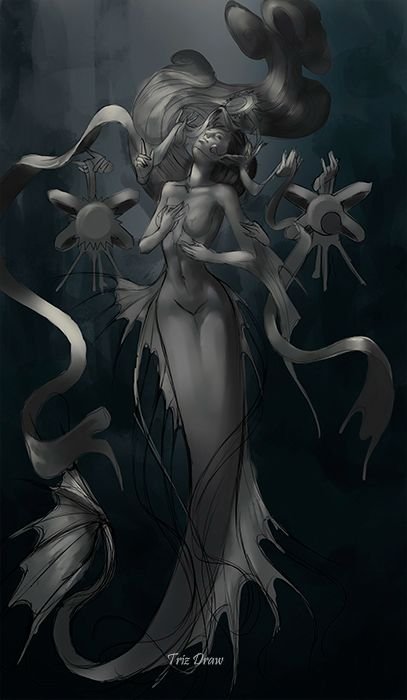 As in the last one and as I see it, it will be the trend, I am starting the drawing again with the gray scale, which helped me to understand and identify where the lights and shadows of the drawing would be and giving the piece the basic but functional volume since I don't focus so much on detailing but it helps me to start my journey with color 😏💪🏻.
-.-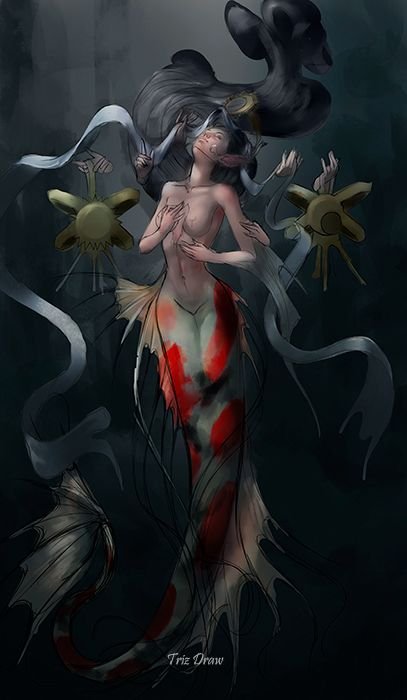 After the above, some color came for the base, for the color combination I was inspired by the colors of the Koi fish, which, apart from being cute, has a wonderful meaning that can be combined with the sign of Libra because some are similar... Hence the idea of a Koi mermaid, but not everything could be red, in addition to those colors I complemented them with other colors, I liked the combination so go ahead🤭😊.
-.-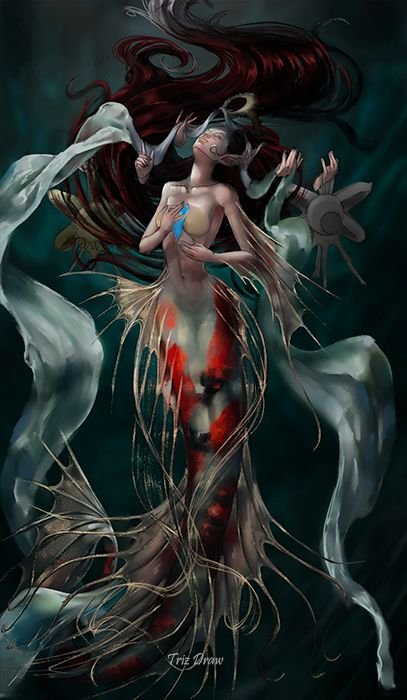 After I had resolved the colors, I began to detail the mermaid.. Curious fact hmmm it often happens to me that I almost always do the face when the rest of the drawing is almost ready 🤔 I don't know why, maybe it's stupid but most of the time it's the same, end! . With that said, let's keep going! I decided to start at the bottom, I did some details on the fins, something that happened spontaneously was the fabric (which should cover the girl's eyes but in this case I didn't want to do it since it has a meaning behind it. ...), in the sketch they seemed like a harder tape, a bit static as I was drawing, it occurred to me to do it as they look in this step, I liked the effect since it seemed more like fabric and that it flowed better with the drawing, like this that stayed 😝🤭👍🏻.
-.-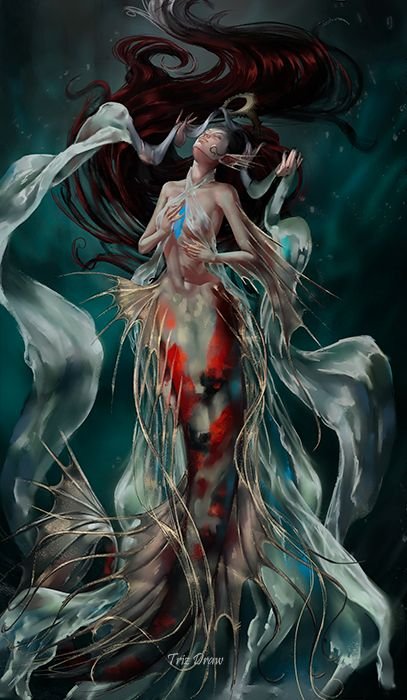 This is why I say why I spend so much time focusing on a sketch that in the end I don't respect and I tend to change 🤔, this looks less and less like what I started, although it still has the essence and I hope the changes have been for the better 😳😁.
Yeah! It seems to me that I liked the fabric a lot and I also added it to the girl's outfit, up to this point I already had almost everything, only the other part of the body was missing, the scale and more details, yes! almost ready! It is already known that this drawing is about the libra sign ⚖️ but no 🚫 actually now it is missing, half to be exact 😝.
-.-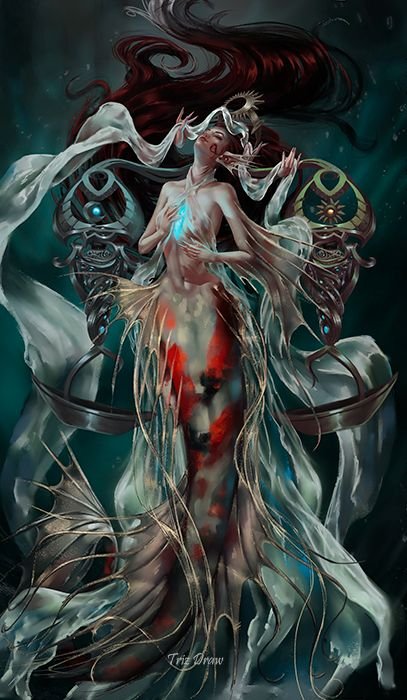 Yes, that's better, although if I changed the design of the scale that I had previously done, hmmmm it seemed simple and boring to me, this one turned out better, although of course it can still be improved 😊, to do it, help me with something that I had finished before, yes You want to know what it is hmmmmmm you should watch the video... I can only say that a crown became a scale... Finally the girl had a better face although of course it's not the end yet, if not, this image wouldn't be here, yet there were still things to do but I liked what I saw despite the fact that it had changed a lot. It seems to me that it was for the better, I hope 😝 🤭.
-.-

---
𝕾𝖕𝖊𝖊𝖉 𝕻𝖆𝖎𝖓𝖙𝖎𝖓𝖌
Soon! I promise ☺️
---

---
---
𝕱𝖎𝖓𝖆𝖑 𝕽𝖊𝖘𝖚𝖑𝖙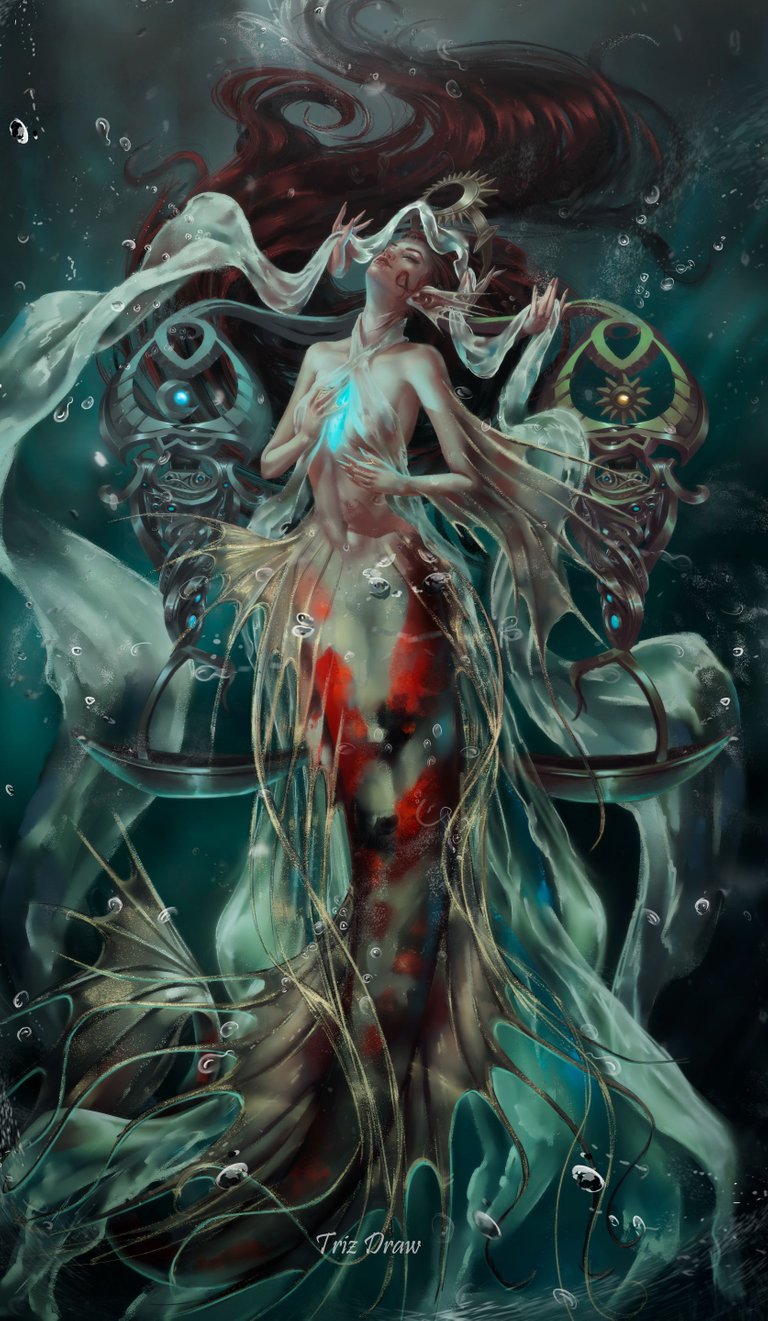 Finally the end came, after adding the last details to the piece, like the bubbles, color adjustments and so on, I already had my libra mermaid ready and imposing hahahaahhh😁.
One of the things that Libra represents and for which it is easier to recognize is balance, which is why its symbol is the scale, in said scale I added the sun and the moon which is a clear example of balance on those opposites. When people refer to justice, they usually say that she is blind, although I did not want to cover her eyes since the Libra sign, although it is balanced and has a sense of justice, also has its moments and we can become frivolous with a strong somewhat fickle character, (Important note: it is better not to make us feel bad, we don't forget so easy...), despite that it is also a very loving, romantic sign with a big heart (what a beautiful zodiac sign I have 😁), peaceful, loyal and others in essence that was the idea for my position and the feeling that I wanted to express, I did not want to make a mermaid with only scale because in the end not only the scale represents this sign but many other things that make us special 😏🤯🤭 🪄..
I want to thank everyone for seeing my art and for all the support you always give me. I hope you liked it and I'll see you tomorrow. 🫶🏻
Bye, bye!!! 🤗💖😘

---
---
---
𝕿𝖍𝖊𝖘𝖊 𝖆𝖗𝖊 𝖙𝖍𝖊 𝖑𝖆𝖘𝖙 𝖉𝖗𝖆𝖜𝖎𝖓𝖌𝖘 👉🏼😘👈🏼
---
---
---

𝖂𝖍𝖆𝖙 𝖉𝖎𝖉 𝖞𝖔𝖚 𝖙𝖍𝖎𝖓𝖐 𝖔𝖋 𝖆𝖑𝖑 𝖙𝖍𝖎𝖘?
𝕴 𝖜𝖔𝖚𝖑𝖉 𝖑𝖔𝖛𝖊 𝖙𝖔 𝖐𝖓𝖔𝖜 𝖞𝖔𝖚𝖗 𝖔𝖕𝖎𝖓𝖎𝖔𝖓
𝕺𝖍𝖍𝖍 𝕭𝕿𝖂
𝕴 𝖙𝖍𝖆𝖓𝖐𝖘 𝖋𝖔𝖗 𝖗𝖊𝖆𝖉𝖎𝖓𝖌 𝖙𝖍𝖎𝖘
𝕱𝖔𝖑𝖑𝖔𝖜 𝖒𝖊 𝖎𝖋 𝖞𝖔𝖚 𝖜𝖆𝖓𝖙
🤗🥰😉😘😘
𝕾𝖊𝖊 𝖞𝖔𝖚 𝖘𝖔𝖔𝖓 𝕳𝖎𝖛𝖊!

🤭🤐🥹😍😍😍💖💖💖😋🤭🤣🤫🍾✨🥹🖨️😍🫣😍🥰
---
---