Lilith - Bounty Hunter
Greetings my dear Hive community!!!
If you're looking for a package, nothing better than doing it from above in the city... Letting the scavengers remove the garbage thinking that they are one step ahead of you is a good strategy to later claim that loot. ☠☠☠

Hopefully this time it works and I can have that package or human trash that everyone is looking for since I need to pay the rent.😔😔😔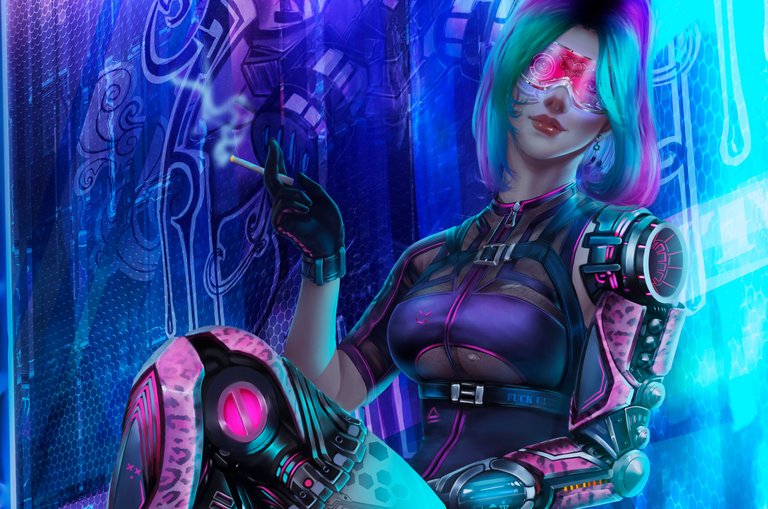 Happy start of the week my dear community, I hope you had a nice and excellent weekend. For tonight it's the turn of another piece of my #CyberTriz collection... She is Lilith and she is a Bounty Hunter with a bit of an indifferent mood.😋
This piece was purchased by my dear collector -=EtherStu=-, go and follow him if you haven't yet... He is a good and sexy person 🤭😋. BTW the other day I made a mistake and put the gift from him first than this piece I had bought, my mind failed me at the time and I thought I had already shown you this piece... Well, I guess it's old age.😂😂😂

Some images of the process
---
Step 1️⃣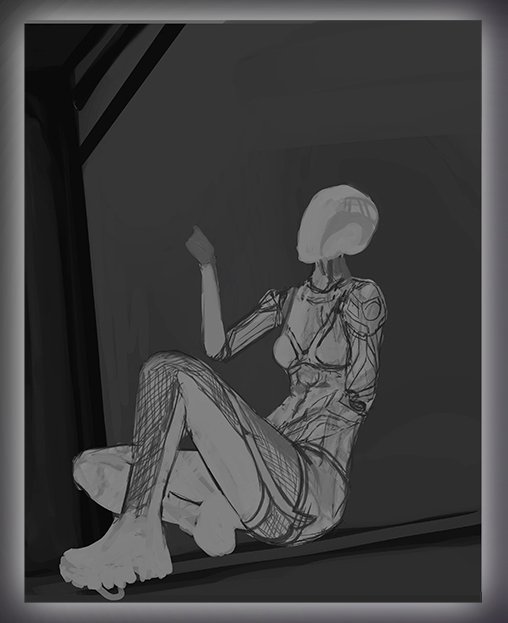 I did something very fast of the possible position I wanted for this design and for the background I first thought of making it inside a room but then I gave up on that idea later.
-.-
Step 2️⃣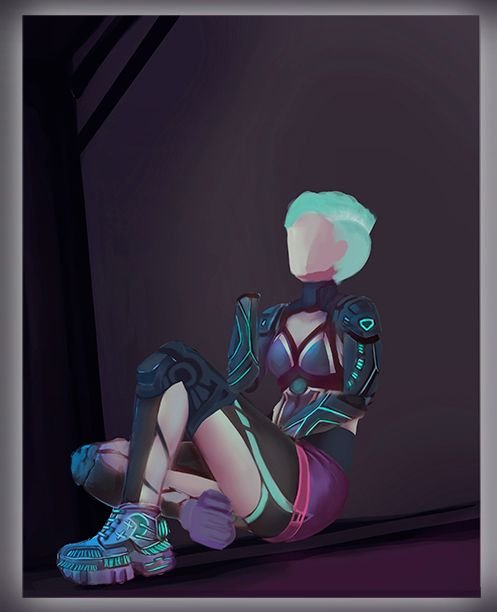 I then went on to work with the color palette I wanted and also accommodated various details of the initial position.
-.-
---
Step 3️⃣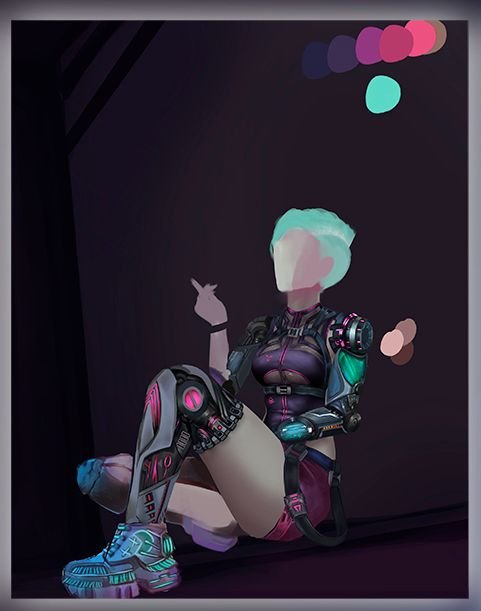 For this step I detail the design of the clothing but this after several tests of different clothing designs that in the end I was left with this outfit and also worked on the cybernetic improvements.
-.-
Step 4️⃣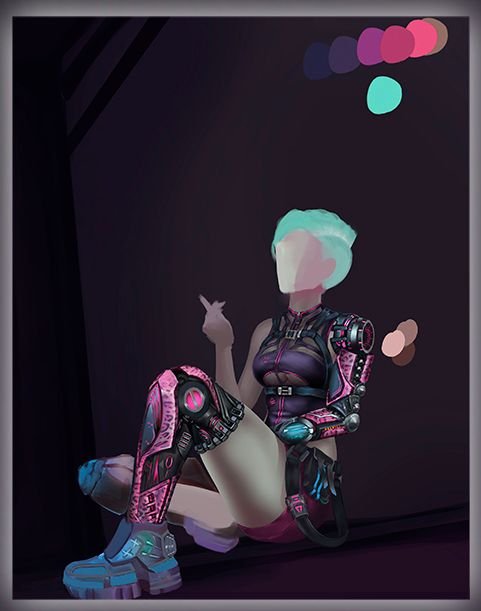 Here I removed the right arm which was also a cybernetic enhancement and made him a normal arm so he wouldn't look like a cyborg, I made the leg part and started to give volume to the missing parts of his body.
-.-
---
Step 5️⃣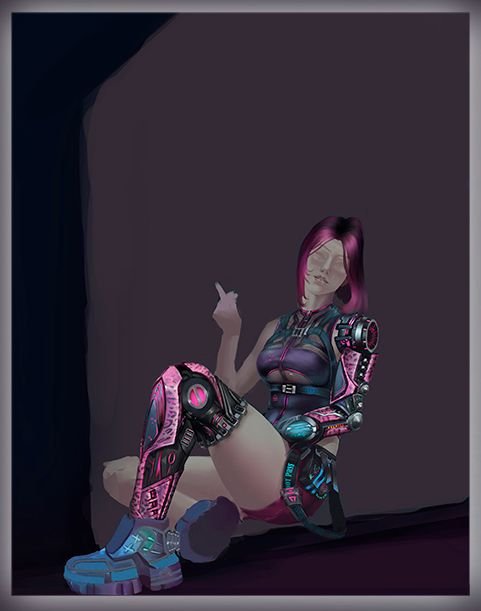 In this step I eliminated the position of the face for this one you see above and I also made her hair, I started to shape the face and in this part I started to work the leg underneath that if I am honest with you gave me a little bit of trouble.
-.-
Step 6️⃣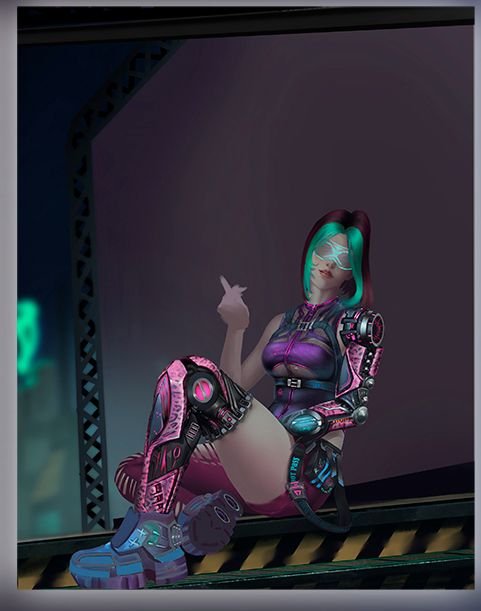 It was at this point that I decided to make her out in the heights waiting to see her prey and thus get her precious pay... I made the face and added special technological goggles that allow it to communicate and track such prey.
-.-
---
---
Final result 😘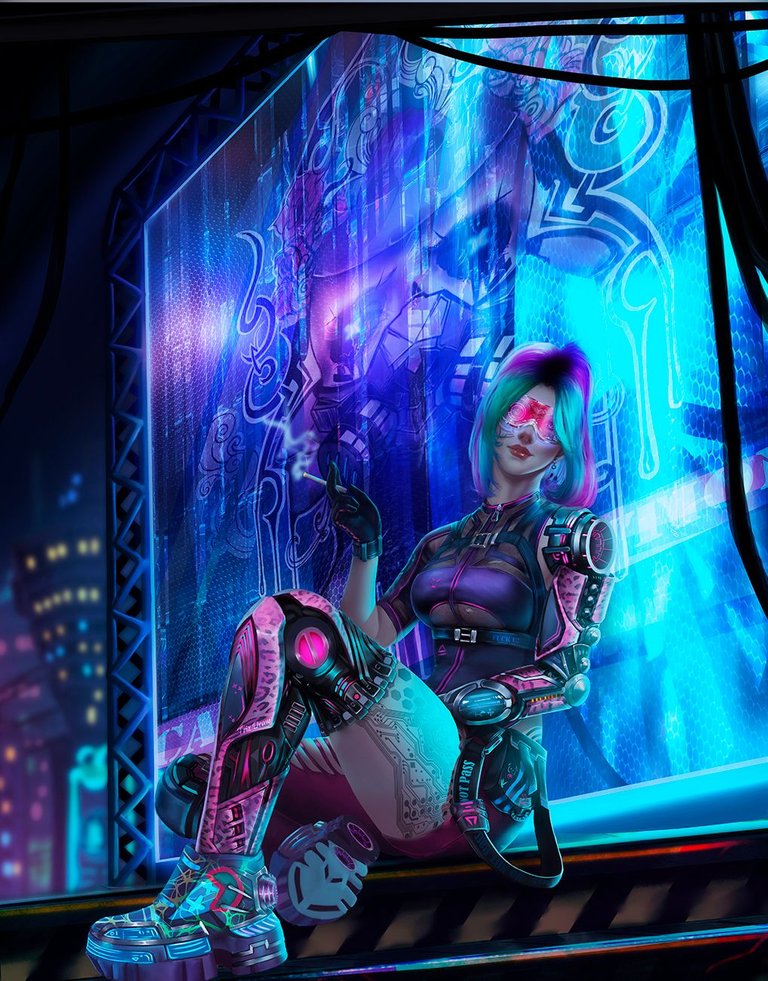 At this point what I did was the hand with her cigarette while she waits and detail the background plus I made the advertising screen where she is leaning and after making some tattoos I played with the lights and backlighting to culminate with this piece... I hope you liked my work and now it's time to go to sleep. Good night! 💤💤💤
---
.-.-.-.-.-.-.-.-.-.-.-.-.-.-.-.-.-.-.-.-.-.-.-.-.-.-.-.-.-.-.-.-.-.-.-.-.-.
.-.-.-.-.-.-.-.-.-.-.-.-.-.-.-.-.-.-.-.-.-.-.-.-.-.-.-.-.-.-.-.
.-.-.-.-.-.-.-.-.-.-.-.-.-.-.-.-.-.-.-.-.-.-.-.-.-.-.-.-.
.-.-.-.-.-.-.-.-.-.-.-.-.-.-.-.-.-.-.-.-.-.
.-.-.-.-.-.-.-.-.-.-.-.-.-.-.
These are the last drawings 👉🏼😘👈🏼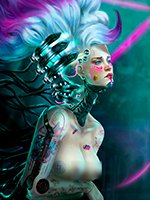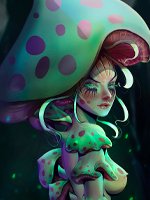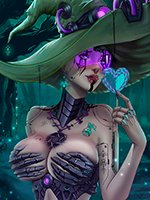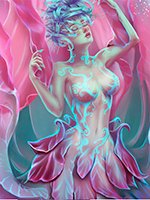 ---

What did you think of all this?
I would love to know your opinion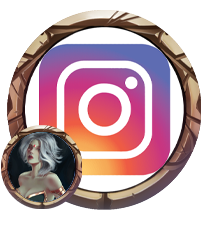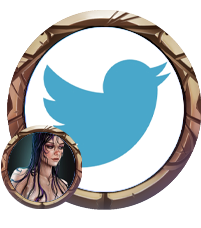 Ohhh BTW
I thanks for reading this
Follow me if you want
🤗🥰😉😘😘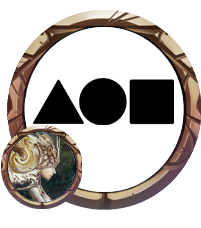 See you soon Hive!

🤭🤐🥹😍😍😍💖💖💖😋🤭🤣🤫🍾✨🥹🖨️😍🫣😍🥰😋
---
---