Melody

Greetings my dear Hive community!
Good night, dear community!!!
With eyes closed, denoting such passion she plays her instrument with a grace and skill that only magical beings can possess. Her melody is so moving that the hardest hearts are moved, and the darkest beings surrender to her serenity. 🎶🎶🎶
Today, I excitedly present to you a new piece I created for #MerMay, a piece that fuses two things I love: mermaids and fairies #MerFairy!!! And I've also added a little something extra to my piece... Music, something I also love and that inspires me while painting. Combining these three passions, "Melody" was born, the piece you are seeing today. 🤗💖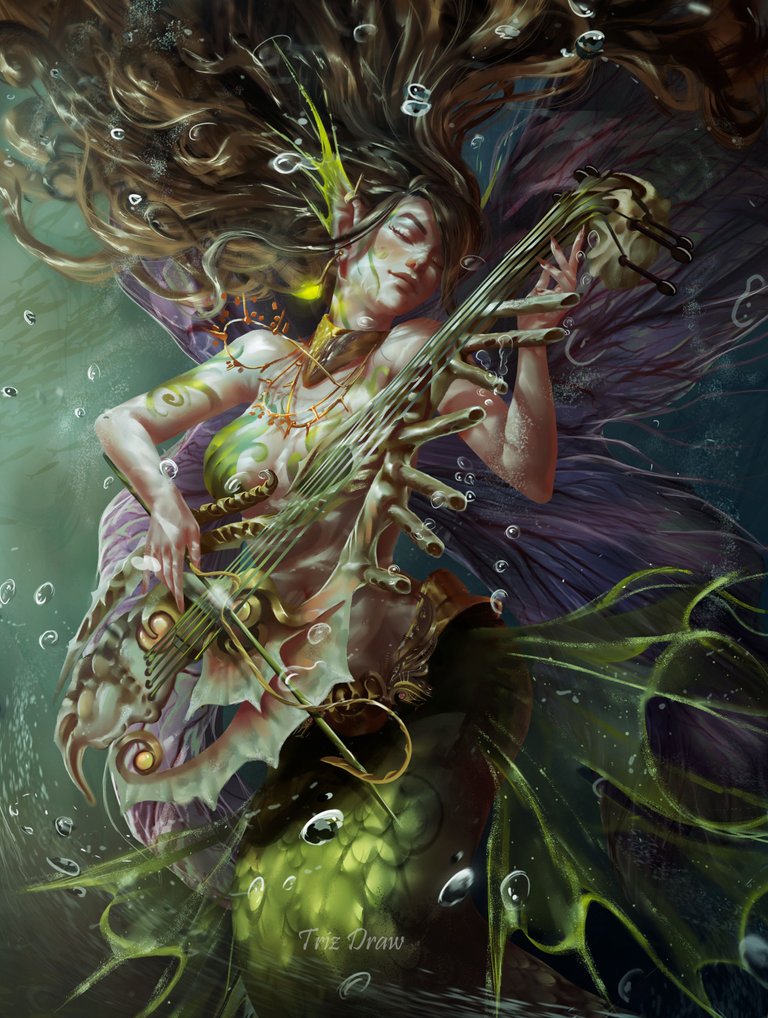 I wanted to give it an extra touch of creativity, so I experimented with the instrument she is playing. At first it cost me a little bit since I was thinking about what to do, I was debating between a wind or string instrument, but after several sketches and tests, I decided to stay with a string instrument. And so I made this hybrid between guitar, violin and cello and as expected since she is a Mermaid her instrument is made with materials from marine life. 🪸🌊
This passionate #MerFairy has the ability to heal broken hearts and banish evil from some beings. I hope you enjoyed my concept in this new piece. I invite you to scroll down to see the images and video of how I worked on it. 🫶🏻😘⬇️⬇️

---
---
𝕾𝖔𝖒𝖊 𝖎𝖒𝖆𝖌𝖊𝖘 𝖔𝖋 𝖙𝖍𝖊 𝖕𝖗𝖔𝖈𝖊𝖘𝖘 💖😋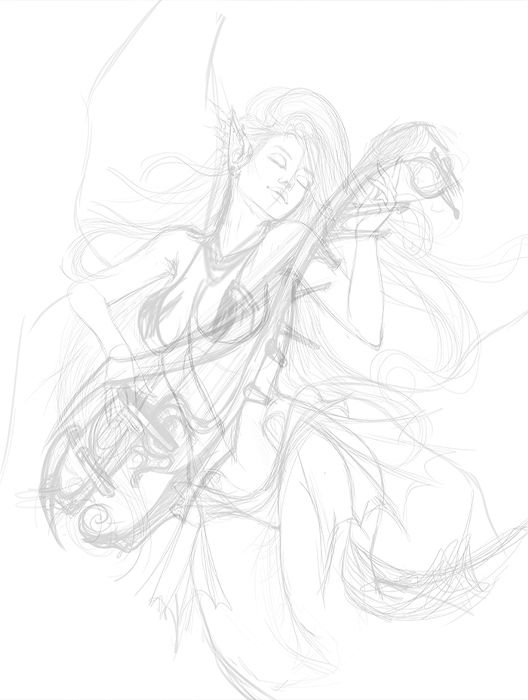 I assure you that to create this sketch, I spent more time thinking about what instrument I was going to make than the pose itself. What I really wanted was to show the passion and love that you feel when you do what you love. I can relate to it a little bit because I love what I do.
-.-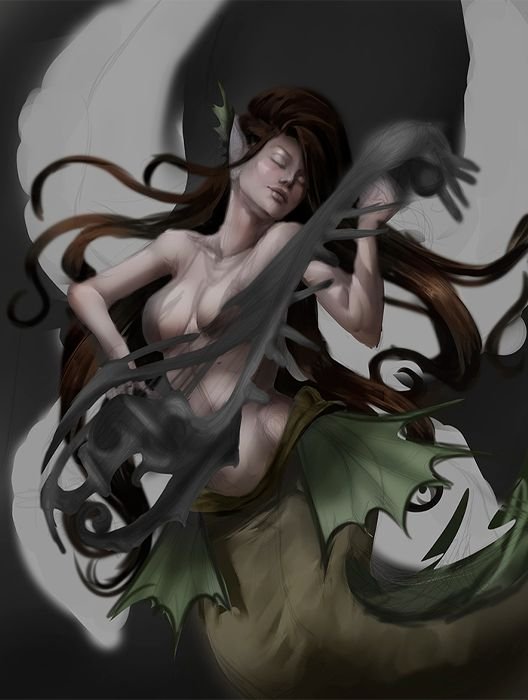 After the mess of stripes that I had as a sketch, I began to place the base colors that I was going to use, as well as to shape the wings, although later this changed a little.
-.-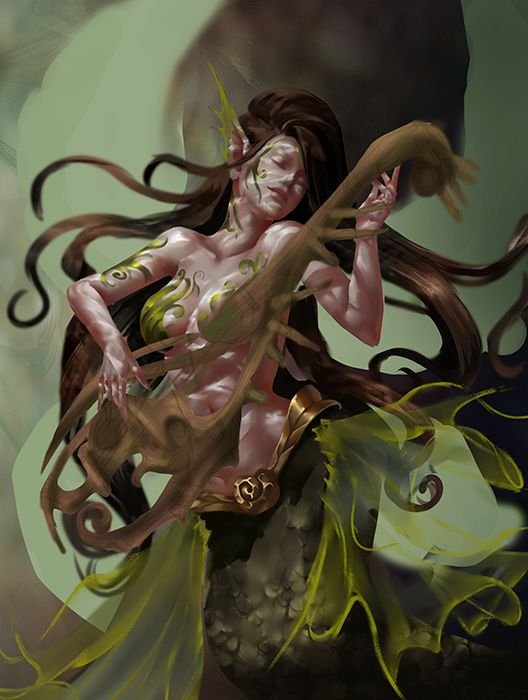 My goal was to make the rippling of the water and the lights that form as the sunlight passes through. I also started to put shadows on the body and to give some texture to the tail part. In addition, I started to paint the instrument, although in a little detailed way, just to give it some shape.
-.-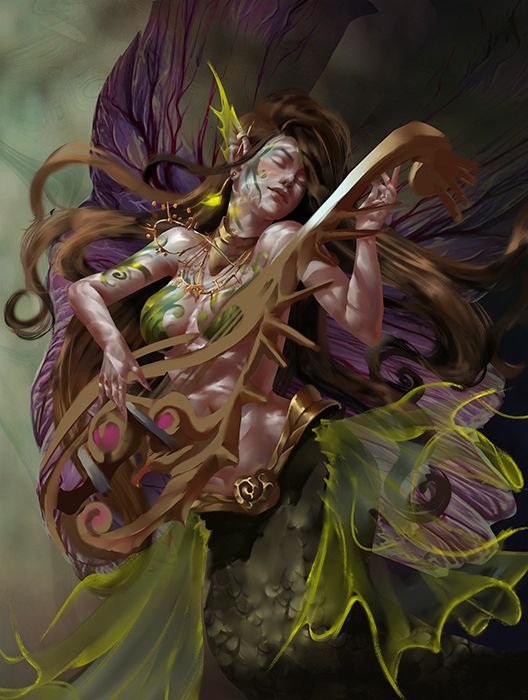 At this point, the details and accessories I had added to the piece were even more rendered. I had improved the necklace and earrings, as well as the ear flaps and the tail part, which I had given a little more shape. My idea was that they were not wings as such, since in the water you can't fly. What I wanted was to create something similar to jellyfish, but with a kind of veins formed with the same corals.
-.-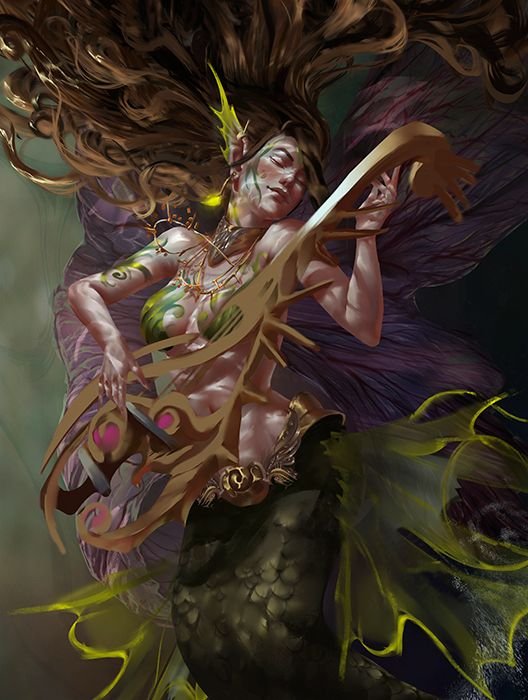 I always like to create the hair upwards, but I don't know why I didn't realize I had done it downwards until I was almost done. At this point, I started changing this and magically, the hair was placed upwards. 🤣🤣🤣
There is no part 6, but as I was finishing up, I started rendering the wings and finished creating his instrument. You can see it all down here in the video.
-.-

---
𝕾𝖕𝖊𝖊𝖉 𝕻𝖆𝖎𝖓𝖙𝖎𝖓𝖌
---

---
---
𝕱𝖎𝖓𝖆𝖑 𝕽𝖊𝖘𝖚𝖑𝖙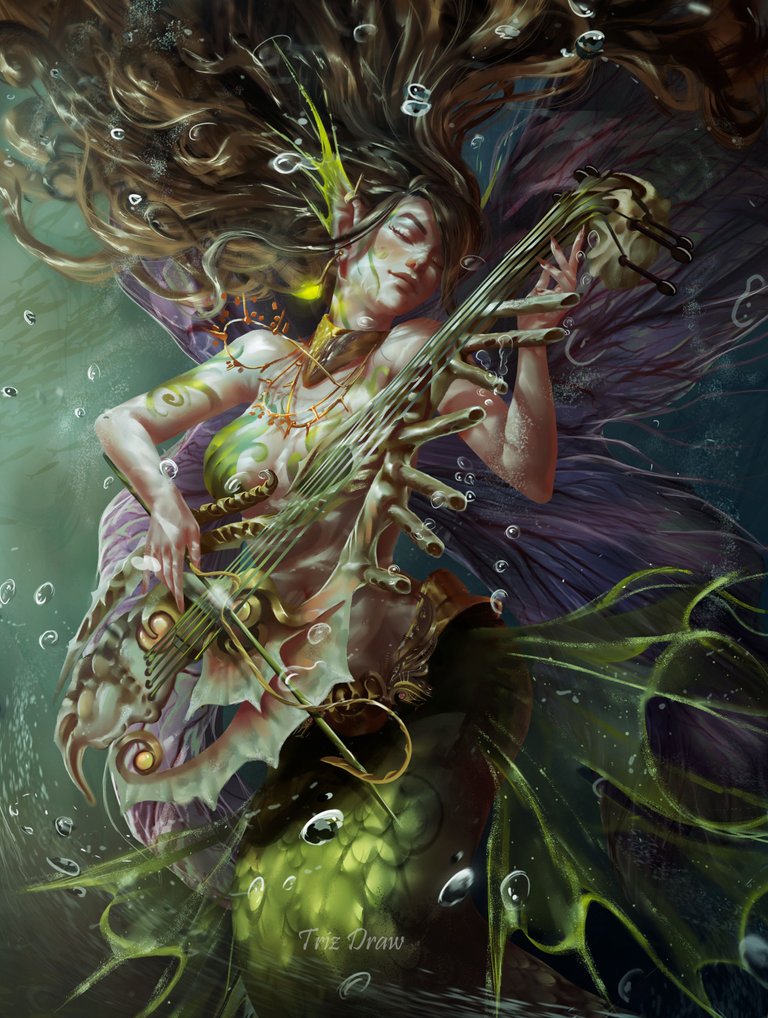 To finish, I rendered some lights and shadows all over the body, plus some glows in the hair, along with the bubbles in the water. And after adding some magical touches, I had my new artwork complete. 🪄✨✨
I want to thank everyone for seeing my art and for all the support you always give me. I hope you liked it and I'll see you tomorrow. 🫶🏻
Bye, bye!!! 🤗💖😘

---
---
---
𝕿𝖍𝖊𝖘𝖊 𝖆𝖗𝖊 𝖙𝖍𝖊 𝖑𝖆𝖘𝖙 𝖉𝖗𝖆𝖜𝖎𝖓𝖌𝖘 👉🏼😘👈🏼
---
---
---

𝖂𝖍𝖆𝖙 𝖉𝖎𝖉 𝖞𝖔𝖚 𝖙𝖍𝖎𝖓𝖐 𝖔𝖋 𝖆𝖑𝖑 𝖙𝖍𝖎𝖘?
𝕴 𝖜𝖔𝖚𝖑𝖉 𝖑𝖔𝖛𝖊 𝖙𝖔 𝖐𝖓𝖔𝖜 𝖞𝖔𝖚𝖗 𝖔𝖕𝖎𝖓𝖎𝖔𝖓
𝕺𝖍𝖍𝖍 𝕭𝕿𝖂
𝕴 𝖙𝖍𝖆𝖓𝖐𝖘 𝖋𝖔𝖗 𝖗𝖊𝖆𝖉𝖎𝖓𝖌 𝖙𝖍𝖎𝖘
𝕱𝖔𝖑𝖑𝖔𝖜 𝖒𝖊 𝖎𝖋 𝖞𝖔𝖚 𝖜𝖆𝖓𝖙
🤗🥰😉😘😘
𝕾𝖊𝖊 𝖞𝖔𝖚 𝖘𝖔𝖔𝖓 𝕳𝖎𝖛𝖊!

🤭🤐🥹😍😍😍💖💖💖😋🤭🤣🤫🍾✨🥹🖨️😍🫣😍🥰
---
---