Portrait of a Mermaid

Greetings my dear Hive community!
Good night, dear Hivers!
On this occasion, I would like to show you an illustration I made a few days ago for a contest I talked about in my last post. It is a challenge that consists of creating something every day based on a list something like the #Inktober but in this case it is the #MerMay since it is about Mermaids. 🧜🏻‍♀️🤗💖
Since I was little I have adored mermaids and have created many illustrations with their shape, even going so far as to scribble them on the walls, which sometimes allowed me to earn a scolding or even the strap mark on my buttocks. 🤣🤣🤣
When I heard about this contest, I did not hesitate to participate, especially because the prize is very necessary for me, since my Wacom tablet does not work and I only have a Huion which, truth be told, I do not like so much. Besides, one of the prizes are @Xencelabs tablets, which I've been wanting to get for a long time, so this is my big chance. I hope I manage to win one of them.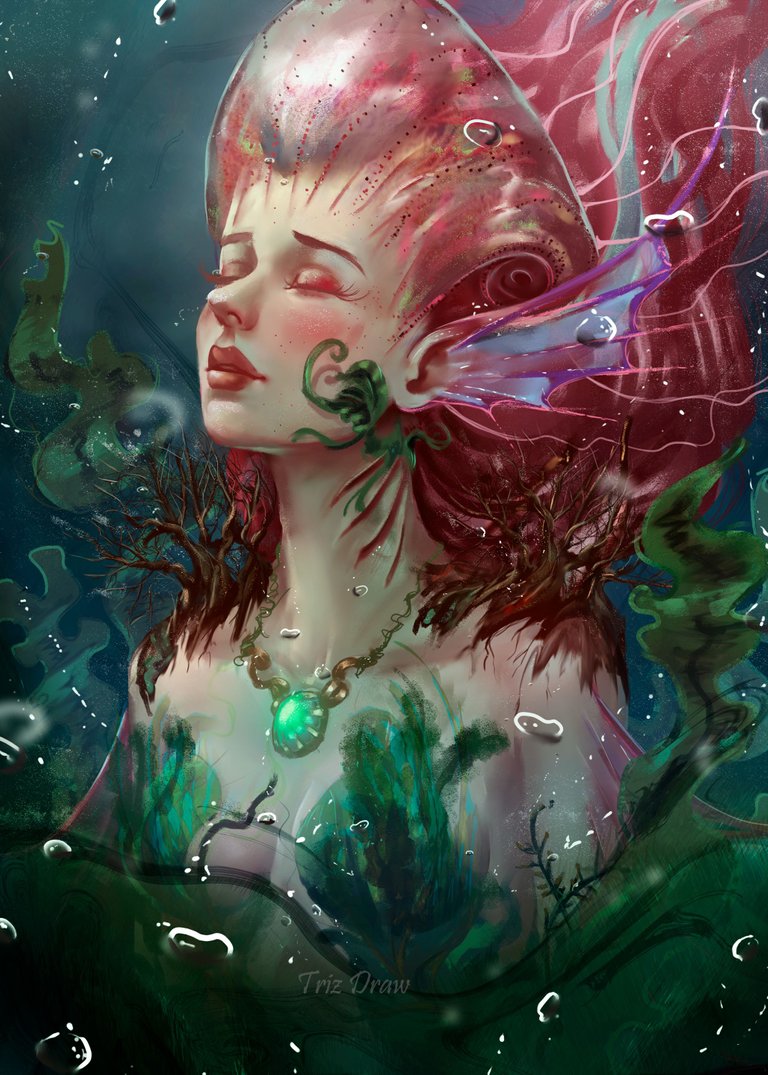 As you can see, on my first day I made a portrait, but I was looking for something "more creative", so I researched many references of fish and sea creatures until I had a clear idea of what I wanted.
The truth is that, due to some electricity problems and other unforeseen events, I'm only on day 2 of the contest, when we are already on day 4, but I hope to reach the rhythm and be able to complete the 30 illustrations on time. 🙏🏻🙄😱
Below, you can see a little of how I made the portrait and I also leave you the video so you can appreciate the whole process of creation. 💖⬇️⬇️

---
---
𝕾𝖔𝖒𝖊 𝖎𝖒𝖆𝖌𝖊𝖘 𝖔𝖋 𝖙𝖍𝖊 𝖕𝖗𝖔𝖈𝖊𝖘𝖘 💖😋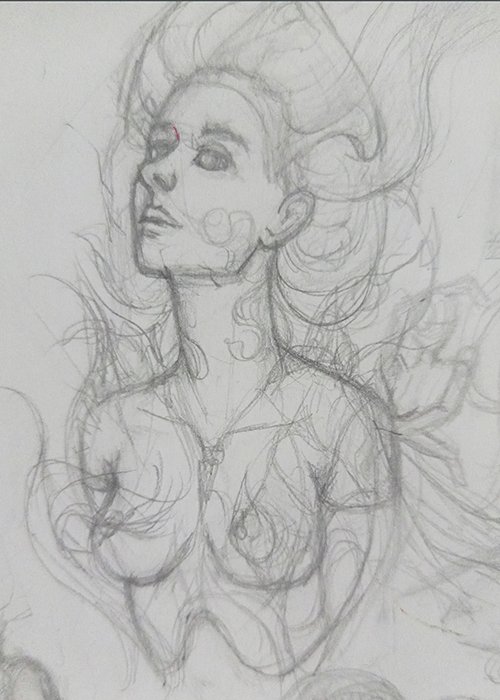 After reviewing multiple references to the marine world, I began to sketch the idea I had conceived. I wanted to create something that evoked the ocean with a sweet and emotional touch.
-.-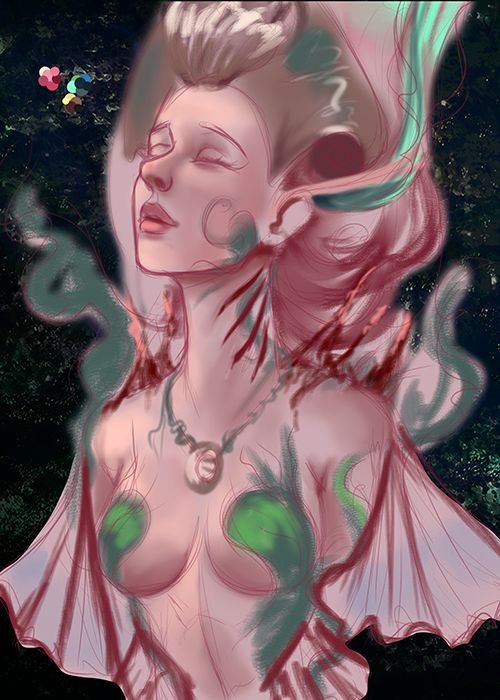 I used a texture I had for the background, and since I wanted to give it a more emotional touch, I decided to close the eyes. I thought this would add more depth to my portrait. After this, I added a base color.
-.-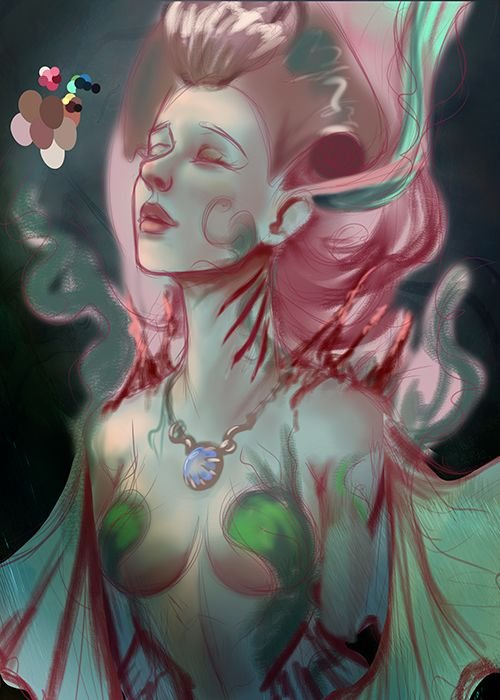 On top of that base color, I added the lights and shadows that would bring my work to life, and softened the background a bit to match the depth of the ocean.
-.-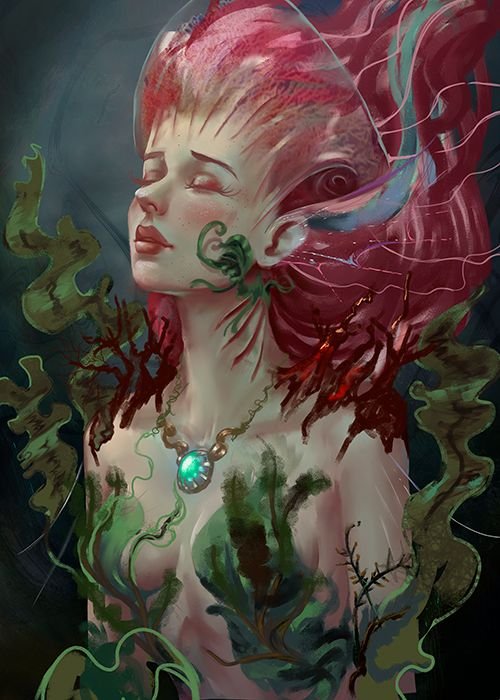 I don't remember why I didn't save a step before this, but at this point everything was much more rendered. I had worked on the skin all over my mermaid, added seaweed to cover her little boobs and added those corals that looked like plants on her shoulders. For the hair, I was inspired by jellyfish. All this can be seen much better in the video below.
-.-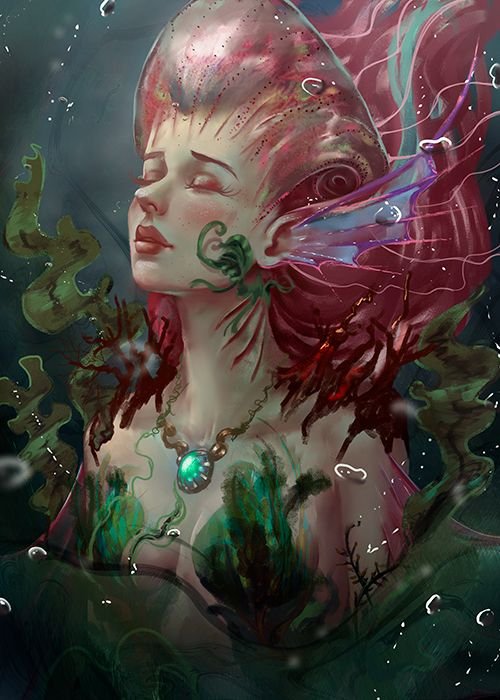 I continued working on the hair, made her ear and added some bubbles in the background to emphasize the depth of the ocean. I also included details in the water on the front.
-.-

---
𝕾𝖕𝖊𝖊𝖉 𝕻𝖆𝖎𝖓𝖙𝖎𝖓𝖌
---

---
---
𝕱𝖎𝖓𝖆𝖑 𝕽𝖊𝖘𝖚𝖑𝖙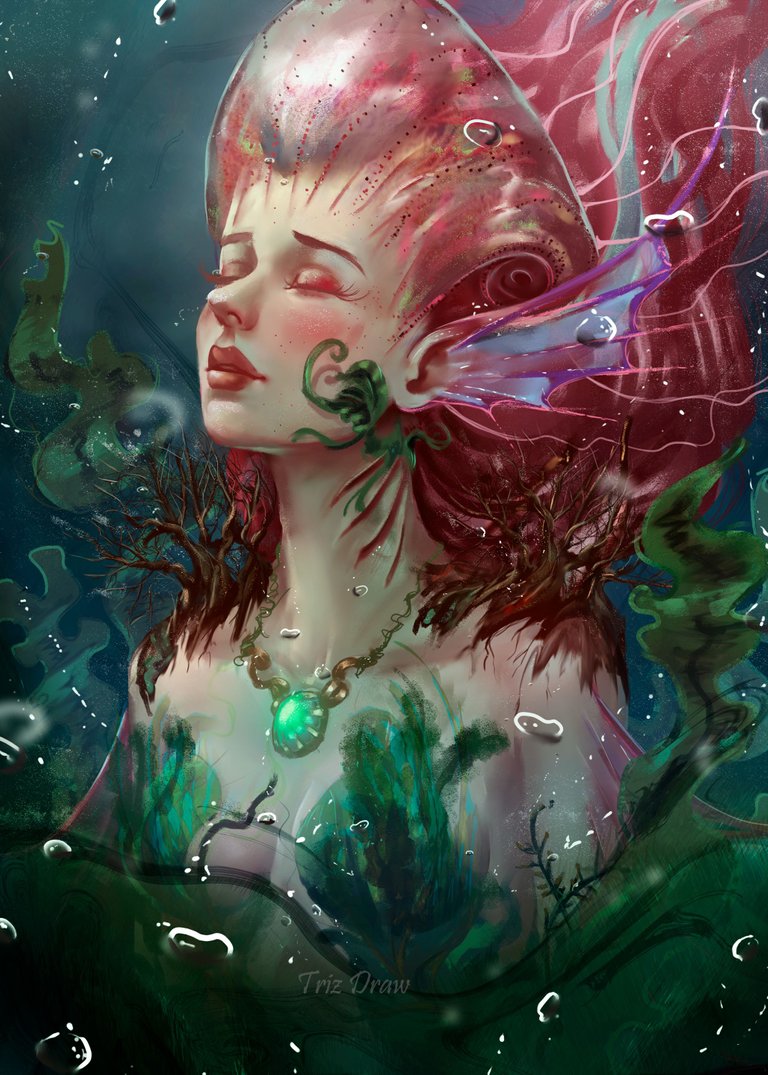 For the final, I added more bubbles to the water, finished rendering the corals and hair, and did some additional details. I was very satisfied with the final result of my mermaid. 💖💖💖
I hope you also liked my work and wish me luck in the contest. I wish you a happy and beautiful night, 🤗😘
Bye, sweet dreams and see you tomorrow!!! 🤗💖😘😴

---
---
---
𝕿𝖍𝖊𝖘𝖊 𝖆𝖗𝖊 𝖙𝖍𝖊 𝖑𝖆𝖘𝖙 𝖉𝖗𝖆𝖜𝖎𝖓𝖌𝖘 👉🏼😘👈🏼
---
---
---

𝖂𝖍𝖆𝖙 𝖉𝖎𝖉 𝖞𝖔𝖚 𝖙𝖍𝖎𝖓𝖐 𝖔𝖋 𝖆𝖑𝖑 𝖙𝖍𝖎𝖘?
𝕴 𝖜𝖔𝖚𝖑𝖉 𝖑𝖔𝖛𝖊 𝖙𝖔 𝖐𝖓𝖔𝖜 𝖞𝖔𝖚𝖗 𝖔𝖕𝖎𝖓𝖎𝖔𝖓
𝕺𝖍𝖍𝖍 𝕭𝕿𝖂
𝕴 𝖙𝖍𝖆𝖓𝖐𝖘 𝖋𝖔𝖗 𝖗𝖊𝖆𝖉𝖎𝖓𝖌 𝖙𝖍𝖎𝖘
𝕱𝖔𝖑𝖑𝖔𝖜 𝖒𝖊 𝖎𝖋 𝖞𝖔𝖚 𝖜𝖆𝖓𝖙
🤗🥰😉😘😘
𝕾𝖊𝖊 𝖞𝖔𝖚 𝖘𝖔𝖔𝖓 𝕳𝖎𝖛𝖊!

🤭🤐🥹😍😍😍💖💖💖😋🤭🤣🤫🍾✨🥹🖨️😍🫣😍🥰😱🫣🤗😘
---
---