Spirit of the Forest - Splinterlands Art Contest Week 239

Greetings my dear Hive community!!!
Good afternoon/evening, dear Hive community,
It's a pleasure to greet you again and share with you my latest illustration created for this week's Splinterlands art contest. Since last night I have been working hard to finish my participation, despite the electricity problems and my busy schedule creating artwork for the contest, as I mentioned in previous posts, and also working on my new #NFT collection. All this has made my time limited, and going up to 12 hours without electricity several days a week has only slowed down my work even more. 🤯🤬💆🏻😮‍💨
Speaking of electricity, I currently have my PC unprotected because the UPS has stopped working properly due to so many power outages. I would like to buy another UPS, but right now they are very expensive and I don't have the money to do so. 🫲🏻🙄🫱🏻
But well, I'm not going to let that stop me. Back to my illustration this week, I decided to go with the -=Spirit of the Forest=- card, as I thought it was an interesting choice. Although I had done it before, this time I wanted to give it a more sensual touch and show her sex appeal. 😏😏😚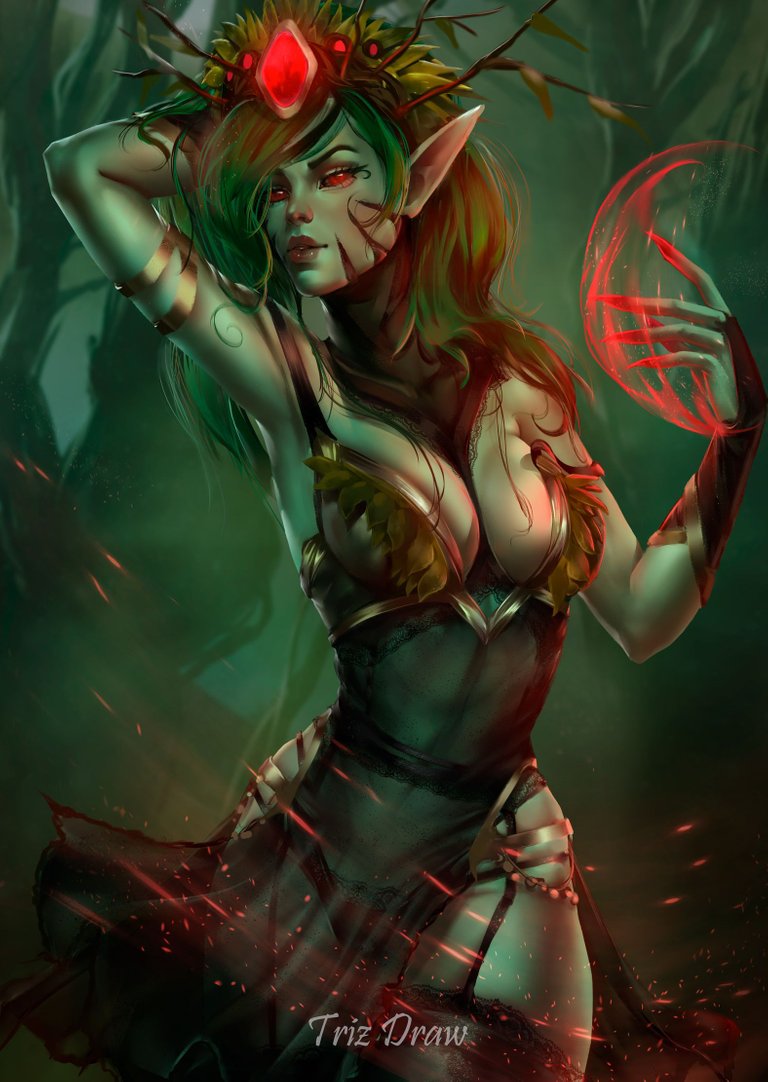 To do this, I searched through my sketchbook and found an old one that worked perfectly for me. I have a lot of old sketches that I've done over the years and that, in times of hurry, have helped me save some time. 💡⏳👌🏻
To explain a little more about the creative process I followed, I leave you some of the images I saved while I was painting and also as usual the video in which you can see how I worked on it. If you like my work, don't hesitate to support my channel... Thank you!!! 🙏🏻🫶🏻
✨✨✨
💖💖💖
𝕾𝖍𝖊 𝖎𝖘 𝕾𝖕𝖎𝖗𝖎𝖙 𝖔𝖋 𝖙𝖍𝖊 𝕱𝖔𝖗𝖊𝖘𝖙 𝖆𝖓𝖉 𝖍𝖊𝖗𝖊 𝖎𝖘 𝖍𝖊𝖗 𝖘𝖍𝖔𝖗𝖙 𝖇𝖎𝖔:
From the safety of the Eldest Tree, deep in the shrouded magic of the Hungry Wood, the Spirit of the Forest lives and grows. She is one of the original creators of life in the Splinterlands, and little happens without her knowing about it. She can be summoned to battle by a skilled summoner, but she loves all her children as a good mother should.

---
---
𝕾𝖔𝖒𝖊 𝖎𝖒𝖆𝖌𝖊𝖘 𝖔𝖋 𝖙𝖍𝖊 𝖕𝖗𝖔𝖈𝖊𝖘𝖘 💖😋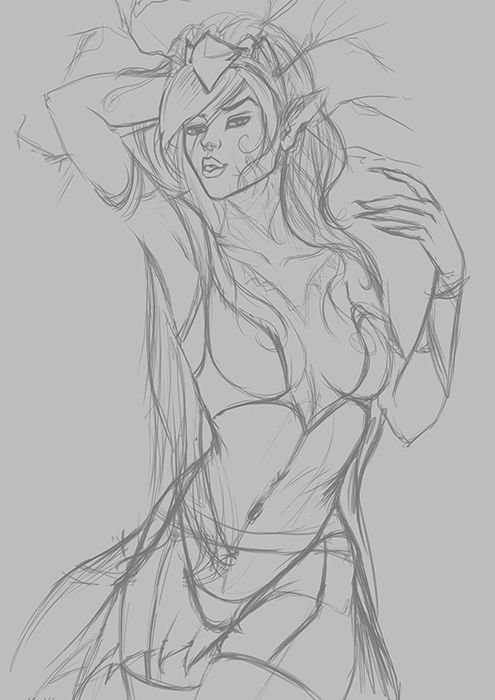 Dear Hivers, after saving time with the sketch what I did was to start adapting it to the characteristics of the Spirit of the Forest card and to capture the idea I had in mind, as I mentioned before, which was to add a sensual touch.
-.-
---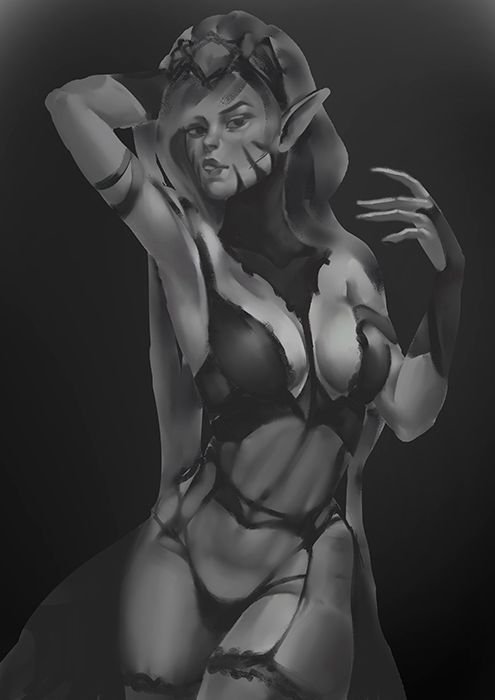 When I am short of time, I resort to the technique of using grayscale values to speed up the process as you can see above. Once I managed to define the volume with lights and shadows I started working on the next step.
-.-
---

Getting to this point after the above was relatively easy for me, I just used the tools that Photoshop provides me to start applying the color and at this point I also added the forest background that I wanted to contextualize the image.
-.-
---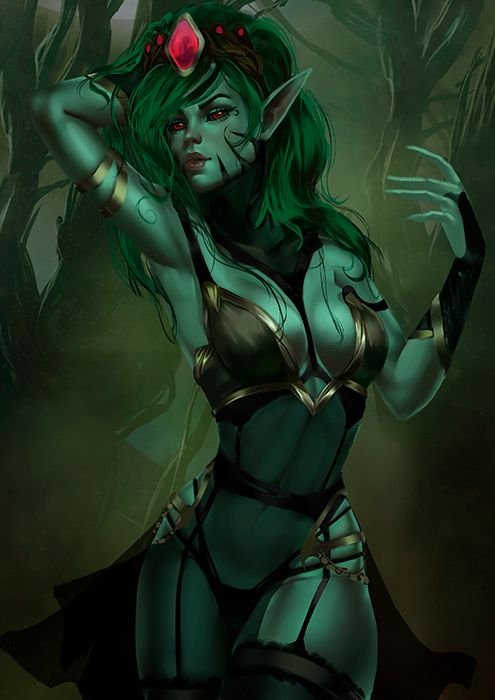 At this stage, I focused on improving the lights and shadows, as well as adding a gem on her head and making some slight changes to her face.
-.-
---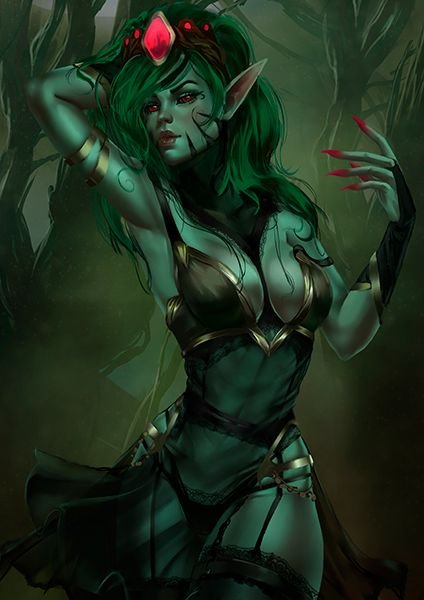 Later, I did more rendering and started working on her outfit, which I wanted to be transparent to show her physical attributes and at the same time show her sensuality. I also made some touches on her hand and final details.
-.-
---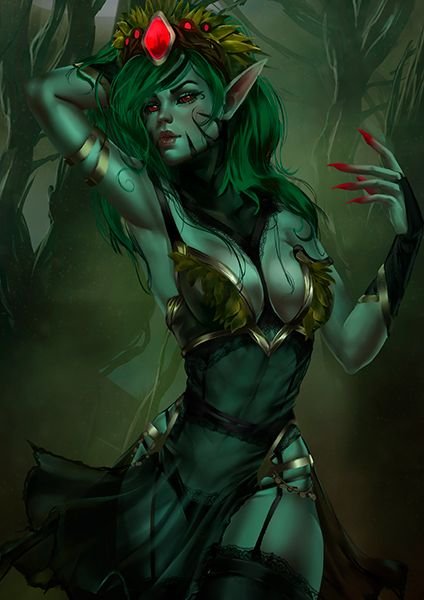 To finish, I added some touches of nature on her head and breasts, and I perfected her face and hair.
-.-
---

---
𝕾𝖕𝖊𝖊𝖉 𝕻𝖆𝖎𝖓𝖙𝖎𝖓𝖌
---

---
---
𝕱𝖎𝖓𝖆𝖑 𝕽𝖊𝖘𝖚𝖑𝖙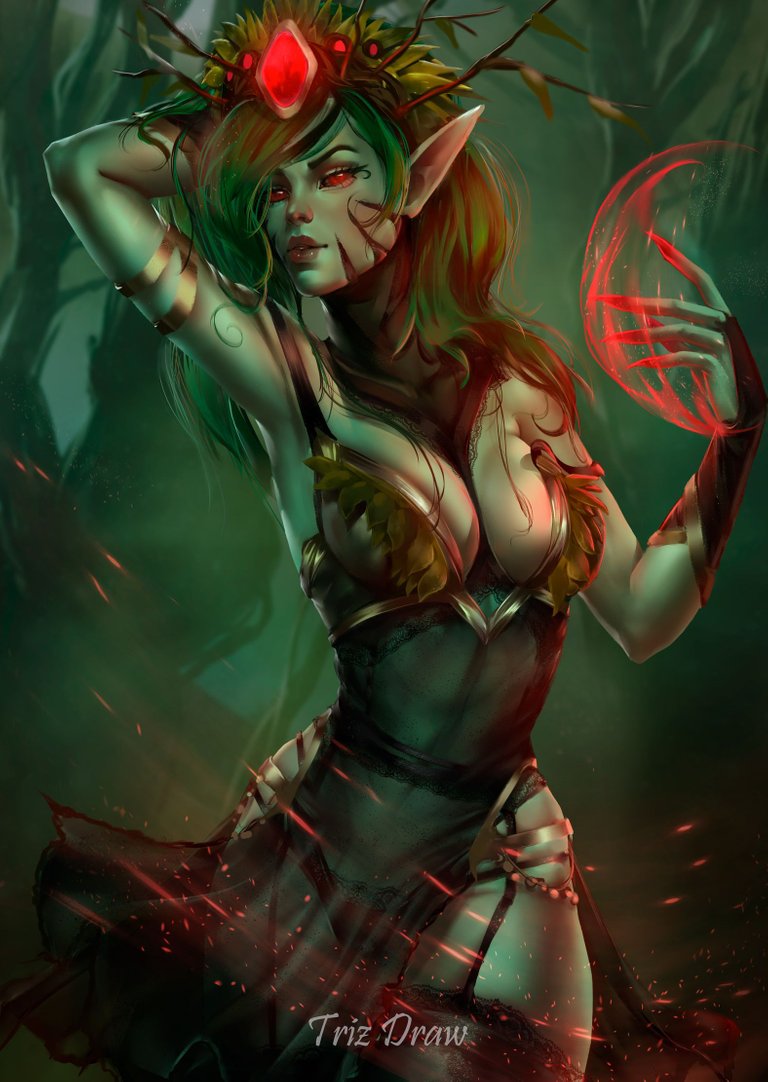 I only made some adjustments to the shoulder and raised arm that I wasn't quite convinced about. Finally, I added lights and glows to highlight the small details, and added the power in her hand with moving particles.
I hope you liked what I did for this awesome card. I'm signing off for now to go to sleep and recharge.
See you soon!!! 🤗💖😘😴

---
---
---
𝕿𝖍𝖊𝖘𝖊 𝖆𝖗𝖊 𝖙𝖍𝖊 𝖑𝖆𝖘𝖙 𝖉𝖗𝖆𝖜𝖎𝖓𝖌𝖘 👉🏼😘👈🏼
---
---
---

𝖂𝖍𝖆𝖙 𝖉𝖎𝖉 𝖞𝖔𝖚 𝖙𝖍𝖎𝖓𝖐 𝖔𝖋 𝖆𝖑𝖑 𝖙𝖍𝖎𝖘?
𝕴 𝖜𝖔𝖚𝖑𝖉 𝖑𝖔𝖛𝖊 𝖙𝖔 𝖐𝖓𝖔𝖜 𝖞𝖔𝖚𝖗 𝖔𝖕𝖎𝖓𝖎𝖔𝖓
𝕺𝖍𝖍𝖍 𝕭𝕿𝖂
𝕴 𝖙𝖍𝖆𝖓𝖐𝖘 𝖋𝖔𝖗 𝖗𝖊𝖆𝖉𝖎𝖓𝖌 𝖙𝖍𝖎𝖘
𝕱𝖔𝖑𝖑𝖔𝖜 𝖒𝖊 𝖎𝖋 𝖞𝖔𝖚 𝖜𝖆𝖓𝖙
🤗🥰😉😘😘
𝕾𝖊𝖊 𝖞𝖔𝖚 𝖘𝖔𝖔𝖓 𝕳𝖎𝖛𝖊!

🤭🤐🥹😍😍😍💖💖💖😋🤭🤣🤫🍾✨🥹🖨️😍🫣😍🥰😱🫣🤗😘
---
---