How not to play with Yuumi, chapter 1 - League Of Legends
---


Hello fellow gamers, recently I can give me the pleasure of playing those games I always wanted, since I could get a decent pc gamer for it, and how not to show my enjoyment and without going into flattery to me the good player that I am, because when I play I try to give everything, always trying to win and give the best, on this occasion and as you saw in the title is chapter 1 of the collection of post that I would like to incursionar, and is showing games playing with characters, repeated or diverse that will depend on what I feel like, but lately I am much playing with Yuumi, this great kitten-
It's the first time I record a gameplay of this style, it doesn't have a microphone because I don't have one yet, but you will see all my reactions and also the insults from my colleagues, in this case I went with them @maurojd and @beluhan19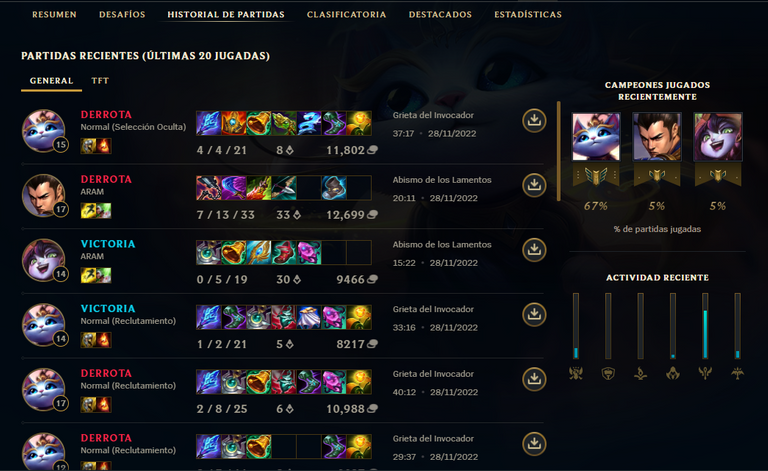 In the image you will see everything with Yuumi, but two in Aram testing the video recording, and although I do not always win, I try to do my best, I think I'm approved of tilteo, I'm angry that yes, but not frustrated by it, it is always time to improve, for that the video of the game which we lost, at all times always active in the same, and getting a rating of S-, for me it is great the same as I am low level, just started and that the algorithm classifies me like that makes me very happy.

I think these stats are very good, dying little and killing (very important) with a support like yummi is completely difficult, as it is not a champion of strength, but is complemented by your teammates, in this case cooperation is more active than ever, and also a somewhat passive game, as you depend on your teammates to do much more moves than you, and you doing your own thing, supporting.

Without getting more involved here I leave you the table at the end of the battle, right now 11/29/2022 I'm level 22, very small even in the world of lol, even so I'll try to keep practicing and improving the mistakes of the game, which in this case with Yuumi were the following in my opinion
Getting it wrong and getting out of the ally
Not using mana correctly
And maybe this one is more of a rookie one, not going too much between the lines to support different allies.
I have played games in which I've had teammates who are a bit annoying, insulting or angry when you make a mistake, a mistake in these cases makes no difference in the rest of the game, you have to encourage new players not to get nervous and show their skills in the game.
What I have been looking for is how to improve with Yuumi, in my case not with trial and error, I used the platform https://www.leagueofgraphs.com/es/champions/spells/yuumi to look for upgrading runes and items to buy to make Yuumi much more useful.
In it I find the most popular spells with it: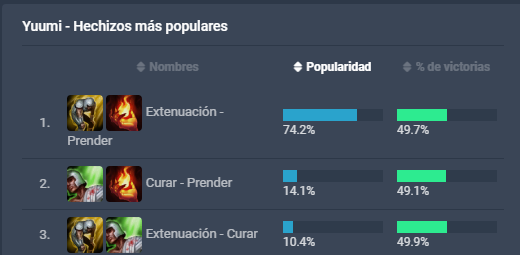 But also, and very importantly, the creation of runes for this champion is very important.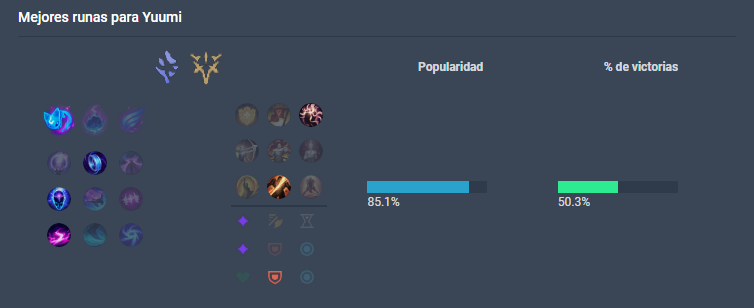 To learn more about the champions and download the game, although it's absurd that I put the link since I think everyone knows LOL XD, here is the main page. League Of L egends official website
If you want to play with me (I don't have a microphone yet, but I'm happy to listen to you) you can find me on my discord in the profile area or right here looking for me:

I look forward to your friend requests to play, any questions also my discord is at the end of the post, where also in the hive gaming community group I am present.
At minute 31:16 I escape very madly through 2 towers while being chased by an enemy champion, it was funny that I survived on that occasion🤣.
4 kills, 4 kills and 21 assists, I think that for a game of almost 40 minutes and 28 kills from our team to the opponents I think it is very good for me, unfortunately we lost, but we learn and try to improve.
Many will wonder (why the title) well, I'm learning to use the champion, in this case Yuumi, and although the statistics show S-, there is much to discover about him.
I'm also missing a few levels to unlock the qualifier mode, I think there I will face more defeats and without being able to show my skills, I think I'll be overcome by far, keep playing and practicing.


ydaiznfts#1000 El club de Rising Star

El club de Rising Star

Twitter

Reddit
Thanks for reading, huge hug from ydaiz⭐

---
▶️ 3Speak
---
---