How not to play with Warwick, chapter 2 - League Of Legends
---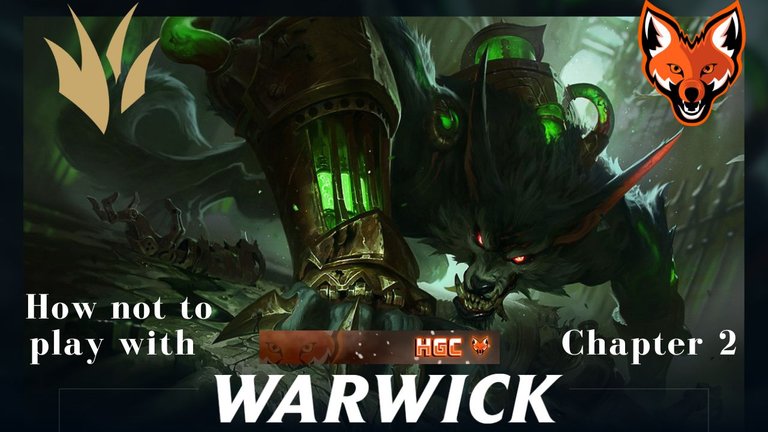 How not to play with a champion: Chapter 2
After playing 8 games with warwick in jungle I realized how much fun this line was, it is to be constantly attentive to your teammates to take advantage of circumstances of weakened enemies, alone or steal enemy jungle, so I will learn little by little, I count only with this character 8 games and in the role of jungle about 13, of which 1 I do not count because we changed role with a support which caused that I do not allow me to buy items and farm properly.
For those who don't know much about lol or never played it I leave you the official lol page of this champion https://www.leagueoflegends.com/es-mx/champions/warwick/ so you can find it more easily.
I had to watch some videos, ask for advice from other players and I was lucky that some games (not all of them) I had people who guided me in the right way to play as a team, which is the purpose of the game, if we all do an excellent job we can reach an exemplary victory.
Now, after an update in the game it tells you depending on the role you play the best runes, obviously it could go to the taste of each one, but let's not forget that here perfection counts to improve in the style of play, so the runes I've used are the following: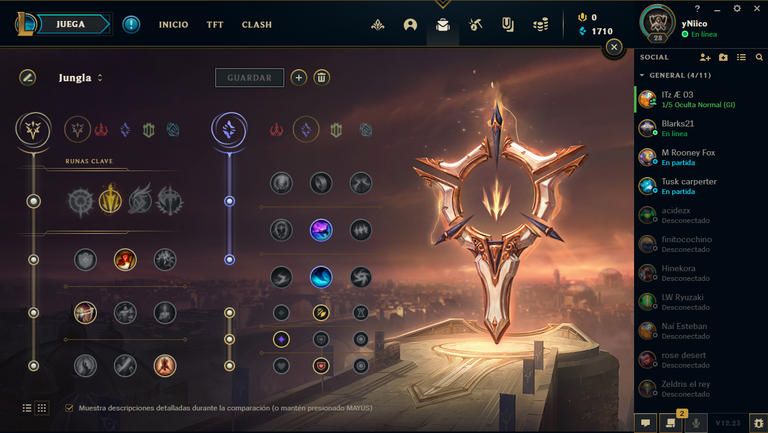 Flash


Punishment
The spells I used were flash (basic jungle spell, which inflicts instant damage on camp enemies) and flash (teleports a short distance instantly).
I think with warwick the flash is important at key moments, both to steal the dragon and to escape if you get caught stealing his jungle hehehe😉.
This game was victorious in several aspects, the first point I think was the good organisation of the team, we were always telling each other what to do and warning the nearby enemies, the result was the following: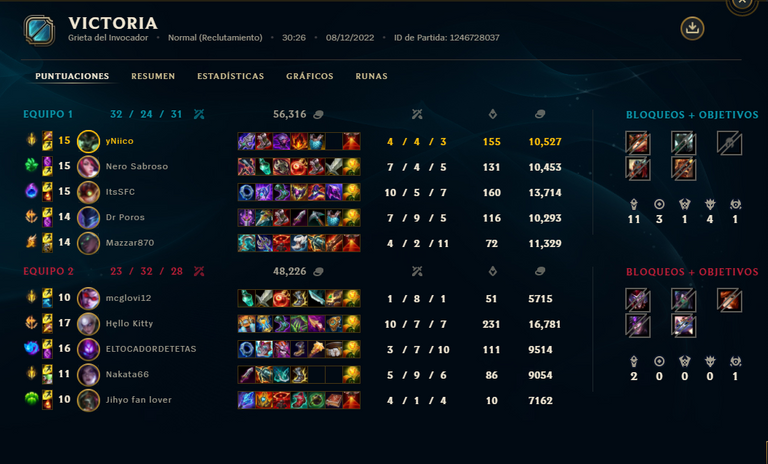 In my case when using warwick I always block Mordekaiser, because in my low level it's difficult to see players that perform well with other champions.
In the game I didn't have the best performance, I was always scavenging and I couldn't kill what the team needed, even so and as I said before with the good team I had we were able to get the victory.
Always with Warwick you have to be clear that we are very strong in health recovery in the end game, so our task would be to go to their shooters or champions with less health and weaker and leave the tanks for the end, as our recovery will always be faster than if the tank only attacks us.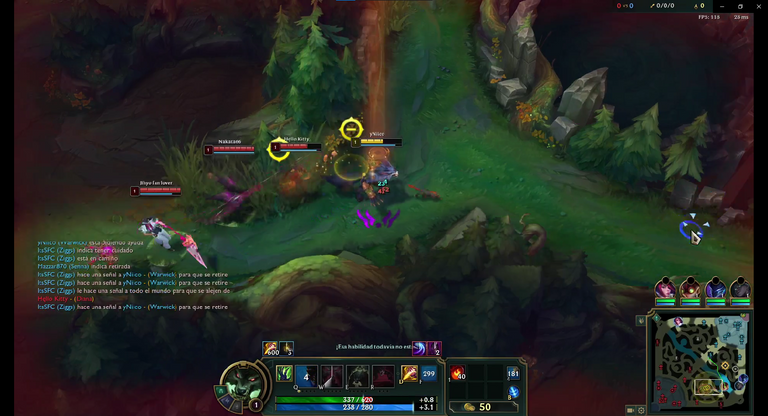 I made a big mistake at minute 1:20, as my team didn't want to attack with everything at the beginning, I was lucky that they couldn't kill me and the game continued normally. I also used a wrong flash by not aiming correctly, that mistake could have gone very wrong.
It was a very big mistake, if they killed me and their jungle took advantage of my time, which is very important for a jungle, I think it would have made a lot of difference in the game.

After the game I'm showing you I took the time to read the order of warwick's skills, which skill to improve first, and I noticed a big change with the W skill.
What it does is that warwick sniffs out enemies that have 50% less health than 100% and gives him a speed boost, this was very noticeable in the next game I played also as a jungle, it's always good to learn all the lines and as much variety of characters as possible for a better game.
And the E skill can be very useful in critical moments where tanks are coming towards you, as it gives a faint terror to those who are moving away from you, giving you a chance to retreat.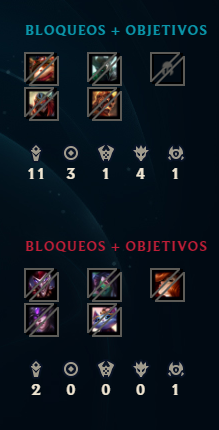 The objectives speak for themselves, the dragons in the games are very important, as each dragon we kill will give us different upgrades depending on the dragon it is, in this game we managed to take down all 4 getting the biggest bonus.
Also because of how they see the stats of my enemies. Their jungler wasn't doing a good job, that had a big impact on the game, I didn't play my best, but I got an A-, not bad with champions I don't use much.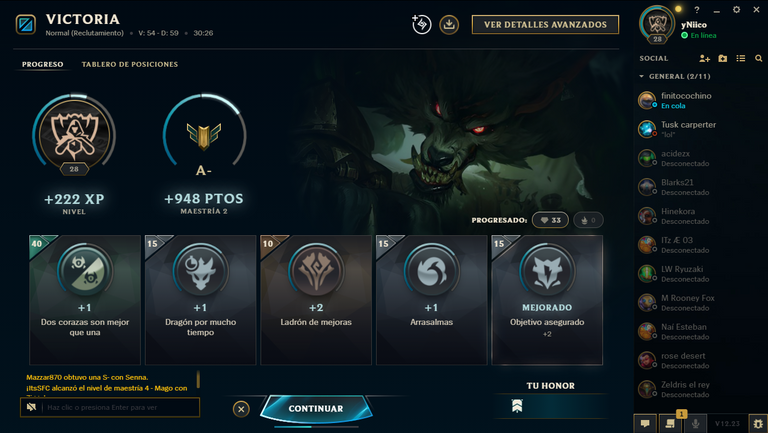 I hope you enjoy my game, soon I will enter level 30 to be able to play ranked games and that will give me a lot more difficulties, but that is always learning, I hope to see you soon and I leave you the page where I look for the best runes as well as the steps to improve skills: https://www.leagueofgraphs.com/es/champions/skills-orders/warwick

To learn more about the champions and download the game, although it's absurd that I put the link since I think everyone knows LOL XD, here is the main page. League Of L egends official website
If you want to play with me (I don't have a microphone yet, but I'm happy to listen to you) you can find me on my discord in the profile area or right here looking for me:

I look forward to your friend requests to play, any questions also my discord is at the end of the post, where also in the hive gaming community group I am present.


ydaiznfts#1000 El club de Rising Star

El club de Rising Star

Twitter

Reddit
Thanks for reading, huge hug from ydaiz⭐
![](

---
▶️ 3Speak
---
---