Guía de Entrenamiento con Peso 🏋 / 🏋Weight Training Guide [🇻🇪 🇺🇸]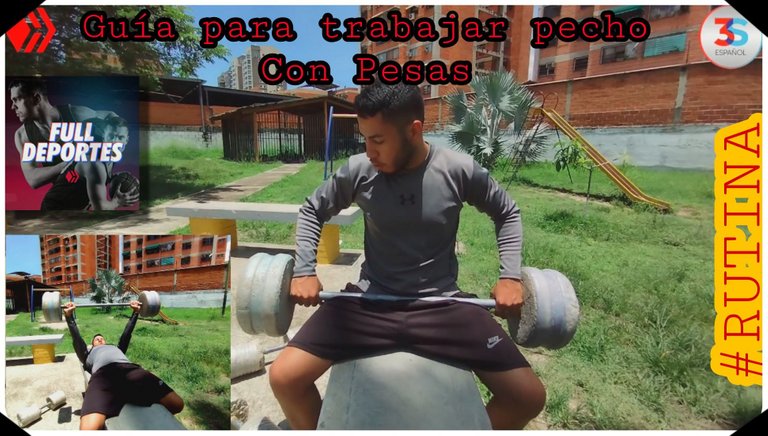 ---

---
Saludos! Atletas y Admiradores de
#FullDeportes
, Les tengo esta guía de ejercicios con pesas 🏋, dónde podrán trabajar el pecho y triceps como bestias! Vamos!💪🏼
Greetings! Athletes and
#FullSports
Admirers, I've got this guide of exercises with weights 🏋, where you can work your chest and triceps like beasts! Let's go 💪🏼
---
Cada ejercicio es tomar en cuenta la ejecución de las repeticiones, por ejemplo las pres de banca recomiendo trabajarla a la altura entre pecho y estómago para trabajar mejor las repeticiones y ganar fuerza. Recuerden estar al tanto de las imágenes o videos para guiarse.😁
Each exercise is to take into account the execution of the repetitions, for example the bench presses I recommend to work it at the height between chest and stomach to better work the repetitions and gain strength. Remember to keep an eye on the images or videos for guidance 😁.
---

Orden de los ejercicios / Order of exercises

Press de banca, según su peso ideal, en mi caso 30kg, vamos a ejecutar 10 Repeticiones
Bench press, according to your ideal weight, in my case 30kg, we will perform 10 reps.


Press con mancuernas este ejercicio se realiza con la mitad de peso en cada mancuerna del ejercicio 1, realizamos 10 Repeticiones
Press with dumbbells this exercise is performed with half the weight on each dumbbell of exercise 1, we perform 10 repetitions.


Realizamos el ejercicio 2 pero esta vez con apertura para trabajar la parte externa del pecho. 6 repeticiones.
We perform exercise 2 but this time with an opening to work the external part of the chest. 6 repetitions.


Extensiones de triceps. Este ejercicio lo podemos hacer con una mancuerna de 15kg o menor y realizamos 6 repeticiones.
Triceps extensions. This exercise can be done with a dumbbell of 15kg or less and we perform 6 repetitions.


Fondos en prono. Por último ejercicio los fondos en prono para acompañarlo con las extensiones, y así trabajar los triceps y pecho.
Exercise 5: Prone lunges. The last exercise is the prone pull-ups to go with the extensions, and thus work the triceps and chest.


NOTA: Trabajaremos 3 series con un descanso de 5 a 3 min.
NOTE: We will work 3 sets with a rest of 5 to 3 minutes.
---
DESCANSAR 30 SEG PARA TODO EJERCICIO // REST 30 SEC FOR ALL EXERCISES
---
🎥<VIDEO
---


| 1.-Press de banca / 10 Reps | 1.-Bench Press / 10 Reps |
| --- | --- |


| 2.-Press con mancuernas / 6 reps | 2.Dumbbell presses / 6 reps |
| --- | --- |


| 3.-Press con mancuernas con apertura / 6 reps | 3.-Dumbbell press with opening / 6 reps |
| --- | --- |


| 4.- Extensiones de triceps / 12 reps | 4.-Triceps extensions / 12 reps |
| --- | --- |


| 5.- Fondos en prono / 15 reps | 5.-Prone wall raises / 15 reps |
| --- | --- |






| Musicalizaciòn🎼 | Musicalisation🎼 |
| --- | --- |
| La mùsica utilizada en este video està libre de derechos de autor | The music used in this video is royalty free. |
| Enlace de MUSICA | Link from MUSIC |
---
---