Odin wishes you a Happy Birthday Dan

Saludos comunidad #Hiverarriors!
Greetings #Hiverarriors community!
Me entere de la iniciativa para felicitar a @theycallmedan por su cumpleaños a tiempo, pero el tiempo pasa y pospones hasta que ya fue demasiado! pero logre llegar en la recta final, ¡si que me gusta trabajar bajo presión!
El año pasado realice para el cumpleaños de Dan una Ilustración con Algunos de los personajes de la seria Dragon Ball (Goku, Bulma y Vegeta) frente a un gran pastel y banderines deseando feliz cumpleaños! para esta oportunidad, decidí igualmente hacer una ilustración, pero no sabia que personaje de esta cultura realizar así que opte por el Dios principal de la mitología nórdica Odin, hice igualmente una tarjeta para felicitar a Dan basada en la temática Vikinga y aproveche para que el supremo Dios de los nórdicos le invitaba una Jarra de Hidromiel.
I found out about the initiative to congratulate @theycallmedan for his birthday on time, but time goes by and you postpone until it was too much! but I made it in the final stretch, I really like working under pressure.

Last year I made for Dan's birthday an illustration with some of the characters from the Dragon Ball series (Goku, Bulma and Vegeta) in front of a big cake and banners wishing happy birthday! For this opportunity, I also decided to make an illustration, but I didn't know which character from this culture to make so I opted for the main God of the Nordic mythology Odin, I also made a card to congratulate Dan based on the Viking theme and I took the opportunity for the supreme God of the Nordic people to invite him a jug of mead.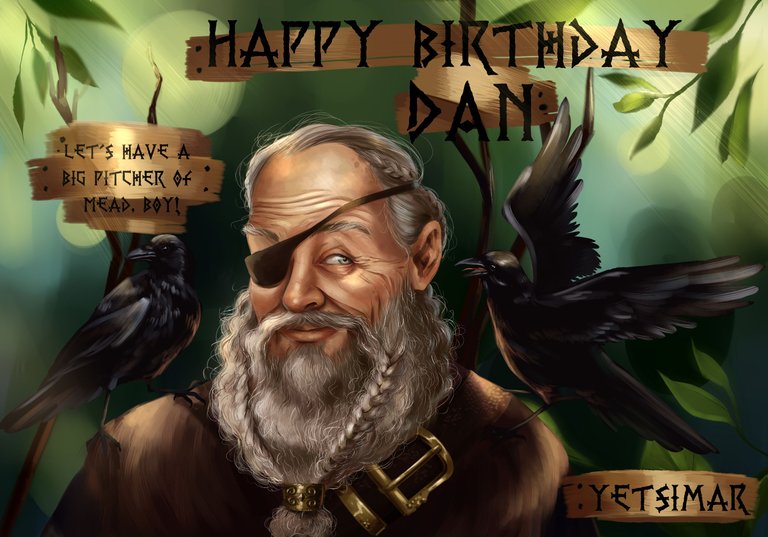 El aspecto del dios es ampliamente conocida e interpretada en un sinfín de películas, se le reconoce como un hombre de edad avanzada con larga barba gris, que usa un saco azul y que suele estar acompañado de dos lobos y un par de cuervos que se posan uno en cada hombro del dios de nombres Hugin y Munin (Pensamiento y memoria), así que basado en esta descripción decidí hacer el boceto e incluí a sus dos cuervo solamente, ya que era un retrato solo de busto, decidí igualmente dibujar una expresión picaresca en su rostro mientras escucha los graznidos de uno de sus cuervos, anunciando el cumpleaños de Dan.
The appearance of the god is widely known and interpreted in countless movies, he is recognized as an elderly man with a long gray beard, wearing a blue coat and usually accompanied by two wolves and a pair of crows that perch one on each shoulder of the god named Hugin and Munin (Thought and memory), so based on this description I decided to make the sketch and included his two crows only, since it was a bust portrait only, I also decided to draw a mischievous expression on his face while he listens to the cawing of one of his crows, announcing Dan's birthday.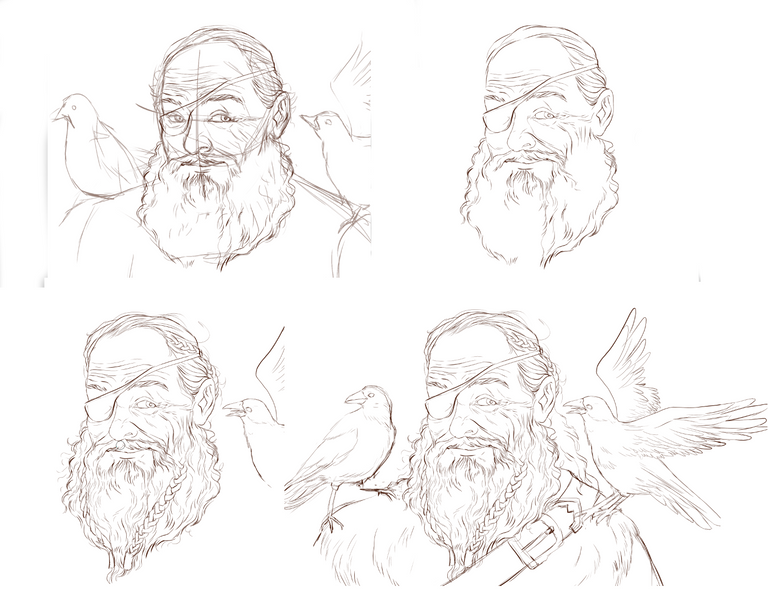 Luego comencé a colorear el rostro de Odin, para ello tome un tono de piel clara pinte la primera capa como base, para apreciar mejor los colores use diferentes tonos de azul verde y amarillo para hacer un fondo difuso como si estuviese en medio de un tupido bosque, seguidamente seguí añadiendo los demás tonos en el rostro, ubique en primer lugar el foco de luz y luego a añadir las sombras.
Then I started to color Odin's face, for this I took a light skin tone and painted the first layer as a base, to better appreciate the colors I used different shades of blue, green and yellow to make a diffuse background as if he was in the middle of a dense forest, then I continued adding the other tones on the face, I placed first the spotlight and then I added the shadows.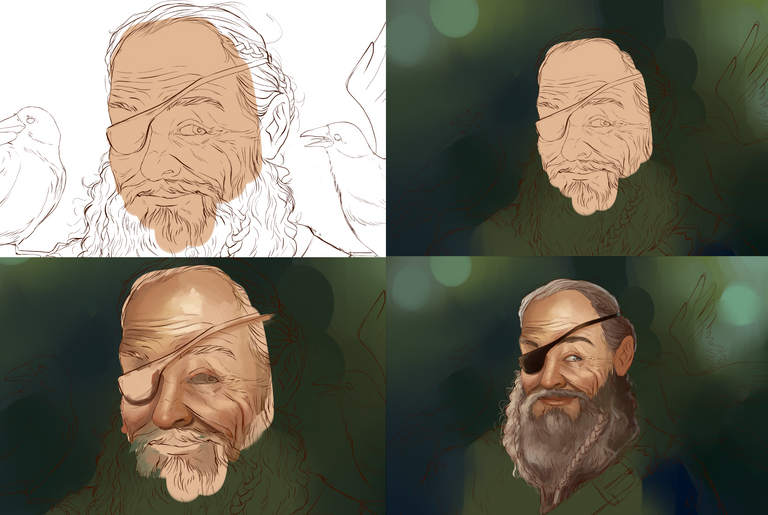 Luego fue hora de colorear el cabello y la barba, para ello igualmente comencé pintado un tono base y poco a poco y con movimientos ondulantes pinte el resto de tonos de su barba y cabello, quería que luciera como una barba bastante desordenada, así que fue un largo trabajo pintando cabellos despeinado y sueltos por todos lados, pero fue muy satisfactorio cuando vi que estaba tomando la forma deseada.
Lo cuervos fueron relativamente sencillos, primero coloque la base de color sobre su cuerpo un vinotinto casi negro y luego con un tono mucho mas claro y grisaseo de este color pinte las zonas brillantes del plumaje del ave y finalmente la luz del reflejo con algún tono marrón claro.
Then it was time to color the hair and beard, for this I also started painting a base tone and little by little and with wavy movements I painted the rest of the tones of his beard and hair, I wanted it to look like a pretty messy beard, so it was a long work painting uncombed and loose hair everywhere, but it was very satisfying when I saw that it was taking the desired shape.
The crows were relatively simple, first I put the base color on his body an almost black vinotint and then with a much lighter and grayer tone of this color I painted the shiny areas of the bird's plumage and finally the light of the reflection with some light brown tone.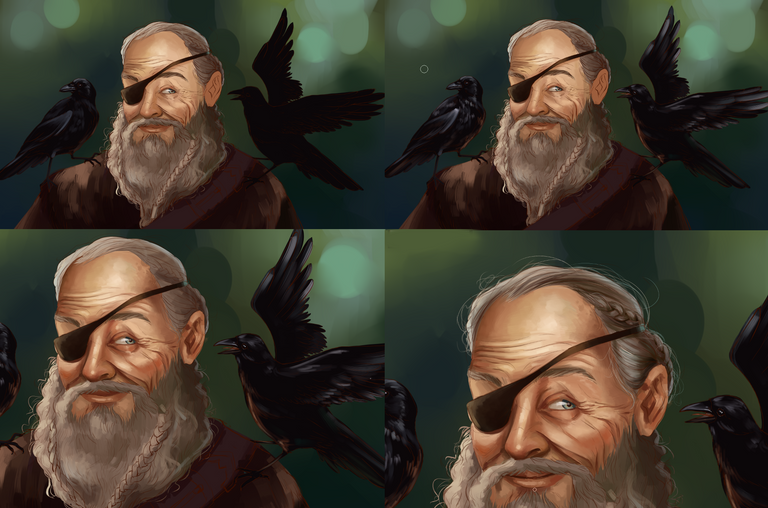 Para el saco de Odin decidí usar uno con solapas de piel de animal, quise hacerlo muy peludo y de tonos marones, con una corres con una gran hebilla en el centro de su pecho, por ultimo solo restaba afinar detalles y a veces esta fase se me hace casi eterna caigo en un efecto domino mejorando detalles pequeños, pero decidí en un punto que ya estaba bastante bien y procedí a colocar un letrero, felicitando a Dan en su cumpleaños y otro mas invitándole a tomar Hidromiel!
For Odin's coat I decided to use one with animal skin lapels, I wanted to make it very furry and brown tones, with a strap with a big buckle in the center of his chest, finally I only had to refine details and sometimes this phase is almost eternal, I fall into a domino effect improving small details, but I decided at one point that it was already pretty good and proceeded to place a sign, congratulating Dan on his birthday and another one inviting him to drink mead!
Espero que @theycallmedan tengo una larga u feliz vida junto a su familia, agradezco mucho el apoyo que he recibido de su parte durante mis inicios y hasta la fecha en Hive sin duda un gran apoyo para muchos! Me hizo muy feliz animarme finalmente a hacer este detalle para su cumpleaños y espero que haya sido de su agrado!
I hope @theycallmedan I have a long and happy life with his family, I appreciate very much the support I have received from you during my beginnings and to date in Hive certainly a great support for many! It made me very happy to finally encourage me to make this detail for his birthday and I hope it was to your liking!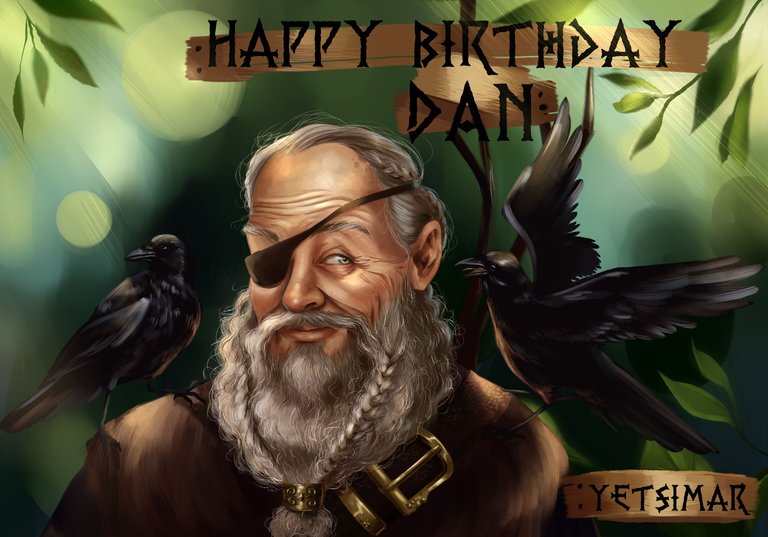 A todos muchas gracias por leer
Espero que haya sido de su agrado, hasta la próxima!
---
Thank you all for reading!
I hope you enjoyed it, see you next time! ---
---