Young Queen - Digital Illustration [ENG-ESP]
Hola amigos! 🤗
Espero todos estén pasando un feliz fin de semana, el día de hoy vengo a compartirles mi más reciente ilustración como de costumbre, estoy muy orgullosa de este y mis últimos trabajos en los que he retomado un estilo más pictórico desapareciendo la líneas del dibujo, en el que les muestro a continuación tuve algo de desánimo al principio porque no visualizaba de inmediato lo que deseaba, pero continue y me puse como meta no dejarlo incompleto como muchos otros y el resultado termino siendo muy gratificante, les mostraré un poco de este proceso que les cuento, espero les agrade.
I hope everyone is having a happy weekend, today I come to share with you my latest illustration as usual, I am very proud of this and my latest works in which I have returned to a more pictorial style disappearing the lines of the drawing, in which I show you below I had some discouragement at first because I did not immediately visualize what I wanted, but I continued and I set a goal not to leave it incomplete like many others and the result ended up being very rewarding, I will show you a little of this process that I tell you, I hope you like it.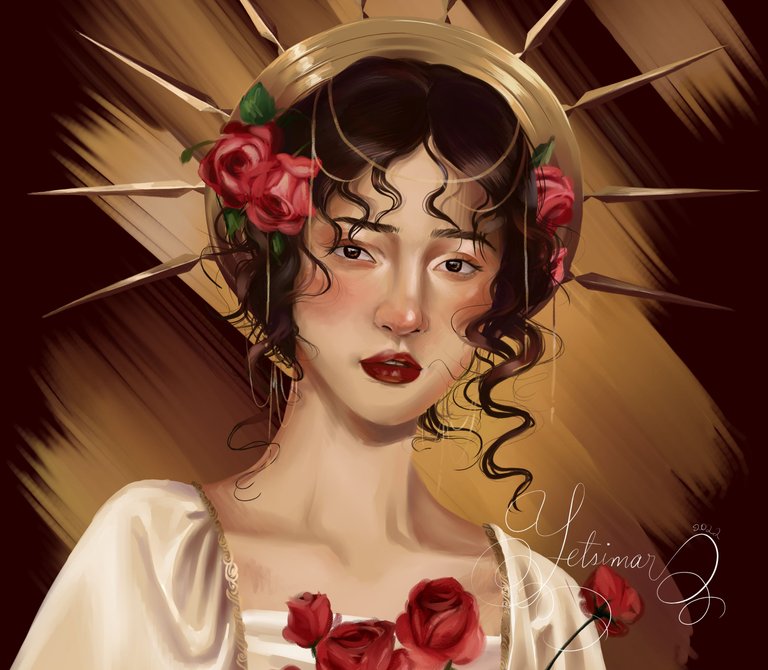 Image Reference
Lo primero ha sido realizar un dibujo a partir de una foto de una modelo que he visto en Pinterest, amo estos retratos en los que las chicas usan mucho rubor y de cabellos con ondas, así que seleccione unos de los que más me ha gustado, luego coloque una base de color para la que usado dos capas en las cuales distribuí los diferentes colores.
The first thing was to make a drawing from a photo of a model that I saw on Pinterest, I love these portraits in which the girls use a lot of blush and hair with waves, so I selected some of the ones I liked the most, then I placed a color base for which I used two layers in which I distributed the different colors.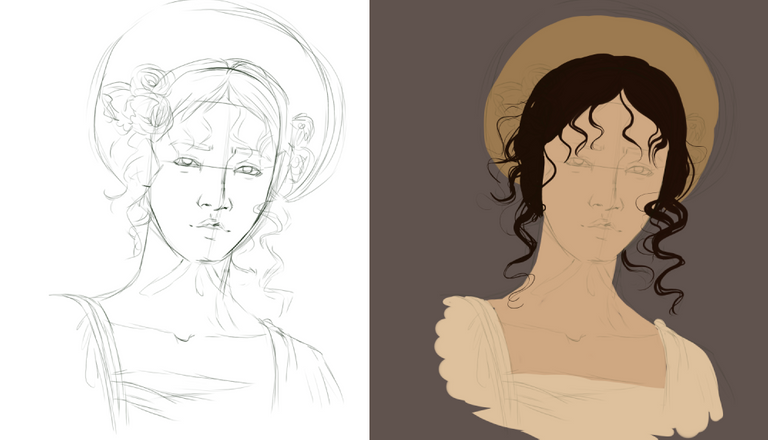 Seguidamente procedí a colocar los diferentes tonos de su piel, para lo cual he usado pinceles al agua y aerógrafo, en esta primera fase solo quería colocar sobre mi lienzo los tonos para luego tomar nuevamente el pincel al agua y mezclar los con los tonos bases para comenzar a definir los volúmenes de su rostro, las líneas las mantuve siempre bastante opaca hasta que finalmente la oculte para definir los demás detalles.
Then I proceeded to place the different tones of her skin, for which I used water brushes and airbrush, in this first phase I just wanted to place on my canvas the tones and then take the water brush again and mix them with the base tones to begin to define the volumes of her face, the lines I kept them always quite opaque until I finally hid them to define the other details.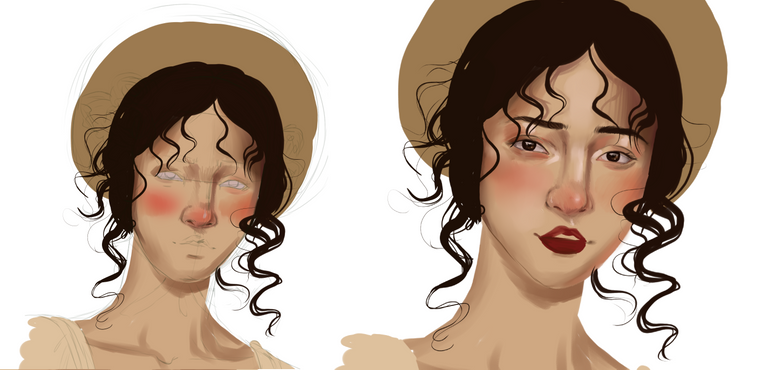 Seguidamente procedí a definir el cabello para lo cual he usado igualmente un pincel al agua, definiendo las hebras onduladas de cabello añadiendo tonos altos en las zonas más iluminadas y uno que otros tonos reflejo, seguido de esto dibuje alguna rosas que adornan su cabellera.
Then I proceeded to define the hair for which I also used a water brush, defining the wavy strands of hair adding high tones in the most illuminated areas and some reflective tones, followed by drawing some roses that adorn her hair.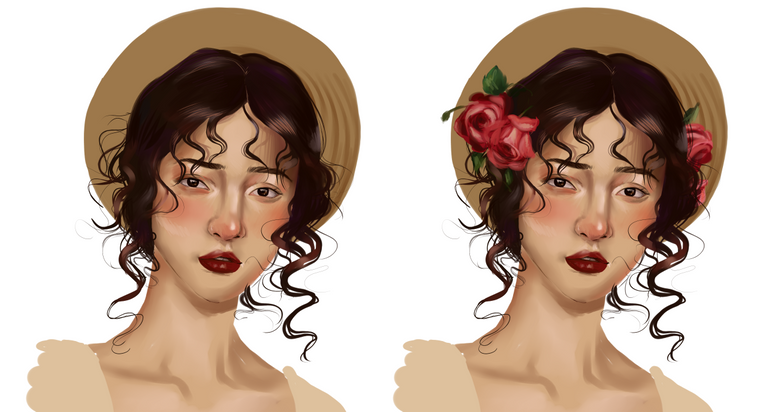 Luego comencé a definir lo que se suponía sería un sombrero en su cabeza, pero a medida que avanzaba me pareció mejor idea que tal vez podría convertirse en una gran corona con muchas puntas largas y afilada, así que comencé a dibujar esta nueva idea y desde el principio me ha encantado.
Then I started to define what was supposed to be a hat on his head, but as I went along it seemed like a better idea that maybe it could become a big crown with many long sharp points, so I started to draw this new idea and from the beginning I have loved it.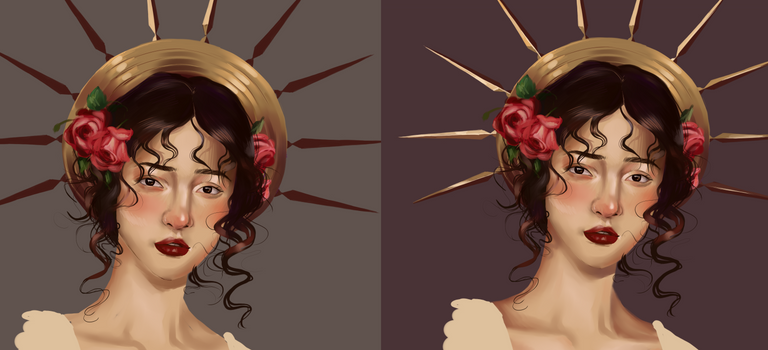 En este tipo de retratos siento que nunca esta acabado, continuo añadiendo acá vez más detalles y mezclando los tonos sin saber en que punto decir que esta acabado, aunque al mismo tiempo me parece una sensación increíble.
In this kind of portraits I feel that it is never finished, I keep adding more and more details and mixing the tones without knowing at what point to say that it is finished, although at the same time I find it an incredible sensation.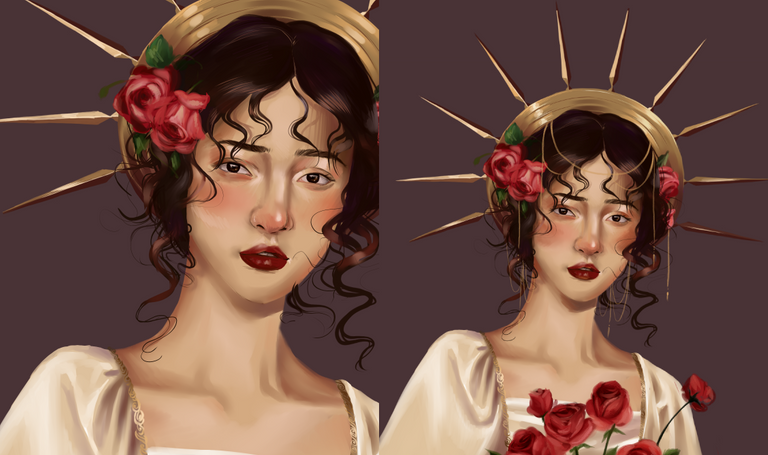 Mientras reflexionaba acerca del retrato decidí proseguir con el fondo dibujando una pinceladas dorada para aumentar la atmósfera de realeza o divinidad que había adquirido esta pieza.
While reflecting on the portrait I decided to continue with the background by drawing a golden brushstroke to enhance the atmosphere of royalty or divinity that this piece had acquired.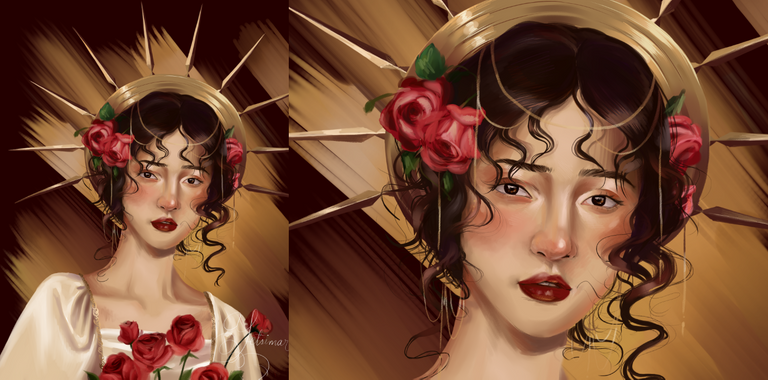 Siento que si vuelvo a entrar en el programa de dibujo seguiré sintiendo que algo falta, pero de momento lo dejaré así y compartirlo con ustedes, esperando que les agrade, si ha sido así y tienen algún comentario o alguna sugerencia estaré feliz de leerlos, hasta luego amigos! 💖
I feel that if I go back into the drawing program I will still feel that something is missing, but for now I will leave it like this and share it with you, hoping you like it, if you have been like this and have any comments or any suggestions I will be happy to read them, see you later friends! 💖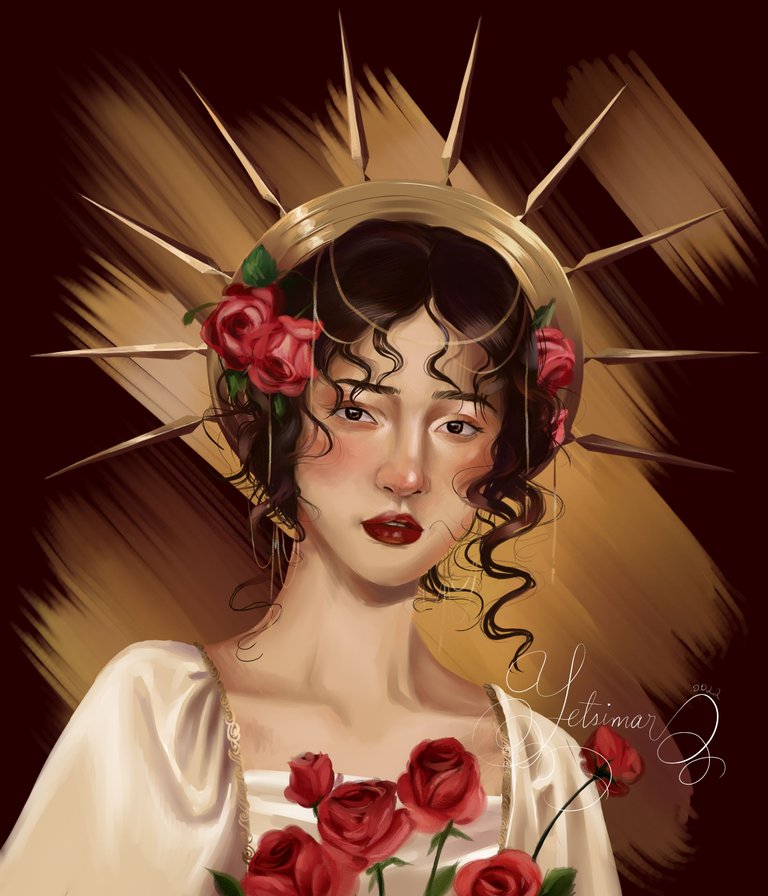 ¡Espero que les haya gustado esta publicación!
¡Muchas gracias por leer, hasta la próxima!
Hoping you liked this post!
Thank you very much for reading, see you next time! ---
---