Is Deadpool among the Ryan Reynolds' Trash movies ? (37/49)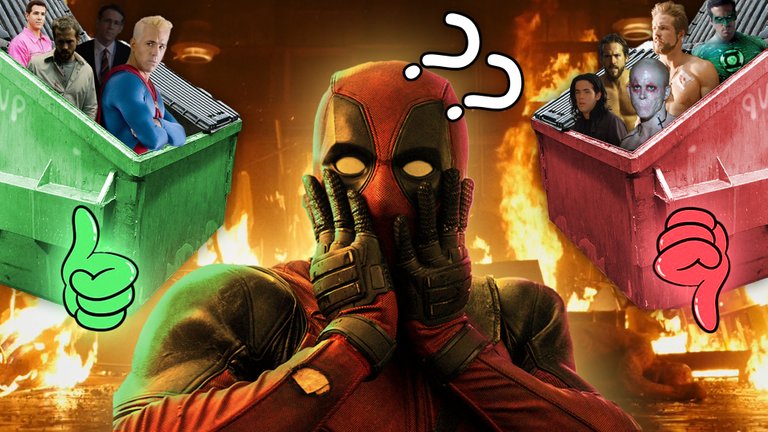 I'm writing this post weeks after viewing the movie, and I have some things to say about it.
It may not seem like this but the movie is pretty old now. It have been released on February 2016 so 6 years and a half and to be honest, we can feel it ! That also means I was 17 when I watched it in theatre, and Loved it.
When the movie had been announced I was already a big fan of Ryan Reynolds, As I already said, I was enthousastly watching [RIPD] and [Self/Less] with my friends. To be honest when the first trailer of Deadpool appeared I discovered the character with it :
I'm not a huge fan of comics, I know the super heroes mostly through the movies. So I decided to check some things about this new one, and qi was here just "This must be Ryan Reynolds". As I understood he made the motion capture for the trailer and was already almost sure to have the role but some other have been announced. But for me no one could make it better
While watching the movie I was constantly asking myself, "Was he the good choice" and I think yes.
When coming out of the movie room, I was absolutely conquered, this was one of the best super heroes movie, and here's my today's opinion :

Probably one of the thing that makes me like the movie is its story, it's a really tiny budget for a super hero movie, 40Millions while the Endgames avenger is 400. And because the fix didn't want to bet it's money, Ryan Reynolds put some of his own money on it and started his journey of feature film producer, now he does it pretty often in his own movies.
The movie have been realeased in France exactly a week after my birthday so it was like my friends' gift to come to see it with me on the first day, and that was a huge upgrade since the previous year, a movie had been released on my birthday and we saw it too but is was "The SpongeBob Movie: Sponge Out of Water" 🥲

The action is good, the special effects are beautiful, and the combat scenes are epic, but I still think there is a huge problem about all of that, and that's because of Deadpool's core. The movie is ONLY about him, he want's to get his face back and save his Girlfriend.
The "X-men" are just here to help him, and we don't know at all what will happen to all the other Ajax's victims ! Are they still in labs, all sold ? Dead ? Don't know, and nobody will try to save the one who have already been saved. That made me feel weird when I realized it.

If one thing is well made in that movie, this is how the character are. All of them who are named have a real role, make some jokes are are useful for the story at several times and most of them make jokes/are funny.
The thing is, there are not that much characters and all the other are USELESS and for some reasons. All the guards/soldiers can't be a threat because DP is literally unkillable, they are just making the movie longer. Most of time that's totally understood by people making the movie but the last combat is too long with them.

Forget everything about my post, everything which have to be known about this movie is here.
The jokes are heavy, too much, too violent. And if you don't like that kind of stuff that must be a torture to watch this movie, but if you are a stupid count like me, go.
When I launched the movie I thought it would be awkward all along, but I was genuinely smiling and laughing pretty often. You don't know how much I'm waiting for chapter 3

My Current CINE Stake :
6,361
---
This is the list of the movies I'll review in the challenge :
Aha ! I'm almost done !!

Join me on Noise.cash and read.cash and earn BCH for your posts and comments. Stake your earnings on Nexo and earn up to 8% APY in dividends.

Join me also on Publish0x
The website that rewards both readers and authors with ETH and ERC-20 tokens

Share your unused bandwidth and get paid for that with Honey gain
---
---